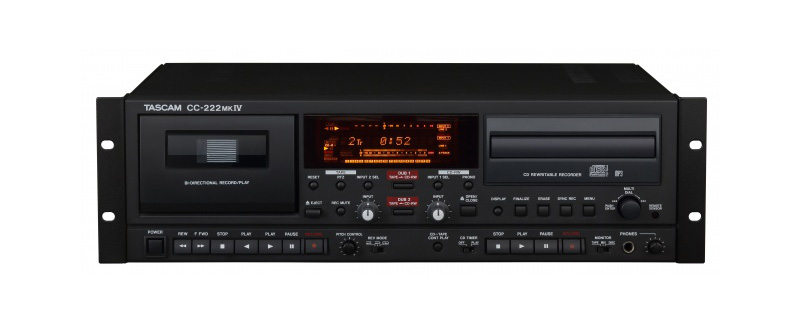 This model has been discontinued in North, Central and South America.
Please check the availability with your local distributors in other areas.
Featuring CD and cassettes that allow separate operations and inputs/outputs
Not only can the CC-22MKIV perform mutual dubbing between CD and cassette, it can also perform independent operability for the individual inputs and outputs of CDs and cassettes.
Furthermore, phono input is also supported, meaning that records can be recorded onto cassettes and CD-R/RW.
In addition to analog line input and output and phono input, COAXIAL and OPTICAL digital inputs and outputs are also supported, making the CC-22MKIV a combination recorder that can flexibly perform recording and playback for all kinds of acoustic setups.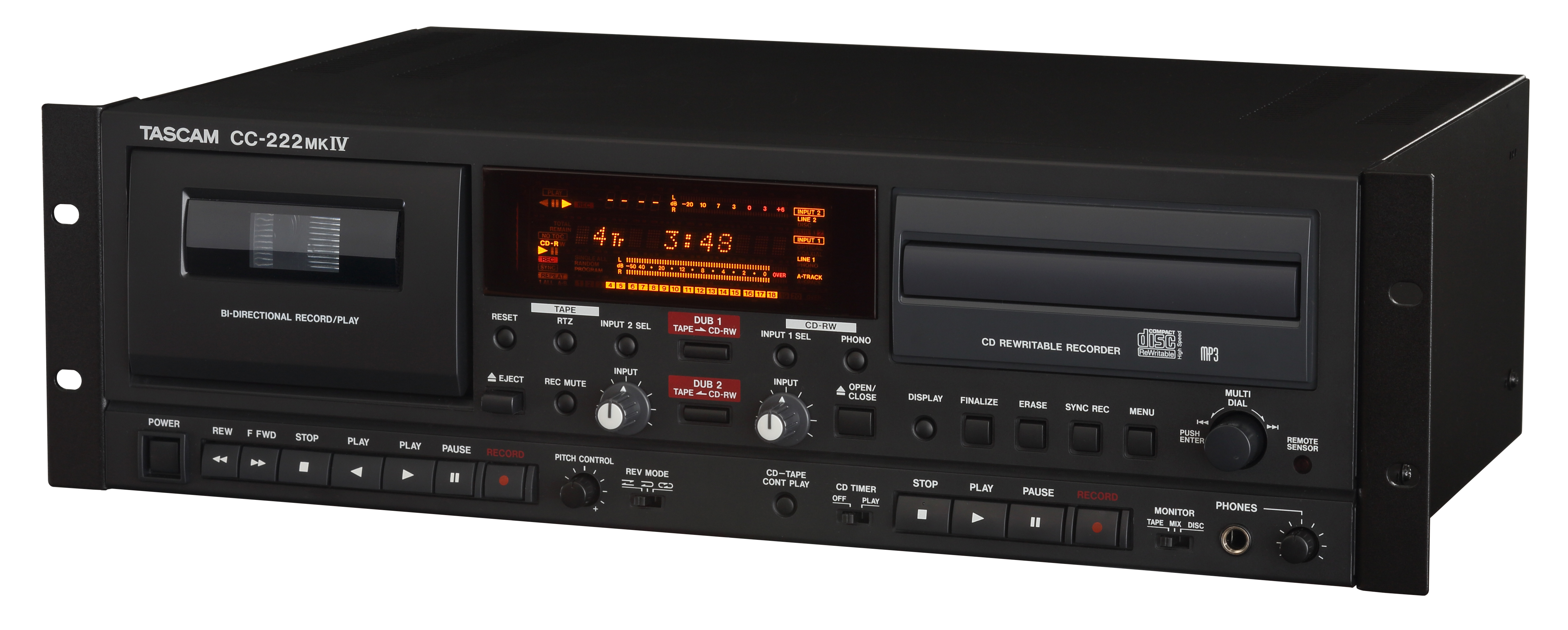 CD drive developed in-house by TASCAM that enables gapless continuous recording via its designated firmware
The shining feature of the CD recorder unit is its AK4528VM audio codec, produced by Asahi Kasei Electronics, and is used for AD/DA conversion which dictates the sound quality.
For the drive, a driver developed in-house by TASCAM both high in durability and reliability is installed.
The driver has finely-tuned response performance due to being internally produced, and can also perform gapless continuous recording when updating tracks, thanks to its specially-designed firmware, a feat that is impossible with standard PC drivers.
The CC-222MKIV is a professional combination CD/cassette recorder that will provide long-lasting use in professional acoustic settings.
The CD and Cassette Recorder Sections Can Be Operated independently - Including Indiviual Inputs and Outputs.
The CD and cassette recorder sections have independent inputs and outputs, and can be operated independently when recording and playing back. A single CC-222MKIV can fulfill the needs of both a CD recorder and a cassette deck.
Dub Between CD and Cassette, or Simultaneously Record To Both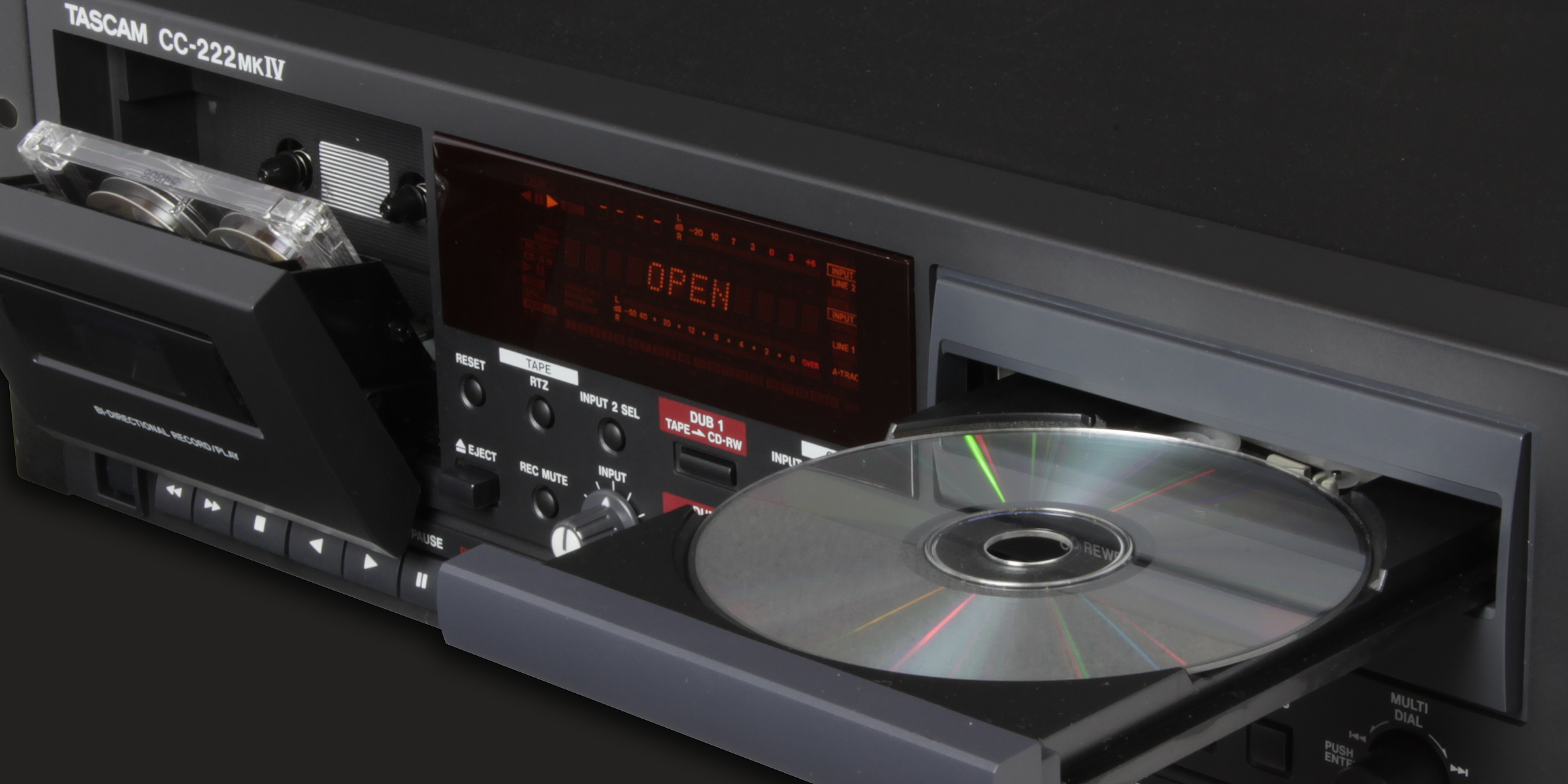 Dubbing from a cassette to CD, or CD to cassette, is controlled from a dedicated button for simplicity. Both the CD and the cassette tape can also record the same source simultaneously.
A Built-In Phono Input Enables Recording Vinyl Records Directly to CD or Cassette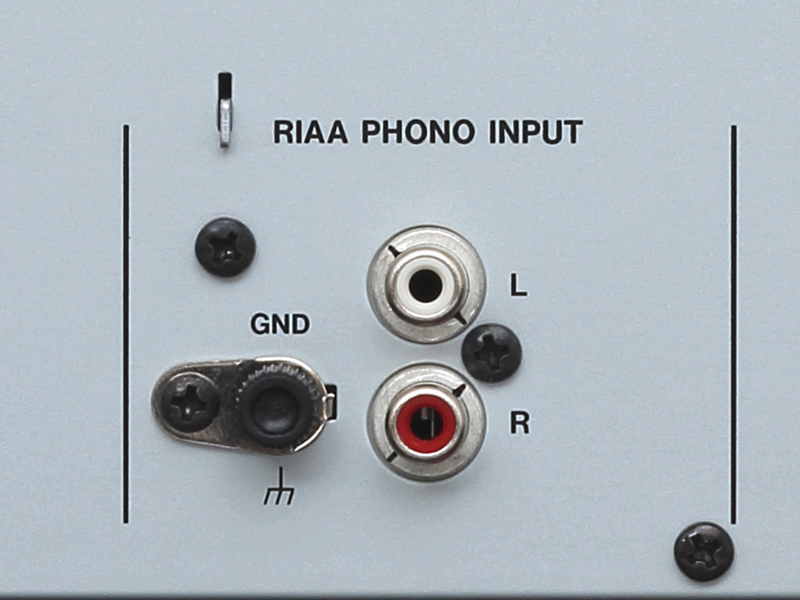 Connect an analog turntable* to the RIAA PHONO INPUT jacks to record your vinyl records to cassette tapes and CD-R/CD-RW discs.

* This unit supports analog turntables that use MM(moving magnet) cartridges.
Connect Analog and Digital Devices To Record Them to CD or Cassette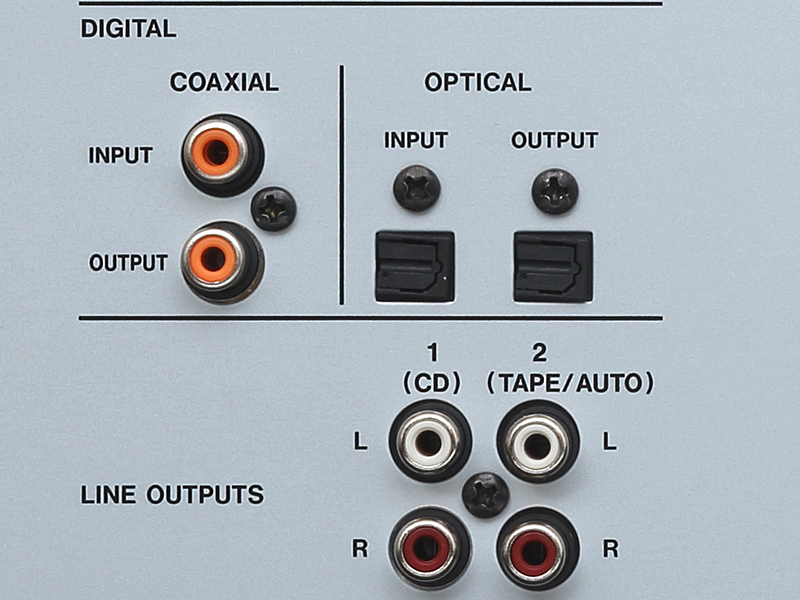 The CD and cassette tape sections have separate analog line input jacks, allowing you to connect equipment to CDs and cassette tapes individually. In addition, the CD section has S/PDIF digital input connectors (OPTICAL/COAXIAL), to losslessly record them as sources to CD-R/CD-RW discs.

* Connect analog turntables to the RIAA PHONO INPUT jacks.
24-bit AKM AK4528VM AD/DA conversion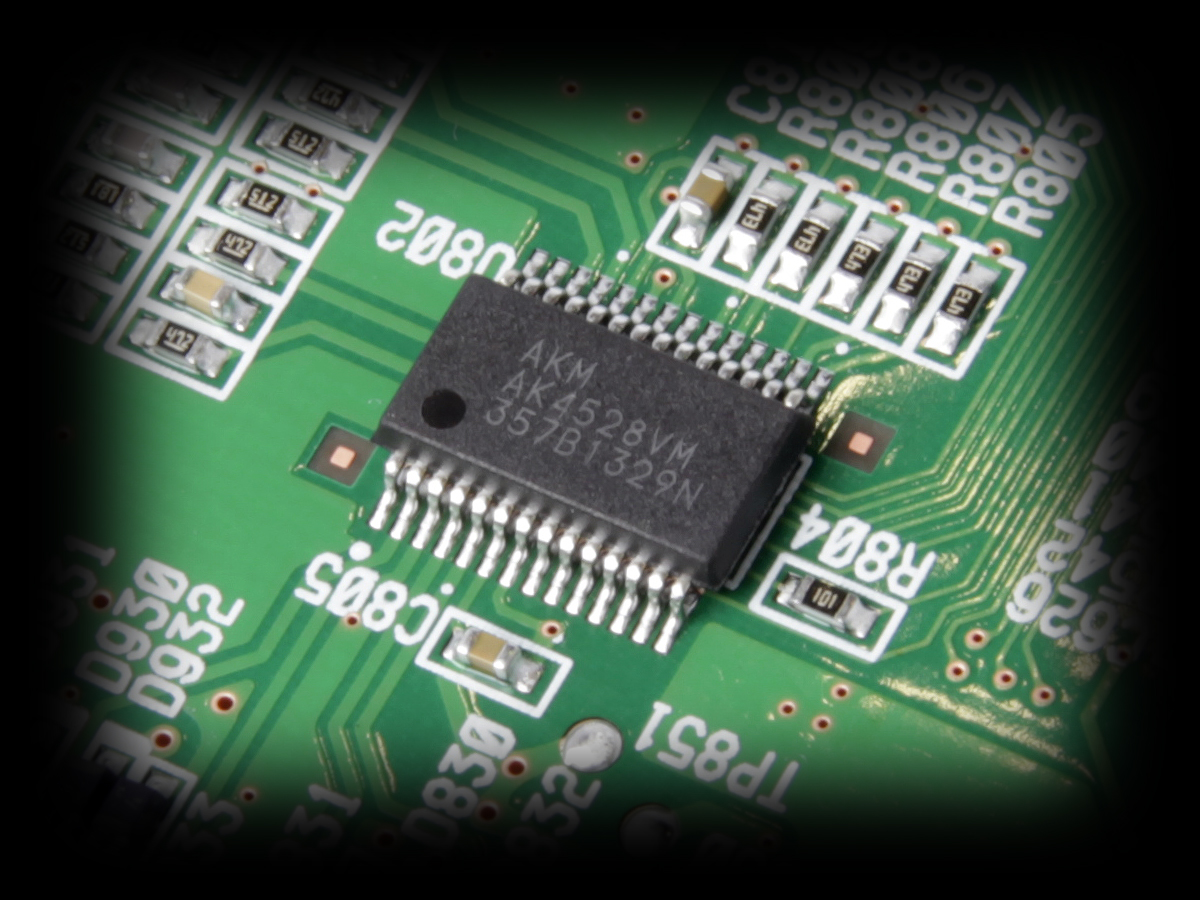 The high-performance AKM codec captures audio with a wide dynamic range for superior CD recording
A Selection of Track Division Functions
The CC-222MKIV has a variety of track division functions to make recording simpler. Additionally, a rec-mute function can insert silence between tracks.

Automatic Track Division
A track marker can be created based on the input level, adding a new track when the input falls below a specified level (from -24 to -72dB).

* When recording analog records, it is recommended that the auto track function is switched OFF. Noises caused by scratches and dust on records might result in the audio track function not working properly.
Time Track Division
Time-based track creation can be set every 1-10 minutes. This method is preferred in some applications - such as conference recording, when there is no gap between segments (like when recording music).
Manual Track Division
A new track can be written manually by pressing the RECORD key while the unit is in record mode.
All new TEAC-designed tray-loading transport with gapless continuous recording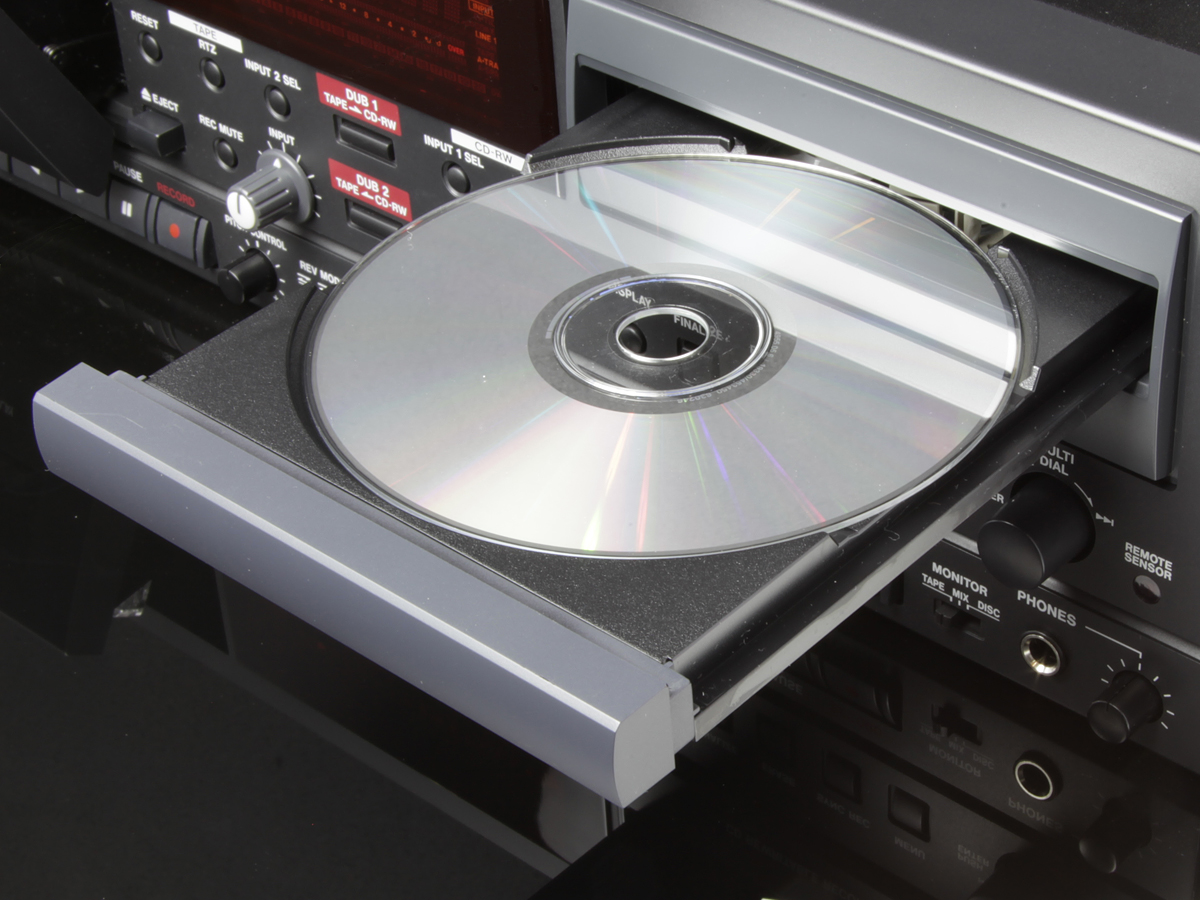 The CC-222MKIV includes a new TEAC CD transport, exclusively designed for audio recording. Fine-tuned firmware enables continuous recording without any gaps between tracks.
Unlike drives designed for general PC use, TEAC's transport won't leave a dropout between songs – making it ideal for live recording..
Shockproof Memory to Prevent Skipping due to Vibration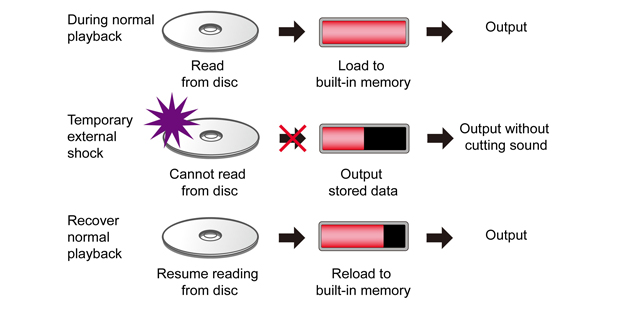 Data is stored in the memory of the CC-222MKIV so that smooth, stutter-free playback is possible even when vibrations of up to 4 seconds occur.
---
Features at a Glance
Supported media: CD-R, CD-R-DA, CD-RW, CD-RW-DA
High speed CD-RW Supports
CD drive supports playback of CD-DA and Data-CD
High reliability in-house manufactured CD drive
OPC (optimum power control) function: Adjusting the laser power for each disc type
Adopts AK4528VM audio codec made by Asahi Kasei Microdevices which has 24-bits processing
RCA analog unbalanced inputs/outputs
COAXIAL digital input/output (IEC60958-3:S/PDIF)
OPTICAL digital input/output (IEC60958-3:S/PDIF)
SRC (sampling rate converter): Automatically convert the incoming frequency to 44.1kHz (for 32 to 48kHz)
Repeat playback function (continuous, single, program, random, A-B)
Pitch control playback function: Pitch and speed can be varied (+/-12.5%, 0.1 to 1.0% increments, for CD-DA)
Key control playback function: (b1 to b6, #1 to #6, half-note increments, for CD-DA)
Intro check function that plays the first 10 seconds of each track
Auto space function that inserts about four seconds of silence between tracks during playback
Time display switching (elapsed track/disc time, remaining track/disc time)
Timer playback function (external timer sold separately): Automatically begin playback when turned on
Sync recording function that automatically starts recording when sound begins
-24dB to -72dB、6dB step(Digital input) -24dB to -54dB、6dB step(Analog input)
Automatic track division: Automatically insert a track division at a preset condition
Time track division: Automatically insert a track division per preset interval
(1 to 10 minutes, 1 minutes increments)
New consecutively-numbered tracks can be created during recording by pressing the RECORD button
Rec-mute function: Recording four seconds of silence on the disc
Selectable maximum recording track numbers (automatically stop at preset number)
Digital volume for critical recording level adjustment (-∞、-60dB to 18dB)
Fade-in/Fade-out recording function (1 to 30 seconds, 1 seconds increments)
Selectable COPY ID(free/1 generation/prohibit/SCMS)
Erase function: Erase selected track or disc (for CD-RW)
Unfinalize function (for CD-RW): Erase TOC information of finalized CD-RW
Cassette recorder section
Auto-reverse recording and playback mechanism
Pitch control playback function: Pitch and speed can be varied (+/-10%)
RTZ (Return to Zero) function that locates to the 0000 tape counter
Rec-mute function: Recording four seconds of silence on the tape
General
Independent input and output are possible for the CD and cassette sections
Dubbing is possible both ways between the CD and cassette sections
Built-in amp with MM-type (moving magnet) phono equalization allows direct connection of analog record players
Built-in PHONO input jacks allow vinyl records to be dubbed to cassettes and CDs
Independent operation (including simultaneous recording) of the CD recorder and cassettes section possible
Continuous playback is possible both ways between the CD and cassette sections
The playback signal from the CD or cassette (cassette receives priority) can be output from LINE OUTPUTS 2
Headphone output (10mW/ch)
Wireless 10-key remote controller with 10-key included
3-polar AC socket with detachable AC cable
3U EIA rackmountable
RoHS certified
Differences from CC-222SLII
Tray loading type CD drive
Dolby B is not supported
Industrial design
Spec description
CD recorder section
Supported disc types
CD-R, CD-R-DA, CD-RW, CD-RW-DA(High Speed CD-RW is supported)
Playback disc formats
CD-DA, CD-ROM ISO9660 LEVEL 1/2 Joilet format and multisession discs
Playback file formats
CD-DA
44.1kHz, 16bit, stereo
MP3
44.1kHz, 64 to 320kbps, VBR
Recording file formats
CD-DA
44.1kHz, 16bit, stereo
Cassette recorder section
Track system
4-track 2-channel, stereo
Heads
Record/playback×1(rotary reverse), erase×1
Type of tapes
C-60 to C-90
*Type I(normal), Type II(high-posirion)-recording and playback; Type IV(metal)-playback only
Tape speed
4.76cm/sec
Motor
DC servo motor×1
Pitch control
+/-10%
Fast winding time
Approximately 160 sec (C-60 tape)
PHONO amplifier
Cartridge
Type MM
Input impedance
50kΩ
Input signal level
5.6mV
S/N ratio
60dB(6.3Ω)
ANALOG IN

Unbalanced

LINE INPUTS 1 (CD)
Connector
RCA pin jack
Input impedance
22kΩ
Reference input level
-10dBV
Minimum input level
+6dBV
LINE INPUTS 2 (TAPE)
Connector
RCA pin jack
Input impedance
1kΩ
Reference input level
-11dBV(0.28V)
ANALOG OUT

Unbalanced

LINE OUTPUTS 1 (CD)
Connector
RCA pin jack
Output impedance
50kΩ
Reference output level
-10dBV
Maximum output level
+6dBV
LINE OUTPUTS 2 (TAPE/AUTO)
Connector
RCA pin jack
Output impedance
1kΩ
Reference output level
-6.7dBV(0.46V)
DIGITAL IN
COAXIAL
Connector
RCA pin jack
Format
IEC60958-3(S/PDIF)
OPTICAL
Connector
TOS LINK
Format
IEC60958-3(S/PDIF)
DIGITAL OUT
COAXIAL
Connector
RCA pin jack
Format
IEC60958-3(S/PDIF)
OPTICAL
Connector
TOS LINK
Format
IEC60958-3(S/PDIF)
PHONES
Connector
6.3mm(1/4") stereo phone jack
Output power
10mW+10mW or more(32Ω loaded)
Power
U.S.A./Canada: 120VAC,
60Hz U.K./Europe: 230VAC, 50Hz
Australia: 240VAC, 50Hz
Power consumption
35W
Dimensions
482.6(W)×138(H)×295(D)mm
19.0(W)×5.4(H)×11.6(D)in
Weight
7.2kg/15.9lb
Standard accessories
Power cord, Wireless remote controller(TASCAM RC-222MKIV), AA battery x2, Rack mounting screw, Owner's manual((including warranty card)
Audio performance
Frequency response
CD
playback : 20Hz to 20kHz, +/-0.8dB
recording : 20Hz to 20kHz, +/-1.0dB
Cassette
normal : 30Hz to 13kHz, +/-4dB
high position: 30Hz to 15kHz, +/-4dB
S/N ratio
CD
playback : 92dB
recording : 88dB
Cassette
53dB(Maximum input level)
Dynamic range
CD
playback : 92dB
recording : 88dB
Distortion
CD
playback : 0.006%
recording : 0.01%
Channel separation
CD
playback : 80dB(1kHz)
recording : 75dB(1kHz)
Wow and flutter
CD
unmeasurable(<0.001%)
Cassette
0.25%(W.RMS)