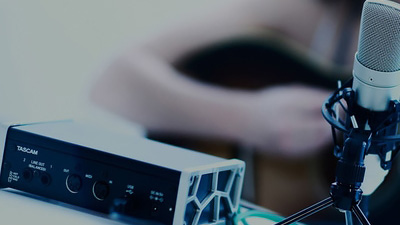 Guitar Home Recording- The Benefits of Stand-Alone Recorders and Audio Interfaces
Music is a multi-thread process. Learning the instrument, general music theory, and how to shape tone is a life-long journey for a guitar player. Adding "learn to record" to the list can feel daunting (and expensive), and yet what better way to document your performance or songwriting than having the tools available in the moment. So let's talk home recording for guitar players!
The TASCAM company arguably invented home recording in 1979 with the release of the first low-cost, mass-production multi-track recorder and started a wave of home recording that has shaped the music industry. A lot has changed since then, with cassette, digital, and software making home recording increasingly accessible.
Just as you carefully picked your favorite guitar gear, the recording gear you select should be the best fit for your needs and applications. Home recording frontrunners like TASCAM , BOSS, and Behringer have grown the options and fine-tuned home recording gear to accommodate guitar players, and there have never been more recording formats available.
Let us check a couple out.
Stand-Alone Recording Devices for Guitar Players
Stand-alone recording devices for guitar players have been around since the beginning, offering an all-in-one, dedicated solution to home recording without additional gear. These units take your guitar signal or microphone, allow for EQ, gain staging, mixing, and mastering in a single piece of gear. Many guitar players prefer stand-alone units, as they can focus on capturing creativity without worrying about integration with other gear, software plug-ins, computer updates, or the distractions that come with a multi-media device.
Stand-alone recording devices also resonate with players because they typically feature intuitive, analog-style controls that are familiar to any player. A current example of a best-selling stand-alone recorder for guitar players is the TASCAM DP-03SD.
Pros
Everything you need to record, mix, and master
No required integration
Intuitive design for guitar players
Cons
You are limited to the features of the recorder
Some stand-alone recorders require menu diving
Audio Interfaces into a DAW (Digital Audio Workstation) for Guitar Players
Audio interfaces are physical pieces of gear that accept your guitar or microphone signal and send the signal to your computer, phone, or tablet to record and mix in a DAW (Digital Audio Workstation) software program installed on the computer. Popular DAWs, such as Pro Tools, Logic, and Cubase, are 100% software-driven editing, mixing, and mastering controls for drag-and-drop computer recording. Audio interfaces have grown in popularity with the increase in computer power and DAW adoption for guitar players who want to utilize their preexisting devices and use additional software effects called "plug-ins".
Most audio interfaces include a software package with a DAW, and some even include sound packs like drums, guitar modeling software, and studio effects targeted to musicians. The TASCAM Series family of audio interfaces, for example, includes a guitar player focused software package of Cubase LE, IK Multimedia AmpliTube for guitar modeling and effects, iZotope Neutron Elements for mixing, and IK Multimedia T-RackS for mastering.
Pros-
Designed to work with computers and mobile devices you already have
More flexibility for the power user
Many include DAW and guitar tone packs
Cons-
Latency (audio sound lag) can be an issue if your computer is overtaxed
Some guitar players don't want the distraction of apps and email in their recording flow
Computers can be finicky and sometimes mysteriously quirky
Both stand-alone recorders and audio interfaces have captured amazing tracks over the decades and helped millions of songwriters build mix-ready tracks from their homes. After reviewing the pros and cons of these two recording technologies, find the one that best fits your work flow for creating.