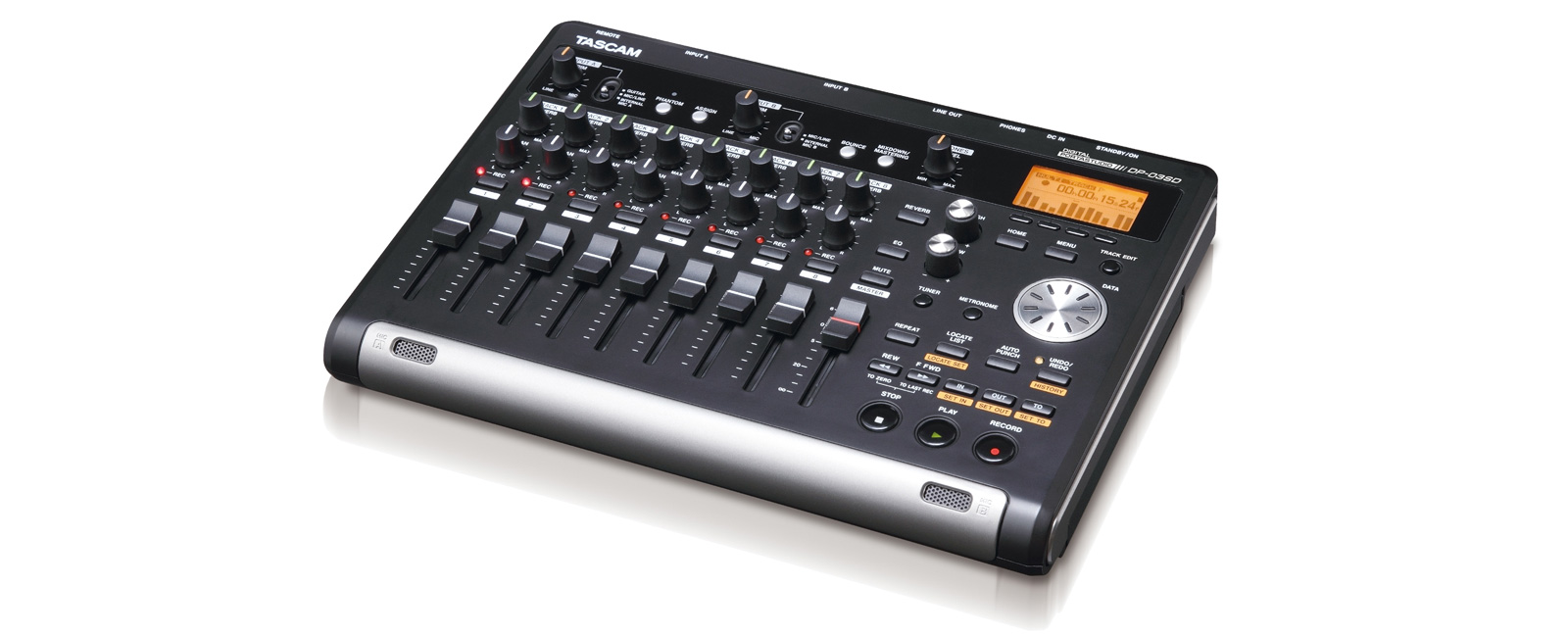 DP-03SD
8-TRACK DIGITAL PORTASTUDIO w/FADERS
The TASCAM DP-03SD Digital Portastudio is a songwriter's dream that records eight tracks to solid-state drive, with up to two track simultaneous recording via XLR, 1/4" combo jacks, or the two internal condenser microphones. Input processing EQ and limiting to ensure you're capturing your best sonics. The color display and channel strip knobs make mixing fast and creative, and the included 4GB SD card can be replaced with up to 32GB SDHC media or swapped with other cards between projects for up to 50 hours of music.
Recording media : SD card (512MB to 2GB), SDHC card (4GB to 32GB)
Bulit-in microphones : Omni-directional microphone x 2
Number of channels : Recording : 2, Playback : 8
Sampling Frequency : 44.1kHz
Quantization Bit Rate : 16-Bit
See All
Record, Mix, and Master in a Single Workstation
Eight Recording Tracks with Two Track Simultaneous Recording
Intuitive for Songwriters, Powerful enough for Pro Engineers
Onboard Microphones, EQ, Effects, and Processors for the Ultimate Songwriting Tool
Record Hundreds of Hours of Music on a Single SD Card
See All
DP-03SD
AC adaptor (TASCAM PS-1225L)
Power cord for AC adaptor
SD card (in the unit)
Owner's manual (The warranty is included at the end of this manual)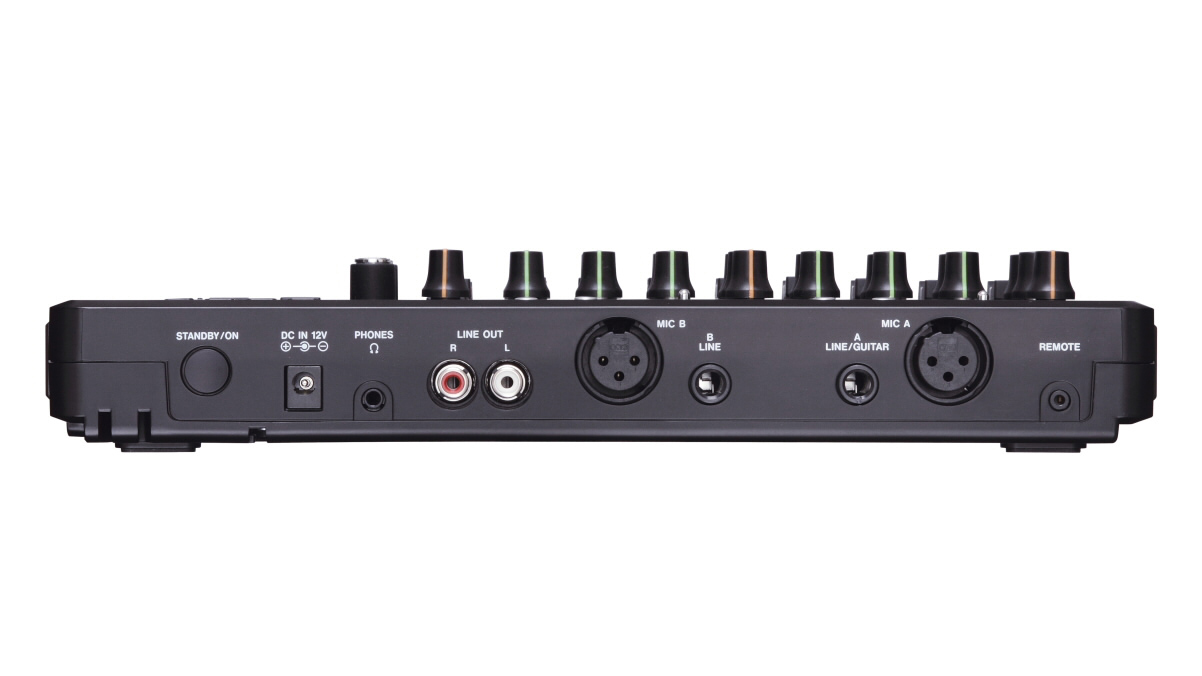 Record multiple parts or in stereo with two track simultaneous recording
The DP-03SD has two XLR-TRS combo inputs that can withstand multi-microphone recording with drums. In addition, the DP-24SD comes with built-in guitar tuner and metronome, allowing users to complete recording preparations with this device alone.
The most intuitive recording workstation ever lets you focus on capturing your best performance.
You don't need a PhD in studio recording to sound like a pro with the TASCAM DP-03SD Portastudio. We put everything you need at your fingertips so you can see and control everything that's happening. Full-color LCD screens and self-illuminated buttons visually communicate the recording process, and everything from level setting, compression, and limiting happens with sturdy sliders, buttons, and knobs. The TASCAM DP-03SD's intuitive design allows you to quickly dive deeper into any setting without distracting you from your creative session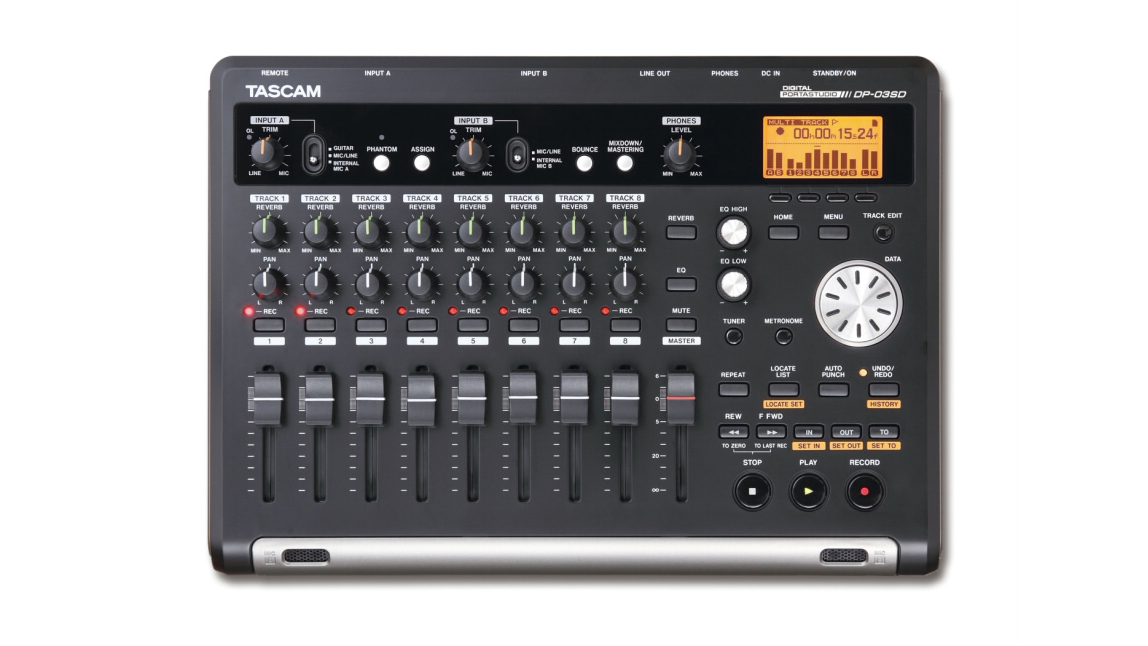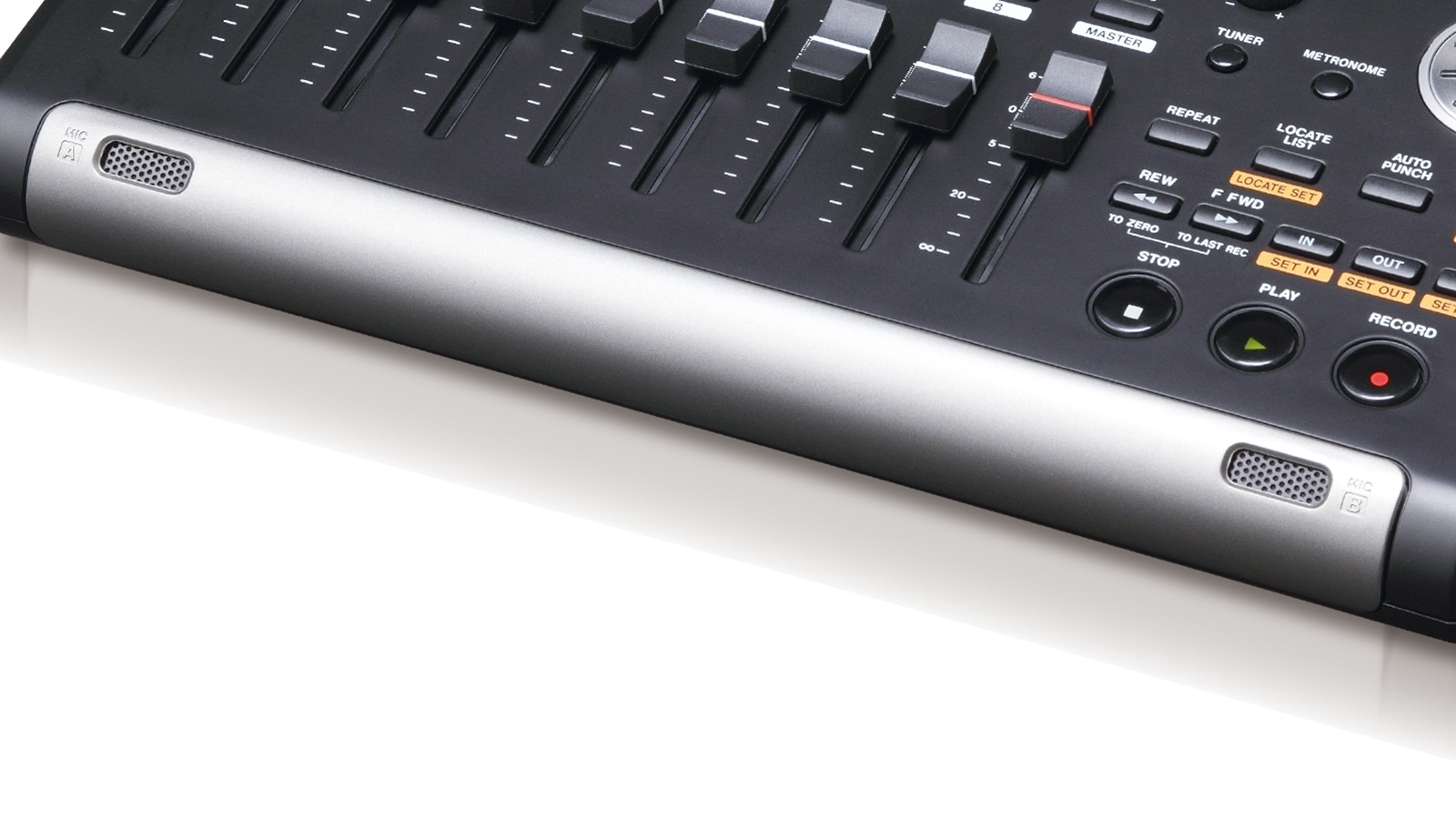 Built-in Microphones and Versatile Inputs for Multi-track Recording
A pair of stereo condenser microphones is built into the front panel of the DP-03 for capturing rehearsals, live performance, or songwriting ideas without needing to set up an external microphone. Also included are a pair of high-quality XLR microphone preamps with phantom power for condenser microphones, 1/4" line inputs, and an instrument-level switch allows you to record a guitar or bass without a direct box.
Additional Features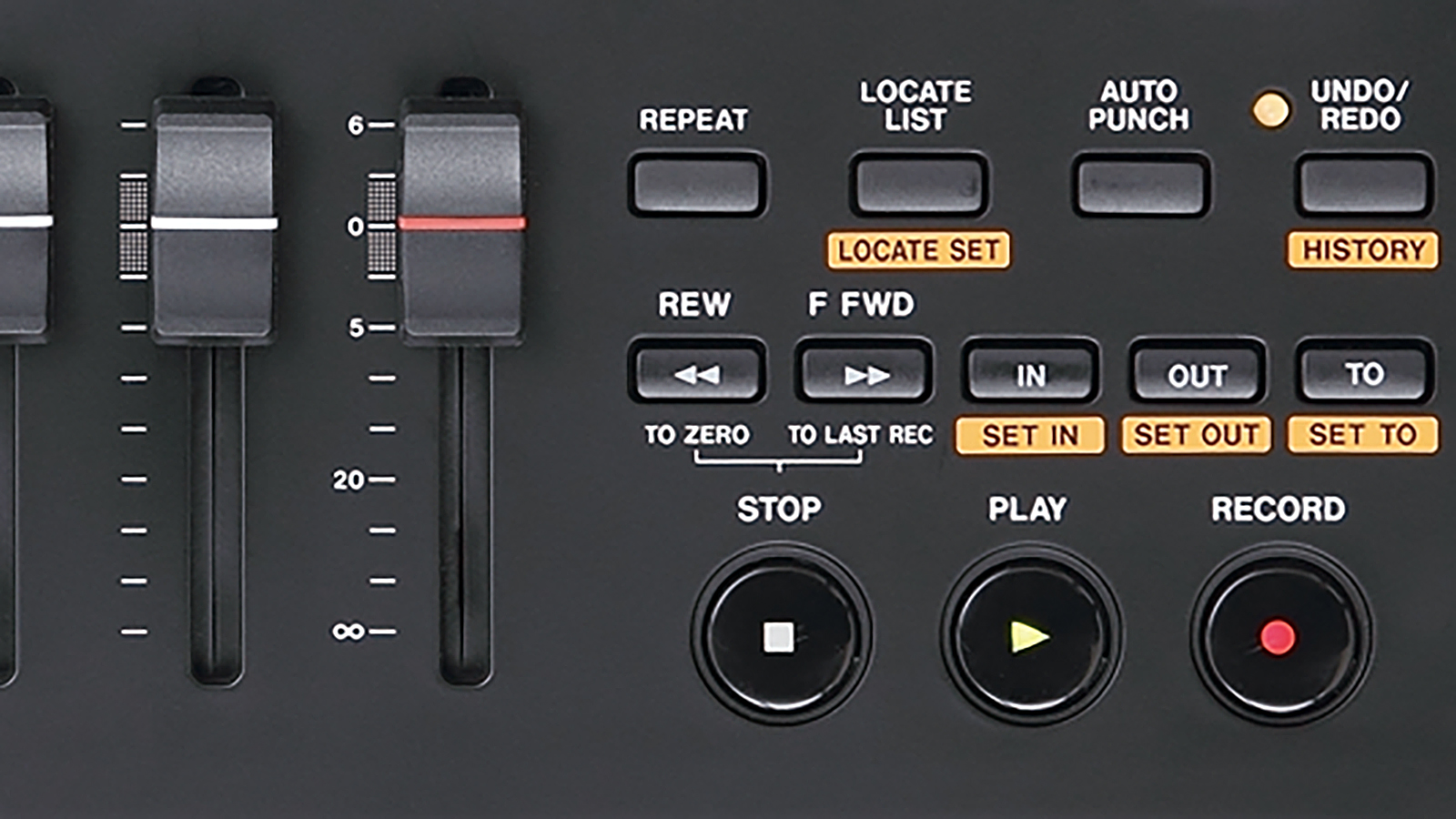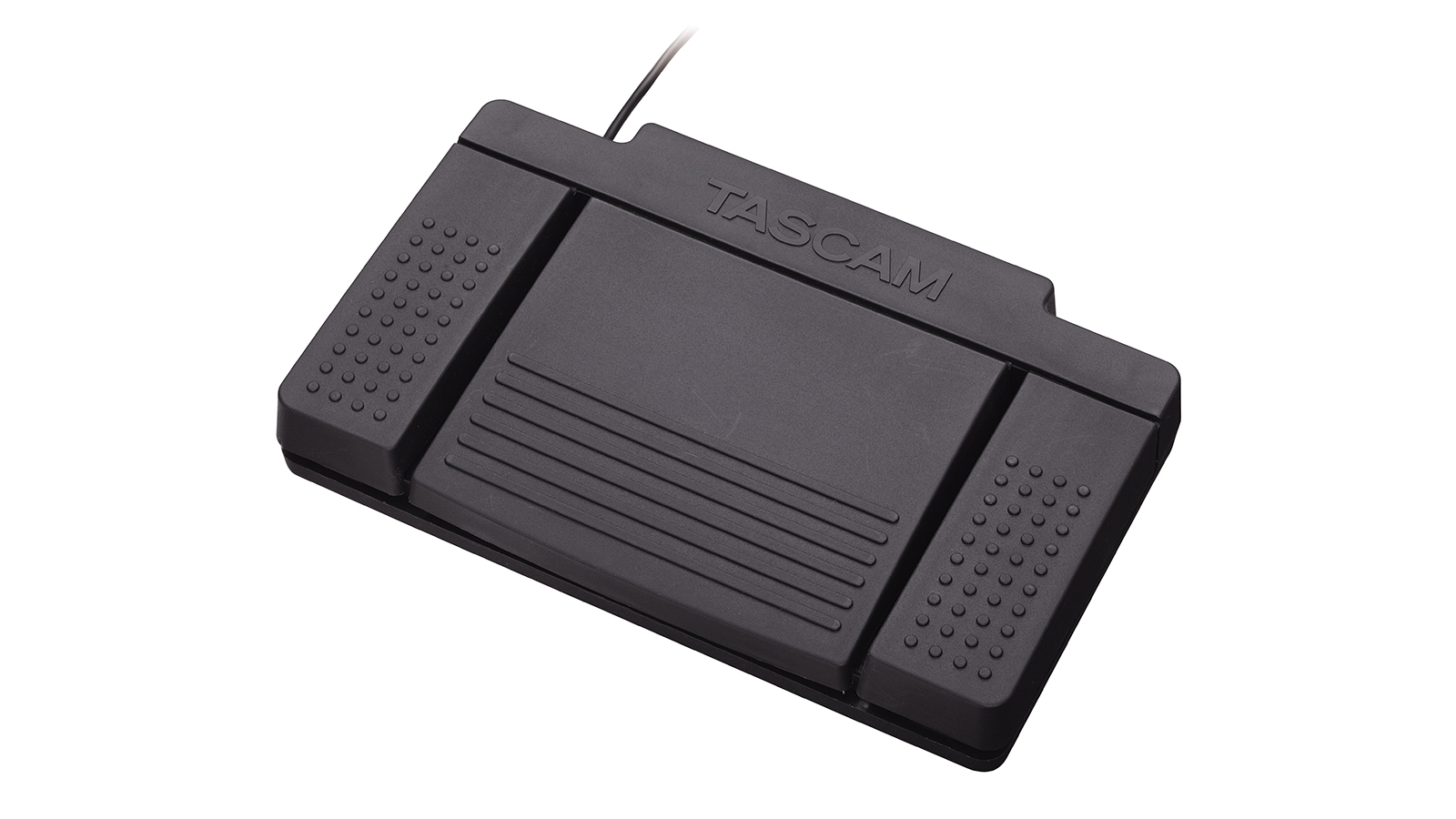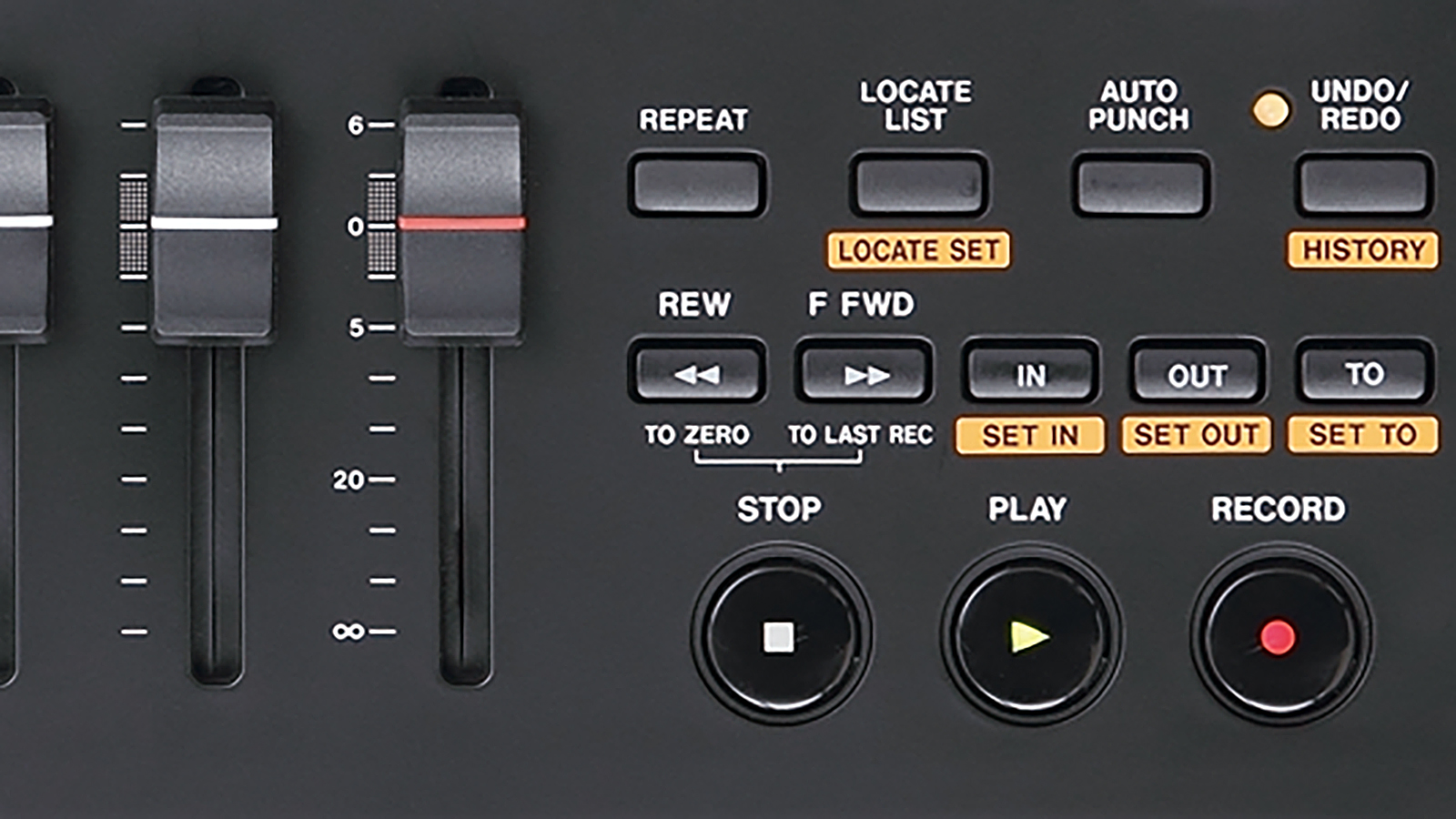 Professional-Grade Recording Technologies
Routing the inputs to one of the eight tracks is simple, and you can record two at a time. A tuner and metronome are built-in for tight-sounding tracks, each with its own dedicated button for quick access. Track can be edited with commands like copy/paste, silence, clone track and undo. Bouncing is also available, even bouncing all eight tracks down to one or two. There's even the option to import a WAV file through USB.
Each track has its own send to a stereo reverb processor as well as two-band shelving EQ. Once you've perfected your mix with the 45mm faders, pan knobs, reverb and EQ, record it to the dedicated stereo master track. Your mix can be processed with mastering effects like EQ and limiting for a tight, modern sound. When you're satisfied, transfer your mix to a computer over USB 2.0.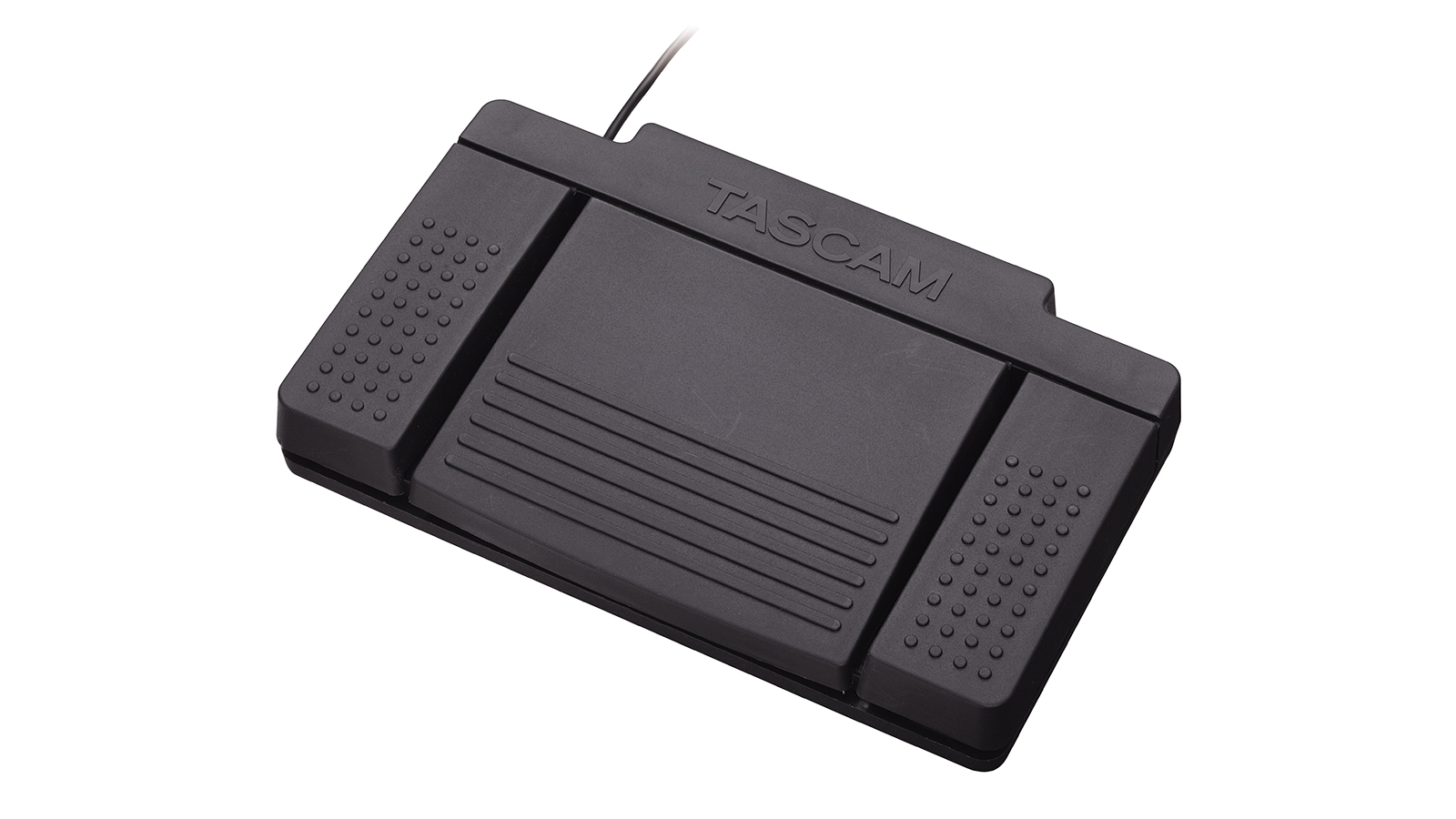 Optional foot switch remote control
An optional 3-button foot switch, the RC-3F is available for control and punch in.
Features at a Glance
Record, Mix, and Master in a Single Workstation
Eight Recording Tracks with Two Track Simultaneous Recording
Intuitive for Songwriters, Powerful enough for Pro Engineers
Onboard Microphones, EQ, Effects, and Processors for the Ultimate Songwriting Tool
Record Hundreds of Hours of Music on a Single SD Card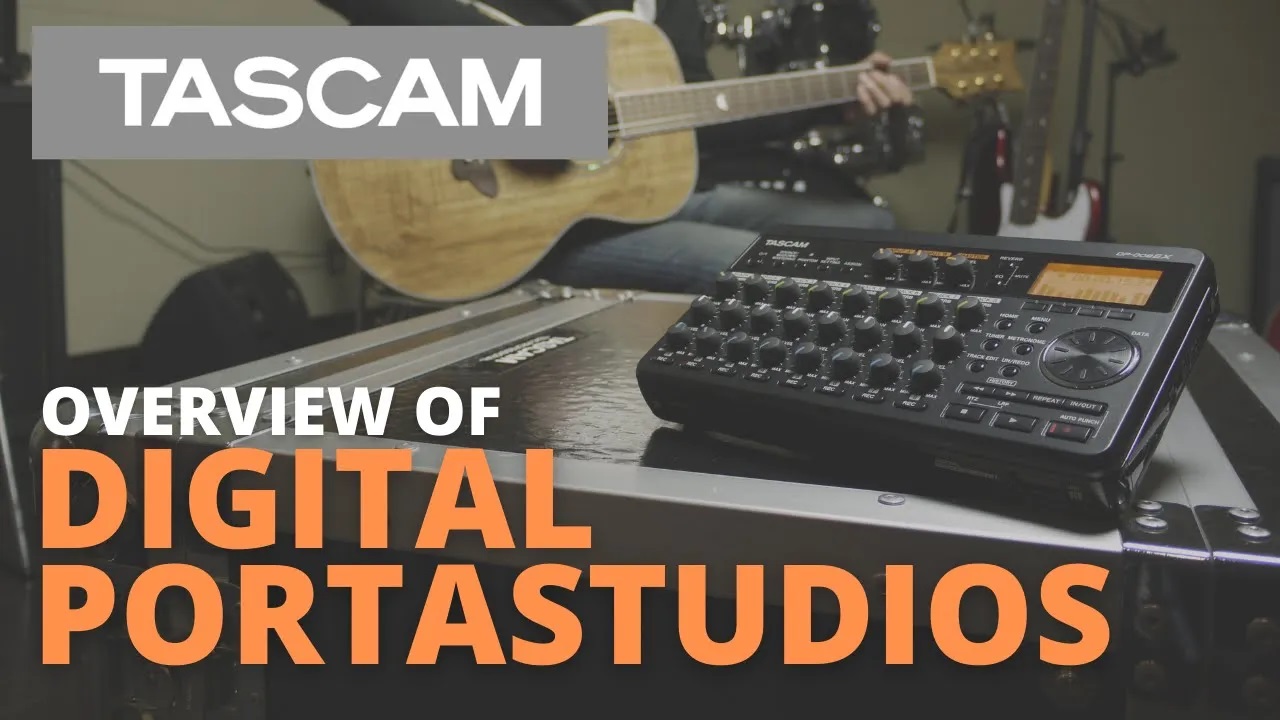 TASCAM Portastudios and the Home Recording Revolution
Learn More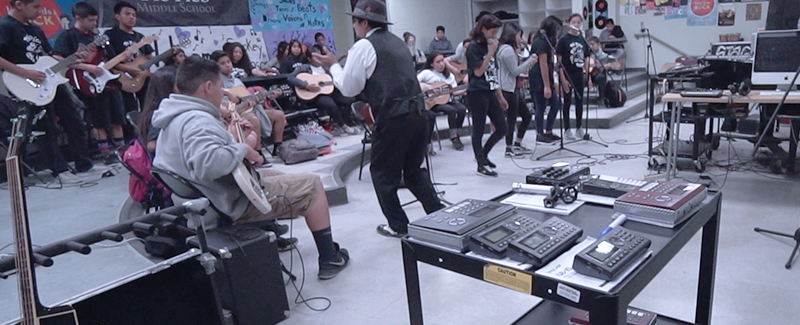 TASCAM Brings Modern Tools to Modern Band
Learn More
Spec description
| | |
| --- | --- |
| Recording media | SD card (512MB to 2GB), SDHC card (4GB to 32GB) |
| File system | TASCAM original (MTR partition) / FAT32 (FAT partition) |
| INPUT A | |
| XLR | |
| Connector | XLR-3-31(1: GND, 2: HOT, 3: COLD), BALANCED |
| Input impedance | 2.4kΩ |
| Nominal input level | –16dBu |
| Maximum input level | 0dBu |
| TRS | |
| Connector | 1/4" (6.3mm) TRS-jack (Tip: HOT, Ring: COLD, Sleeve: GND), BALANCED |
| Input impedance | 10kΩ or more (INPUT A: MIC/LINE), 1MΩ (INPUT A: GUITAR) |
| Nominal input level | +4dBu (INPUT A: MIC/LINE), –2dBV (INPUT A: GUITAR) |
| Maximum input level | +24dBu (INPUT A: MIC/LINE),+14dBV (INPUT A: GUITAR) |
| Headroom | 20dB (INPUT A: MIC/LINE), 16dB (INPUT A: GUITAR) |
| INPUT B | |
| XLR | |
| Connector | XLR-3-31(1: GND, 2: HOT, 3: COLD), BALANCED |
| Input impedance | 2.4kΩ |
| Nominal input level | –16dBu |
| Maximum input level | 0dBu |
| TRS | |
| Connector | 1/4" (6.3mm) TRS-jack (Tip: HOT, Ring: COLD, Sleeve: GND), BALANCED |
| Input impedance | 10kΩ or more |
| Nominal input level | +4dBu |
| Maximum input level | +24dBu |
| Headroom | 20dB |
| Bulit-in microphones | Omni-directional microphones × 2 |
| LINE OUT | |
| Connectors | RCA pin-jack |
| Nominal output level | –10dBV |
| Maximum output level | +6dBV |
| PHONES | |
| Connector | 1/8" (3.5mm) stereo mini jack |
| Maximum output level | 40mW + 40mW or more (THD+N less than 0.1%, 32Ω loaded) |
| USB | |
| Connector | USB Mini-B type |
| Format | USB2.0 HIGH SPEED mass storage class |
| Remote Control | |
| Connector | 2.5mm TS-jack |
| Power | AC 100-240V, 50/60Hz (AC adapter PS-1220E or GPE248-120200-Z) |
| Power consumption | 5W |
| Dimensions (W×H×D) | 11.4" × 2.1" × 8.2" / 290 × 54.1 × 207.2 mm |
| Weight | 3.1 lbs. / 1.4 g (excluding AC Adapter) |
| Operating temperature | 41˚F to 95˚F / 5˚C to 35˚C |
| Backup memory | In the PREFERENCES, contents of "Repeat Int", "Contrast", and "FootSW Polarity". |
| Accessories | AC Adapter (PS-1220E or GPE248-120200-Z), Power Cord for AC Adapter, SD Card (installed in the main unit), Warranty card, Owner's manual |
Operating system requirements
| | |
| --- | --- |
| Windows | |
| CPU | Pentium 300MHz or faster |
| Memory | 128MB or more |
| Interface | USB port (USB2.0 and Intel chipset recommended) |
| Macintosh | |
| CPU | PowerPC, iMac, G3, G4 266MHz or faster |
| Memory | 64MB or more |
| Interface | USB port (USB2.0 and Intel chipset recommended) |
Audio performance
| | |
| --- | --- |
| Frequency response | 20Hz to 20kHz (+1/–3dB, INPUT (MIC/LINE) to LINE OUT) |
| Distortion | Less than 0.01% (INPUT (MIC/LINE) to LINE OUT) |
| S/N ratio | More than 90dB (INPUT (MIC/LINE) to LINE OUT) |