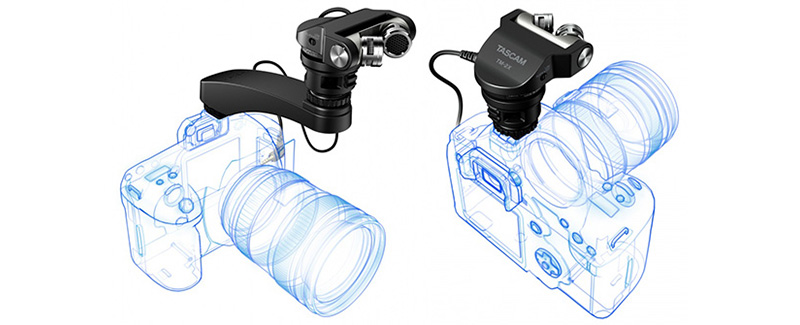 TM-2X
STEREO CONDENSER MICORPHONE FOR DSLR CAMERAS WITH SHOE MOUNT
The TM-2X is an X-Y stereo condenser microphone that can record high quality sounds appropriate for high-quality video filmed with a DSLR (digital single-lens reflex) cameras, something that has been getting a lot of attention within the past few years. The TM-2X has been developed by thoroughly investing know-how on linear PCM recorders and professional acoustic equipment that TASCAM has accumulated in order to create an accessory in which a DSLR user can easily enjoy a high-sound quality filming.
Microphone type : Cardioid
Frequency range : 50Hz to 20kHz
Maximum input level : 120dB SPL (at 1kHz, SENS: H, LCF=Flat, RL: 2.2kΩ, Vcc: 2.5V)
Output impedance : 1.6kΩ (RL: 2.2kΩ, Vcc: 2.5V)
S/N ratio : 74dB (at 1kHz, 1Pa, A weighted)
Mic sensitivity switch : SENS H:–37dB, SENS L:–52dB (at 1kHz, 0dB=1V/Pa, RL: 2.2kΩ, Vcc: 2.5V)
See All
Directional stereo condenser microphone in an X-Y configuration
Designed with the capacity to easily handle high sound pressures up to 120dB SPL
Floating support structure used to reduce handling noise
Included noise isolation arm to reduce lens operation noise
Low-cut filter to eliminate any unwanted low frequencies
Included furry windscreen
Two-stage output level adjustment switch ensures compatibility with a variety of cameras
Vari-angle microphone structure allows 180º rotation for optimal mic placement
See All
TM-2X
Furry windscreen
Noise isolation arm
Warranty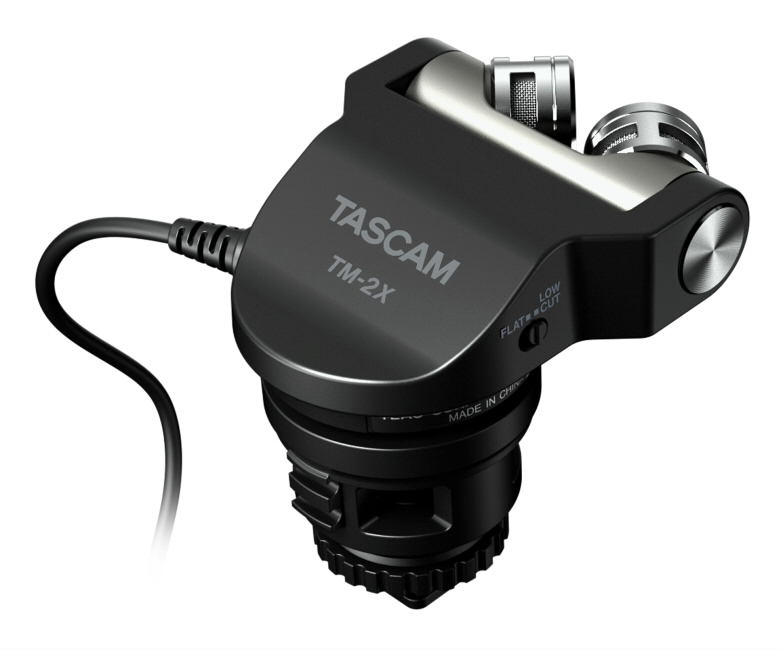 X-Y stereo microphone method, directional and optimal for recording from a specific source
The dual unidirectional condenser microphone unit that focus records sounds in front was configured using an X-Y pattern. The X-Y pattern is a type of a stereo recording method and records sounds while reducing the hollowing out effect (when the central sound becomes weak). As such, this is an effective recording method when filming a specific target. A vari-angle microphone structure that allows 180-degree rotation was adopted, allowing for mic placement in accordance to the target. The audio circuit design, including the microphone, went through several listening tests in order to select the parts that are best for achieving great sound quality. The TM-2X can handle sound pressure up to 120dB SPL, and as such, can record sound without distorting even when filming a target with a high volume.
Floating structure that doesn't completely fix the microphone to the body reduces noise
In conjunction to implementing the high-sound quality of the circuit itself, external noise measures for the TM-2X were also explored. Extra attention was placed on the noise characteristics of a DSLR camera, with various measures implemented to counterattack that. A floating structure was employed for the mic unit and the shoe mount section, reducing handling noise from the mic unit. In addition, a noise isolation arm was included in order to physically reduce operational noise by keeping a distance from the noise source. If the operation noise from the camera's auto-focus is an issue, mounting the noise isolation arm will reduce such noises. Other attachments include the low-cut filter, which eliminates low-frequency noise and the fur windscreen that reduces wind noise when filming outdoors.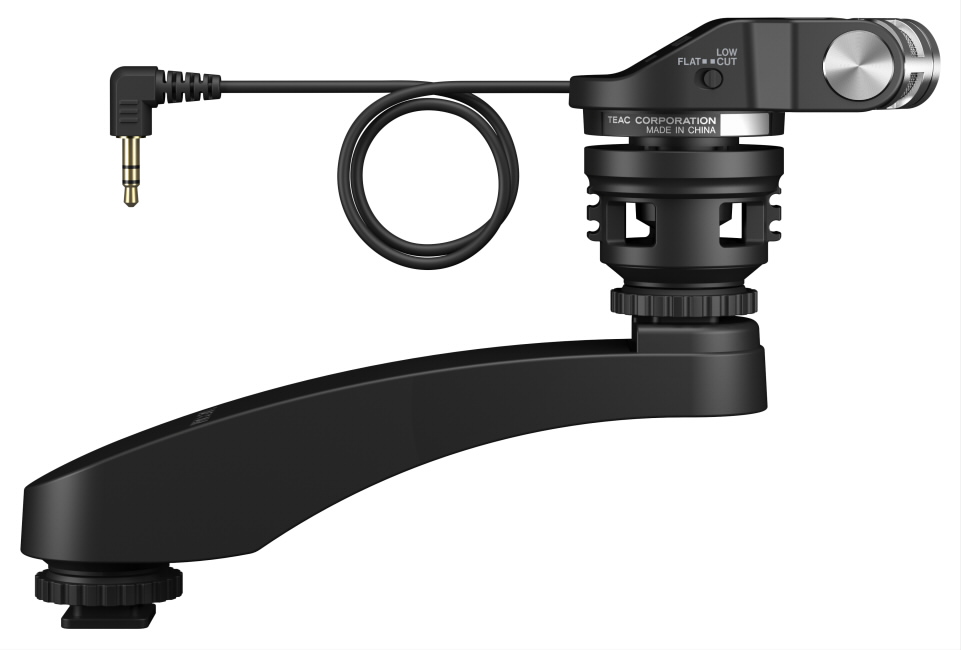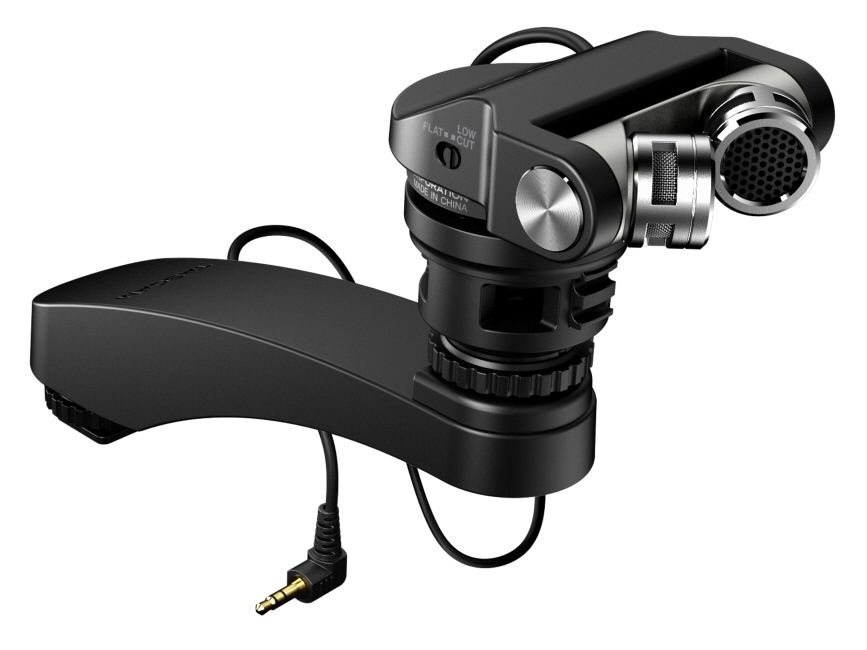 Easy high-quality sound recording available without needing complex setup
Despite having functionality on par with professional acoustic equipment, the TM-2X is extremely easy to use. The only preparation required is to mount it on a camera and connect the stereo mini-jack plug into the camera's external port. All you have to do after this is set the camera's recording level in accordance with the film's target subject; you are then free to enjoy filming at a level of sound quality that surpasses filming with a camera alone. Because the TM-2X is an analog acoustic device that does not contain any digital circuits, it can be used for other applications than with DSLRs, including mirrorless SL cameras, compact digital cameras, and video cameras.
A must have camera accessory when filming with a DSLR
By simply mounting TM-2X on your camera, you can perform high-quality video recordings in which realistic audio is added to depth-of-field imagery characteristic to DSLR. Just like with exchangeable lenses and strobes, this is a new type of camera accessory that camera fans will want to take along with them in their camera bag.
*Patent application already submitted.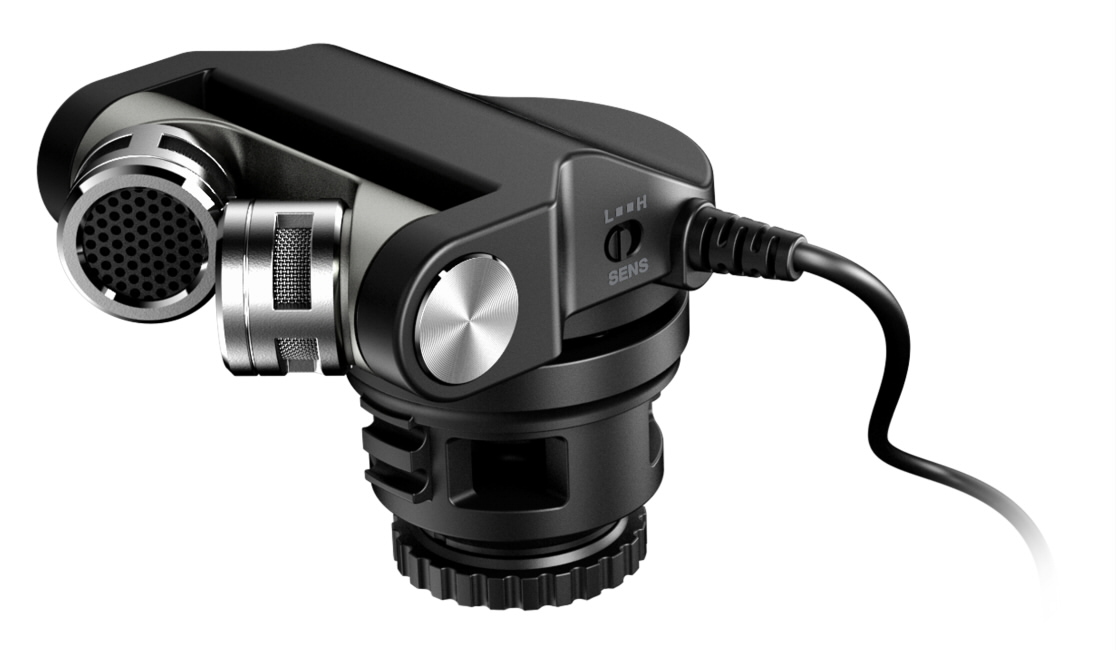 Additional Features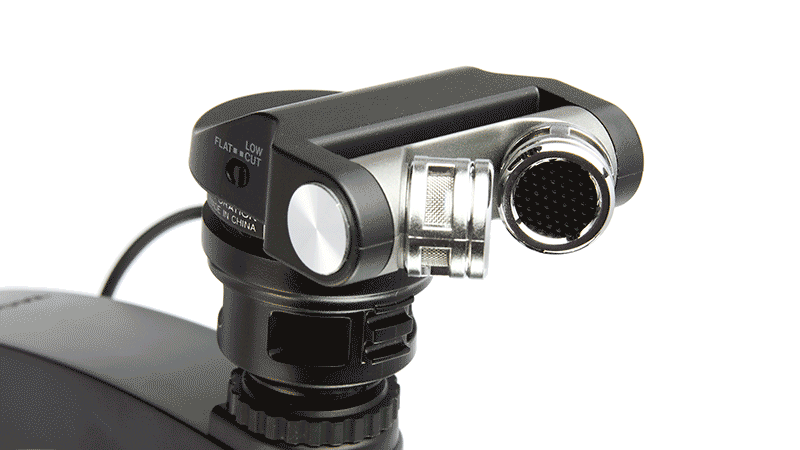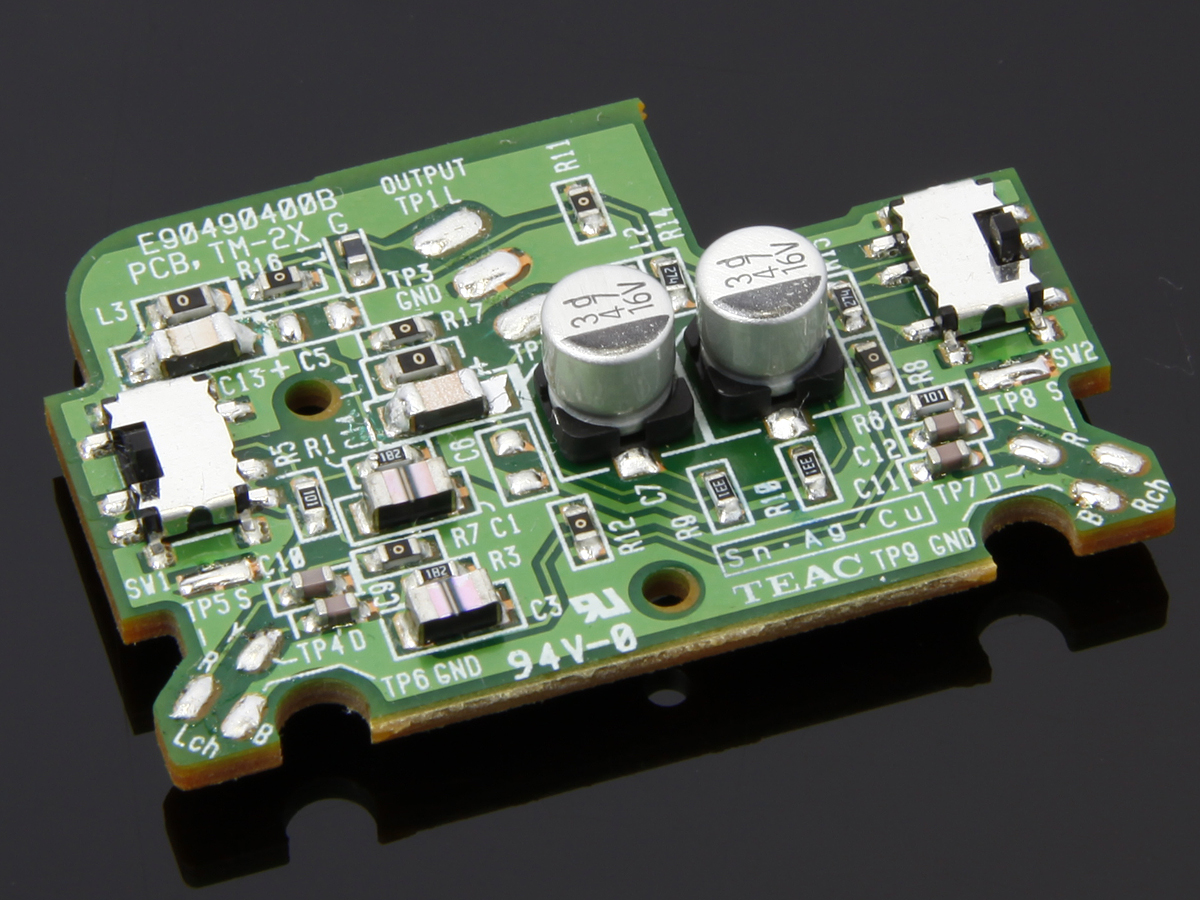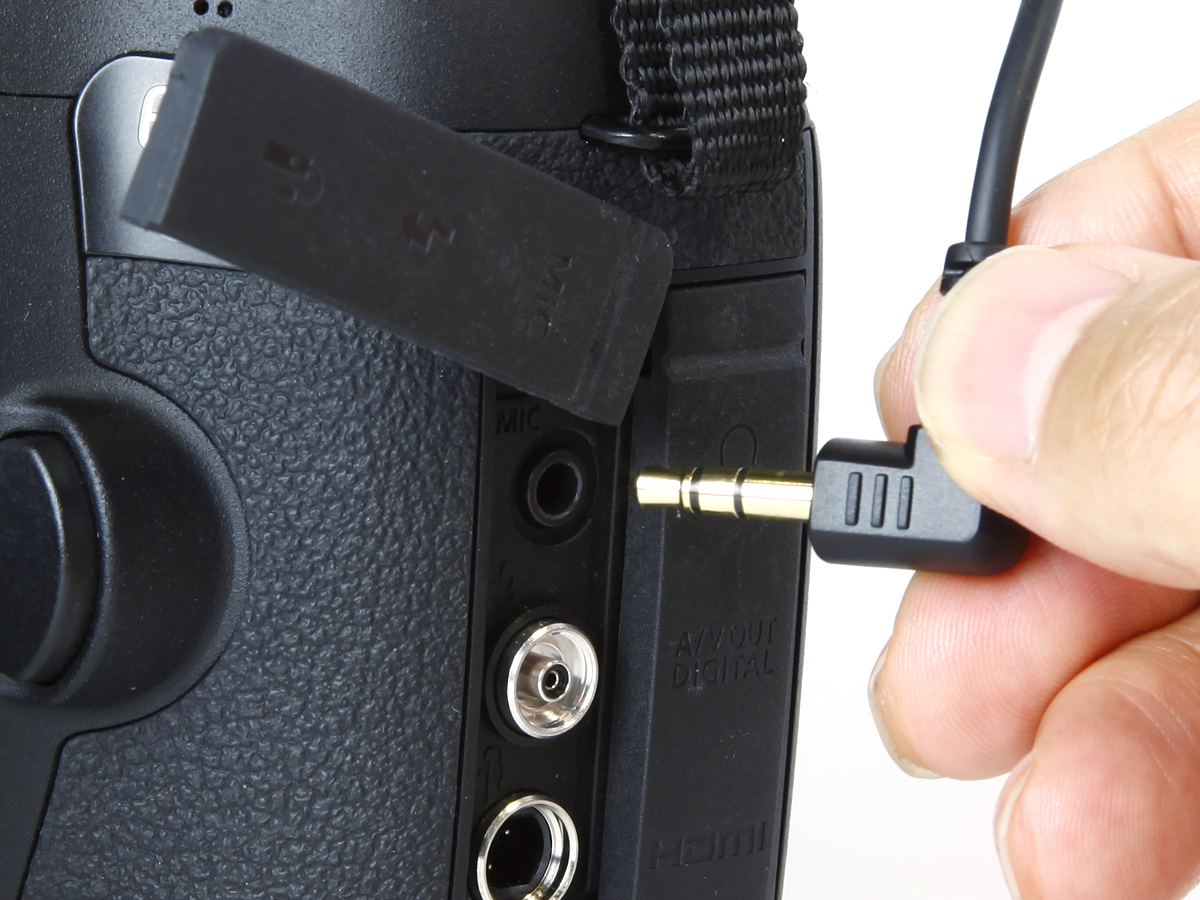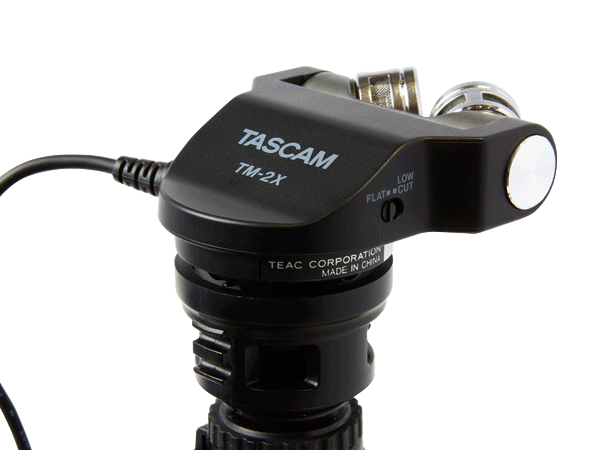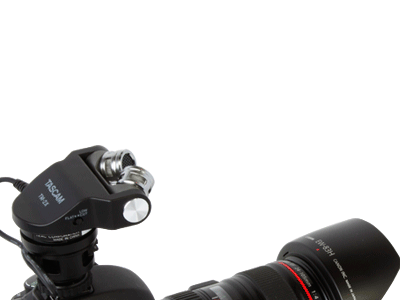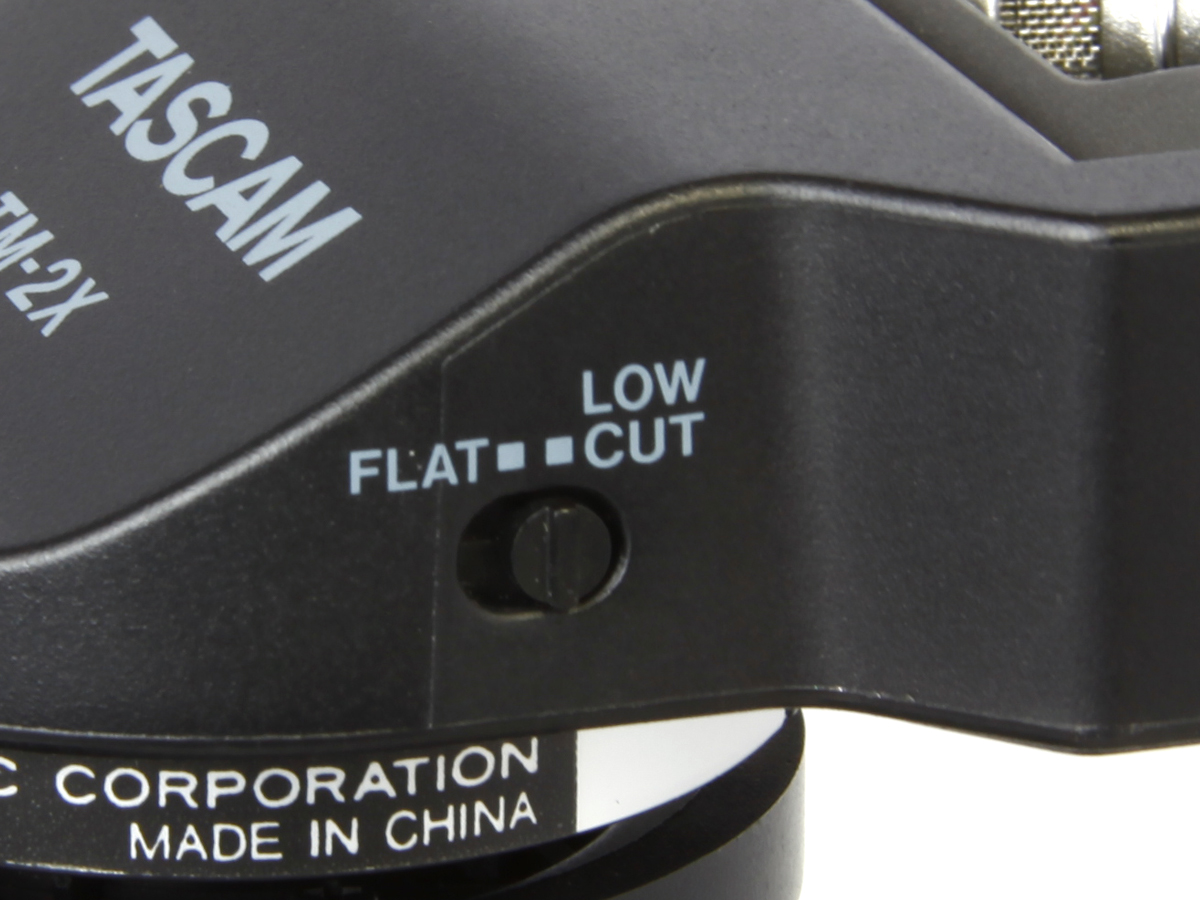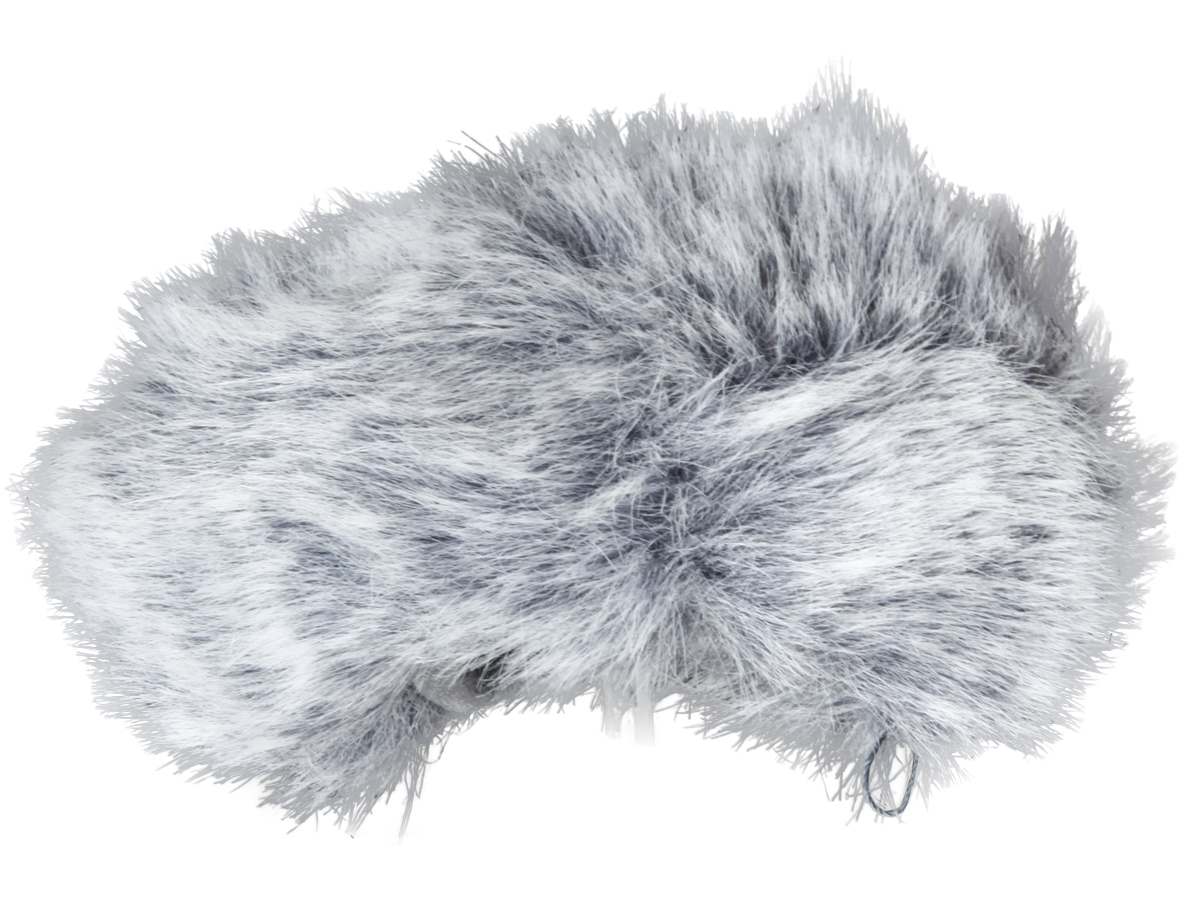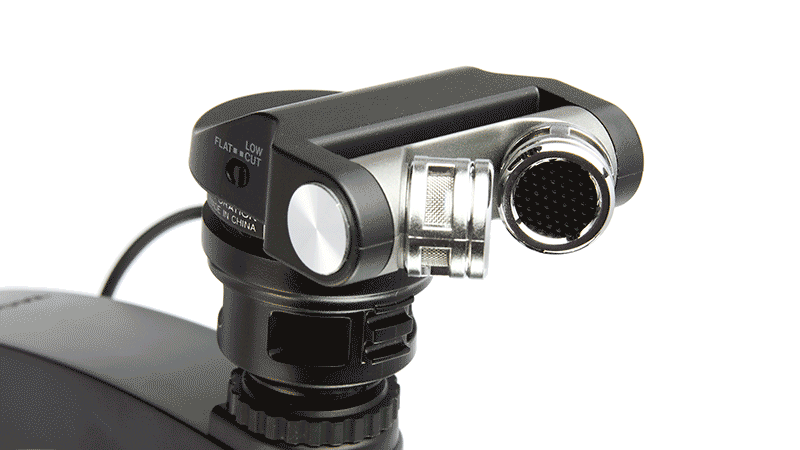 High-performance X-Y stereo condenser mics
The directional condenser microphones equipped on the TM-2X are the same mics used in our highly-regarded DR-series recorders. The X-Y pattern and two mic capsules are ideal for capturing a true representation of the sonic atmosphere, whether it's sound from a wide area or directly in front of the camera. As a result, the TM-2X records pristine sound that fits naturally with the recorded video.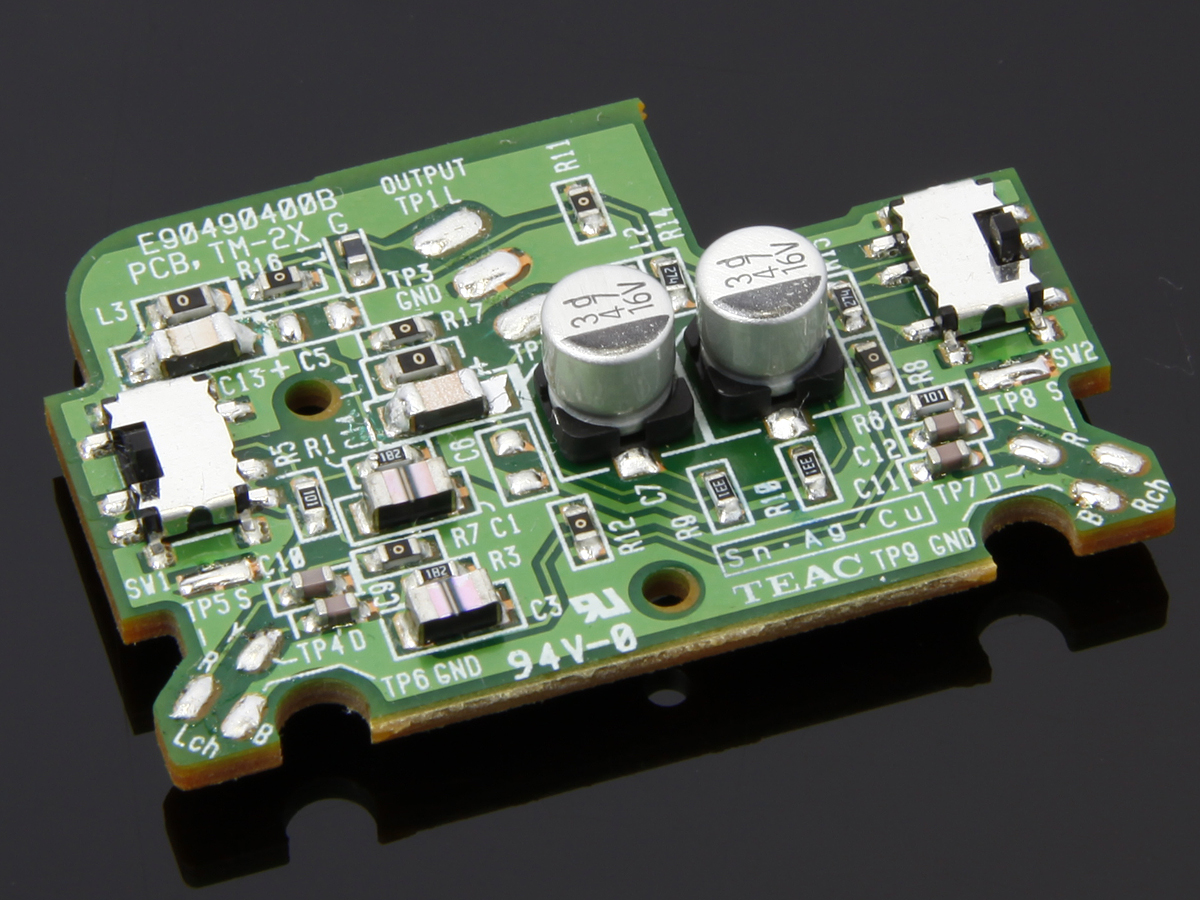 Delivers high audio quality and the capacity to handle high sound pressures
We have consistently utilized our expertise in developing recording devices that focus on the design of the analog circuits behind the mic capsules. As a result, the TM-2X achieves a high performance rating and a frequency response of 50 Hz to 20 kHz. Furthermore, we designed the TM-2X with the capacity to handle high sound pressures up to 120 dB SPL to prevent distortion even in loud scenarios.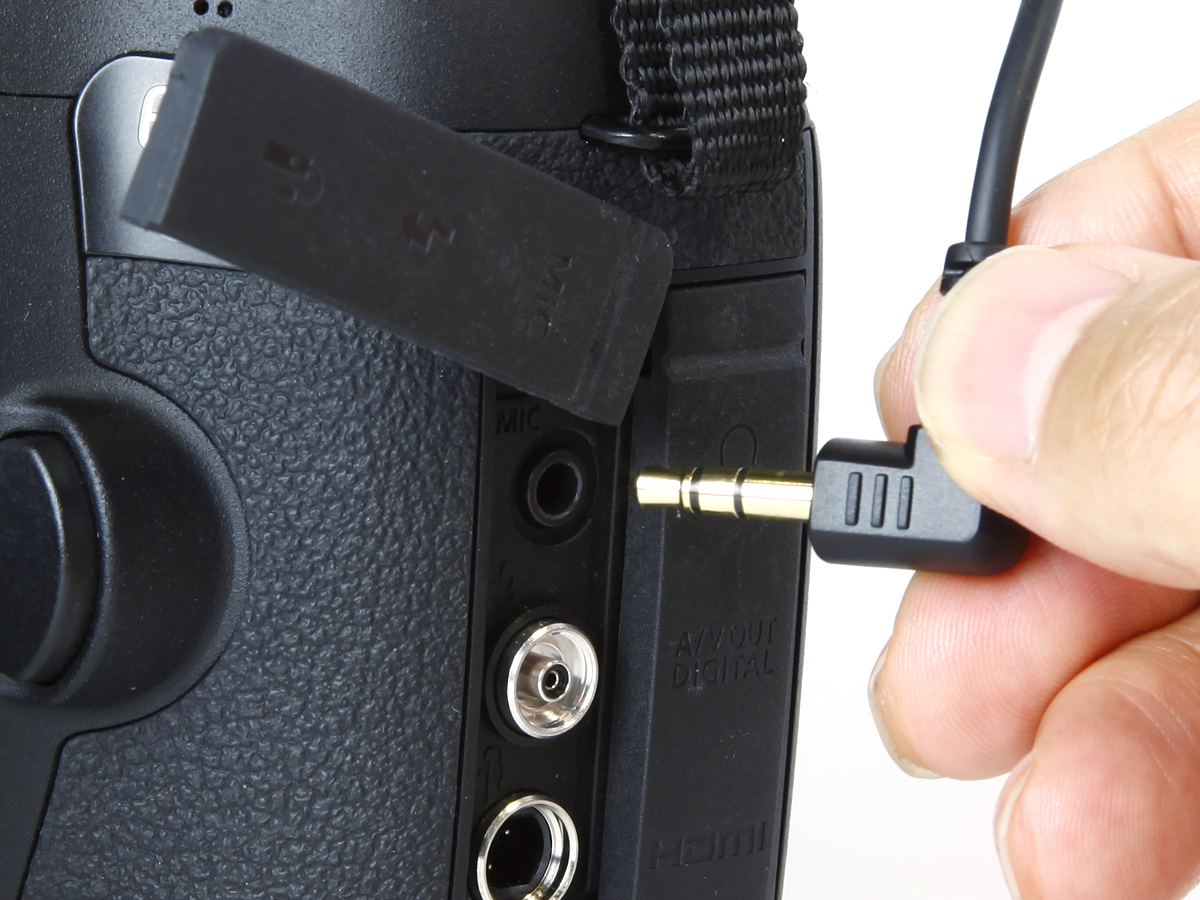 Built-in stereo mini plug output can be connected directly to the camera mic input for simple setup
Setup is as simple as connecting the cord from the TM-2X to the camera's mic input jack allowing you to add high-quality audio to video. The output can be set to one of two levels to enable compatibility with a variety of cameras.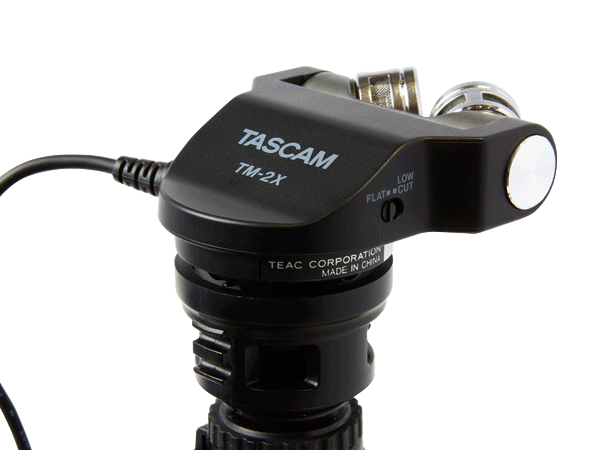 Floating structure reduces handling noise
The floating support structure underneath the mics absorbs unwanted handling noise and sounds from cameras' mechanics.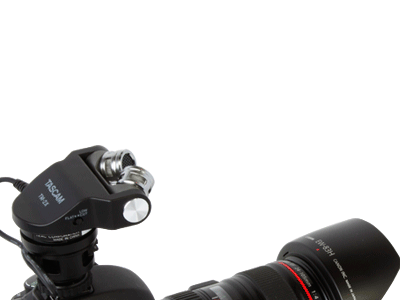 Noise isolation arm to reduce lens operation noise included
When capturing video using changeable auto-focus lenses, the sounds produced from the lens itself can disrupt and interfere with recordings. In situations where this noise is a problem, you can reduce the interruptions by using the included noise isolation arm. The noise isolation arm physically increases the distance from the noise source to reduce its capture. The structure of the arm, including its length and height, was developed through extensive testing.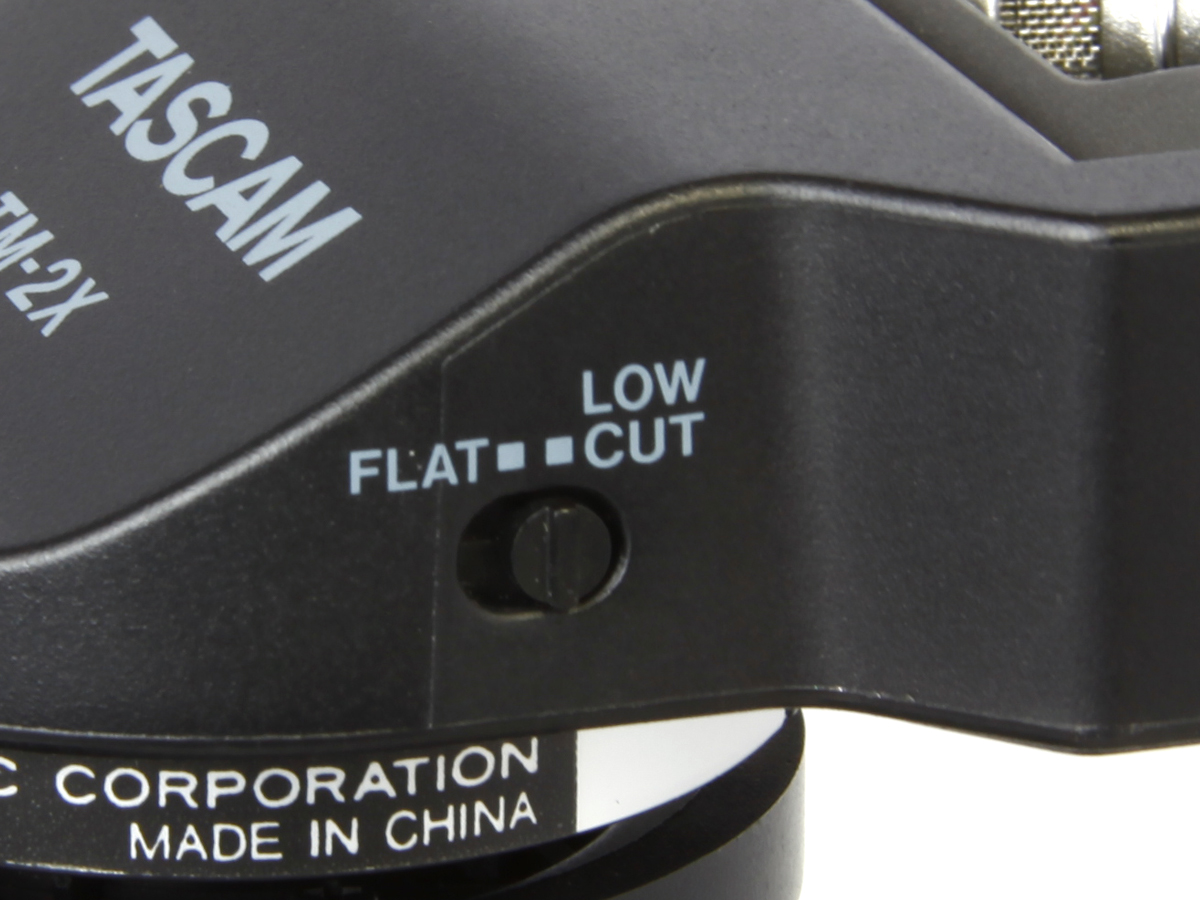 On-board Low-cut filter eliminates unwanted low frequencies
The unit includes an on-board low-cut filter to cut out low-frequency background noise. Depending on the video recording scenario, you can choose to turn this feature on or off (LOW CUT/FLAT).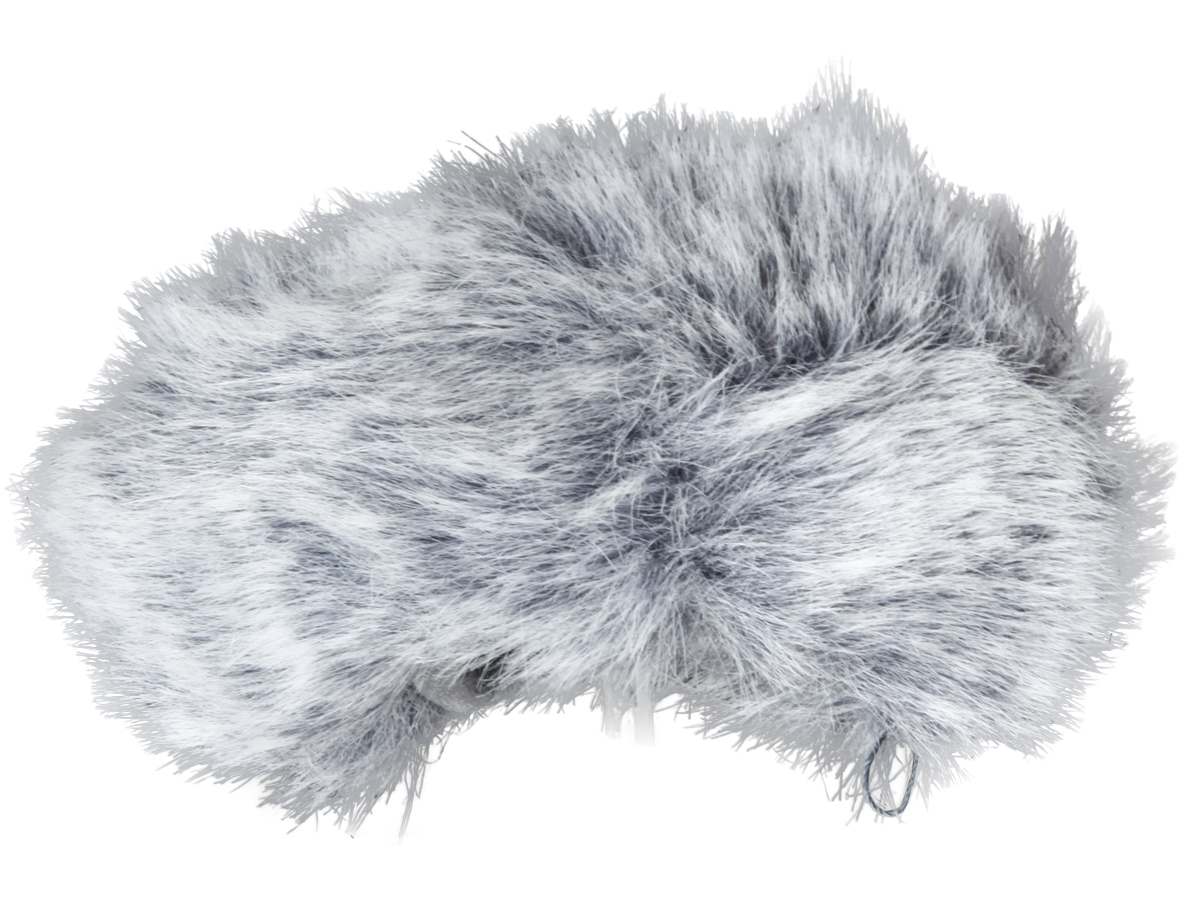 Furry windscreen to reduce wind noise
When filming outdoors, even a slight breeze can enter the mic and cause wind noise. This unit comes with a furry windscreen that can physically prevent this noise from occurring. Wind noise can be reduced by simply covering the mic unit with this windscreen.
Sample sound source With Furry windscreen Play
With no Furry windscreen Play
Features at a Glance
Directional stereo condenser microphone in an X-Y configuration
Designed with the capacity to easily handle high sound pressures up to 120dB SPL
Floating support structure used to reduce handling noise
Included noise isolation arm to reduce lens operation noise
Low-cut filter to eliminate any unwanted low frequencies
Included furry windscreen
Two-stage output level adjustment switch ensures compatibility with a variety of cameras
Vari-angle microphone structure allows 180º rotation for optimal mic placement
Included shoe adapter (ISO/JIS specification compliant) can be attached to the camera accessory shoe
Tripod mounting threads enable the unit to be attached to a camera tripod
13" (33cm) connection cord supports connections in a variety of manners
Lightweight design (2.6 oz. / 75 g) that won't interrupt camera balance or handling
Stereo mini-plug output jack
Operates on plug-in power from the connected unit
Spec description
Microphone type
Cardioid
Frequency range
50Hz to 20kHz
Input output ratings
Maximum input level
120dB SPL (at 1kHz, SENS: H, LCF=Flat, RL: 2.2kΩ, Vcc: 2.5V)
Output impedance
1.6kΩ (RL: 2.2kΩ, Vcc: 2.5V)
S/N ratio
74dB (at 1kHz, 1Pa, A weighted)
Mic sensitivity switch
SENS H:–37dB, SENS L:–52dB
(at 1kHz, 0dB=1V/Pa, RL: 2.2kΩ, Vcc: 2.5V)
Connection cable/plug
Cable length
13" / 33 cm
Plug
1/8" (3.5mm) TRS Stereo Mini plug (Tip: L-ch, Ring: R-ch, Sleeve: GND) × 1
Power
Plug-in power (JEITA standard CP-1203A)
Dimensions (W×H×D)
TM-2X main unit
2.24" × 2.3" × 2.7" / 57 × 59 × 69 mm (excluding cable and connectors)
Noise isolation arm
1.34" × 2.24" × 5.6" / 34 × 57 × 142 mm
Weight
TM-2X main unit
2.4 oz. / 75 g
Noise isolation arm
1.5 oz. / 41 g
Operating temperature
23˚F to 142˚F / –5˚ to 45˚C
Accessories
Fur windscreen, Noise isolation arm, Owner's Manual, Warranty