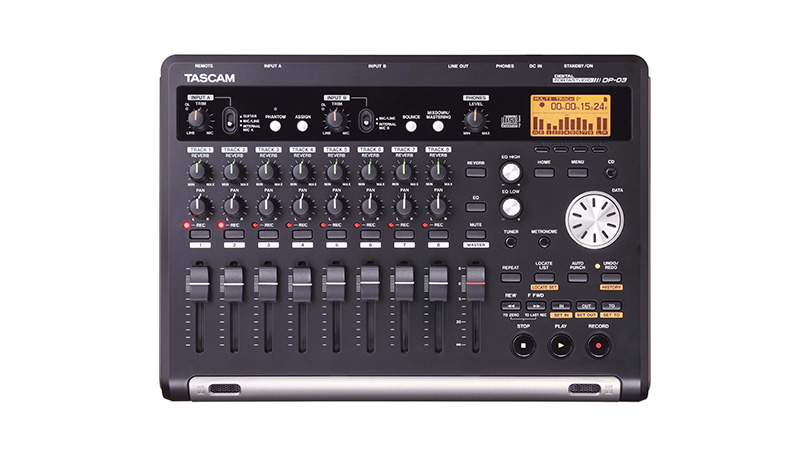 This model has been discontinued in North, Central and South America.
Please check the availability with your local distributors in other areas.
It has been replaced with the DP-03SD.
The DP-03 is the latest Portastudio in TASCAM's 37-year progression of making recording simple and affordable for musicians. The 8-track digital recorder captures your music at CD quality to affordable SD/SDHC cards, and a 2GB card is included with the recorder. With built-in microphones, effects, mastering and CD burning, the DP-03 provides everything musicians need to record and share their music.
A pair of stereo condenser microphones is built into the front panel of the DP-03, helpful for capturing a rehearsal, live performance or songwriting ideas. Also included are a pair of high-quality XLR microphone preamps with phantom power for condenser microphones. 1/4" line inputs are also available, and an instrument-level switch allows you to record a guitar or bass without a direct box. A three-button footswitch, the RC-3F, is available for control and punch in.
Routing the inputs to one of the eight tracks is simple, and you can record two at a time until you fill up all eight. A tuner and metronome are built-in for tight-sounding tracks, each with its own dedicated button for quick access. Track can be edited with commands like copy/paste, silence, clone track and undo. Bouncing is also available, even bouncing all eight tracks down to one or two. There's even the option to import a recording through USB or audio CD.
Each track has its own send to a stereo reverb processor as well as two-band shelving EQ. Once you've perfected your mix with the 45mm faders, pan knobs, reverb and EQ, record it to the dedicated stereo master track. Your mix can be processed with mastering effects like EQ and limiting for a tight, modern sound. When you're satisfied, transfer your mix to a computer over USB 2.0 or burn an audio CD.
TASCAM's DP-03 is the simplest, best-sounding way to share your music with the world.
Spec description
Recording media
SD card(64MB to 2GB), SDHC card(4GB to 32GB)
File system
MTR partition
TASCAM original
FAT partition
FAT32
Built-in mic
Omni directional, Stereo
Sampling frequency
44.1kHz
Quantization bit rate
16bit
INPUT A
XLR
Connectors
XLR-3-31(1:GND, 2:HOT, 3:COLD), BALANCED
Input impedance
2.4k ohms
Nominal input level
-16dBu
Maximum input level
0dBu
TRS
Connectors
6.3mm(1/4") TRS-jack, BALANCED
Input impedance
10k ohms or more(MIC/LINE)
1M ohms(GUITAR)
Nominal input level
+4dBV
Maximum input level
+24dBV
INPUT B
XLR
Connectors
XLR-3-31(1:GND, 2:HOT, 3:COLD), BALANCED
Input impedance
2.4k ohms
Nominal input level
-16dBu
Maximum input level
0dBu
TRS
Connectors
6.3mm(1/4") TRS-jack, BALANCED
Input impedance
10k ohms or more
Nominal input level
+4dBV
Maximum input level
+24dBV
LINE OUTPUT (L/R)
Connectors
RCA pin-jack, UNBALANCED
Nominal output level
-10dBV
Maximum output level
+6dBV
PHONES
Connector
3.5mm (1/8") stereo mini jack
Maximum output level
40mW+40mW(32ohms loaded)
REMOTE
Connector
2.5mm TS jack
USB
Connector
Mini-B type
Format
USB2.0 HIGH SPEED mass storage class
EQ
Hi
+/-12dB, 1.7kHz to18kHz
Lo
+/-12dB, 32Hz to1.6kHz
Reverb
Presets
6(Hall1/Hall2/Room/Studio/Plate1/Plate2)
Mastering Effects
EQ
Hi
+/-12dB, 1.7kHz to18kHz
Lo
+/-12dB, 32Hz to1.6kHz
Compressor
THRESHOLD, RATIO, LEVEL
Multi-band presets
9
Single-band presets
4
Normalize
This function detects the highest volume level and raises the overall volume until the highest level reaches the maximum limit.
Metronome
TEMPO
20 to 250(BMP)
BEAT
1 to 12
Tuner
Chromatic mode
C3 to B5
Oscllator mode
C3 to B5, 435Hz to 445Hz
Power
Dedicated AC adapter (TASCAM PS-1225L, included)
Power consumption
10W (when phantom power supplying)
Dimensions
290(W)×54.1(H)×207.2(D)mm
11.42"(W)×2.13"(H)×8.16"(D)
Weight
1.8kg
Accessories
2GB SD card, AC adapter(PS-1225L), Warranty card, Owner's manual
Operating system requirements
Windows
OS
Windows XP, Windows Vista, Windows 7, Windows 8
Macintosh
OS
Mac OS X Jaguar (V10.2), Mac OS X Panther (V10.3), Mac OS X Tiger (V10.4), Mac OS X Leopard (V10.5), Mac OS X Snow Leopard(V10.6.8), OS X Lion(V10.7), OS X Mountain Lion(V10.8)
Audio performance
Frequency response
20Hz to 20kHz +1/-3dB (INPUT to LINE OUT)
S/N ratio
90dB or more(INPUT to LINE OUT)
Distortion
0.01% or less(INPUT to LINE OUT)
FAQs
The DP-03 records to SD Card media, the DP-02 had an internal hard drive
The DP-03 is much more compact
The DP-02 had multieffects available during recording, the DP-03 does not
The DP-03 has multiband mastering effects available on mixdown
The DP-02 had a 1/4" footswitch input, the DP-03 has an 1/8" footswitch input for the TASCAM RC-3F
The DP-03 has built-in microphones
The DP-02 had MIDI out, the DP-03 does not
The DP-03 adds a CD audio import function