MZ-372
7-Channel Rackmount Multi-zone Mixer
Professional Mixer for Centralized Management of Various Input Sources from a Single Unit
Maximum flexibility for audio routing, input selection, and multiple redundant output flow, perfect for integrator, musical instrument, and residential applications
Multiple inputs include 12 sets of stereo RCA-type, 6 selectable mic/line XLR, and a dedicated front-panel XLR mic input; 19 total input "sets"
Channel audio sources can easily be selected, muted, and contoured via simple volume sliders, toggle switches/buttons, and knobs
Two redundant output channels each with stereo XLR balanced and unbalanced RCA-type connectors; each with separate volume control
Separate stereo booth, recording, and headphone outputs each with independent control
One additional mic-compatible XLR input on the front panel with "Talkover" function automatically lowering source audio
Independent three-band EQ per each of the 5 channels and a two-band EQ on the additional front panel microphone input
Compact 3U rack mount design
See All
MZ-372 x 1
AC adapter (TASCAM PS-M1524) x 1
Cord for AC adapter (JAPAN USA/EUROPE) x 2
Rackmount screw kit x 1
Owner's Manual including warranty x 1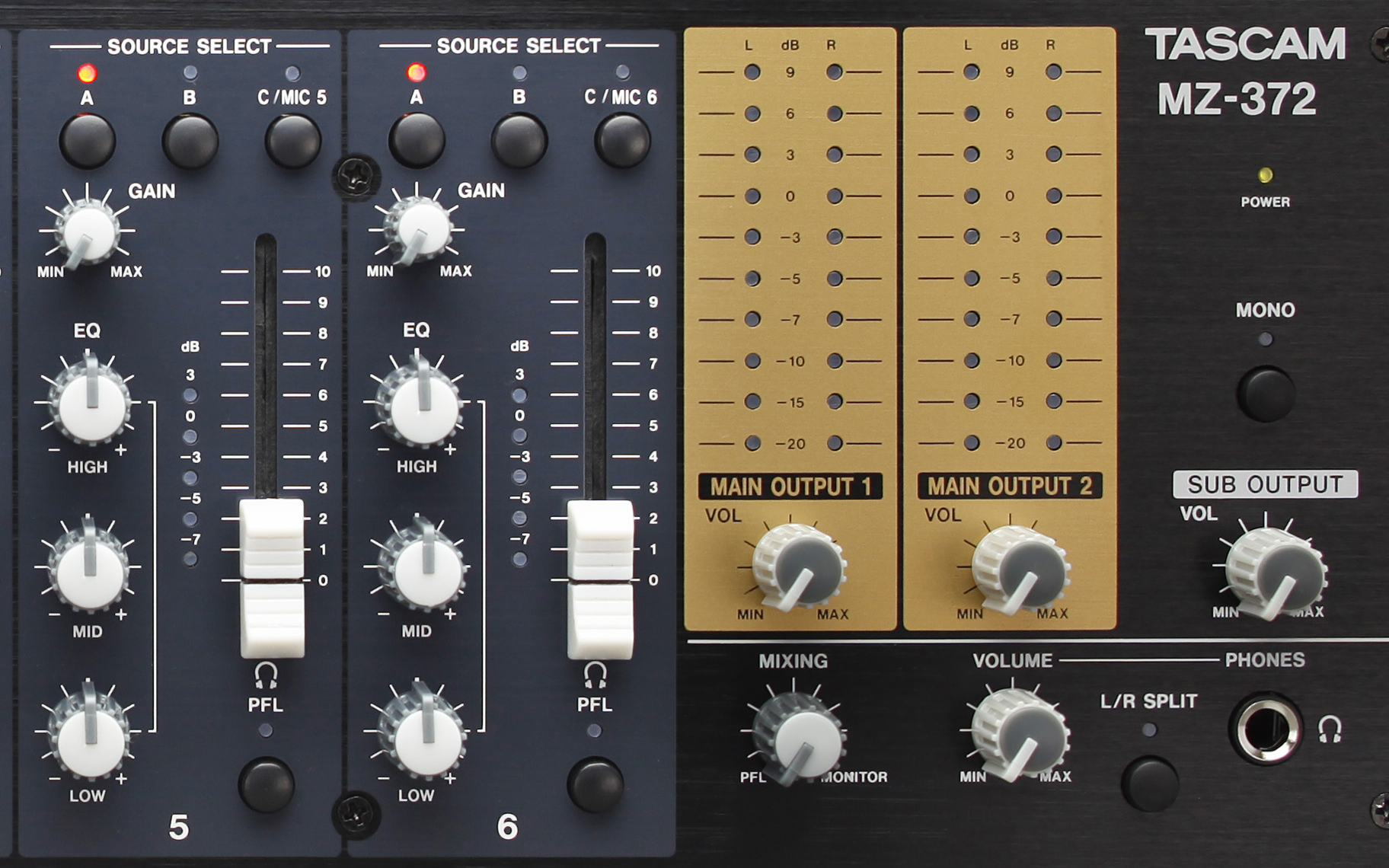 Designed for permanent installation, the TASCAM MZ-372 offers versatile routing, mixing, and control of multiple audio sources in an attractive easy-to-operate 3U package. For maximium flexibility, source content can include music, spoken word (microphone), turntable, and more – all easily controlled via familiar sliders and assignment controls.
Flexible I/O
The MZ-372 allows multiple audio sources (19 total) to be mixed, muted, and routed to 2 redundant outputs, controlled by familiar volume sliders and assignment buttons. Input signals can be inserted via 6 audio channels, each consisting of 2 sets of unbalanced RCA stereo pairs, and 6 XLR inputs for a total of 12 sets of RCA inputs and 6 XLR inputs. In addition, channels 2/3/4 can be set to accommodate phono-level signals for use with a turntable. Lastly, and located conveniently on the front panel, one additional XLR input is available driving a studio quality mic preamp and ducking circuit for easy voiceover and announcement work.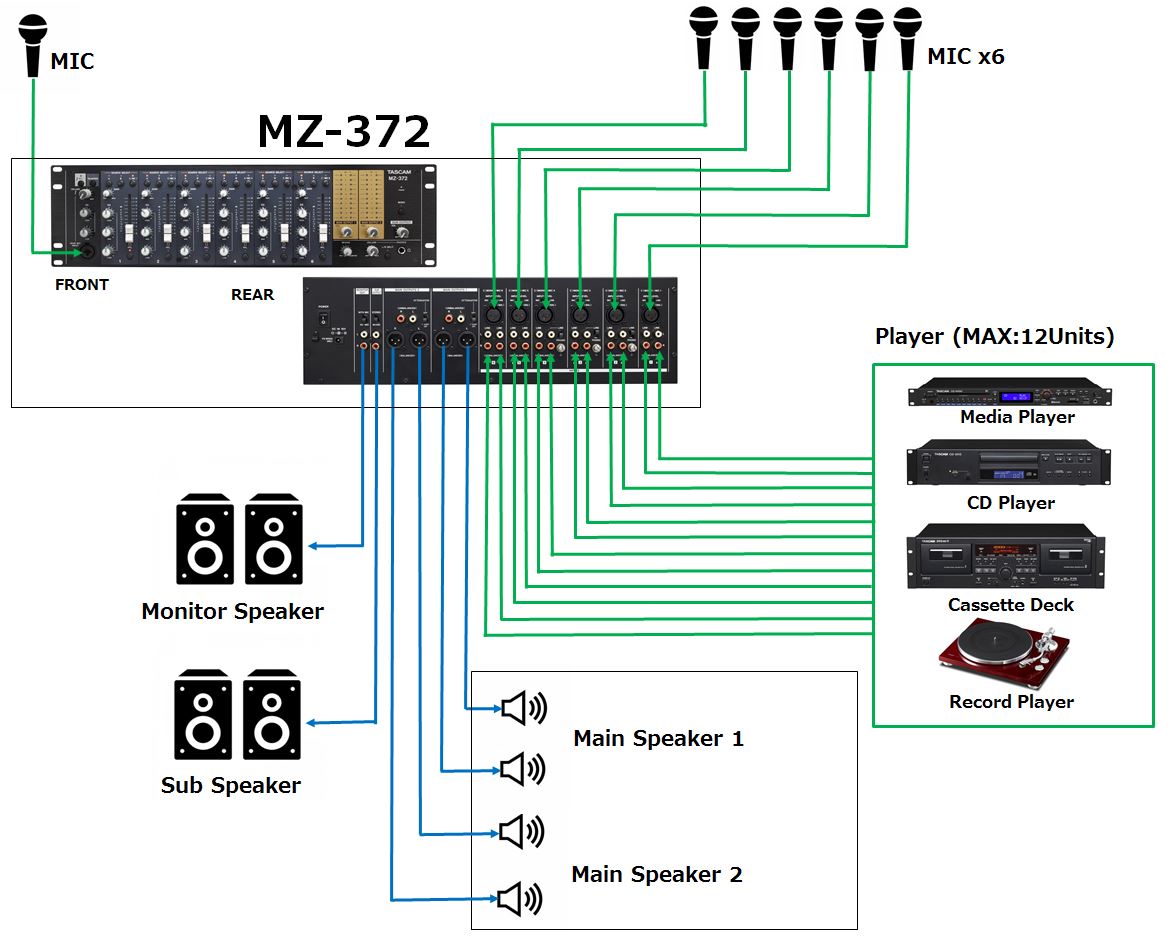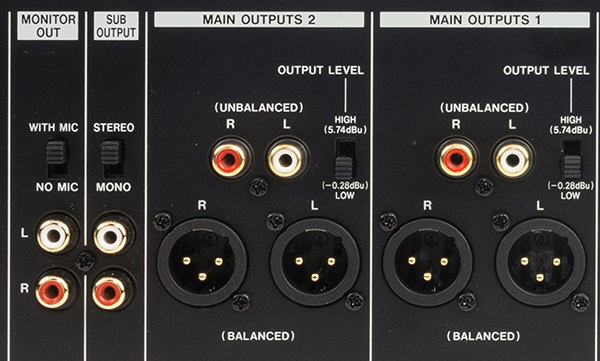 Multiple Zone Outputs
Twin outputs each feature a combination of balanced XLR or RCA unbalanced connectors for easy integration into virtually any audio system. This flexibility allows combinations of microphones, CD/DVD/Blu-ray players, instruments - or any other audio source - to be selected or muted, and sent simultaneously to the dual outputs, each with it's own volume control. Finally, the convenient "Talkover" function will automatically lower any mixed channel source so the microphone connected to the front panel can easily be can be heard in whichever zones you choose.
Easy, Immediate Control
Familiar volume sliders, switches/buttons, EQ knobs, and mute buttons make the MZ-372 simple and fast to operate and set up. There is even a master recording stereo output, which can send audio to an external recorder which makes event or music performance capturing easy. The Booth outputs provide another stereo feed with independent control for additional monitoring.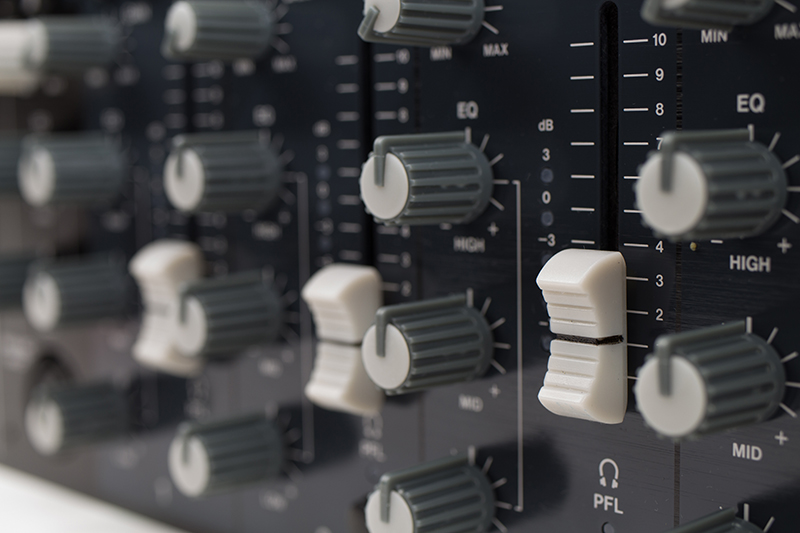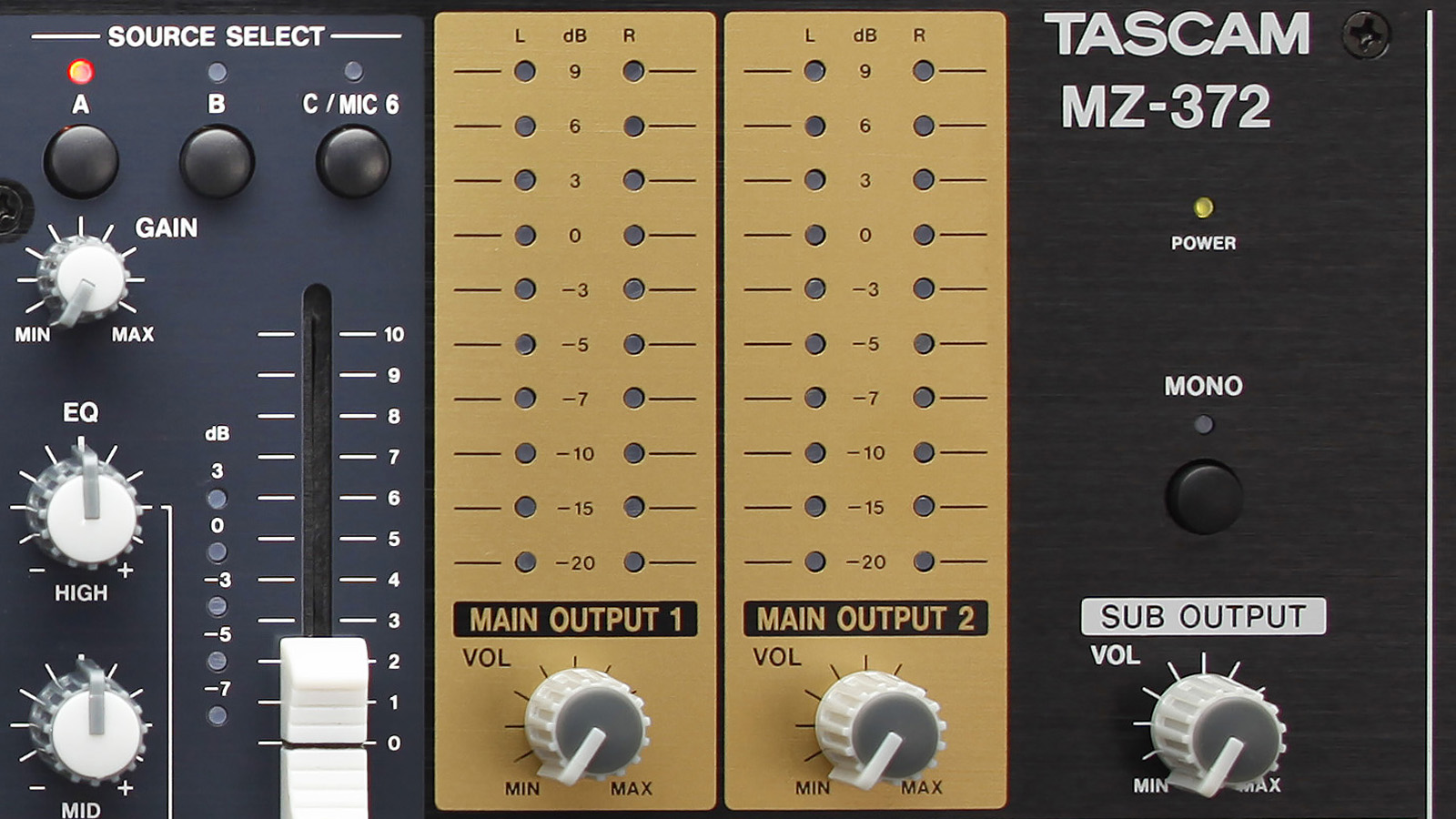 Equipped with two main outputs
There are two MAIN OUTPUTS, and each has XLR balance connectors and RCA unbalanced connectors. There is an easy-to-see stereo level meter that allows you to check the volume balance.
* The same audio is output from both MAIN OUTPUTS.
There are also a SUB OUTPUT and a MONITOR OUT for monitor speakers with RCA unbalanced connectors.
Microphone input ideal for announcements
The front panel is equipped with a MIC INPUT independent from the input channels. The "TALKOVER" function automatically attenuates the BGM volume when sound is input from a microphone, making it easier to listen to the microphone sound, which is perfect for announcements at stores and other facilities.
It is also possible to adjust the tone using the 2-band equalizer.
Additional Features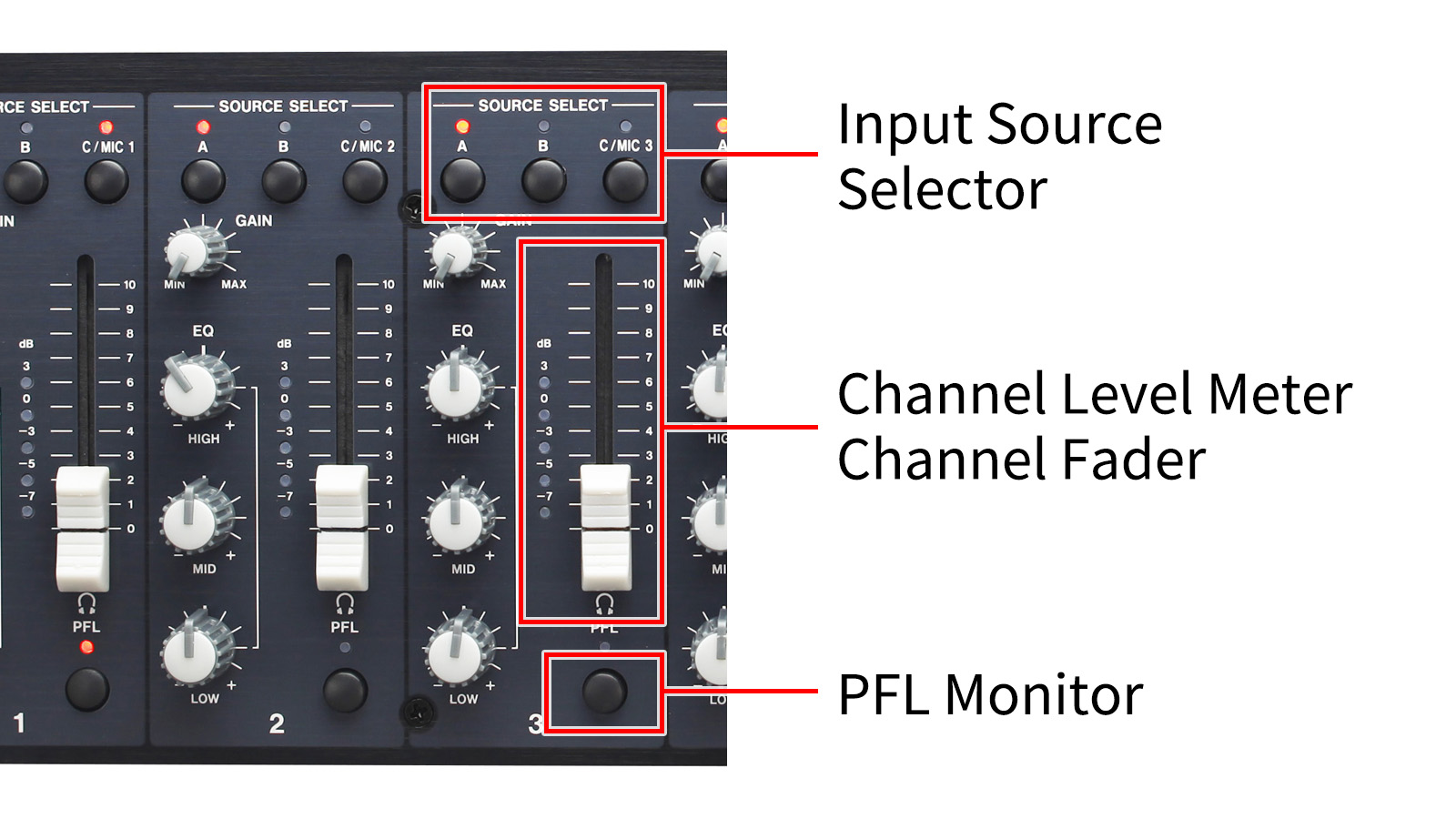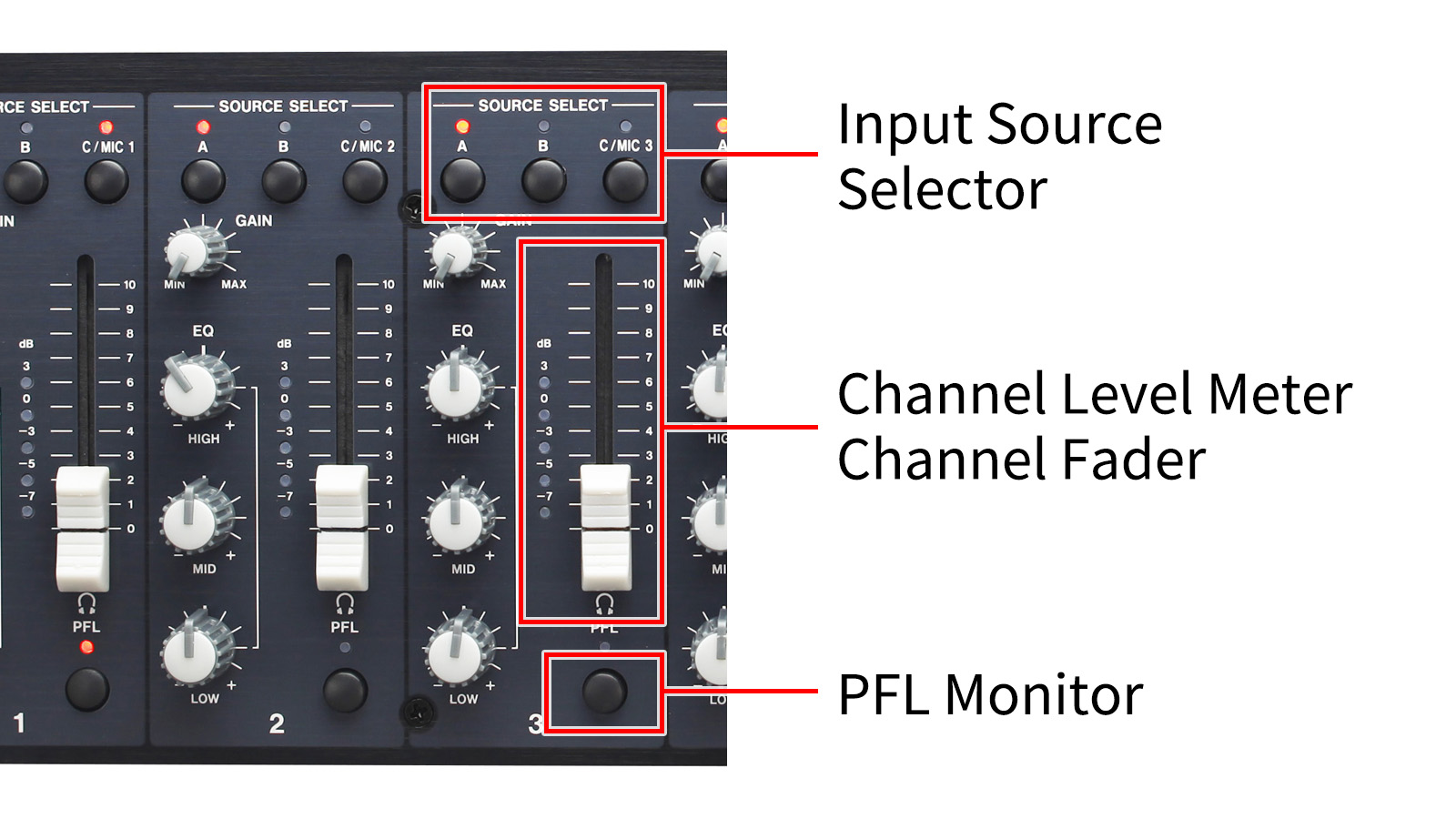 Simple input channel configuration
Each channel has a level meter and a slide fader, providing excellent visibility and operability. In addition, the input source can easily be selected using buttons, so there is no need for troublesome rewiring. You can also adjust the gain, 3-band equalizer, and pre-fader monitor level of the input source for each channel.
Features at a Glance
Maximum flexibility for audio routing, input selection, and multiple redundant output flow, perfect for integrator, musical instrument, and residential applications
Multiple inputs include 12 sets of stereo RCA-type, 6 selectable mic/line XLR, and a dedicated front-panel XLR mic input; 19 total input "sets"
Channel audio sources can easily be selected, muted, and contoured via simple volume sliders, toggle switches/buttons, and knobs
Two redundant output channels each with stereo XLR balanced and unbalanced RCA-type connectors; each with separate volume control
Separate stereo booth, recording, and headphone outputs each with independent control
One additional mic-compatible XLR input on the front panel with "Talkover" function automatically lowering source audio
Independent three-band EQ per each of the 5 channels and a two-band EQ on the additional front panel microphone input
Compact 3U rack mount design
Spec description
Audio inputs
MAIN MIC INPUT (BALANCED) jacks
Connectors
XLR-3-31 (1: GND, 2: HOT, 3: COLD)
6.3mm (1/4") standard TRS jacks (Tip: HOT, Ring: COLD, Sleeve: GND)
Nominal input level
VOLUME knob at MAX
-65dBu
VOLUME knob at MIN
-30dBu
Input impedance
33kΩ
MIC INPUTS (BALANCED) jacks
Connectors
XLR-3-31 (1: GND, 2: HOT, 3: COLD)
Set to MIC
Maximum input level
-30dBu
Minimum input level
-65dBu
Input impedance
33kΩ
Set to LINE
Maximum input level
-1dBu
Minimum input level
20dBu
Input impedance
22kΩ
LINE INPUTS (UNBALANCED) jacks
Connectors
RCA pin jacks
Nominal input level
-10dBV
Maximum input level
10dBV
Input impedance
22kΩ
Audio outputs
MAIN OUTPUTS (UNBALANCED) jacks
Connectors
RCA pin jacks
Rated output level
-10dBV
Maximum output level
6dBV
Output impedance
200Ω
MAIN OUTPUTS (BALANCED) jacks
Connectors
XLR-3-31 (1: GND, 2: HOT, 3: COLD)
Rated output level
4dBu
Maximum output level
24dBu
Output impedance
200Ω
SUB OUTPUT connectors
Connectors
RCA pin jacks
Rated output level
-16 dBV
Maximum output level
0 dBV
Output impedance
200Ω
MONITOR OUT connectors
Connectors
RCA pin jacks
Rated output level
-16 dBV
Maximum output level
0 dBV
Output impedance
200Ω
PHONES jack
Connectors
6.3mm (1/4") standard stereo jack
Maximum output
50mW + 50mW (into 32Ω load)
Power
Dedicated AC adapter (TASCAM PS-M1524)
Input voltage
AC 100V - 240V, 50/60Hz
Output voltage
DC 15V
Output current
2.4A
Power consumption
35W
Dimensions
482(W) × 132(H) × 93.2(D)mm
Weight
3.2kg
Accessory
AC adapter (TASCAM PS-M1524), Cord for AC adapter (JAPAN USA/EUROPE) × each1, Rackmount screw kit, Owner's Manual (including warranty)
Audio performance
| | |
| --- | --- |
| Frequency response | 20Hz to 20kHz |
| Distortion | 0.03% or less |
| S/N Ratio | 80dB |
| Crosstalk | 65dB |