MZ-123BT
3-CHANNEL RACKMOUNT MULTI-ZONE MIXER WiTH BLUETOOTH
Commercial-grade Multi-Zone Audio Mixer
Bluetooth version: 4.2
Power consumption: 25 W
Dimensions: 483 × 46.5 × 274.8mm (W x H x D, including protrusions, excluding Bluetooth antenna)
Weight: 3.0 kg
See All
Input Channel sources can be easily assigned to each of the individual 3 Zone Outputs
3 Input Channels
2 MIC inputs for announcements or Talk Over
Headphone jack enables monitoring of each output channel
Compact 1U rack-mount size
See All
MZ-123BT x 1
Power cord set x 1
Bluetooth antenna x 1
Euroblock plug x 8
Cable band kit x 1
XLR cover x 1
Rackmount screw kit x 1
Owner's Manual including warranty x 1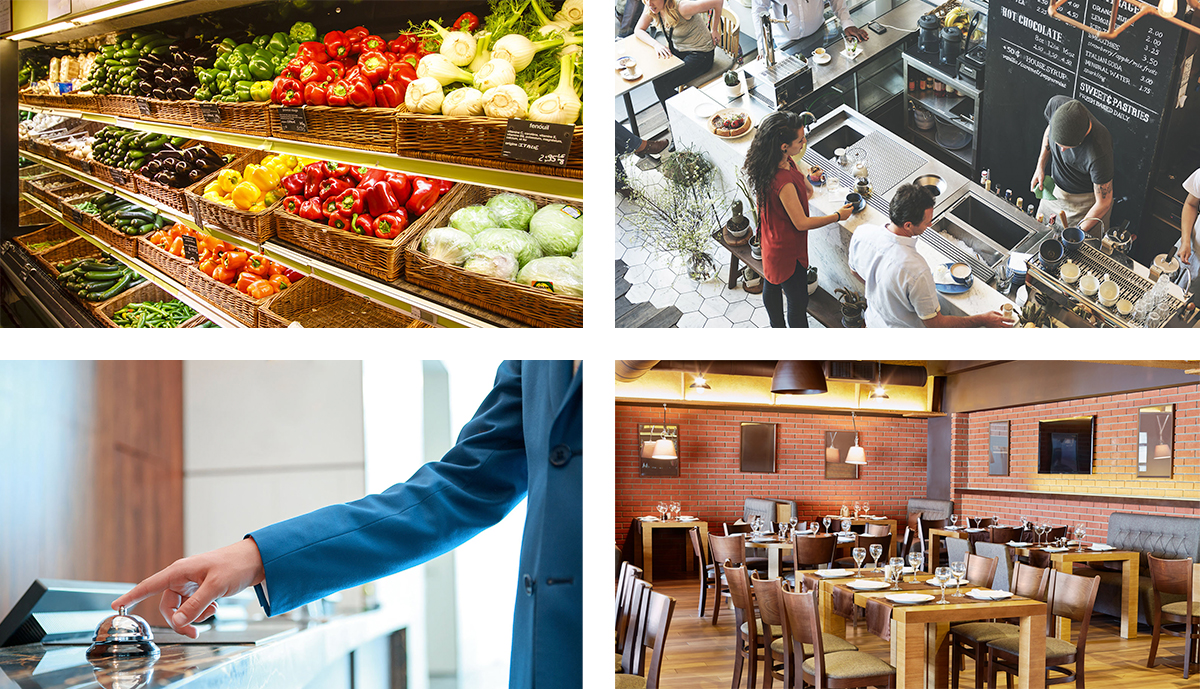 The TASCAM MZ-123BT is a compact 1U multi-channel, multi-zone professional installation mixer that provides versatile routing, mixing and distribution of up to three channels of music and announcements for a wide range of commercial applications, including retail, restaurants, bars, cafes, hotels, or any environment that requires independent audio routing and announcement capabilities. Featuring a simple, intuitive layout for ease of operation, the Bluetooth®-enabled MZ-123BT comes equipped with 2 versatile mic inputs and automatic attenuation of background music for superior intelligibility during announcements or paging.
Discrete Zone Audio Control and Routing
Three discrete Zone Outputs with Volume control allow routing of background music to desired areas or rooms in a restaurant, hotel, retail store or other commercial environment.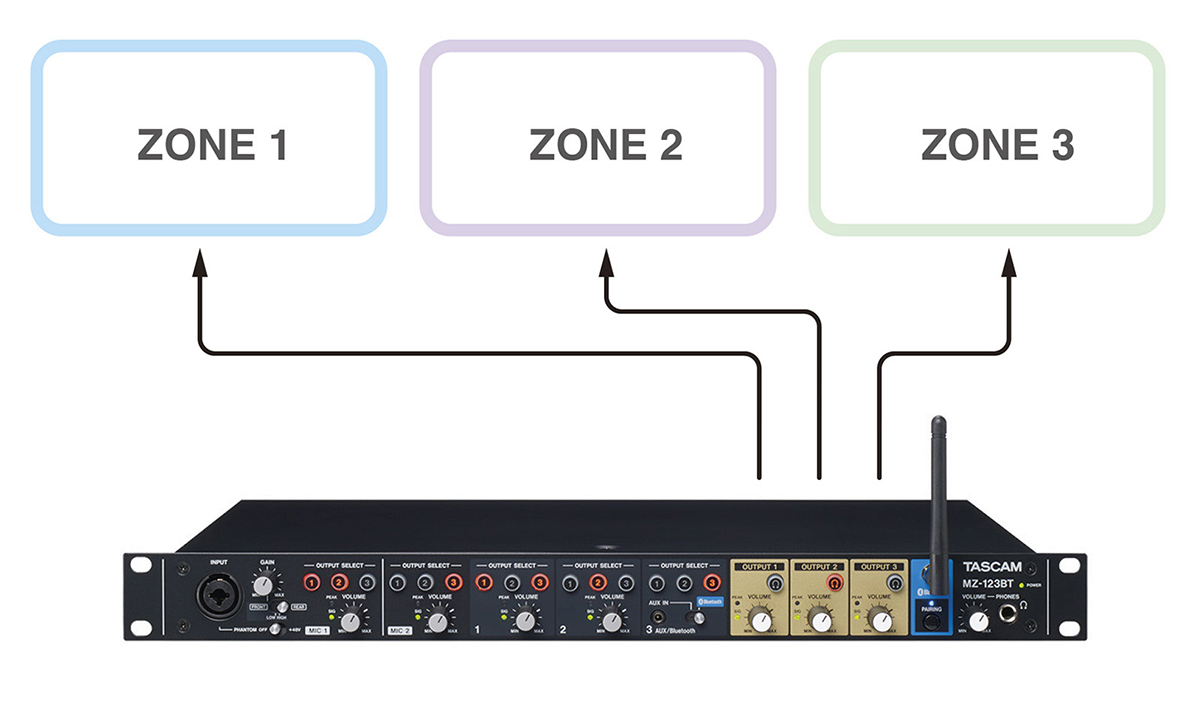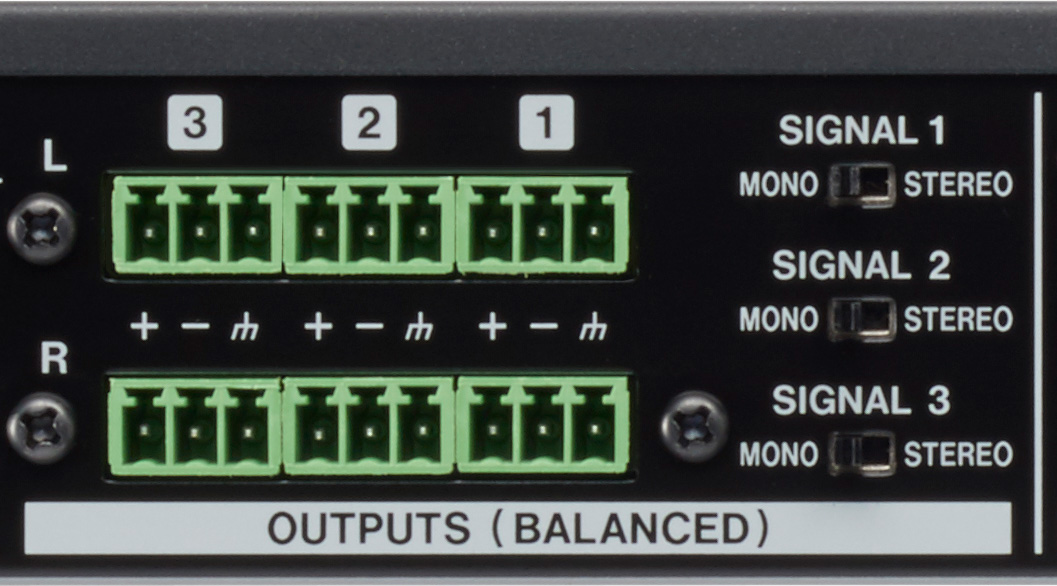 Three Outputs with Euroblock Connectors
Three pair of stereo outputs featuring Euroblock connectors for fixed installations are accessible from the back panel. A MONO/STEREO switch is provided for each output.
Three Input Channels
Stereo LINE Inputs 1 and 2 (RCA, Unbalanced) allow connection of AV equipment such as TASCAM CD/Solid State Players or similar playback devices. The Channel 3 AUX/Bluetooth® Input allows an additional audio source to be connected via Bluetooth® or 3.5mm mini plug. Each input features a Volume Control knob as well as a Zone Routing button (1, 2 or 3) for audio distribution to desired areas.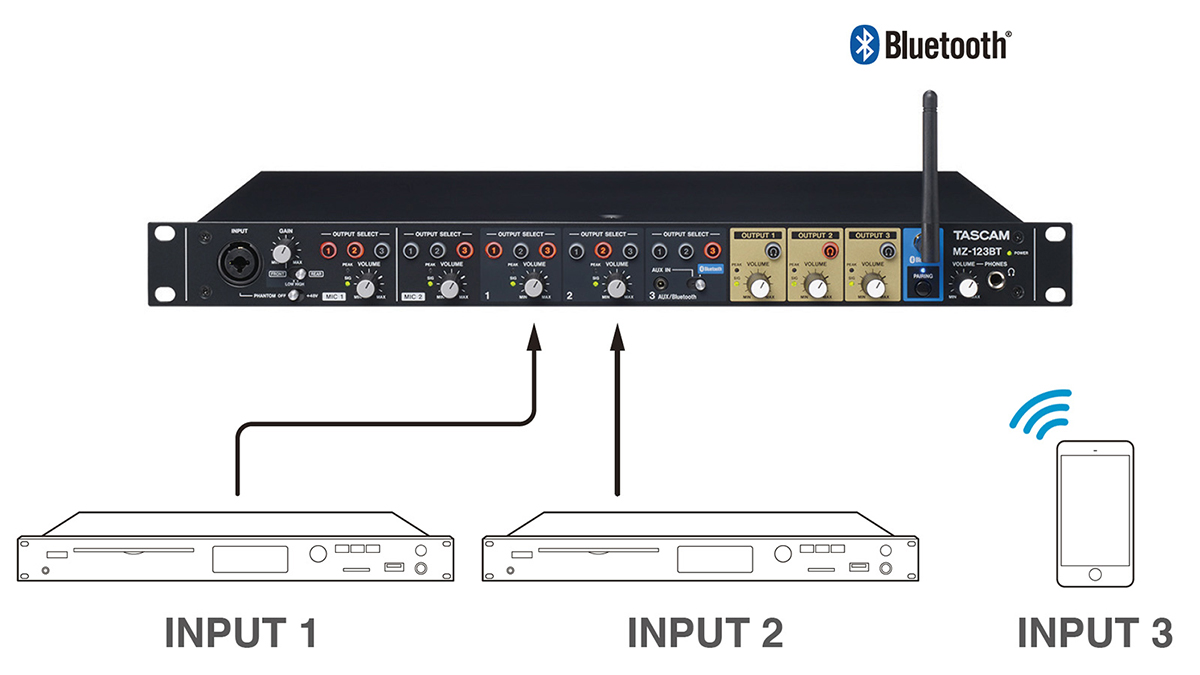 Simple Layout for Ease of Operation
Intuitive front-panel control of Volume, Output, Zone Select and Bluetooth® pairing makes basic operation simple for non-technical staff and workers. More advanced system configuration and operational settings for EQ, Gain and Threshold can be dialed in and set via dedicated back panel knobs.
Additional Features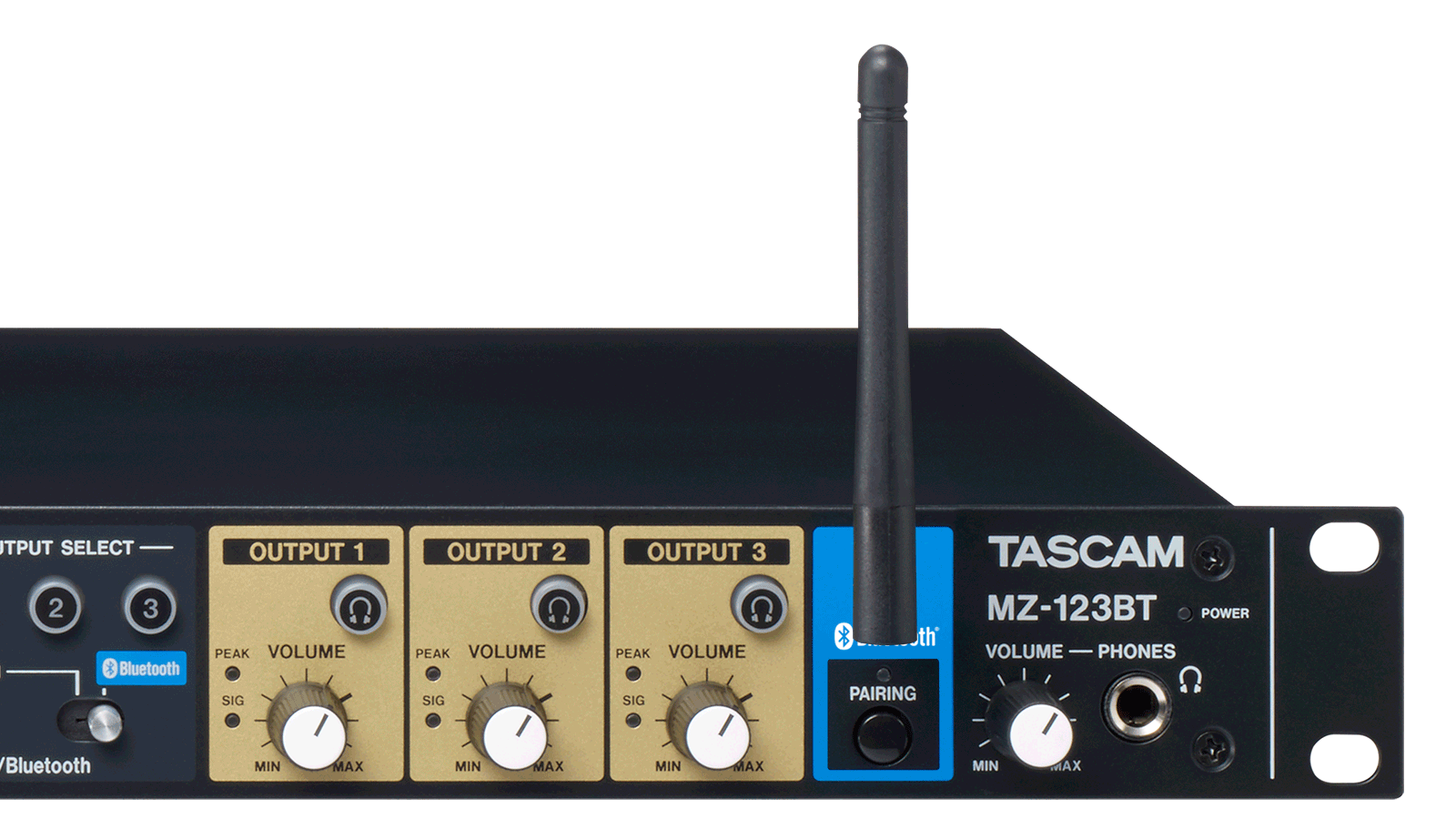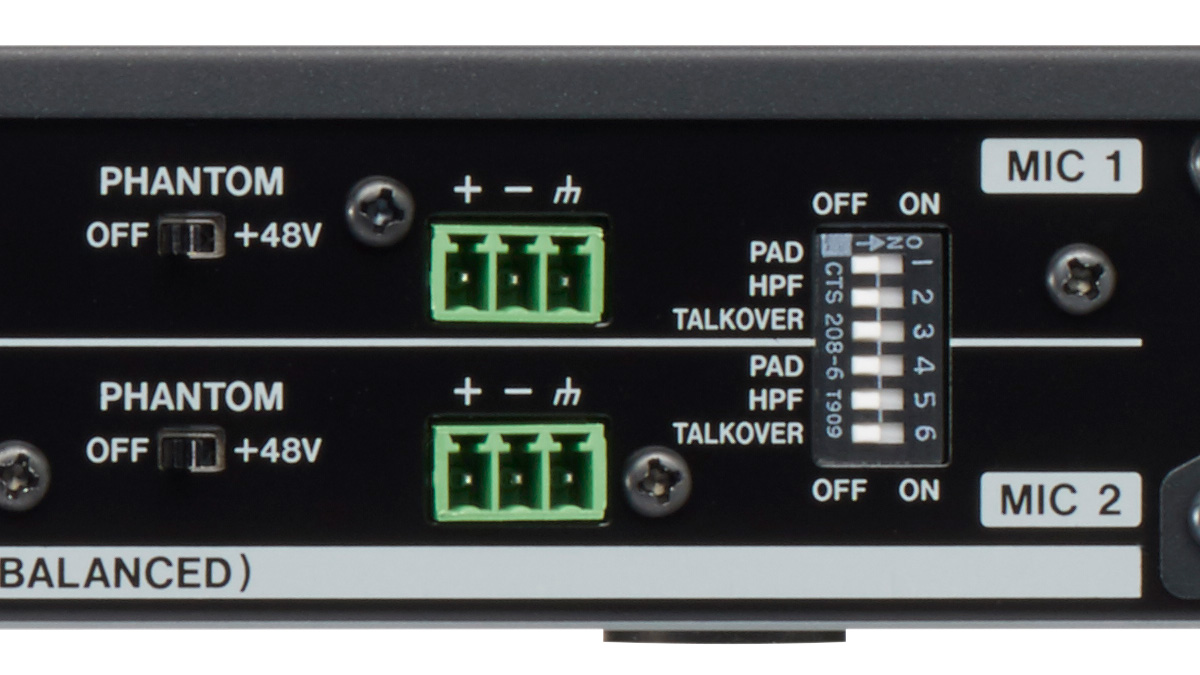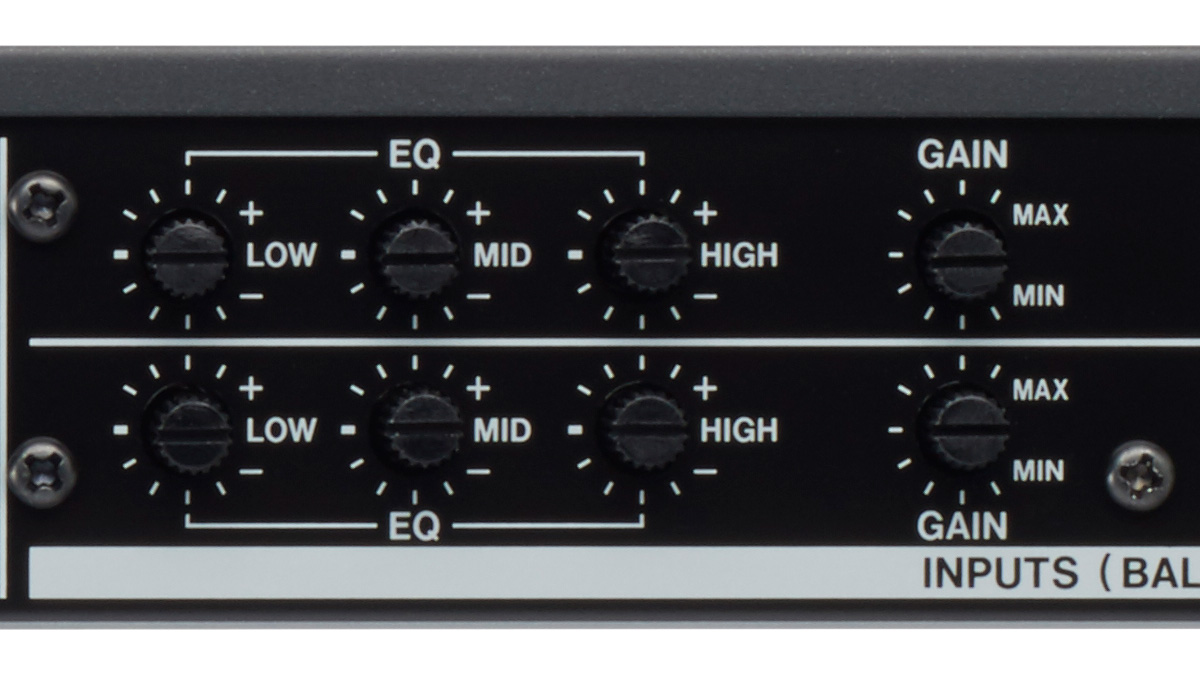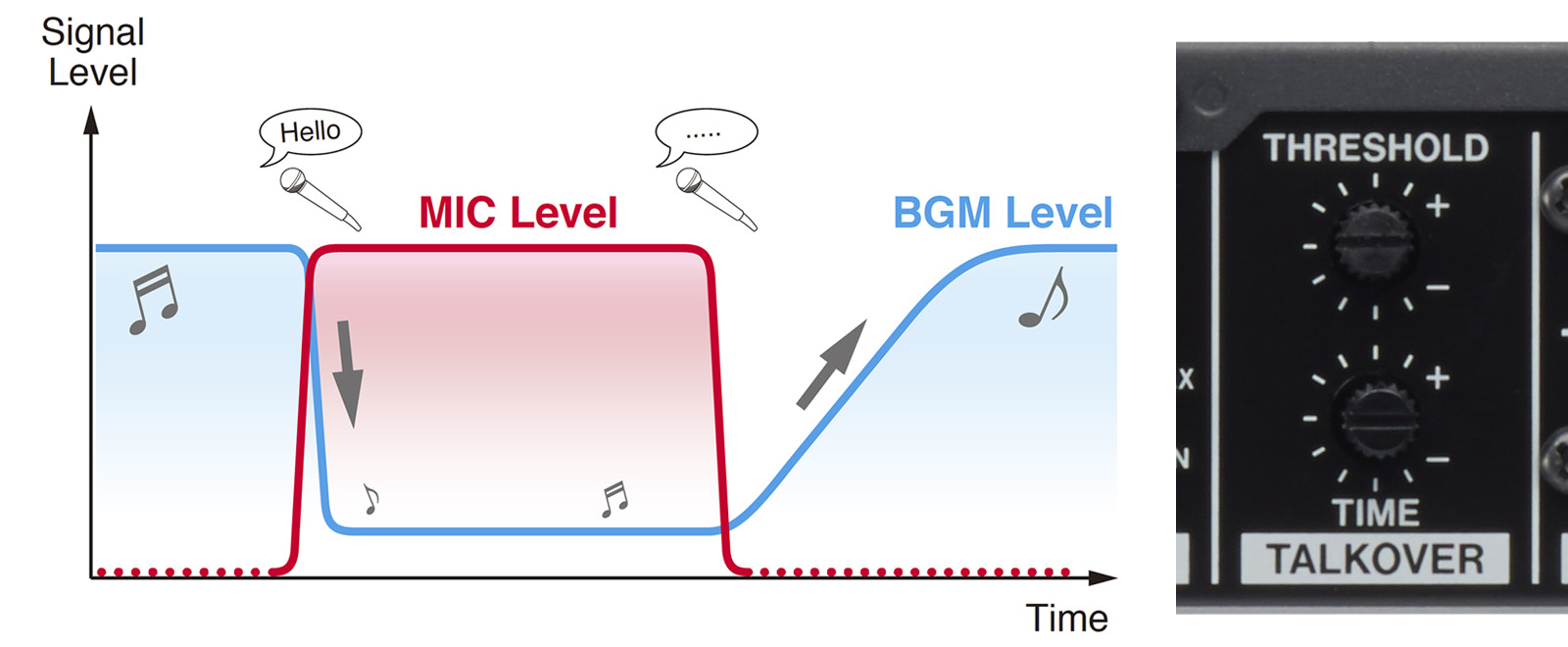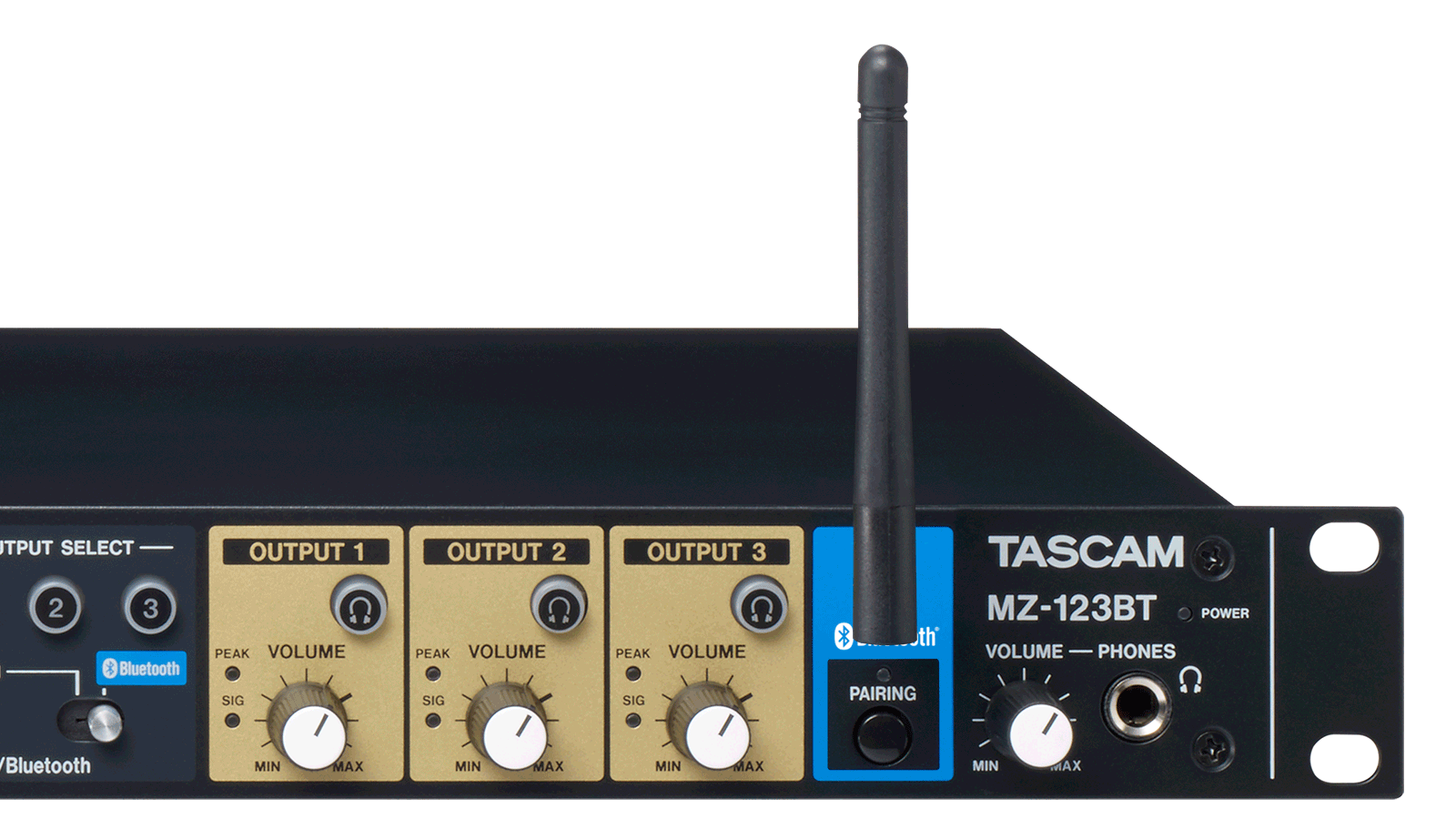 Bluetooth® Antenna for Stable Wireless Connectivity
A dedicated front-panel Bluetooth® antenna helps ensure consistent wireless signal stability and reliability when streaming source material from a Bluetooth® enabled device — even in the most signal-challenged environments.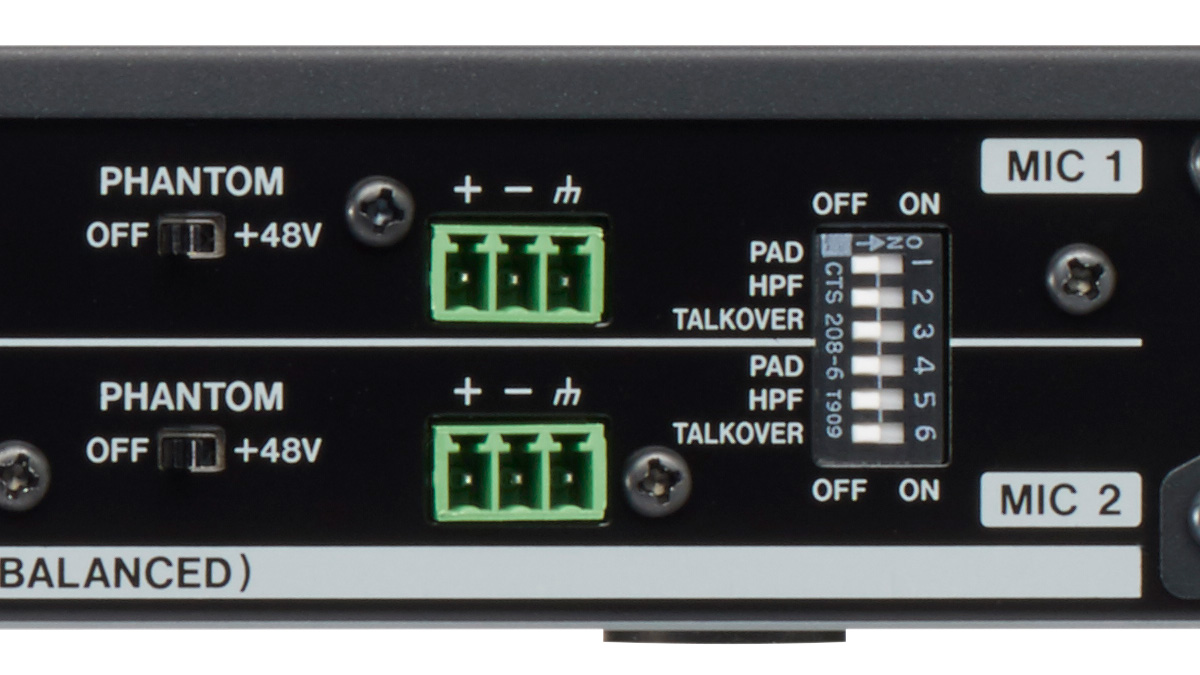 Dual Mic Inputs with Euroblock Connectors
Two Mic Inputs, each with +48V phantom power switches, enable discrete Zone talkover or announcer functionality via push-button front panel Zone Output switches. Two rear panel Euroblock connectors are provided for Mic 1 and 2 connection, with XLR/TRS connectivity for Mic 1 easily accessible from the front panel and selectable via a front panel switch.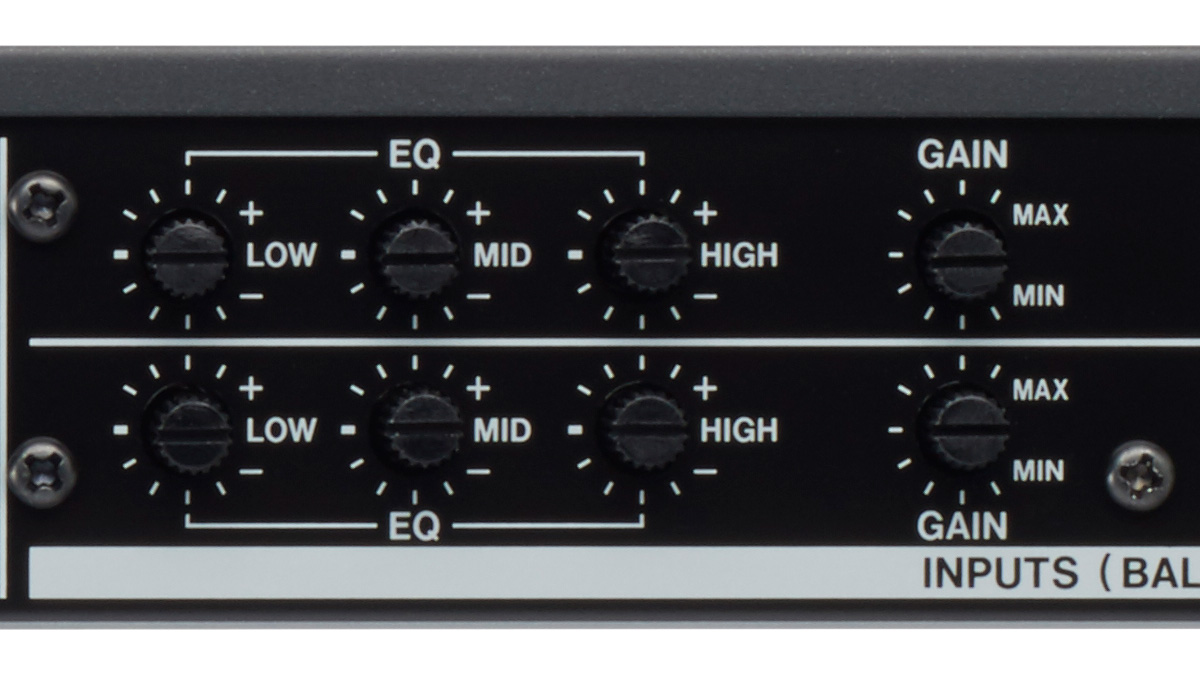 3 Band EQ, Gain Control and High Pass Filter Switch
On the back panel, separate 3 band EQ (Low, Mid, High) and Gain control knobs, along with a High Pass Filter switch are provided for setting optimal room level, tonal quality and voicing character for each mic channel.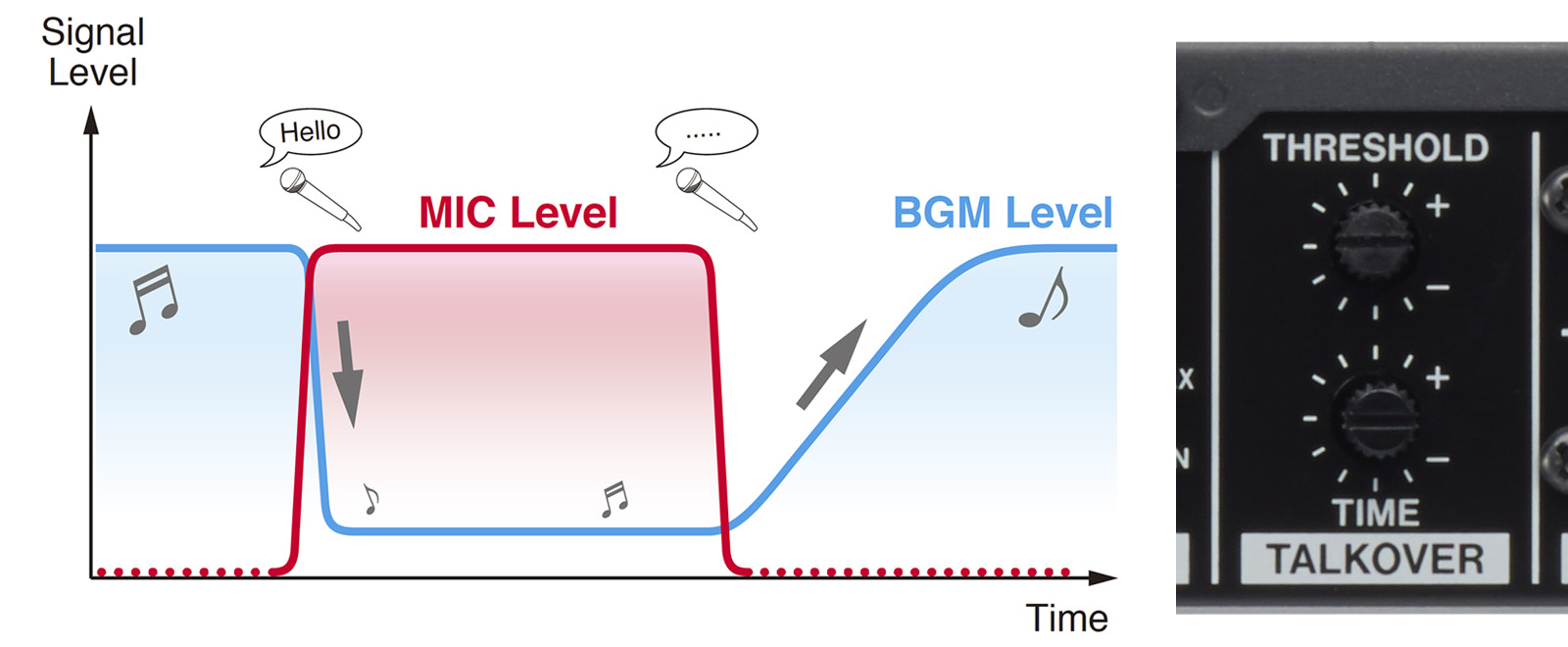 Talkover Function for Voiceover Clarity During Announcements
The Talkover function automatically detects mic signal input during audio playback and attenuates background music levels in the desired Zone for optimal intelligibility during announcements. Back panel adjustment of Mic Threshold Level and Timing (release time) allows smooth restoration of background music to pre-set levels.
Features at a Glance
Input Channel sources can be easily assigned to each of the individual 3 Zone Outputs

MONO/STEREO select switch on each Output Channel (*1)
Euroblock connectors provide seamless connection and configuration in fixed installations

3 Input Channels

Channel 1 : LINE input (RCA, Unbalanced)
Channel 2 : LINE input (RCA, Unbalanced)
Channel 3 : Bluetooth® / 3.5mm (1/8") AUX input (*2)

2 MIC inputs for announcements or Talk Over

Individual +48V phantom power switch on each channel
3 band EQ and High Pass Filter for adjusting Input Channel signal tone and quality
MIC 1 connection available via a front panel XLR/TRS combo jack or rear panel Euroblock connectors

Talk Over feature enables automatic background music volume attenuation in desired Zone when mic audio is detected
Headphone jack enables monitoring of each output channel
Compact 1U rack-mount size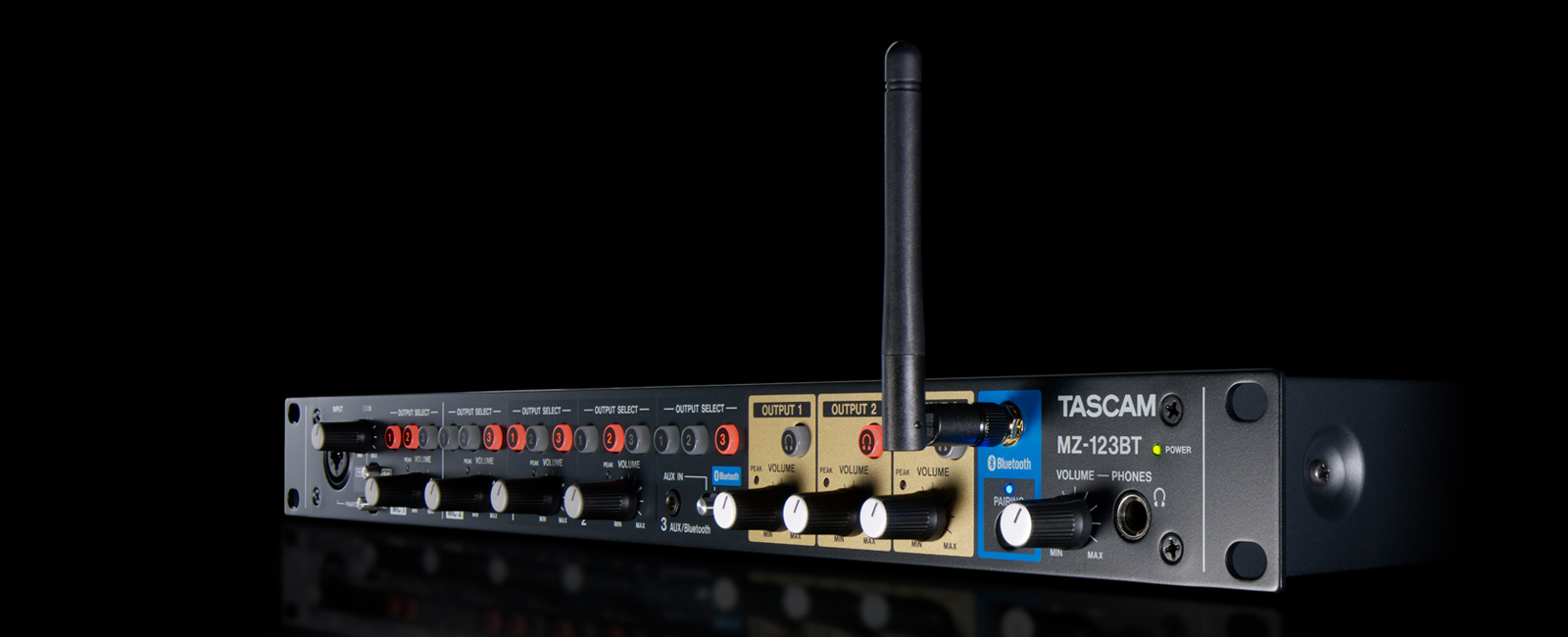 TASCAM Introduces Compact MZ-123BT Commercial Grade Multi-Zone Audio Mixer
Learn More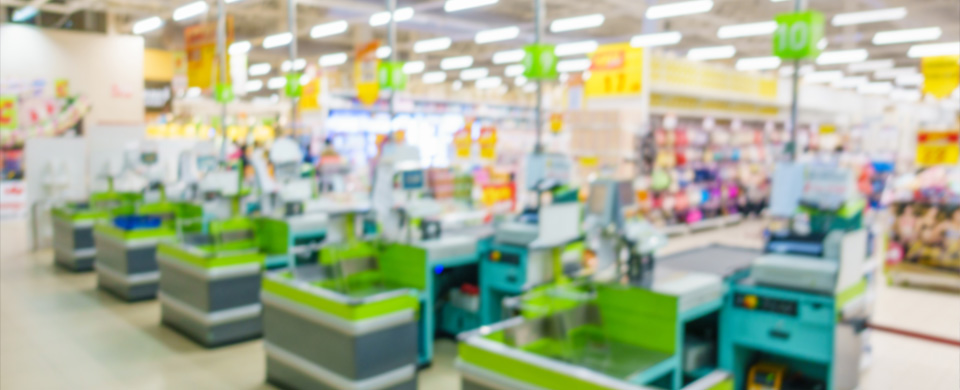 Retail stores such as grocery stores, apparel stores, etc.
Learn More
Spec description
Audio inputs
MIC INPUT (BALANCED) jack (front)
Connector
XLR-3-31 equivalent (1: GND, 2: HOT, 3: COLD)
6.3mm (1/4") standard TRS jack (Tip: HOT, Ring: COLD, Sleeve: GND)
Rated input level
-26dBu (0.039 Vrms, when FRONT HIGH), -2dBu (0.616 Vrms, when FRONT LOW)
Maximum input level
-10dBu (0.245 Vrms, when FRONT HIGH), +14dBu (3.884 Vrms, when FRONT LOW)
Minimum input level
-65dBu (0.0004 Vrms, when FRONT HIGH), -41dBu (0.007 Vrms, when FRONT LOW)
Gain adjustment range
39dB
Input impedance
2.4kΩ
MIC IN 1-2 (BALANCED) connectors (rear)
Connectors
Euroblock (balanced) 3.81mm pitch
Rated input level
-26dBu (0.039 Vrms, when PAD switch OFF), -2dBu (0.616 Vrms, when PAD switch ON)
Maximum input level
-10dBu (0.245 Vrms, when PAD switch OFF), +14dBu (3.884 Vrms, when PAD switch ON)
Minimum input level
-65dBu (0.0004 Vrms, when PAD switch OFF), -41dBu (0.007 Vrms, when PAD switch ON)
Gain adjustment range
39dB
Input impedance
2.4kΩ
LINE INPUTS 1-2 (UNBALANCED) connectors (rear)
Connectors
RCA pin jacks
Nominal input level
-10dBV (0.316 Vrms)
Maximum input level
+6dBV (2.0 Vrms)
Gain adjustment range
-16dB to +16dB
Input impedance
10kΩ or higher
AUX IN (UNBALANCED) jack (front)
Connector
3.5mm (1/8") stereo mini jack
Nominal input level
-20dBV (0.1 Vrms)
Maximum input level
-4dBV (0.63 Vrms)
Input impedance
10kΩ or higher
Audio outputs
OUTPUTS (BALANCED) connectors
Connectors
Euroblock (balanced) 3.81mm pitch
Rated output level
+4dBu (1.228 Vrms, when VOLUME knob at 0 dB)
Maximum output level
+24dBu (12.282 Vrms)
Output impedance
200Ω
PHONES jack
Connectors
6.3mm (1/4") standard stereo jack
Maximum output
80mW + 80mW or higher (THD+N 0.1% or less, into 32Ω load)
Bluetooth
Bluetooth version
4.2
Output class
2 (about 10m unobstructed transmission distance)
The transmission distance is only an estimate and might vary depending on the surrounding environment and radio wave conditions.
Supported profile
A2DP
Supported A2DP codecs
SBC, AAC, Qualcomm® aptX™ audio
Supported A2DP content protection
SCMS-T
General
Power
AC 100V - 240V、50/60Hz
Power consumption
25 W
Dimensions
483 × 46.5 × 274.8mm (W x H x D, including protrusions, excluding Bluetooth antenna)
Weight
3.0 kg
Operating temperature range
0 - 40°C (32 - 104°F)
Included items
Power cord × 1, Euroblock plug × 8, Cable band kit × 1, Rackmount screw kit × 1, Owner's Manual (including warranty) × 1, Bluetooth Antenna × 1
Audio performance
| | |
| --- | --- |
| Frequency response | |
| MIC INPUT → LINE OUTPUT | 20Hz - 20kHz: +0.5 dB/-1.0 dB* |
| LINE INPUT → LINE OUTPUT | 20Hz - 20kHz: ±0.5 dB* |
| Distortion | |
| MIC INPUT (front) → LINE OUTPUT | 0.02% or less* |
| MIC INPUT (rear) → LINE OUTPUT | 0.01% or less* |
| LINE INPUT → LINE OUTPUT | 0.01% or less* |
| S/N ratio | |
| MIC INPUT → LINE OUTPUT | 90dB or higher* |
| LINE INPUT → LINE OUTPUT | 90dB or higher* |
| Crosstalk | |
| MIC INPUT → LINE OUTPUT | 80dB or higher* |
| LINE INPUT → LINE OUTPUT | 80dB or higher* |
| Mic amp EIN (equivalent input noise) | |
| MIC INPUT → LINE OUTPUT | -125dBu or less (150Ω, 20kHz LPF, A-weight) |
NOTE: * when GAIN knob at minimum, VOLUME knob at 0 dB, JEITA
JEITA: indicates compliance with JEITA CP-1301A