Model 12 Integrated Production Suite and TA-1VP Antares Auto-Tune Vocal Processor are central to production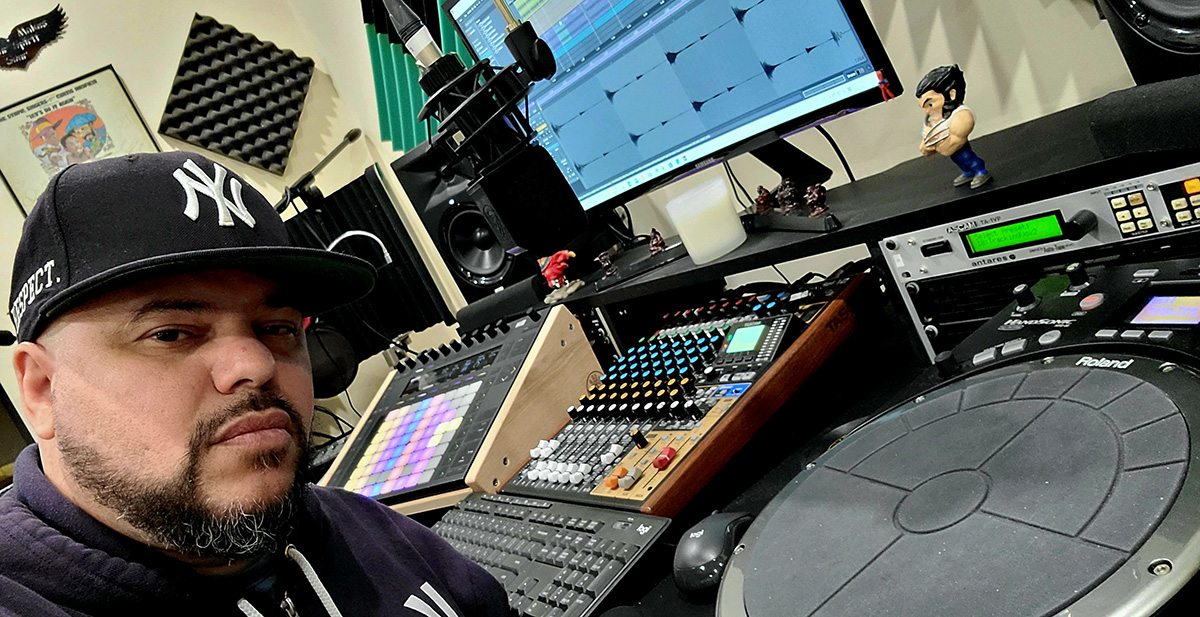 New York, NY, USA – September 2022... DJ Johnny "Juice" Rosado is an award winning and Emmy and NAACP Image Nominated composer, producer, turntablist, engineer, musician, B-boy, Graf writer, MC, educator, lecturer, and mentor. He is also an avid TASCAM user—with much of his production centered around a TASCAM Model 12 Integrated Production Suite and a TA-1VP Antares Auto-Tune Vocal Processor. And when he is not in the studio, there is a good chance that you'll find him at the Energetic Enterprise Youth Community Studio, where he uses a TASCAM Mixcast 4 Podcast Station to teach the basics of podcasting to neighborhood youth.
"I use the Model 12 and the TA-1VP primarily for my studio recordings," Juice explains. "Everything goes through the Model 12 and most of the vocals go through the TA-1VP. This includes upcoming movie scores plus all my album and audio book recordings. I used my TASCAM gear on the 2020 studio album What You Gonna Do When the Grid Goes Down? by Public Enemy as well as a project with the new Rock group Ghost in the Hall featuring music legend Darryl DMC McDaniels (of Run DMC). I use the Model 12 as the centerpiece of my studio. Turntables, digital percussion, mics, and keyboards are all connected. The TA-1VP is also connected to the Model 12 via the inserts on Channel 1."
Juice reports he has been using the Model 12 for about 18 months. "It's perfect for what I need, he said. "I love the fact that I can use the board as an actual mixer without having to power up my computer and DAW. I can just turn it on and start working. And speaking of not having to turn on my DAW, if I get an idea, I can just record it directly to the Model 12's on-board recorder and save it to SD card. I can then dump it into my DAW later for editing. I also love how the Model 12 has a DAW controller mode. I can do everything with the Model 12 without needing any extra hardware, which frees up desk space considerably."
As for the TASCAM TA-1VP Auto-Tune Vocal Processor, Juice is equally enthusiastic, "I've been using the TA-1VP for about a year now and I'm very impressed. The TA-1VP can save presets, and this is a huge time saver, as I can set up a vocalist in minimal time with just a few tweaks. The built-in Auto-Tune function is equally impressive. While I also have a plug-in, sometimes some light pitch correction up-front is necessary and, with the TA-1VP, I can do this with no latency. I can also use it in a live setting, which is outstanding. I've also become very fond of the on-board signal processing. Mic modeling is a plus, the compressor is very useful, the de-esser works great, and the fact that I can also tweak these functions and save them as presets is icing on the cake."
When it comes to musical electronics, quality customer service and support are crucial. Here too, Juice was very complimentary of TASCAM's customer and technical support operations. "My experience with TASCAM's customer and technical support services have been nothing but exemplary," he reports. "They always provide stellar support and are quick to respond—and that's really important so as not to interrupt the creative flow or slow things down while working in the studio."
Before shifting his focus back to the business of the day, Juice offered these parting thoughts regarding his experience with TASCAM, "The Model 12 is literally the hub of my recording (and live) setups. The combination of quality, features, ease-of-use, and the fact that it is incredibly affordable make the Model 12 a no-brainer for me. Same goes for the TA-1VP. This processor is a great tool for correcting vocal tracks and the tube modeling capability gives me the option of adding warmth characteristic of a vacuum tube. Together, these two pieces are at the core of everything I do. And while I'm at it, I would also like to shout out Will Branch and Neal Faison of TASCAM. These two guys have been shining examples of TASCAM's attention to detail, service, and overall family vibe."
To learn more about DJ Johnny "Juice" Rosado, visit him online at www.theoddysy.com or contact him via email at johnnyjuice@gmail.com.