"Unfair Moon" is a popular mystery novel adapted into a play, which was performed at the Tennozu Ginga Theater in Tokyo from February to March 2018. It attracted a great deal of attention at the time as popular actress Mariko Shinoda played the lead role of a special investigation agent.
A TASCAM ML-32D 32-channel Analog/Dante Converter was installed to combine the audio signals from the wireless microphones used by the performers.
TASCAM interviewed Mr. Kadota of K2sound, who was in charge of engineering, and Mr. Kujirai of BEYOND Co.
TASCAM: How did you come to introduce the ML-32D to this system?
Kadota: The first main thing is to convert wireless microphone signals into Dante. We use a Yamaha console so we also considered using a Yamaha stage box, but looking at the cost and practicality, we wanted something simpler. Other companies had similar equipment but they were a bit expensive. Then we found TASCAM's ML-32D and thought it could work, so we went for it.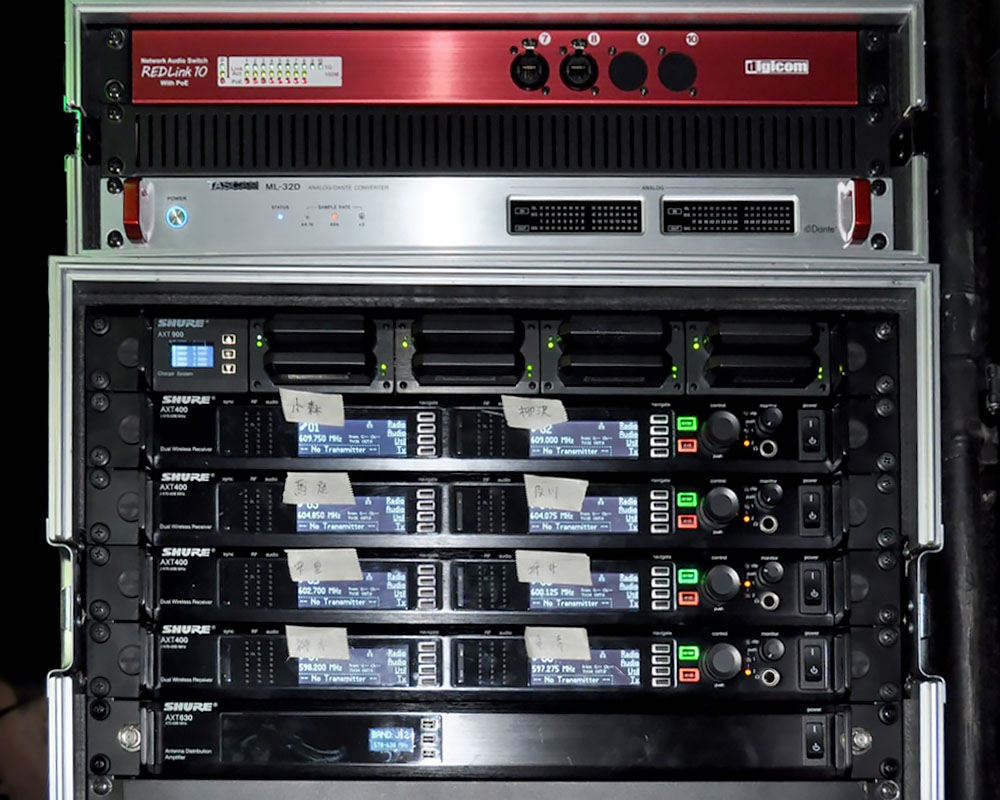 TASCAM: Is there always the need of converting wireless systems into Dante?
Kadota: Maybe it's only a theater thing, but there is a need for simple wiring using Dante because of the large number of microphones used. There are cases where idol groups are using as many as 60 wireless microphones.
Kujirai: Yes, there are times when the group requires 30 microphone cables, and we're all like "that's a little complicated".
Kadota: Nowadays brands like SHURE and Beyer Dynamic are starting to include Dante in the wireless receiver, but it's rather troublesome to handle that many Dante patches. Also, as for troubleshooting in the field, I've found that it's faster to deal with issues if the microphones are connected via analog cables with XLR terminals than to deal with internal patches.
TASCAM: It's possible to fix the issues on the analog connection stage, is that correct? Unifying digital transmission to the final destination is ideal, but in this case, adopting Dante is a way to solve the problem of how to slim down multiple channels. How was your experience using the ML-32D so far?
Kujirai: I like that it's a very simple device and it really didn't stress me out in any way, which is very nice!
Kadota: Indeed, there is no stress at all. I always use the same wireless system with the same mixer and the same output patterns, so if there is any change in the sound it's most likely Kujirai or I would tell, but the ML-32D is totally stress-free.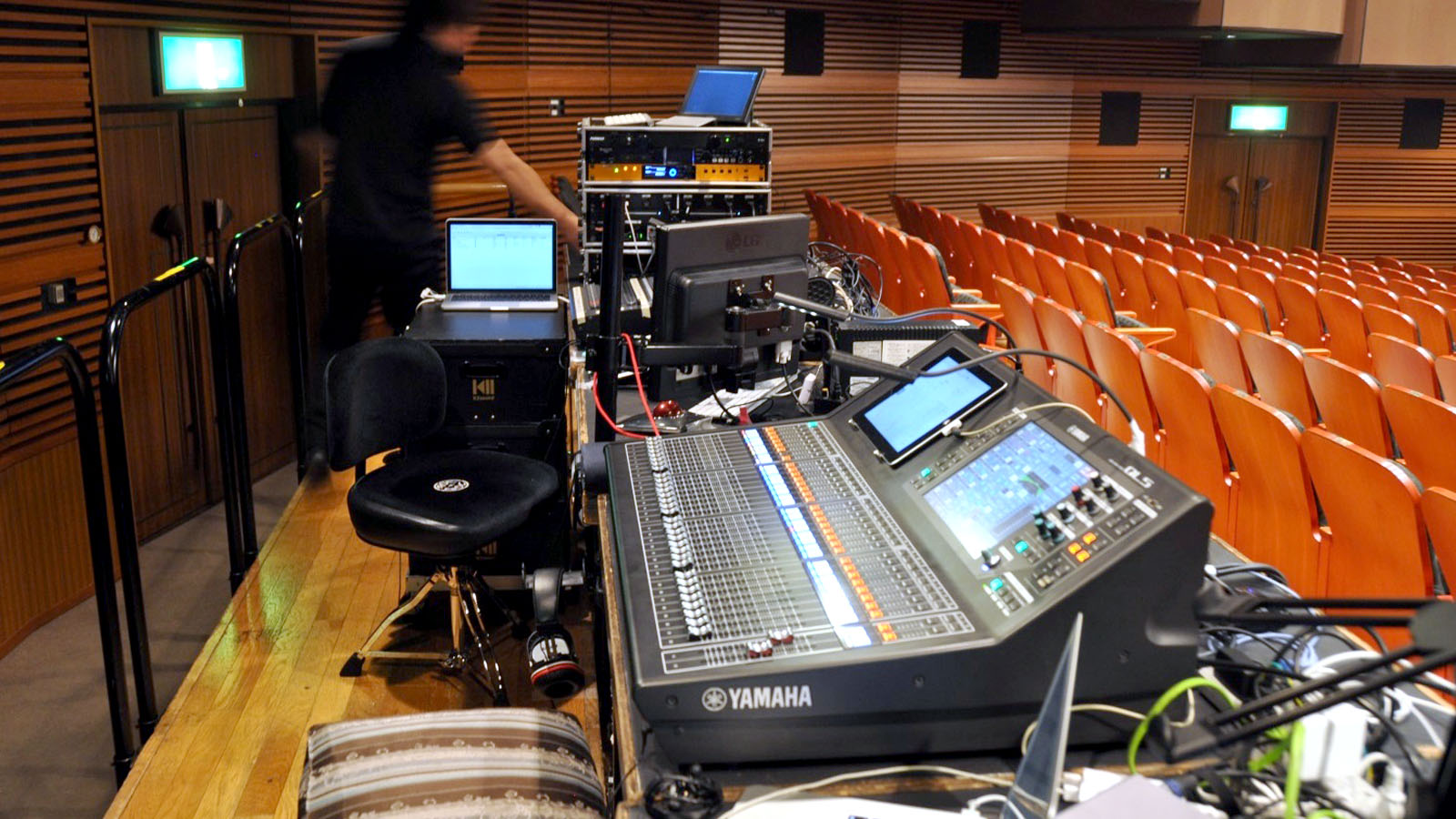 TASCAM: We've noticed on the ML-32D rear panel that only the primary network was connected. Was the secondary not used?
Kujirai: Correct, we didn't use it since we haven't built a secondary network in our current system yet.
Kadota: I think we have to think about it properly in the future.
TASCAM: Do you think redundancy will also become more important in theatrical productions such as this one?
Kadota: Yes, we are thinking about it, but it's not easy at this point. When I look at all the places I've been to, there are still very few that can go that far with redundancy. I think this is probably an issue in the current theatrical sound industry, but it's a matter of taking budget and safety into consideration as well.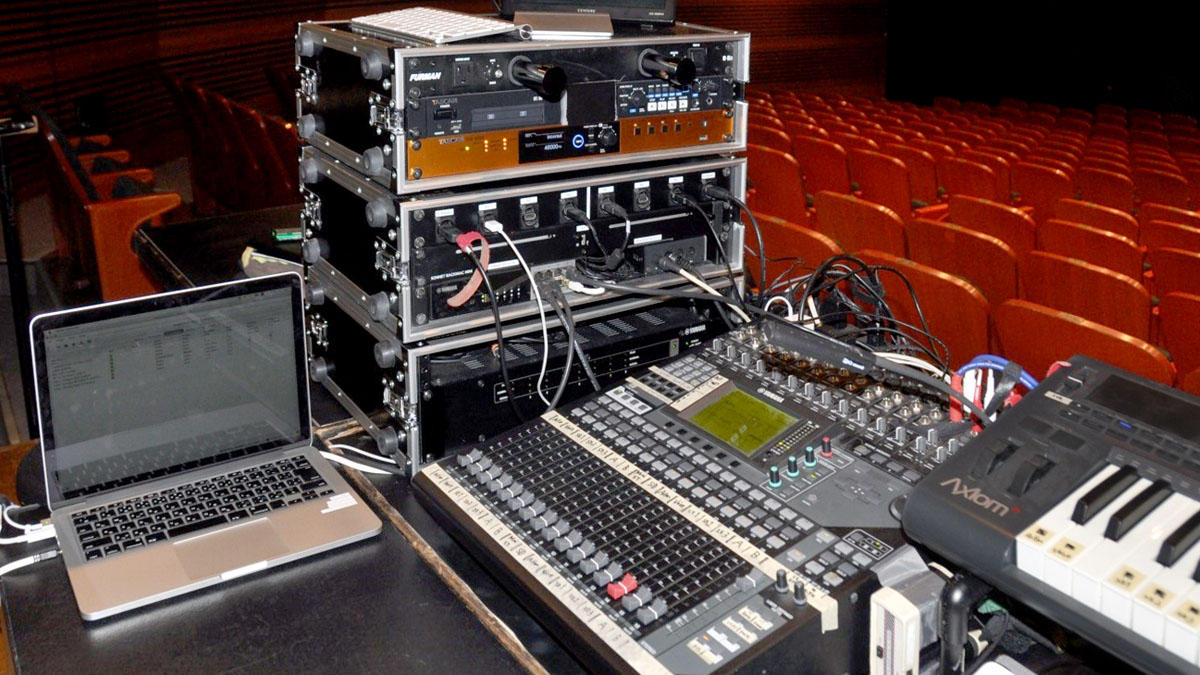 TASCAM: What is the configuration around the network audio system this time? How many ports are used?
Kadota: I would say most ports are used around the mixer.
Kujirai: The equipment includes 4 PCs around the mixer: 1 for control, 2 for the mixer, another for the Dante controller, and 1 for the LM 44 controller. Simply, the mixer area alone uses almost 8 ports. There are no action scenes in this play, but if there would be, we'd need a sampler too, so we'd need about 6 ports more. Two people are operating the system this time, and each one operates a mixer and a switching hub on their own, both of which are connected to each other.
Kadota: So for each person that's added, 8 more ports are added to the system.
TASCAM: A surprisingly large number of ports are required even for the primary network only, so for a redundant system, you would have to double those numbers. I understand now what you mentioned earlier about cutting VLANs with a single switching hub and how it's somewhat troublesome.
Kadota: With 12 ports I'd be happy to use it with etherCON. But it's not an easy or simple thing.
Kujirai: After all, network knowledge is a must when it comes to setting up a VLAN, which can turn out to be fatal too because in case of any trouble only those who have that knowledge can troubleshoot it. For example, this time we are only performing in Tokyo, but if we go to a regional show and staff with no network knowledge are on the site, we want to make it as simple as possible for them to operate the system. In short, we want to take advantage of the benefits of digital technology, but we want to keep it simple.
TASCAM: I see. On the last note, can you tell us about the overall system configuration?
Kujirai: Broadly speaking, we currently have a switching hub on the mixer side, and as an irregular thing we have a switching hub right beside the speaker, and there's also a switch in the wireless section too. All of the switches are connected to each other, and all the Dante signals are going back and forth through them.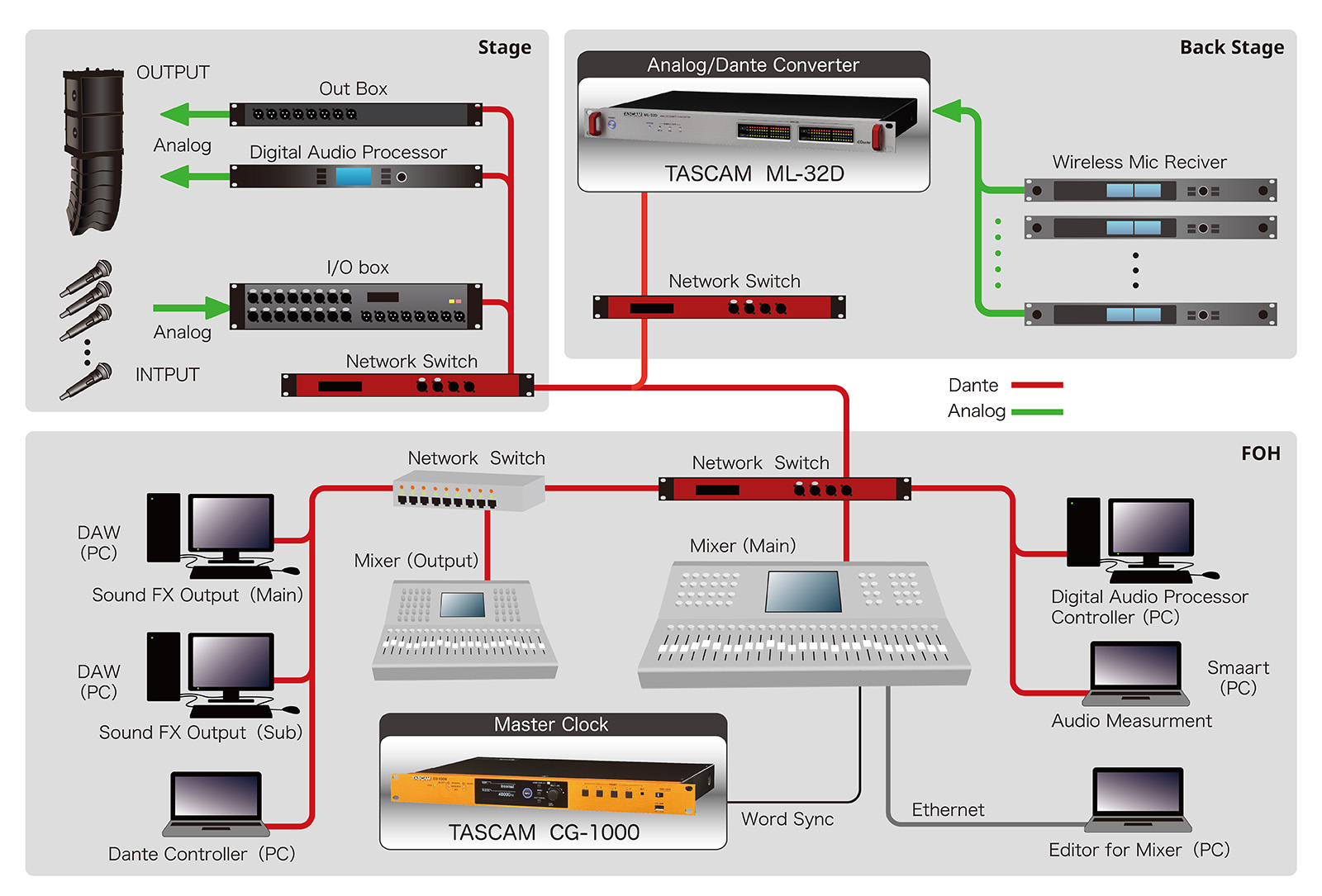 TASCAM: So the number of cables and wiring would be quite large if this system were all analog. The introduction of Dante has made it possible to construct a simple system. Thank you very much for your time today.
*K2sound has now installed two additional TASCAM BO-16DX/IN breakout boxes for the ML-32D Dante converter.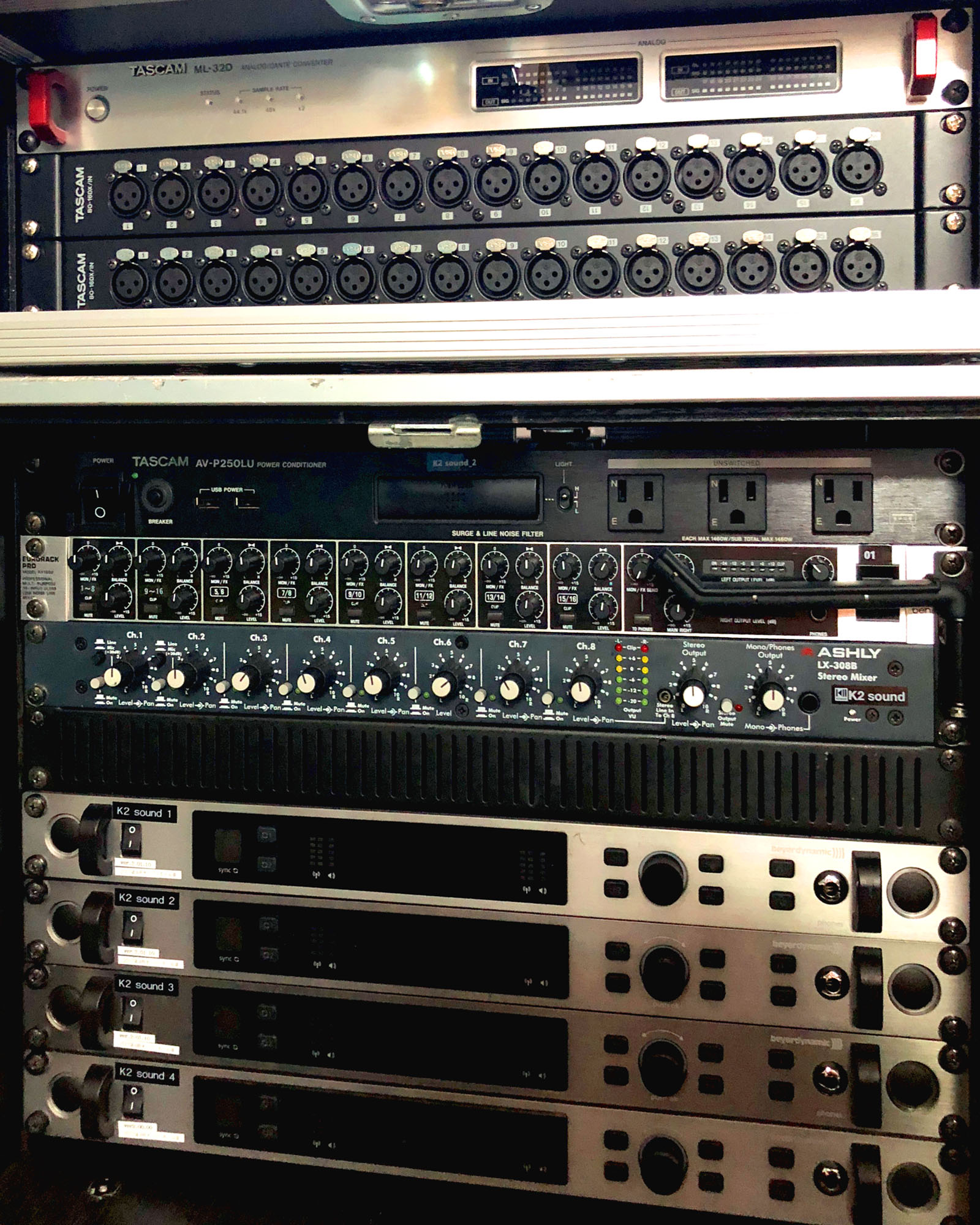 "Unfair Moon" theatrical play's official website