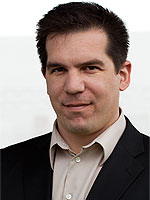 Sales Manager Brings Experience to Central US Region
Montebello, CA (April 1, 2009): TASCAM has appointed Jay Blout to the position of Central Regional Sales Manager. His territory includes Texas, Florida, Upstate New York and much of the Northern Central States.
"I am very excited to have Jay joining the TASCAM team," said Paul Jenkins, VP of Sales and Marketing for TASCAM. "Jay's industry experience and dynamic approach to sales will fit in perfectly with TASCAM."
Jay joins TASCAM after eight years working for Fishman Transducers as North American Distribution Manager and Domestic Sales Manager and is a graduate of the Berkley College of Music.
TASCAM • 7733 Telegraph Road • Montebello, CA 90640 USA
(323) 726-0303 • www.tascam.com