US-1641
16x4 Audio/MIDI Interface with USB 2.0 Technology
---
Upgrade Your Audio Interface special offer and pricing. Click here for more information.
---
This model has been discontinued in North, Central and South America.
Please check the availability with your local distributors in other areas.
It has been replaced with the US-16x08.
With sixteen inputs, the TASCAM US-1641 is the ideal choice for musicians to record the whole band to a computer. Eight mic/line inputs plus six line inputs gives you plenty of channels for a large ensemble, drumset, live recording or worship service. It includes Cubase LE4, Steinberg's latest version, for 48 tracks of 96k/24-bit recording power. Using the latest high-speed USB 2.0 technology, the US-1641 packs the interfacing power of a big console into only one rackspace.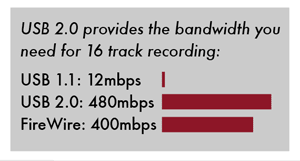 The eight mic inputs employ TASCAM Pro mic pres for 60 dB of gain and phantom power for studio-quality recordings. Two balanced TRS line inputs on the front panel are switchable to guitar level for direct-in recording of bass or guitar tracks. Four more balanced line inputs and outputs fill out the rear panel, along with MIDI and S/PDIF digital inputs and outputs for a total of 16 ins. A built-in power supply means there's no special wall-wart to lose, and connection to the computer is handled by USB 2.0 technology - 40 times faster than USB 1.1 and 20% more bandwidth than FireWire 400.

The US-1641 comes with Cubase LE4, Steinberg's latest version of the 48-track, 96kHz recording workstation, so you'll be ready to cut tracks right away. The US-1641 installs ASIO and Core Audio drivers for Windows XP, Windows Vista 32 and Mac OS X, with simple instructions for hooking up to Logic Pro, Cubase, Nuendo, Digital Performer, SONAR, Reason, Live and nearly all other recording software. For musicians and bands always looking for more inputs, the US-1641 is the ultimate choice. Gather up your mics and head to your TASCAM dealer for more.

Also available is the US-2000, adding a 100-LED meter bridge and other high-tech design features.
Spec description
Supported sampling frequency
44.1/48/88.2/96kHz
Supported bit rate
24bit
MIC IN(XLR)
MIC IN INPUT 1 to 8
Connector
XLR-3-31 (1:GND, 2:HOT, 3:COLD), BALANCED
Input impedance
2.2kohms
Nominal input level
-58dBu(INPUT:MAX)
-2dBu(INPUT:MIN)
LINE IN/GUITAR
INPUT 9 to 10
LINE IN
Connector
6.3mm (1/4") TRS-jack (T:HOT, R:COLD, S:GND), BALANCED
Input impedance
10kohms
Nominal input level
-42dBu(INPUT:MAX)
+4dBu(INPUT:MIN)
GUITAR
Connector
6.3mm(1/4") phone jack, UNBALANCED
Input impedance
700kohms
Nominal input level
-52dBv(INPUT:MAX)
-6dBv(INPUT:MIN)
INPUTS INPUT 11 to 14
Connector
6.3mm (1/4") TRS-jack (T:HOT, R:COLD, S:GND), BALANCED
Input impedance
10kohms
Nominal input level
+4dBu, -10dBV
Analog audio outputs
LINE OUT OUTPUT 1 to 4
Connector
6.3mm (1/4") TRS-jack (T:HOT, R:COLD, S:GND), BALANCED
Output impedance
100ohms
Nominal output level
+4dBu
Maximum output level
+20dBu
MONITOR OUTPUT L/R
Connector
6.3mm (1/4") TRS-jack (T:HOT, R:COLD, S:GND), BALANCED
Output impedance
100ohms
Nominal output level
+4dBu
Maximum output level
+24dBu
Digital audio inputs
DIGITAL IN
Connector
RCA pin-jack
Format
IEC60958 Consumer(S/PDIF)
Level
0.5Vpp/75ohms
Digital audio outputs
DIGITAL OUT
Connector
RCA pin-jack
Format
IEC60958 Consumer(S/PDIF) or IEC60958 Professional(AES/EBU)
Level
0.5Vpp/75ohms
MIDI
MIDI IN
DIN 5-pin
MIDI OUT
DIN 5-pin
PHONES
Connector
6.3mm(1/4") stereo phone jack
Maximum output level
50mW + 50mW(32ohms loaded)
USB
Connector
USB B type 4-pin
Format
USB 2.0 HIGH SPEED
Power
100V AV, 50/60Hz
Power consumption
10W
Dimensions
430(W)× 44(H)× 280(D)mm
Weight
3.2kg
Operating system requirements
Windows
OS
Windows XP:32bit SP3 or more, 64bit SP2 or more
Windows Vista:32bit SP2 or more, 64bit SP2 or more
Windows 7:32bit, 64bit
Windows 8:32bit, 64bit
DRIVER
WDM, ASIO, GSIF2
Macintosh
OS
Mac OS X Tiger(10.4.11), Mac OS X Leopard(10.5.6), Mac OS X Snow Leopard(10.6.8), OS X Lion(V10.7), OS X Mountain Lion(V10.8)
DRIVER
Core Audio, Core MIDI
Supported OS'
Windows
Windows 8.1 , Windows 8 , Windows 7 , Windows Vista , Windows XP
Mac
OS X El Capitan (10.11) , OS X Yosemite (10.10) , OS X Mavericks (10.9) , OS X Mountain Lion (10.8) , OS X Lion (10.7) , Mac OS X Snow Leopard (10.6) , Mac OS X Leopard(10.5.6) , Mac OS X Tiger(10.4.11)
FAQs
According to Apple, OS X 10.9.5 includes heightened security measures that will also be part of OS X 10.10. These security measures will affect some TASCAM audio interfaces, so users are advised to be aware, and hold off on updating until further information is available
These products use Apple's built in CoreAudio driver. The Settings Panel installer is fully compliant with Apple's latest security measures.
The latest drivers are compliant, but testing is ongoing for these products:
US-322
US-366
US-1200
UH-7000
The OS X 10.9 public beta drivers can continue to be used for these interfaces:
US-122mkII
US-144mkII
US-200
US-600
US-1641
US-1800
US-2000
Cannot be used with the current driver (public or beta):
IF-FW/DMmkII: Development is on-going and a version that is compliant with the new security measures will be made available as soon as possible. Please keep your system at 10.9.4 or earlier if you wish to continue to use the IF-FW/DMmkII.
TASCAM Mixer Companion: Gatekeeper Security must be set to "allow all" for TMCompanion to be installed. It can be reverted to higher security settings after installation.
Other audio interface products not mentioned are no longer supported.
No, you can only use one of these interfaces at once.
Please be aware that this activation system is designed and controlled by Steinberg and not TASCAM.
Install Cubase LE 4 or Cubase LE 5
Make sure that your computer has a working Internet connection. This connection is necessary to activate the license because the eLicenser Control Center (eLCC) needs to register with our license server.
Make sure that you have the latest version of the eLCC installed. Click here to download
Open the eLicense Control Center (eLCC) software and make a note of your Soft-eLicenser number
Create a user account in the MySteinberg area. If you already have one, please go to step 7.
The "My Steinberg" area can be found on the Steinberg home page
Check your email and activate your user account by clicking the link in the confirmation email
Log in to your MySteinberg account, and click on "Activation & Reactivation", choose "Cubase LE 4" or "Cubase LE 5" and select "Permanent Activation". Enter your Soft-eLicenser and choose your hardware manufacturer
You will receive an email containing the activation code
Launch the eLicenser Control Center software. Click the "Enter Activation Code" button to download the license for your Steinberg product to the Soft-eLicenser. To do this, enter the required activation code into the corresponding field. Follow the instructions on screen.
The process above is taken directly from the Steinberg website. Cubase LE4 Cubase LE5

If you are still having problems after following the above instructions, consider posting a message on the Cubase.Net forum
The complimentary software was supplied to us by Steinberg in limited quantities.These quantities only enabled us to include 1 copy with each unit sold.
This interface was tested with Windows 8 and no problems were found. It is approved for use with Windows 8.
Quite a few audio manufacturers seem to have a problem with the Media Center version of that OS. See this page for a list of manufacturers. You should consider using the product with a standard XP installation.