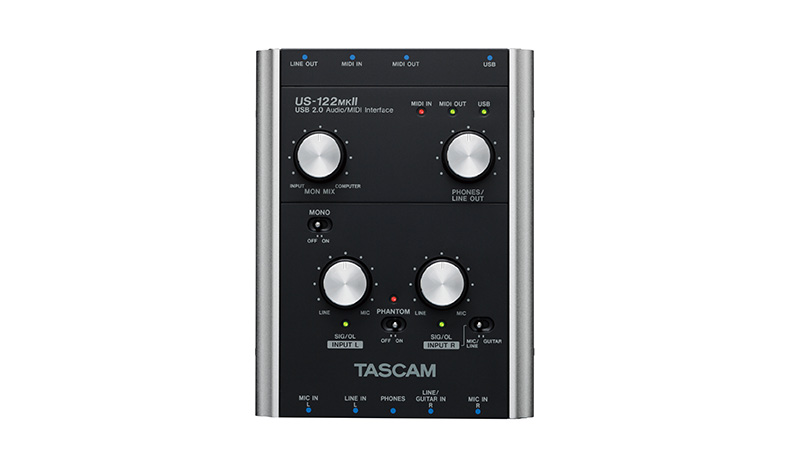 US-122MKII
Bus-powered USB 2.0 audio interface
---
Upgrade Your Audio Interface special offer and pricing. Click here for more information.
---
This model has been discontinued in North, Central and South America.
Please check the availability with your local distributors in other areas.
It has been replaced with the US-2x2.
TASCAM has refreshed its best-selling USB interface with better audio specs and a fresh new look for the US-122mkII. The US-122mkII starts with two great-quality XLR microphone preamps with phantom power for condenser microphones. There's also a pair of balanced line inputs and a guitar-level in for direct recording of electric guitar or bass. The stereo signal is sent to your computer at up to 96kHz/24-bit audio quality.

The US-122mkII connects to Mac or Windows computers using USB 2.0, and the unit is powered over the USB cable. Zero-latency monitoring is available for recording without the delay going to a computer and back. MIDI input and output jacks allow connection of synths and drum machines. Connect the US-122mkII to monitors through the line output or use headphones with the front-mounted stereo 1/4" jack. The US-122mkII makes a perfect portable interface with metal components and solid construction built for the road.

The US-122mkII includes a copy of Cubase LE4 from Steinberg. This full-featured recording software captures up to 48 tracks of audio with another 64 MIDI tracks. You can edit your tracks to perfection using a variety of modes and tools. Automated mixing is included to create the perfect master. Cubase LE4 supports VST effect and instrument plug-ins, which an assortment included with the application.

Whether you're getting started with computer recording or adding a portable interface to your road rig, the TASCAM US-122mkII is the affordable choice for professional results.

Also available is the US-144mkII, which adds an additional line output control, plus S/PDIF digital in and out.
Spec description
US-144MKII
US-122MKII
Supported sampling frequency
44.1/48/88.2/96kHz
Supported bit rate
16/24bit
Analog audio Inputs
MIC IN
Connecter
XLR-3-31(1:GND, 2:HOT, 3:COLD), BALANCED
Input impedance
2.2k ohms
Nominal input level
(INPUT:MAX)
-58dBu
Nominal input level
(INPUT:MIN)
-14dBu
Maximum input level
(INPUT:MIN)
+2dBu
LINE IN
Connecter
6.3mm(1/4") TRS-jack(T:HOT, R:COLD, S:GND), BALANCED
Input impedance
MIC/LINE
15k ohms
GUITAR
1M ohms
Nominal input level
MIC/LINE
-40dBu to +4dBu
GUITAR
-51dBV to -7dBV
Maximum input level
MIC/LINE
+20dBu
GUITAR
+9dBV
Analog audio outputs
LINE OUT
Connecter
RCA pin-jack
Output impedance
200ohms
Nominal output level
-10dBV
Maximum output level
+6dBV
Digital audio inputs
COAXIAL
Connecter
RCA pin-jack
-
Format
IEC60958-3(S/P DIF)
-
Digital audio inputs
COAXIAL
Connecter
RCA pin-jack
-
Format
IEC60958-3(S/P DIF) and IEC60958-4(AES/EBU)
*Selectable in the Control Panel betwiin
-
PHONES
Connecter
6.3mm(1/4") stereo phone jack
Maximum output level
18mW+18mW(32ohms loaded)
MIDI
MIDI IN
DIN 5-pin
MIDI OUT
DIN 5-pin
USB
Connecter
USB B type 4-pin
Format
USB 2.0 HIGH SPEED/USB 1.1 FULL SPEED
Power
USB bus powered (5V, Max 500mA)
Power consumption
2.5W
Dimensions
135.4(W)×47(H)×179(D)mm
Weight
0.7kg
Bundle software
Cubase LE
Accessories
CD-ROM (containing driver and manuals), USB cable, DVD-ROM (Cubase LE),
Insert sheet for Cubase LE, Warranty card, Owner's manual
Audio performance
Frequency response
20Hz to 20kHz, +0.5/-1.0dB(44.1/48KHz, MIC IN to LINE OUT)
20Hz to 40kHz, +0.5/-1.5dB(88.2/96KHz, MIC IN to LINE OUT)
S/N ratio
ADC to DAC
98dB(When INPUT knob is set to LINE, 20kHz LPF + A-weighted)
Monitor
107dB(When INPUT knob is set to LINE, 20kHz LPF + A-weighted)
THD
ADC to DAC
0.0045% or less(When INPUT knob is set to LINE, 1kHz +20dBu input, 20kHz LPF)
Monitor
0.002% or less(When INPUT knob is set to LINE, 1kHz +20dBu input, 20kHz LPF)
Operating system requirements
Windows
OS
Windows XP:32bit SP3 or more, 64bit SP2 or more
Windows Vista:32bit SP2 or more, 64bit SP2 or more
Windows 7:32bit, 64bit
Windows 8:32bit, 64bit
CPU
Pentium 4 1.4GHz or more, ADM Athlon 1.4GHz or more
Memory
1GB or more
512MB or more for Windows XP 32bit and Windows Vista 32bit)
Driver
WDM, ASIO, GSIF2
Macintosh
OS
Mac OS X Leopard(10.5.6), Mac OS X Snow Leopard(10.6.8), OS X Lion(V10.7), OS X Mountain Lion(V10.8)
CPU
Intel Processor 1GHz or more, Power PC G4 1GHz or more
Memory
512MB or mor
Driver
Core Audio
Supported OS'
Windows
Windows 10 (May 2019 Update) , Windows 8.1 , Windows 8 , Windows 7 , Windows Vista , Windows XP
Mac
macOS Mojave , OS X El Capitan (10.11) , OS X Yosemite (10.10) , OS X Mavericks (10.9) , OS X Mountain Lion (10.8) , OS X Lion (10.7) , Mac OS X Snow Leopard (10.6) , Mac OS X Leopard(10.5.6) , Mac OS X Tiger(10.4.11)
FAQs
In case that 24 bit is being selected at the setting of "Select the sample rate and bit depth to be used when running in shared mode" on Windows, PC is re-booted up when system sound on Windows is played.
Please check here for how to avoid it.
According to Apple, OS X 10.9.5 includes heightened security measures that will also be part of OS X 10.10. These security measures will affect some TASCAM audio interfaces, so users are advised to be aware, and hold off on updating until further information is available
These products use Apple's built in CoreAudio driver. The Settings Panel installer is fully compliant with Apple's latest security measures.
The latest drivers are compliant, but testing is ongoing for these products:
US-322
US-366
US-1200
UH-7000
The OS X 10.9 public beta drivers can continue to be used for these interfaces:
US-122mkII
US-144mkII
US-200
US-600
US-1641
US-1800
US-2000
Cannot be used with the current driver (public or beta):
IF-FW/DMmkII: Development is on-going and a version that is compliant with the new security measures will be made available as soon as possible. Please keep your system at 10.9.4 or earlier if you wish to continue to use the IF-FW/DMmkII.
TASCAM Mixer Companion: Gatekeeper Security must be set to "allow all" for TMCompanion to be installed. It can be reverted to higher security settings after installation.
Other audio interface products not mentioned are no longer supported.
Pro Tools 9 for Windows must be run from the administrator's account for MIDI to function. Launch Pro Tools in 'run this program as an administrator' mode.
The latency setting must be the same in Pro Tools and in the US-series control panel. Change this in Pro Tools' Hardware Setup window, and in the US-series control panel.
Please be aware that this activation system is designed and controlled by Steinberg and not TASCAM.
Install Cubase LE 4 or Cubase LE 5
Make sure that your computer has a working Internet connection. This connection is necessary to activate the license because the eLicenser Control Center (eLCC) needs to register with our license server.
Make sure that you have the latest version of the eLCC installed. Click here to download
Open the eLicense Control Center (eLCC) software and make a note of your Soft-eLicenser number
Create a user account in the MySteinberg area. If you already have one, please go to step 7.
The "My Steinberg" area can be found on the Steinberg home page
Check your email and activate your user account by clicking the link in the confirmation email
Log in to your MySteinberg account, and click on "Activation & Reactivation", choose "Cubase LE 4" or "Cubase LE 5" and select "Permanent Activation". Enter your Soft-eLicenser and choose your hardware manufacturer
You will receive an email containing the activation code
Launch the eLicenser Control Center software. Click the "Enter Activation Code" button to download the license for your Steinberg product to the Soft-eLicenser. To do this, enter the required activation code into the corresponding field. Follow the instructions on screen.
The process above is taken directly from the Steinberg website. Cubase LE4 Cubase LE5

If you are still having problems after following the above instructions, consider posting a message on the Cubase.Net forum
This interface was tested with Windows 8 and no problems were found. It is approved for use with Windows 8.