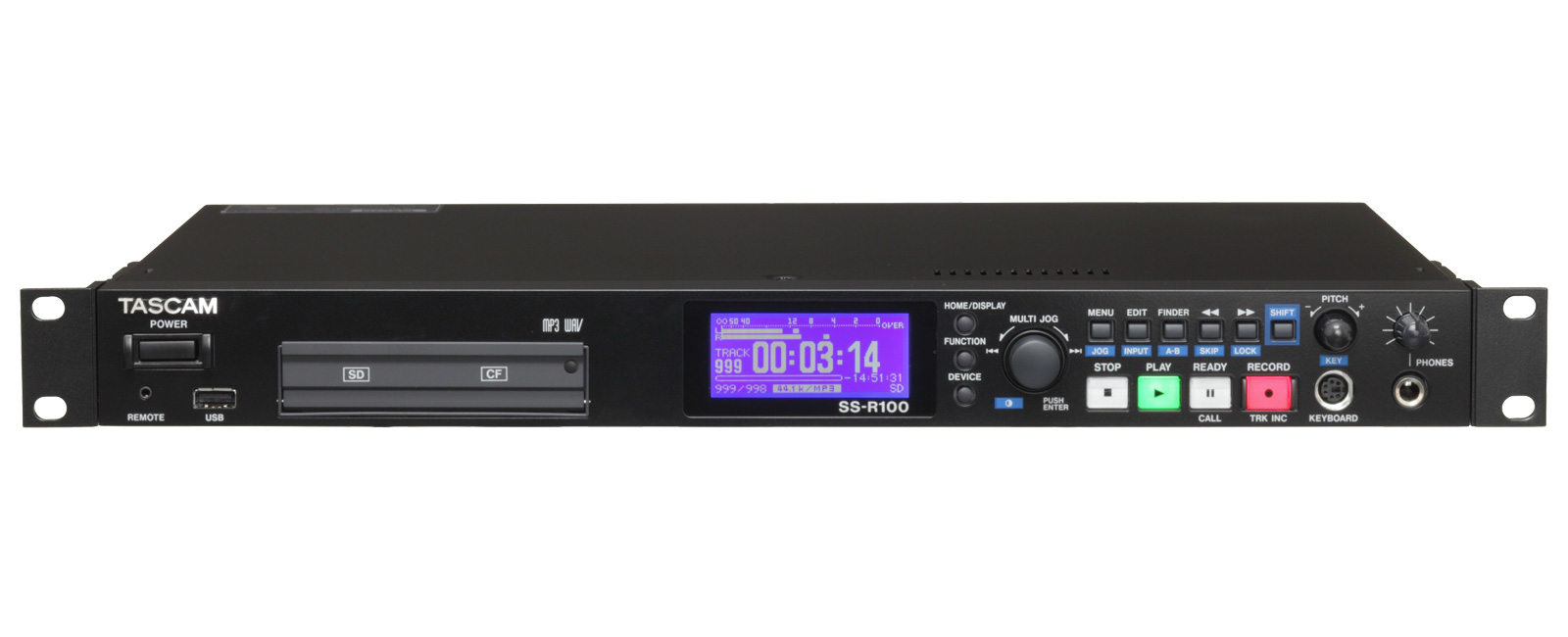 SS-R100
Solid State Recorder
The TASCAM SS-R100 is a stereo audio recorder that records to Compact Flash, SD/SDHC cards and USB memory in various formats. The SS-R100 enjoys high reliability and versatility thanks to Compact Flash recording which is common in broadcasting stations because of its highly-reliable design with concealed contacts, as well as SD/SDHC cards and USB memory devices widely available in the market, while reducing maintenance cost drastically by eliminating rotating mechanism for recording.
This model has been discontinued in North, Central and South America.
Please check the availability with your local distributors in other areas.
Construct highly-reliable acoustic systems in for professional-use acoustic facilities
The SS-R100 can be used for various recording applications such as taking meeting minutes, or in courthouses and government and municipal offices, as well as establishing a highly-reliable acoustic system in professional sound system for facilities, such as broadcasting stations and PA/SR.
It is also perfect for replacing the existing playback system at a fitness studio and a banquet hall. Furthermore, a 20-point flash start system can be constructed by connecting an optional remote controller the RC-20, making it useful for regular audio playback for applications such as in theaters, at weddings.

SS-R100, a general purpose low-cost model with selected input/output

The SS-R100 is a general purpose solid state recorder with well-selected connectors including RCA analog and COAXIAL digital inputs/outputs.
The SS-R100 is a next standard in stereo audio recording with a high level of versatility that supports various media.
Reliable and flexible solid state recording
1U rack mount size allows for effective use of space
The SS-R100 is a compact 1U rack mount sized Solid State Recorder with a convenient button layout that makes it easy to use. Designed so that it can be installed in limited rackspace without sacrificing usability.

Supports highly reliable CF cards, and conventional SD/SDHC cards and USB memory
In addition to CF cards, which are used by broadcast stations, it is also compatible with SD/SDHC cards and USB memory. Recording is also possible in addition to playback. This provides excellent versatility at locations where it may be necessary to use different media formats.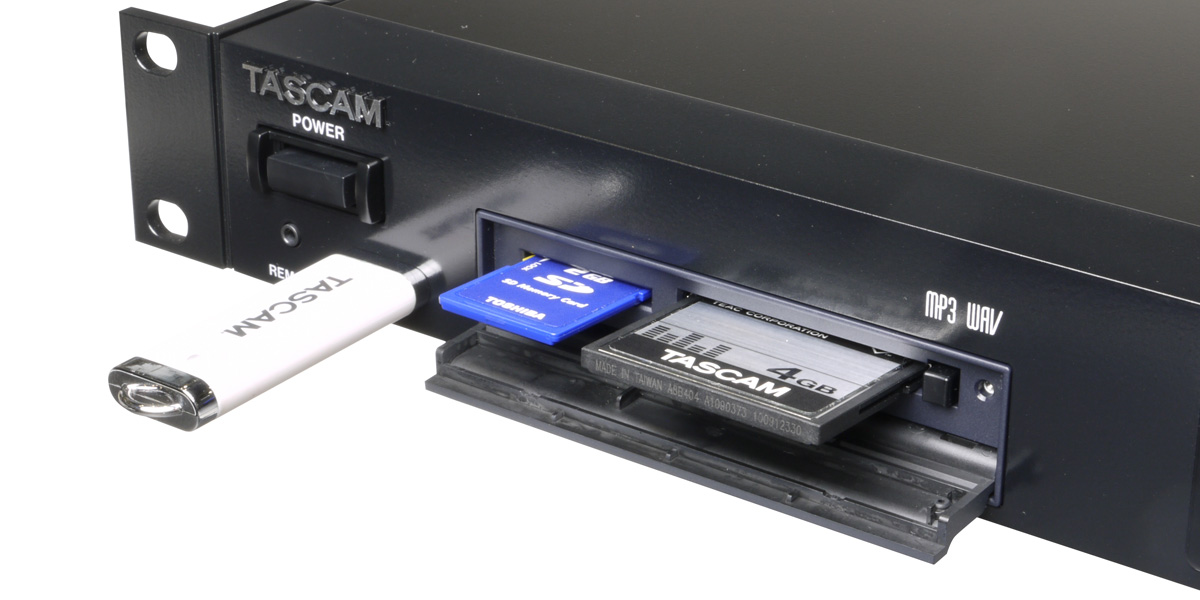 Flash start function for sound source playback with zero time lag, which is ideal for theatrical performances, etc.
The flash start function allows for sound source playback without any time lag by storing the data to memory in advance. By using the optional RC-20 remote control, it is possible to perform flash start for up to 20 tracks. This is useful for theatrical performances and weddings, or for broadcasting systems at public facilities.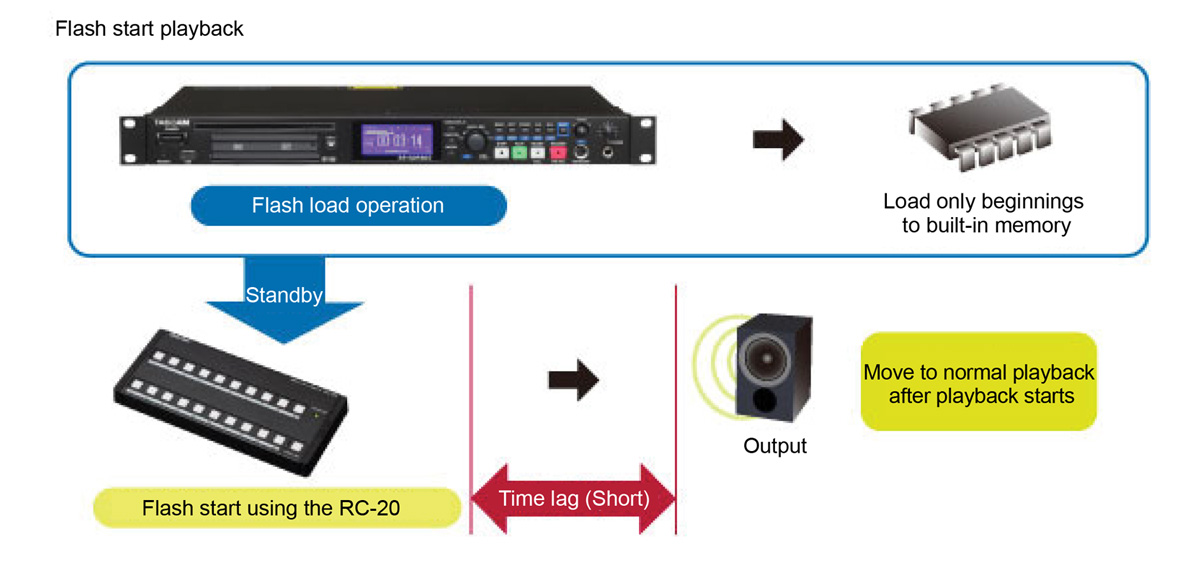 More functions based on customer feedback
Functions that were requested from sites where conventional recording/playback equipment is used have been researched and added.
Link function
Jog search function
Compatible with USB keyboards (Transport operation supported)
24-bit WAV file playback
Compatible with AES/EBU format digital input/output
Panel lock function for preventing accidental operation
Hardware compatible with various audio equipment
Professional equipment, so various audio input/output connectors and external control terminals
Conventional RCA connectors are employed for analog line input/output, which is convenient for consumer devices. COAXIAL digital input/output connectors for S/PDIF format are also equipped.
Sampling converter for digital input
A sampling rate converter for digital inputs of 32k to 48kHz is used, so it is easy to connect without having to worry about the word clock master. This is helpful for usage with other equipment.
Display and editing is possible in frames units up to 1 second
When using jog playback or performing editing such as dividing files, tracks can be displayed in sub-second frame units. It is possible to perform editing and confirmation with the same precision as with conventional high-end MD recorders.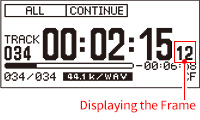 Edit files, operate the transport, and perform flash start by connecting a keyboard
Various operations can be performed by connecting a computer keyboard to the KEYBOARD connector or USB connector. In addition to editing file names, it is possible to perform other operations including remote control operations such as [opening the MENU screen], and operating functions such as [turning the panel lock function ON/OFF] and [turning the call function ON/OFF], as well as performing other operations such as [selecting the input source]. You can also have up to 12 tracks of flash start available by using keyboard Function keys (F1-F12) + CTRL.
Link playback function for synchronizing up to six SS-CDR200/SS-R200/SS-R100 units
There is a link playback function for linking operation of the SS-CDR200/SS-R200/SS-R100 by connecting the digital OUT and digital IN connections. This is convenient when you want to use the same sound source for playback and as a backup for another unit.
Flexible software compatible with various usages
Record and play back WAV and MP3 files
It is possible to record WAV (Linear PCM) and MP3 files using CF/SD/SDHC cards and USB memory. It is also possible to play back WAV/MP3 files, including 24-bit WAV files.
±16% pitch control using the independent pitch control knob
It is possible to adjust the pitch control in steps of 0.1% using the dedicated PITCH knob. The pitch control function allows you adjust the playback speed and pitch the same as with cassette tape pitch control.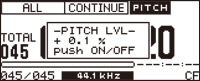 ±6 semitone key control function (in semitone steps)
Key control playback is possible using SHIFT+PITCH knob. With key control playback, it is possible to change the pitch without changing the playback speed, and to control the pitch in ±6 semitones.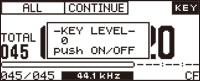 Auto Cue function and Auto Ready function
Professional player equipped with standard auto-cue and auto-ready functions. The Auto Cue function automatically detects when sound starts and pauses at that point. This function is good for cuing sound sources at theaters and PA/SR sites. The detection level can be set from –72 to –24dB. (in 6dB intervals)

Auto Ready is a function for automatically stopping at the beginning of the next track after the currently playing track finishes. This is convenient when you want to determine the playback timing for a sound source and when you only want to play one track from a sound source material in order to avoid accidentally playing the wrong track.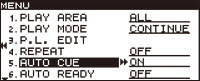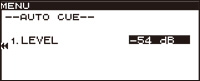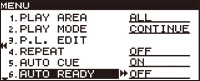 Power-on playback function for automatically starting playback when the power turns ON / Resume function that starts playback from the last stopping point
Power-on playback and resume functions are included, which are convenient for professional usages. The power-on playback function is a function that automatically starts playback when the power is turned ON. The resume function remembers the location where playback last stopped, and starts playback from that location when Play is pressed next time. It is possible turn these functions ON/OFF, and to use both functions together.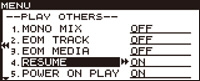 Panel lock function for preventing accidental operation
A panel lock function is available for preventing accidental operation during usage. Operation is no longer possible from the front panel or from the remote control. However, it is possible to operate using an included wired remote control RC-SS20, or optional remote controls the RC-20 and RC-3F.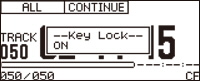 Playback devices at public facilities
This is a perfect playback unit for installation in meeting rooms at public facilities such as schools and community centers. When used as hall BGM, it is convenient to use folder playback and program playback of files recorded in CF/SD cards. When the power-on playback function is used, usages such as starting playback when hall power is turned ON are possible.

If the flash start system is configured by connecting the RC-20, playback of routine sound sources such as start bells and announcements for leaving is possible. It is possible to play back fixed sound sources with less time lag than standby with MD media, etc. There is not rotating mechanism, so sound sources can be used frequently for a long time without trouble.
Playback system for event sites such as wedding halls
Sites where various sound sources may be used and where flexible response is needed. At such locations, it is possible to handle various sound sources by using this with other TASCAM devices. Recently, many users bring sound sources stored in USB memory, which is easy to use. The SS-R100 is convenient because it can handle four different types of media.

Flash start playback is convenient by connecting the optional RC-20. For situations such as when you want BGM to start when a bride and groom enter a hall, or when effect sounds are written onto media, flash start playback allows for sound sources to be played back without time lag.
Recording and creating meeting minutes
The SS-R100 is ideal for recording meeting minutes where high reliability is required because solid-state media is used. They are resistant to vibration because there is no rotating mechanism, and the media capacity can be increased, allowing for long hours of recording according to the length of the meeting. Various remote controls are available, and accurate operation is possible because all are wired remote controls.

Since the SS-R100 records WAV and MP3 files into conventional SD/SDHC cards, so it is possible to hand a copy to the worker who will create meeting minutes. When creating meeting minutes, monitoring by headphones without connecting to external devices is also practical. By connecting the optional RC-3F, it is possible to perform controls such as playback, stop, and skip back using your foot while performing work such as writing or typing on a computer.
Option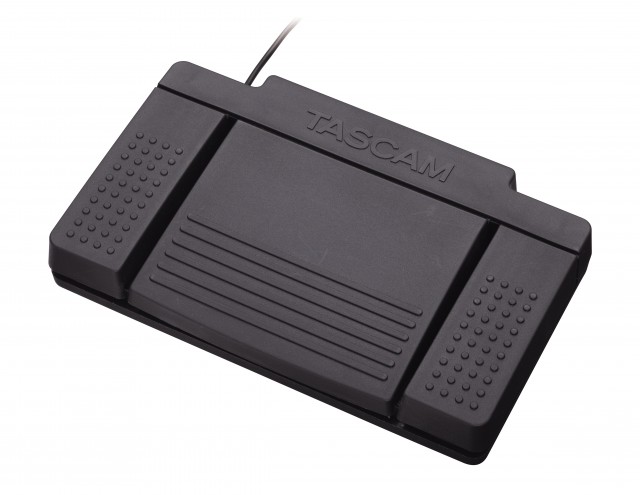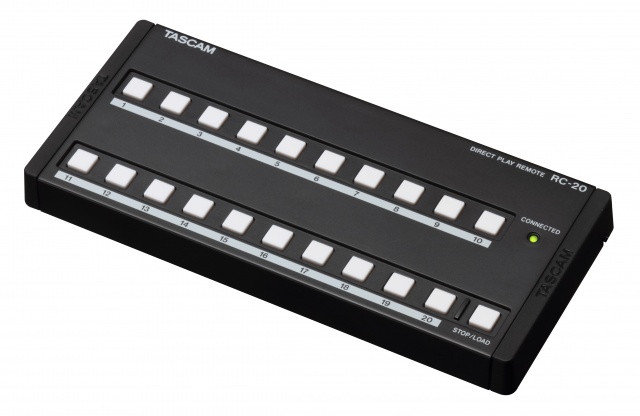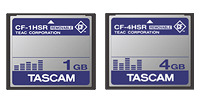 CF-1HSR / CF-4HSR
CF card
Features at a Glance
2-channel audio recorders can use USB memory, SD cards and CF cards
1U rack-mount size
Using USB memory, SD and CF cards, playback and recording of files in MP3 (44.1k/48 kHz) and WAV formats is possible (44.1k/48 kHz, 16/24-bit, 24-bit can only be played back)
Flash start function enables instant playback starting
Pitch control, key control and other playback control functions
Play area can be set as desired using playlists and folders
Track editing (WAV files only)
Built-in clock for time-stamping
Coaxial digital audio inputs and outputs
Included wired remote control allow reliable remote operation
Control and character input using a PS/2 and USB keyboards possible
Transport and pitch can be controlled using a TASCAM RC-3F foot switch (sold separately)
Flash start using TASCAM RC-20 Direct Play Remote (sold separately) supported
Spec description
Supported media
CF
Compact Flash card Type1 (512MB to 64GB)
SD
SD card (512MB to 2GB)
SDHC card (4GB to 32GB)
USB
USB flash memory (521MB to 64GB)
Recording formats
WAV
Stereo/Mono, 44.1k / 48k Hz, 16-bit
MP3
Stereo/Mono, 44.1k / 48k Hz, 64k to 320k bps
Playback formats
WAV
Stereo/Mono, 44.1k / 48k Hz, 16/24-bit
MP3
Stereo/Mono, 44,1k / 48k Hz, 64k to 320k bps
Number of channels
2 mono (or 1 stereo)
Inputs/Outputs
ANALOG INPUTS
Connector
RCA Pin jack × 1 pair
Standard input level
–10dBV (0.316Vrms)
Maximum input level
+6dBV (2.0Vrms)
Minimum input level
–24dBV (0.06Vrms) or more
Input impedance
22kΩ
ANALOG OUTPUTS
Connector
RCA Pin jack × 1 pair
Standard output level
–10dBV (0.316Vrms)
Maximum output level
+6dBV (2.0Vrms)
output impedance
200Ω
PHONES
Connector
1/4" (6.3mm) Stereo Phone jack × 1
Maximum output
45mW + 45mW (into 32Ω load, 0.1% distortion)
DIGITAL INPUT
Connector
RCA Pin jack × 1
Format
IEC60958-3 (S/PDIF)
Input frequency
32k to 48k Hz
DIGITAL OUTPUT
Connector
RCA Pin jack × 1
Format
IEC60958-3 (S/PDIF)
CONTROL I/O
REMOTE IN
for included Wired Remote Controller RC-SS2
Connector
1/8" (3.5mm) TRS jack × 1
REMOTE IN
for optional Remote Controllers RC-20 and RC 3F
Connector
2.5mm TRS jack × 1
KEYBOARD
Connector
mini-DIN (PS/2) × 1
USB
Connector
USB A-type × 1
Protocol
USB2.0 HIGH SPEED (480Mbps)
Power
AC100 - 240V, 50/60Hz
Power consumption
20W (110-240V)
Dimensions (W×H×D)
19.0" × 1.75" × 11.9" / 482.6 × 44.5 × 301 mm
Weight
7.5 lbs. / 3.4 kg
Operating temperature range
41˚F to 95˚F / 5˚C to 35˚C
Audio performance
| | |
| --- | --- |
| Frequency response | 20Hz to 20kHz ±0.5dB (JEITA) |
| S/N ratio | 95dB or more (JEITA) |
| Dynamic range | 95dB (JEITA) |
| Distortion | 0.005% or less (JEITA) |
| Channel crosstalk | 95dB (JEITA) |
SS-series Comparison cart
SS-R100
SS-R200
SS-CDR200
Media (Rec/Play)
CF, SD, USB
CF, SD, USB
CF, SD, USB, CD
Audio Inputs/Outputs
Analog Input
Unbalanced × 1 pair
Balanced × 1 pair
Unbalanced × 1 pair
Balanced × 1 pair
Unbalanced × 1 pair
Analog Output
Unbalanced × 1 pair
Balanced × 1 pair
Unbalanced × 1 pair
Balanced × 1 pair
Unbalanced × 1 pair
Digital Input
Coaxial × 1
Coaxial × 1
Coaxial × 1
Digital Output
Coaxial × 1
Coaxial × 1
Coaxial × 1
Phone Output
1/4" (6.3mm)
Stereo jack × 1
1/4" (6.3mm)
Stereo jack × 1
1/4" (6.3mm)
Stereo jack × 1
Control I/O
RS-232C
–
D-sub 9pin × 1
D-sub 9pin × 1
Parallel
–
D-sub 25pin × 1
D-sub 25pin × 1
Remote In (RC-SS2)
1/8" (3.5mm) TRS jack × 1
1/8" (3.5mm) TRS jack × 1
1/8" (3.5mm) TRS jack × 1
Remote In (RC-20/RC-3F)
2.5mm TRS jack × 1
2.5mm TRS jack × 1
2.5mm TRS jack × 1
Keyboard
mini-DIN (PS/2) × 1
mini-DIN (PS/2) × 1
mini-DIN (PS/2) × 1