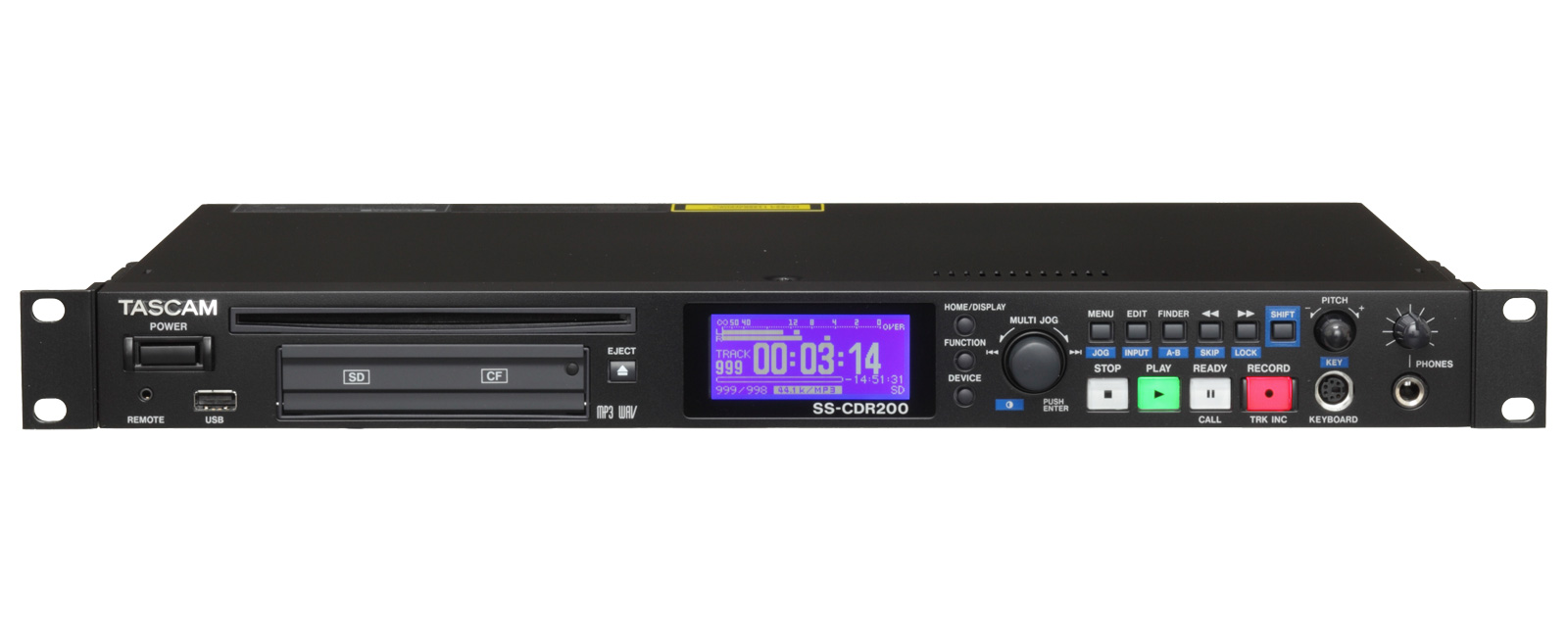 SS-CDR200
Solid State/CD-RW Audio Recorder
The SS-CDR200 is a stereo audio recorder that records to Compact Flash, SD/SDHC cards and USB memory.
The SS-CDR200 enjoys highly-reliable structure with no exposed connections, as well as its high level of versatility since it records to Compact Flash (CF) media known to be used in broadcasting stations because of its highly-reliable design in which the connection units are not exposed, as well as SD/SDHC cards and USB-based media widely available in the market.
Due to its lack of rotating media, such a recorder that uses solid-state media not only ensures high-reliability, it is also able to drastically cut down maintenance costs and effort.
This model has been discontinued in North, Central and South America.
Please check the availability with your local distributors in other areas.
It has been replaced with the SS-CDR250N.
Construct 20-point flash start system easily with the help of options
The SS-CDR200 can be used for various recording applications such as taking meeting minutes, or in courthouses and government and municipal offices, as well as establishing a highly-reliable acoustic system in professional sound system for facilities, such as broadcasting stations and PA/SR. It is also perfect for replacing the existing playback system at a fitness studio and a banquet hall.
Furthermore, a 20-point flash start system can be constructed by connecting the SS-CDR200 with the optionally-available RC-20, making it useful for regular audio playback for applications such as in theaters, at weddings.
The SS-CDR200, SS-R200 and SS-R100 models also support a RC-20 connection.


SS-CDR200 includes solid state media and CD recorder
Despite incorporating solid state media as well as a CD recorder, the SS-CDR200 fits into just a single rackspace.
In addition to XLR/RCA analog and COAXIAL digital input and output, the SS-CDR200 also includes RS-232C/PARALLEL ports, enabling control from an external device.
The SS-CDR200, SS-R200 and SS-R100 are the next standard in stereo audio recorder with a high level of versatility that supports various media.
Spec description
SS-CDR200
SS-R200
SS-R100
Supported media
CompactFlash card(512MB - 64GB, Type 1 only)
SD(512MB - 2GB)/SDHC(4GB - 32GB)card
USB memory(512MB - 64GB)
CD-R, CD-R-DA,
CD-RW, CD-RW-DA
-
-
Recording formats
WAV
Stereo/Mono, 44.1kHz/48kHz, 16bit
MP3
Stereo/Mono, 44.1kHz/48kHz, 64kbps-320kbps
CD-DA
Stereo, 44.1kHz
-
-
Playback formats
WAV
Stereo/Mono, 44.1kHz/48kHz, 16/24-bit
MP3
Stereo/Mono, 44,1kHz/48kHz, 64kbps-320kbps
CD-DA
Stereo, 44.1kHz
-
-
Number of channels
2 mono(or 1 stereo)
ANALOG INPUTS
BALANCED
Connector
XLR-3-31(1 : GND, 2 : HOT, 3 : COLD)
-
Standard input level
+4dBu(1.23Vrms)
-
Maximum input level
+20dBu(7.75Vrms)
-
Minimum input level
-10dBu(0.25Vrms) or more
-
Input impedance
22k ohms
-
UNBALANCED
Connector
RCA pin jacks
Standard input level
-10dBV(0.316Vrms)
Maximum input level
+6dBV(2.0Vrms)
Minimum input level
-24dBV(0.06Vrms) or more
Input impedance
22k ohms
ANALOG OUTPUTS
BALANCED
Connector
XLR-3-32(1 : GND, 2 : HOT, 3 : COLD
-
Standard output level
+4dBu(1.23Vrms)
-
Maximum output level
+20dBu(7.75Vrms )
-
output impedance
100 ohms
-
UNBALANCED
Connector
RCA pin jacks
Standard output level
-10dBV(0.316Vrms)
Maximum output level
+6dBV(2.0Vrms)
output impedance
200 ohms
PHONES
Connector
Standard 6.3mm (1/4') stereo jack
Maximum output
45mW + 45mW (into 32 ohms load, 0.1% distortion)
DIGITAL INPUT
Connector
RCA pin jack
Format
IEC60958-3(S/PDIF)
Input frequency
32kHz-48kHz
DIGITAL OUTPUT
Connector
RCA pin jack
Format
IEC60958-3(S/PDIF)
CONTROL I/O
RS-232C
Connector
D-sub 9pin
-
Protocol
RS-232C
-
PARALLEL
Connector
D-sub 25pin
-
Maximum input voltage
+5.5V
-
High level minimum input voltage
+3.75V
-
Low level maximum input voltage
+1.25V
-
Output format
Open drain(withstand voltage 50 V, maximum 50 mA)
-
Low level maximum output voltage
0.5V
-
+5V power maximum supplied curent
100mA
-
REMOTE IN (RC-SS2)
Connector
3.5mm TRS jack
REMOTE
(for RC-20 and RC-3F)
Connector
2.5mm TRS jack
KEYBOARD
Connector
mini-DIN (PS/2)
USB
Connector
USB A-type 4pin
Protocol
USB2.0 HIGH SPEED(480Mbps)
Power
AC100-240V, 50/60Hz
Power consumption
100V : 20W, 110V-240V : 23W
100V : 16W, 110V-240V : 20W
Dimensions
482.6(W)mm×44.5(H)mm×301(D)mm
Weight
3,7kg
3,4kg
3.4kg
Operating temperature range
5-35˚C
Audio performance
Frequency response
20Hz-20kHz : +/-0.5dB(JEITA)
S/Nratio
95dB or more(JEITA)
Dynamic range
95dB(JEITA)
Distortion
0.005% or less( JEITA)
Channel crosstalk
95dB(JEITA)