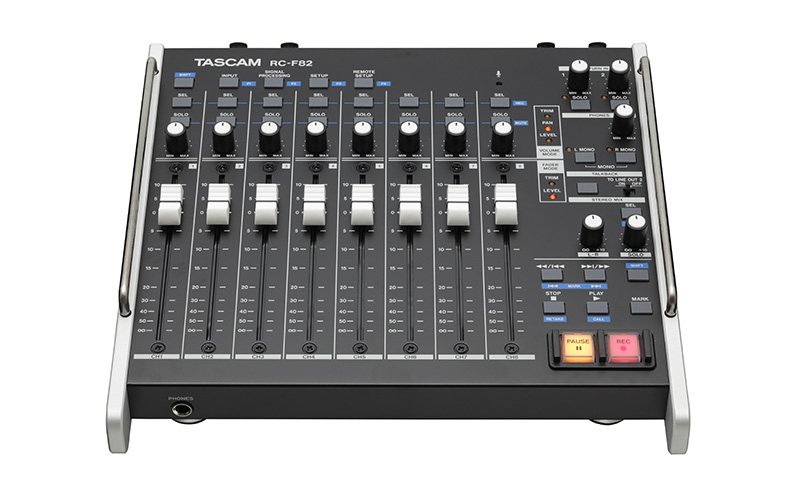 RC-F82
Communication/Control Surface for HS-P82
The RC-F82 is a fader controller equipped with high sound quality mic preamps, provides improved operational efficiency at recording sites which use the HS-P82 in a variety of applications such as movie, TV, and documentary filming, surround sound recording, and multi-microphone recording.
This model has been discontinued in North, Central and South America.
Please check the availability with your local distributors in other areas.
Allows intuitive yet effective operation of HS-P82's stereo mixer and solo monitor
The RC-F82 is equipped with faders (volume sliders), knobs, and buttons, allowing for more intuitive and effective operation of the HS-P82's in-built stereo mixer and solo monitor.
Furthermore, both the faders and switches are dust-proof, ensuring high-reliability during field work.

Furthermore, a communication system between staff members, an essential element of recording sites, can be constructed using the RC-F82. Compact in size and stackable, mounting the RC-F82 on top of the HS-P82 will provide users with an effective operating environment even within a limited work space.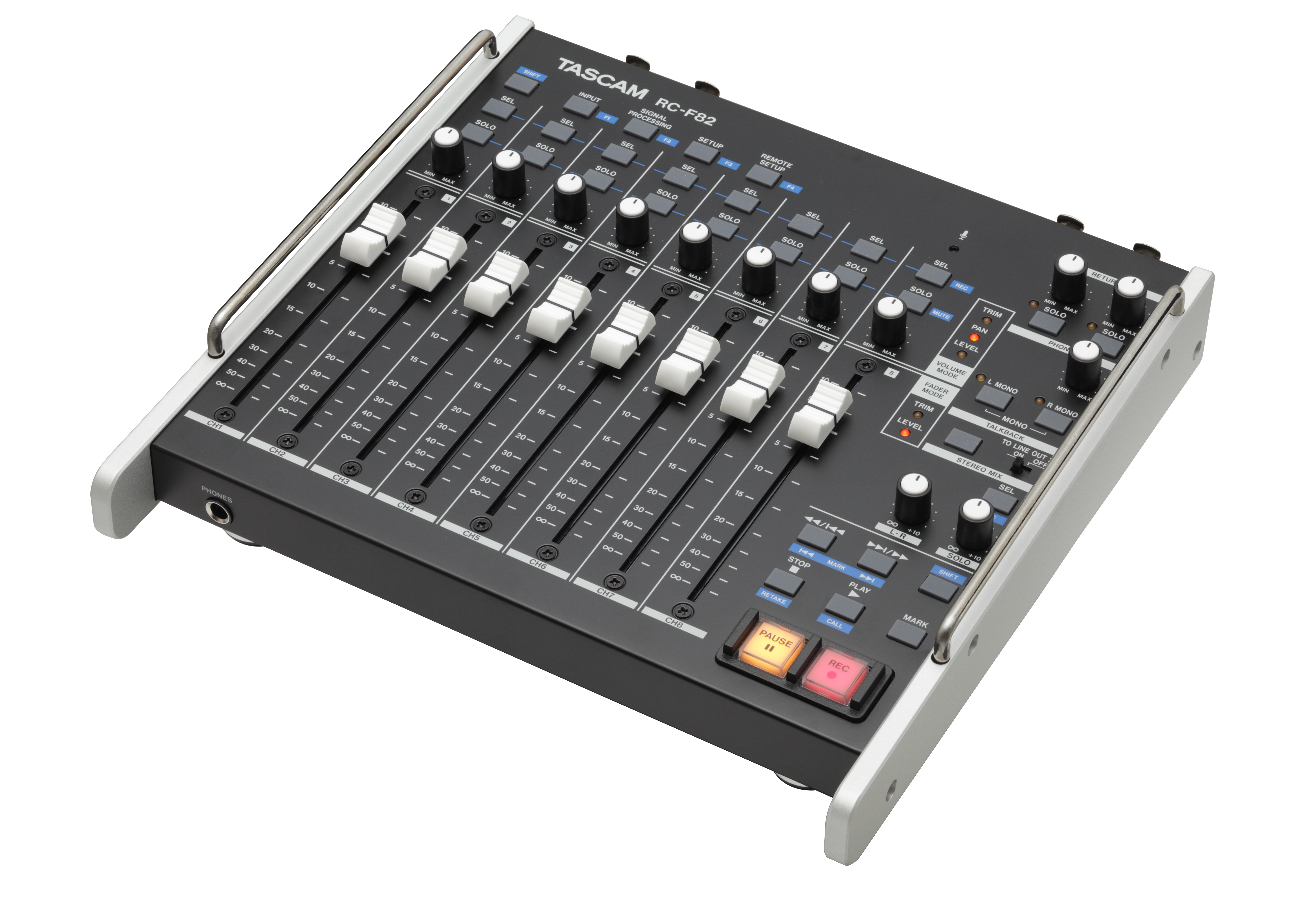 Features at a Glance
8 × 100mm faders with dust-resistant sealing control HS-P82 preamp trim or mixer level
8 × potentiometers control HS-P82 preamp trim, mixer level or pan
HS-P82 transport control
HS-P82 control buttons include select, solo, record, setup
Headphone monitor with selectable ch. 1, ch. 2, stereo
XLR Stereo Line Input
XLR Stereo Return input
2 × XLR Stereo Line Output with selectable talkback routing
Built-in talkback microphone for on-set communication
PS/2 out for HS-P82 control and power
PS/2 in for keyboard
Spec description
Analog inputs
LINE IN
Pass-through to LINE OUT 1
Pass-through to LINE OUT 2 (when TALKBACK TO LINE OUT 2 is switched off)
Connector
XLR-3-31 (1: GND, 2: HOT, 3: COLD) × 1 pair
Nominal input level
Dependent on the HS-P82 settings
Maximum input level
Dependent on the HS-P82 settings
RETURN IN
Connector
XLR-3-31 (1: GND, 2: HOT, 3: COLD) × 2
Input impedance
10kΩ
Nominal input level
+4dBu (1.23Vrms)
Maximum input level
+24dBu (12.28Vrms)
PHONES IN
Connector
1/4" (6.3mm) TRS Phone jack × 1
Built-in MIC
Type
Omnidirectional, monaural
Analog outputs
LINE OUT 1
LINE IN pass-through output
Connector
XLR-3-32 (1: GND, 2: HOT, 3: COLD) × 1 pair
Nominal output level
Dependent on the HS-P82 settings
Maximum output level
Dependent on the HS-P82 settings
LINE OUT 2 (TALKBACK: OFF)
LINE IN pass-through output
Connector
XLR-3-32 (1: GND, 2: HOT, 3: COLD) × 1 pair
Output impedance
Dependent on the HS-P82 settings
Nominal output level
Dependent on the HS-P82 settings
Maximum output level
Dependent on the HS-P82 settings
LINE OUT 2 (TALKBACK: ON)
* Internal microphone signal is routed to this output.
Connector
Pseudo-balanced
Output impedance
150Ω
Nominal output level
–8dBu (0.3Vrms)
Maximum output level
+8dBu (2.0Vrms)
PHONES
Connector
1/4" (6.3mm) Stereo Phone jack × 1
Maximum output level
90mW + 90mW (1kHz, THD+N 0.1%, into 32Ω)
Control I/O
to Main unit
Connector
mini-DIN 6-pin × 1
to Keyboard unit
Connector
mini-DIN 6-pin (PS/2) × 1
Power
DC 5V (supplied by the HS-P82 main unit)
Power consumption
1W or less
Dimensions (W×H×D)
10.6" × 2.48" × 10.2" / 270 × 63 × 260 mm
Weight
5.5 lbs. / 2.5 kg
Operating temperature
32˚F to 104˚F / 0˚C to 40˚C