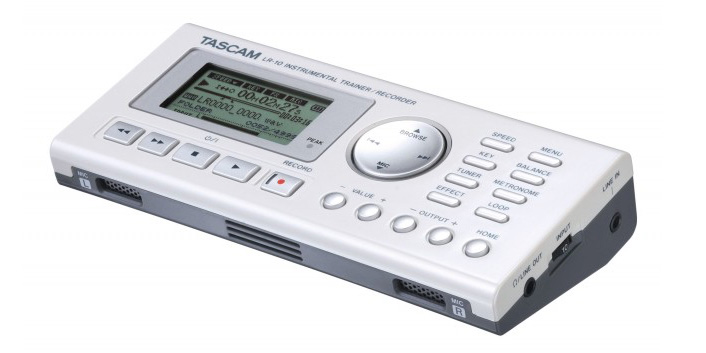 This model has been discontinued in North, Central and South America.
Please check the availability with your local distributors in other areas.
TASCAM is reinventing music education once again with the LR-10 Instrumental Trainer/Recorder. Like our CD and MP3 trainers and recorders, the LR-10 slow down and loop MP3 files without changing their pitch to help musicians learn new songs and licks. The latest generation features CD-quality recording with overdub to build up an arrangement or record rehearsals with the internal microphone. The SD card slot includes a 2GB card, and the new tabletop design makes them the perfect tools for music students, hobbyists or professionals to perfect their instruments.

TASCAM's LR-10 is designed for strings, wind players, keyboardists, vocalists or any other musician. Use it to loop and transcribe your favorite music, record lessons or capture new song ideas. The LR-10 has a built-in microphone and speaker for recording and playback. A chromatic tuner is also included, as well as a metronome for precision playing. A 3-button footswitch input for TASCAM's optional RC-3F allows hands-free control.

The TASCAM LR-10 is the ideal practice tool for any musicians of any skill level.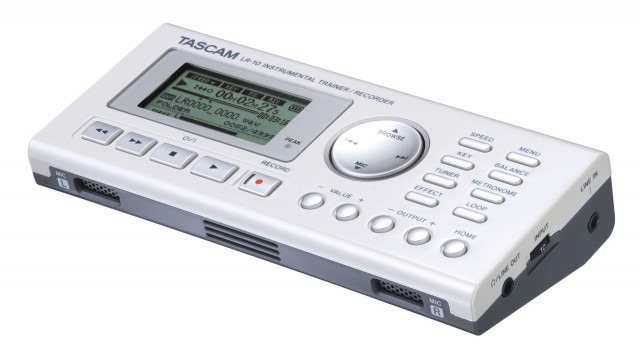 Spec description
Instrument trainer / recorder
Records 44.1kHz/16-bit WAV files
Playback 16 or 24-bit WAV files or MP3 files
Stereo Microphone
Internal Speaker
SD/SDHC card media slot with included 2GB card
Overdub recording allows sound-on-sound build up of an arrangement
Loop playback using dedicated buttons
Variable Speed Audition speeds up or slows down playback without changing the pitch
Chromatic Tuner and Metronome
USB 2.0 jack for high-speed music transfer
Dedicated keys and large LCD display for easy operation
New angled desktop design
Includes 2GB SD card, AA batteries, USB cable