IF-E100
ETHERNET CONTROL EXPANSION CARD FOR CD-400U
The IF-E100 is an Ethernet control card for the TASCAM CD-400U CD/SD/USB/Bluetooth®/AM/FM player.
Installation of the IF-E100 into a CD-400U enables external Ethernet control via Ethernet in netowrked systems.
Enables external control of TASCAM CD-400U using Telnet through an Ethernet connection
Supports 100BASE-TX
Network settings can be made and checked using the CD-400U unit menu or the CD-400U Network Settings web browser application, which is compatible with Windows and Mac
RJ-45 connector
See All
IF-E100 × 1
Owner's Manual with Warranty × 1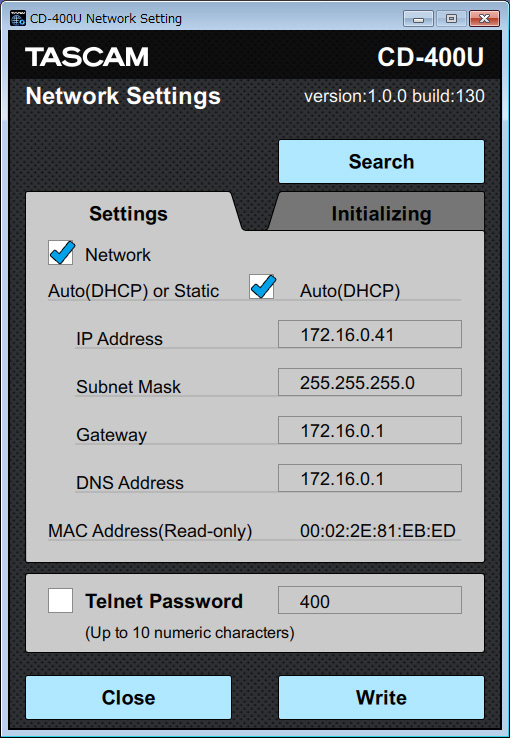 CD-400U Network Settings
The CD-400U Network Settings application enables adjustment of network settings for a IF-E100 equipped CD-400U via a Windows/Mac web browser.
* Network settings can also be made and checked using the "Network Set." menu on the CD-400U.
* The CD-400U Network Settings appication is available as a free downloaded on the download page.
Features at a Glance
Enables external control of TASCAM CD-400U using Telnet through an Ethernet connection
Supports 100BASE-TX
Network settings can be made and checked using the CD-400U unit menu or the CD-400U Network Settings web browser application, which is compatible with Windows and Mac
RJ-45 connector
Spec description
| | |
| --- | --- |
| Ethernet connectors | |
| Connector | RJ-45 |
| Transmission protocol | Telnet |
| Port number | 23 |
| Password | numbers only 10-digit maximum (default : 400) |
| Ethernet standard | 100BASE-TX |
| Cables | category 5e or faster |
| Dimensions | 2 2/32"(W) × 1 7/32"(H) × 2 5/32"(D) (width xheight xdepth, including protrusions) |
| Weight | 33g |
| Accessory | Attachment screw set, Owners Manual including warranty |
CD-400U Network settings : Operating environment
Windows
CPU
Intel® Core™ i
Memory
2 GB or more (at least 4 GB recommended)
Open disc space
At least 150 MB
Screen resolution/number of colors
1280 × 1024 (SXGA) or higher
True Color (32-bit) recommended
Mac
CPU
Intel® Core™ i, Intel® Core™ m
Memory
2 GB or more (at least 4 GB recommended)
Open disc space
At least 150 MB
Screen resolution/number of colors
1280 × 1024 (SXGA) or higher
Supported OS'
Windows
Windows 10 (April 2018 Update) , Windows 8.1 , Windows 7
Mac
macOS High Sierra (10.13) , macOS Sierra‎ (10.12) , OS X El Capitan (10.11)