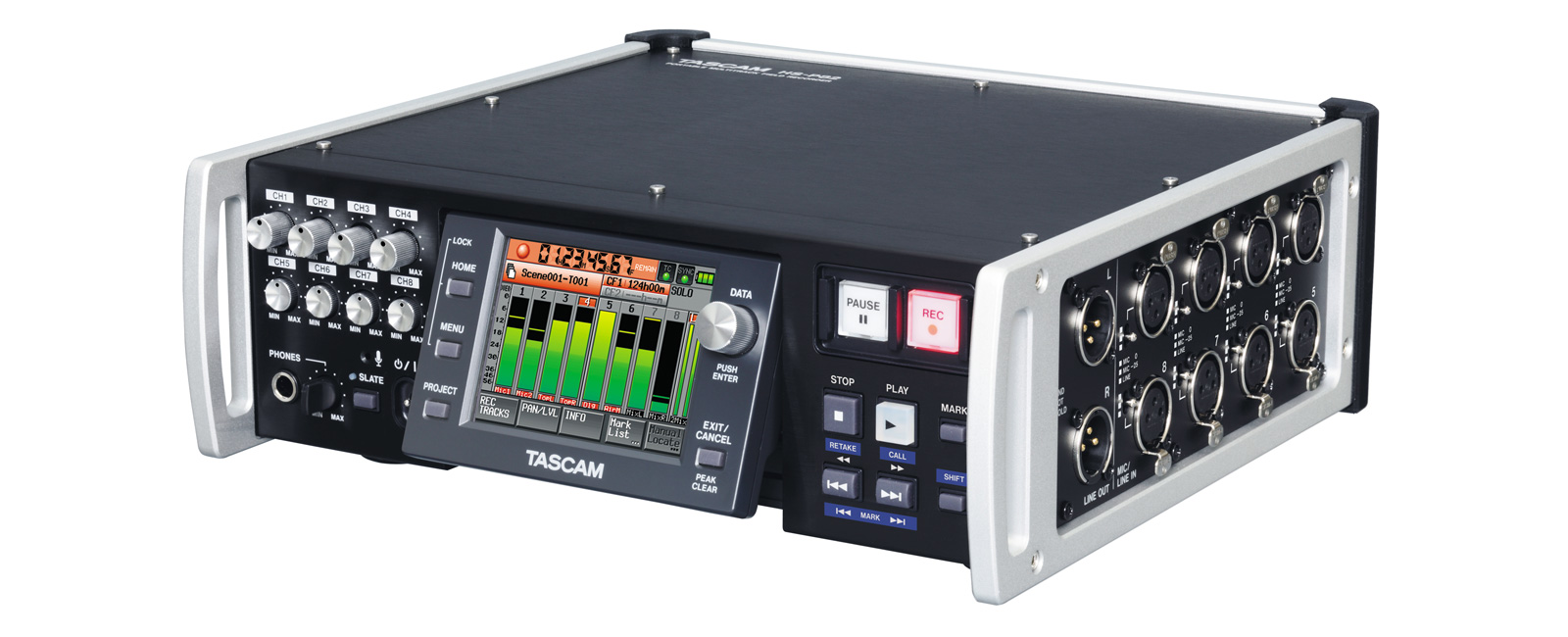 HS-P82
8-Track Pro Field Recorder
TASCAM's HS-P82 offers 8 tracks of the highest quality recording, yet it's built for the rigors of location recording with reliable solid-state performance. The HS-P82 is built for location television and film production audio, with eight microphone inputs for big shoots or reality programs.
This model has been discontinued in North, Central and South America.
Please check the availability with your local distributors in other areas.
Audio is recorded at up to 192kHz/24-bit WAV format to a pair of Compact Flash cards. This solid state media is completely reliable with no moving parts, and you can record to both cards simultaneously for extra security (card-mirroring). The Broadcast WAV files include iXML metadata for quick import into nearly any video or audio editing system, either via the USB 2.0 connection or a standard card reader.

For multi-microphone music or surround effects recording, the HS-P82 includes Mid-Side decoding – either recorded to the track or only for monitoring & playback. Microphone gain settings can be ganged together for input level control or fades, and inputs automatically mute when the gain is moved to its minimum setting.
TASCAM also provides firmware upgrades for products from time to time. The latest upgrade - V1.20 – provides the ability to rename takes and automatically start and pause recording in response to the state of an external timecode signal.
The HS-P82 offers several options for power. It runs on either NP batteries or AA, an included AC adapter, external DC input or a V-mount adapter for Endura batteries. An internal slate microphone is available for naming takes. Functions like a 5-second pre-record buffer, front panel lockout and headphone output alert signal further inspire confidence.
For high-resolution music recording, a set of AES/EBU connectors is available for attaching pedigree A/D converters and preamplifiers. SMPTE timecode in and out, video and word sync are provided. All of this is controlled from a color touchscreen interface which makes operation fast and simple.
8 mic preamps with a discrete structure EIN rating of –125dBu equipped
8 XLR inputs that support a phantom power supply have been installed, boosting signals through a high-sound quality Ultra-HDDA mic preamp that boasts an EIN rating of –125dB. This integrated mixer unit enables the recording of stereo audio. It goes without saying that recording across the eight inputs separately is possible, with recording in up to 192kHz also supported. The available file formats include the common BWF monaural files as well as poly files.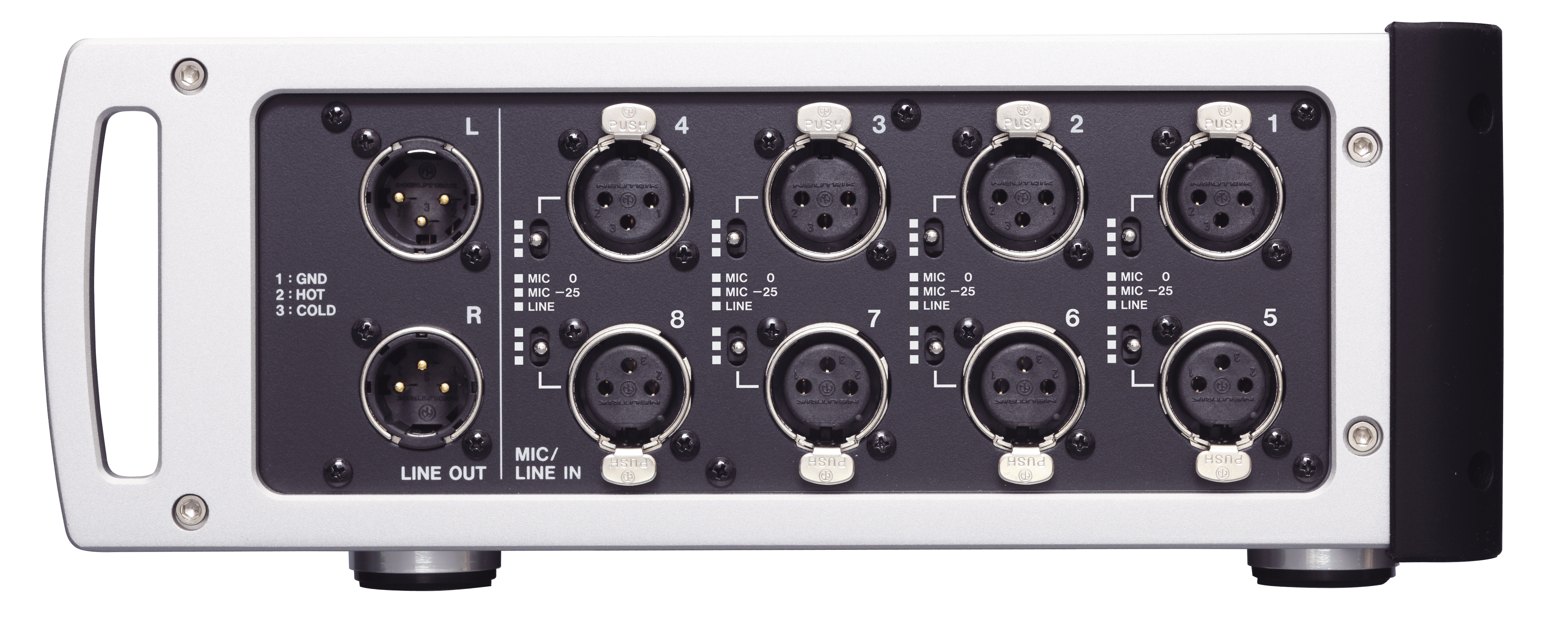 Full-metal body creates a high-durability structure that withstands long, intense usage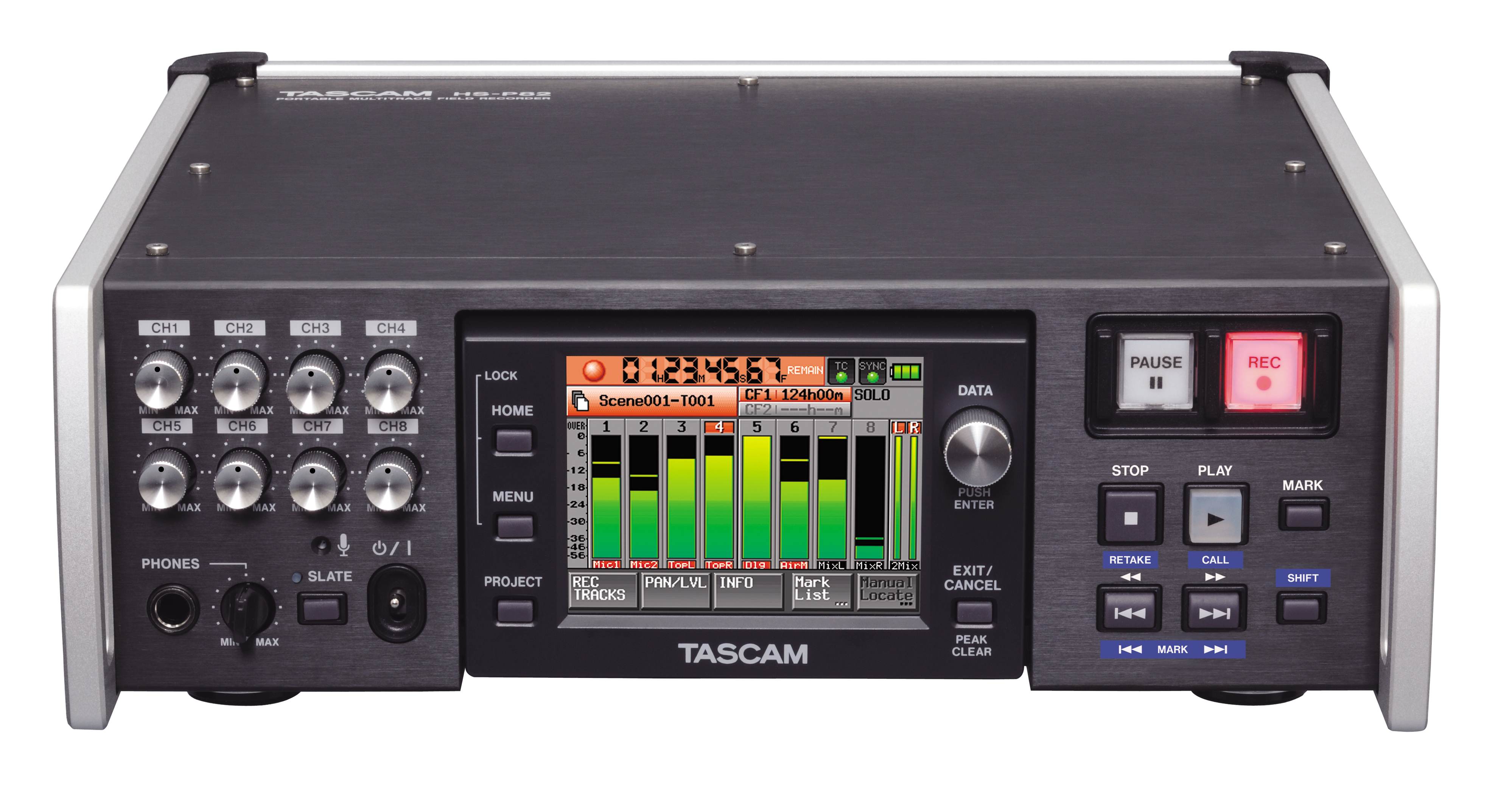 The biggest feature of the HS-P82 lies in its specifications, which are high in reliability and durability, since its intended usage is for professionals. Mirroring recording onto the two CF cards and an auto-save function that prevents files from disappearing has been installed. Aside from the operational elements, the device is completely made of metal, removing all plastic. In particular, the side-panel is made from thick aluminum material that can withstand external shocks, resulting in high durability.
Combined usage with the RC-F82 fader unit provides secure and fast operation
In addition, a tilted full-color touch panel display with high visibility was installed in order to ensure that users can comfortably use the RC-F82 in a setting that requires fast and accurate operation. A higher level of operability can be obtained by using the separately-sold designated RC-F82 fader unit. A large output headphone amplifier of 100mW/ch allows for comfortable monitoring. In addition, monitoring via the RC-F82 is possible, which is equipped with a large output headphone amplifier of 90mW/ch.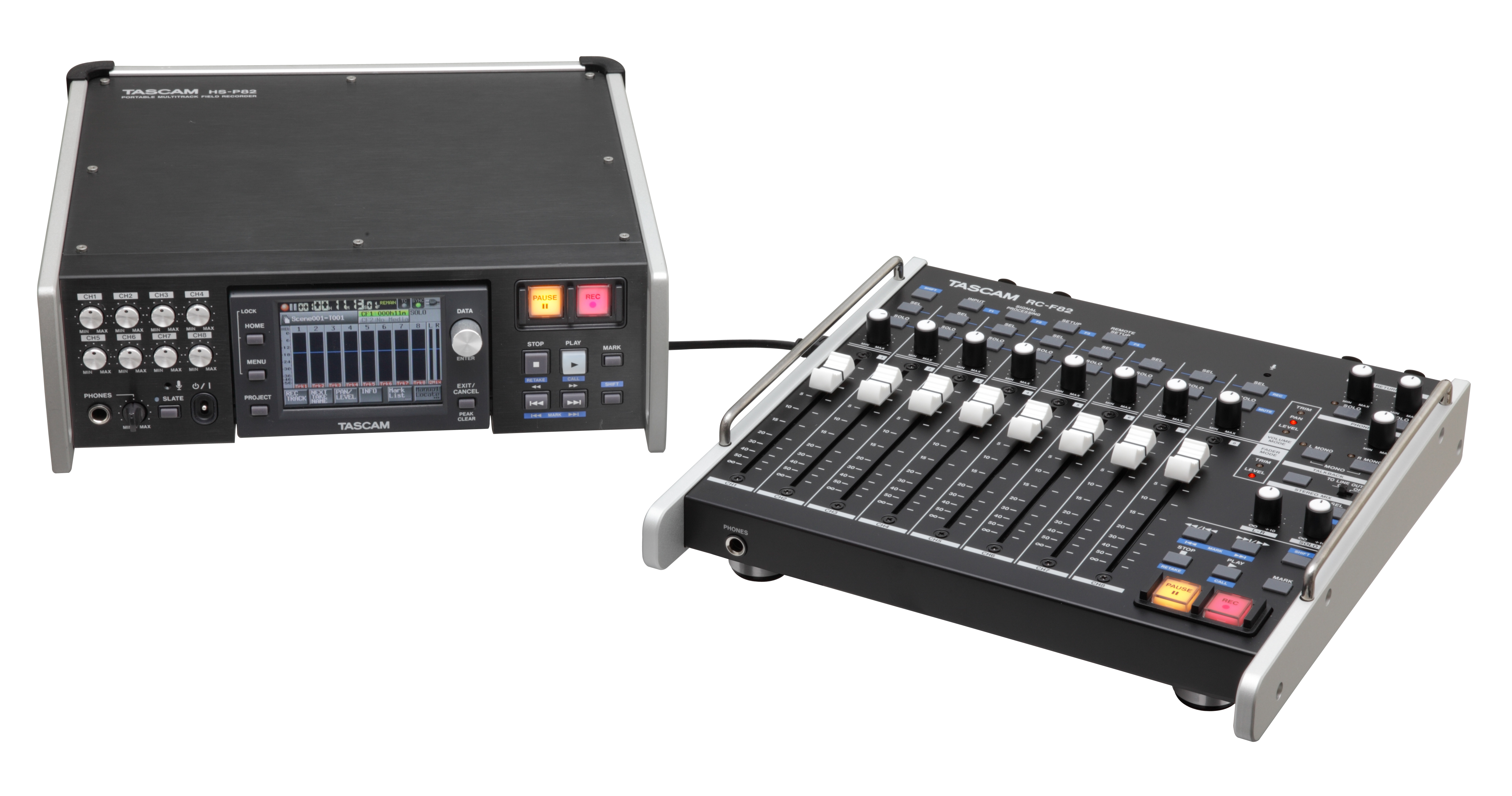 Professional field recorder that completely covers operability, durability, and operational efficiency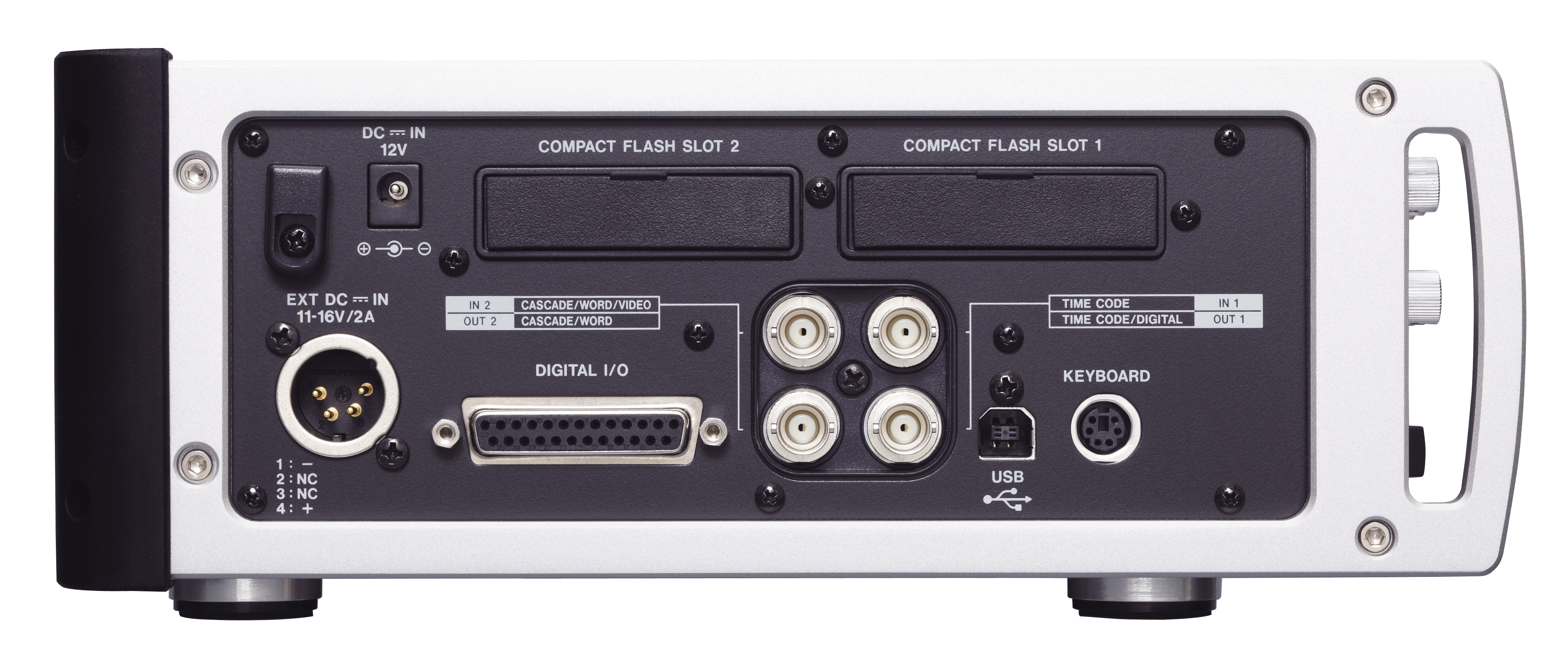 In addition to providing high cost-effectiveness, the HS-P82 is a professional portable multi-track recorder that balances various facets such as high sound quality, operability, durability, and operational efficiency, to ensure long-term usage in recording environments.
Features at a Glance
Recording fuctions:
Dual Compact Flash recording media supports backup and mirroring
Long battery life through low power usage
Easy to read and operate using pivoting TFT Color Touch Panel interface
All-aluminum chassis is rugged yet lightweight
8-track recording plus stereo mix for a total of 10-track recording
8-track recording at up to 96kHz/24-bit
4-track recording at 192kHz/24-bit
Broadcast WAV (BWF) support with iXML metadata
Take renaming function
Various power options include NP type, AC adaptor (included), external DC input (XLR 4-pin) and optional V-mount adaptor for ENDURA batteries. (A 10x AA battery tray is included - useful for short-term emergency operation in case of external power failure while recording)
Up to 5-second pre-record buffer
Internal microphone for slate recording
Limiter and low-cut filter per track
Mid-side microphone decoding – either during recording or on monitor/playback only
Trim ganging for multi-channel/multi-microphone input level control (both MIC and LINE level inputs)
Minimum input gain setting mutes input
Auto or manual cue points
Alert signal to headphone output
Retake function
Panel lockout function to prevent accidental transport switching
Inputs/Outputs:
8 high-quality microphone preamps and A/D converters with independent +48V phantom power for each (standard XLR connectors)
8 AES/EBU inputs and outputs (DB-25 connector)
Sampling rate converter on each AES/EBU input
2 balanced analog outputs (XLR connector)
Stereo digital output (BNC connector)
SMPTE Timecode In and Out (BNC connector)
Video/Word Clock/Cascade I/O (BNC connector)
Headphone out (1/4" stereo jack)
PS/2 keyboard input for track naming
USB 2.0 high-speed data transfer to PC
Mic Input EIN –125dBu
Spec description
Recording media
CF card (Compact Flash)
File system
FAT32
File format
BWF (Monophonic, Polyphonic)
Number of channels
8 channels (44.1k / 48k / 88.2k / 96k Hz)
8 channels + Stereo mix (44.1k / 48k Hz)
4 channels (176.4k / 192k Hz)
Quantization bit rate
16 / 24-bit
Sampling frequency
44.1k / 47.952k / 48k / 48.048k / 88.2k / 96k / 176.4k / 192k Hz
(47.952k / 48.048k Hz: 48kHz ±0.1% pull-up/pull-down)
Reference clock
Internal, Word in, Video in, Digital in (CH1-2, CH3-4, CH5-6, CH7-8)
Timecode frame rate
23.976 / 24 / 25 / 29.97 DF / 29.97 NDF / 30 DF / 30 NDF
Built-in Mic
Omnidirectional, monaural
Limiter
Attach time
3 msec
Release time
300 msec
Threshold
–5dBFS
Ratio
32:1
Low cut filter
Cut off frequency
40 / 80 / 120 Hz
Slope
–12dB/OCT, –18dB/OCT
Inputs/Outputs
Mic/Line input (1-8)
Connector
XLR-3-31 (1: GND, 2: HOT, 3: COLD) × 8
Input impedance
LINE
10Ω
MIC –25
2.4Ω
MIC 0
2.4Ω
Nominal input level
LINE
+6dBu (1.55Vrms, –9dB), +4dBu (1.23Vrms, other than –9dB)
Maximum input level
LINE
+15dBu (4.36Vrms), +18dBu (6.16Vrms), +20dBu (7.75Vrms), +22dBu (9.76Vrms), +24dBu (12.28Vrms)
MIC –25
+11dBu (2.75Vrms)
MIC 0
–14dBu (0.15Vrms)
Minimum input level
MIC –25
–45dBu (4.36Vrms)
MIC 0
–70dBu (0.25Vrms)
Line output
Connector
XLR-3-32 (1: GND, 2: HOT, 3: COLD) × 1 pair
Output impedance
100Ω or less
Nominal output level
+6dBu (1.55Vrms, Ref. level: –9dB), +4dBu (1.23Vrms, Ref. level: other than –9dB)
Maximum output level
+15dBu (4.36Vrms), +18dBu (6.16Vrms), +20dBu (7.75Vrms), +22dBu (9.76Vrms), +24dBu (12.28Vrms)
Phone
Connector
1/4" (6.3mm) Stereo phone jack × 1
Output power
100mA + 100mA (THD+N 1% or less, into 32Ω)
Digital I/O
Connector
D-sub 25 pin × 1
Format
AES3-2003/IEC60958-4 (AES/EBU)
Maximum input voltage
7mVp-p
Minimum input voltage
200mVp-p
Output voltage
3.5Vp-p
Digital output
Connector
BNC × 1
Format
AES3-2003/AES-3id-2001 (AES/EBU)
Output voltage
1Vp-p/75Ω
Control I/O
EXT DC IN
Connector
XLR 4-32 (1: –, 2: NC, 3: NC, 4: +)
Input voltage
11 to 16V (2A)
Cascade/Word/Video In
Connector
BNC
Input voltage
5V TTL equivalent
Input impedance
75Ω ±10%
(Allowable frequency deviation of external synch: ±100ppm)
Cascade/Word/Video Out
Connector
BNC
Input voltage
5V TTL equivalent
Input impedance
75Ω ±10%
(Allowable frequency deviation of external synch: ±100ppm)
Sampling frequency
44.1k / 49.952; / 48lk / 48.048k / 88.2k / 96k / 176.4k /192k Hz
(47.952k / 48.048k Hz: 48kHz &pllusmn;0.1% pull-up/pull-down)
Time Code In
Connector
BNC
Input voltage
0.5 to 5Vp-p
Input impedance
10kΩ
Time Code Out
Connector
BNC
Input voltage
2.0Vp-p
Input impedance
600Ω
USB
Connector
USB B-type 4-pin × 1
Format
USB2.0 HIGH SPEED (480MHz)
Keyboard
Connector
mini DIN (PS/2) × 1
Power
AC 100 - 240V, 50/60Hz (AC adapter PS-1225L)
10 AA batteries (Alkaline or NiMH)
External DC battery (DC 11 to 16V, 2A or more)
Power consumption
18W
Battery operation time
* All times are approximate. Continuous operation)
NP type battery
Li-ion: 14.8V / 4.6Ah (68W)
Playback
5 hours (JEITA)
Recording
5 hours (JEITA)
AA type battery
Ni-MH
Playback
2 hours (JEITA)
Recording
2 hours (48kHz, 24-bit, 8ch with phantom power OFF, varies with operating conditions. JEITA)
Dimensions (W×H×D)
10.6" × 3.9" × 10.2" / 270 × 99.7 × 260 mm
Weight
8.06 lbs. / 3.65 kg (excluding batteries)
Audio performance
Frequency response
Input (Mic/Line) → Line out
20Hz to 20kHz 0dB (±0.5dB) Fs=All
at 40kHz –1dB (±1.0dB) Fs=88.2k/96kHz
at 80kHz –3dB (+1dB/–2dB) Fs=176.4k/192kHz
Distortion
Input (LINE) → Line out
0.003% or less (Ref. level: when –20dB, +23dBu input 1kHz, AES-17 LPF)
Input (MIC –25) → Line out
0.02% or less (Ref. level: when –20dB, –10dBu input Trim +20dB 1kHz, AES-17 LPF)
Input (MIC 0) → Line out
0.02% or less (Ref. level: when –20dB, –35dBu input Trim +20dB 1kHz, AES-17 LPF)
S/N radio
Input (LINE) → Line out
11-dB or more (22kHz LPF A-weighted)
Input (MIC –25) → Line out
100dB or more (22kHz LPF A-weighted)
Input (MIC 0) → Line out
100dB or more (22kHz LPF A-weighted)
Computer compatibility
| | |
| --- | --- |
| Windows | |
| OS | Windows XP, Windows Vista, Windows 7 |
| CPU | Pentium 300MHz or faster |
| Memory | 128MB or more |
| USB port | USB2.0 (Intel chipset host controller is recommended.) |
| Macintosh | |
| OS | OS X10.2 or later |
| CPU | PowerPC G3, G4, Intel Mac 266MHz or faster |
| Memory | 64MB or more |
| USB port | USB2.0 (Intel chipset host controller is recommended.) |