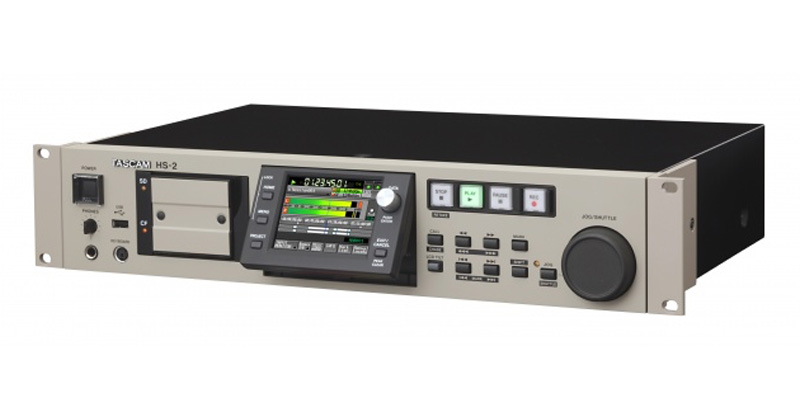 HS-2
Stereo Professional Solid State Recorder
The TASCAM HS-2 is the perfect replacement for timecode DAT and MD recorders. It provides up to 192kHz/24-bit Broadcast WAV file stereo recording. Its feature-rich flexibility and reliability is perfect for broadcast, post production and professional audio applications.
This model has been discontinued in North, Central and South America.
Please check the availability with your local distributors in other areas.
It has been replaced with the HS-20.
CF and SD Cards (UDMA compatible) Used as Recording Media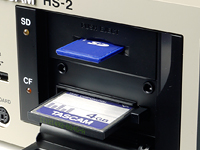 The HS-2 supports CF UDMA media - widely used in broadcast and professional audio applications - and SD/SDHC & USB media for recording/playback popular in the consumer market. Without rotary mechanisms, these media types provide silent and shock-resistant operation.
3 Operation Modes for Various Applications
TIMELINE MODE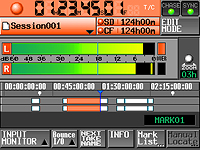 TIMELINE MODE emulates analog tape. When you record/overwrite in timeline mode, HS-2 will record to one region. TIMELINE MODE can perform non-destructive edits similar to a DAW.
TAKE MODE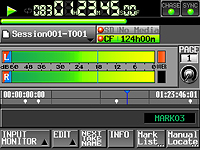 HS-2 will record one "TAKE" (audio file) when recording. The TAKE has time-code. This mode can perform destructive editing similar to that of an MD recorder.
PLAYLIST MODE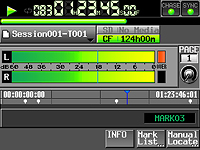 You can play audio files that are registered to your playlist. This mode is ideal for flash-start. PLAYLIST MODE can set a point of IN and OUT. All edits of the flash-start presets can be edited directly from the HS-2.
Giga-bit Ethernet LAN Control via RJ-45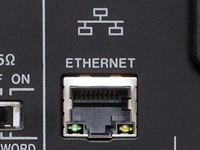 Data transfer, remote control, and remote monitoring is possible via this connection. Windows, Macintosh, and UNIX can access the HS-2 through FTP protocol. This feature provides the capability to exchange files between the HS-2 and computer networks. It is also possible to control the HS-2 remotely via VNC (Virtual Network Computing) and VNC viewer applications.
Real-time OS Provides Fast and Stable Operation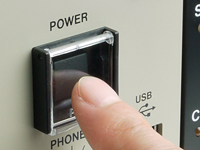 The real-time operating system designed for the HS-Series provides benefits such as fast booting, fast display and stable operation. When recording, files are saved every 2 seconds - and the HS-2 does not stop if the CF/SD-card is accidentally ejected.
High-quality Audio Circuitry Same as HS-4000/2000 & CD-9010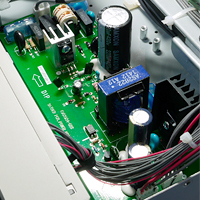 The HS-2 is a flexible recorder with high-quality audio. The electronic components have been carefully chosen to provide exceptional performance. The D/A converters used in the HS-2 are Burr Brown PCM1796, and the operational amplifiers are field-proven JRC NJM5532. The power supply features a rugged capacitor designed to provide stability and reliability.
Options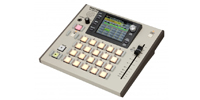 RC-HS20PD
Remote Controller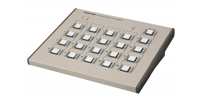 RC-SS20
Remote Controller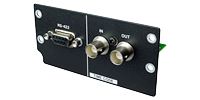 Features at a Glance
2-ch audio recorder/player - the successor for timecode DAT and MD recorders
CF (Ultra DMA compatible) and SD/SDHC cards used as recording media
Mirror recording mode
Supports 16/24bit, 44.1/48/88.2/96/176.4/192kHz
Supports BWF/WAV format
Import/export in AES31 format
3 different operation modes
TIMELINE mode emulates analog tape
TIMELINE mode can perform non-destructive edits similar to a DAW
TAKE mode can perform destructive edits similar to a MD
PLAYLIST mode is ideal for flash-start
Adjust playback level, fade in/out time, start/end points
Files editable during playback and recording
Innovative TFT color touch-screen interface
Data copying between USB memory and CF/SD card
Supports RC-HS20PD remote controller providing 100-points of flash-start
Supports RC-SS20 remte controller providing 100points flash-start
Flash-start via parallel, RS-232C serial and PS/2
VNC (Virtual Network Computing) compatible
D-sub 25-pin parallel control port
D-sub 9-pin RS-232C serial control port
JOG and SHUTTLE function
Auto Cue, Auto Ready, Incremental Play
XLR/RCA analog inputs/outputs
XLR AES/EBU digital inputs/outputs
RCA S/PDIF digital inputs/outputs
Headphone output
Word sync input/output
PS/2 or USB keyboard compatible
Time-code sync and RS-422 serial control available (when used with optional SY-2 expansion card)
BNC video reference available (NTSC/PAL black-burst or HDTV tri-level sync)
2U rack-mountable
1000BASE-T Giga-bit Ethernet available
File transfer by FTP and remote control by telnet
Spec description
Recording media
SD/SDHC-card,
CF-card(Compact Flash)
File system
FAT32 (4GB or more), FAT16 (2GB or less)
File format
BWF, WAV
Number of channels
2
Quantization bit rate
16/24bit
Sampling frequency
44.1 / 48
88.2 / 96
176.4 / 192kHz
Clock reference
INTERNAL, WORD IN, VIDEO IN, DIGITAL IN
Timecode frame
23.976 / 24 / 25 / 29.97DF / 29.97NDF / 30DF / 30NDF
Analog audio Inputs
ANALOG IN[LINE]
XLR-3-31(1:GND/2:HOT/3:COLD)
Input impedance
4.3kohms
Nominal input level
+4dBu
(D.ref.level -9dBFS :+6dBu)
Maximum output level
+15dBu(D.ref : -9dBFS, A.input:+6dBu)
+18dBu(D.ref : -14dBFS, A.input:+4dBu)
+20dBu(D.ref : -16dBFS, A.input:+4dBu)
+22dBu(D.ref : -18dBFS, A.input:+4dBu)
+24dBu(D.ref : -20dBFS, A.input:+4dBu)

D.Ref:Digital Ref. Level
A.input:Analog Input Ref. Level
Analog audio outputs
BALANCED[LINE]
XLR-3-32(1:GND/2:HOT/3:COLD)
Output impedance
100ohms or less
Nominal output level
+4dBu
(D.ref.level -9dBFS :+6dBu)
Maximum output level
+15dBu(D.ref : -9dBFS, A.input:+6dBu)
+18dBu(D.ref : -14dBFS, A.input:+4dBu)
+20dBu(D.ref : -16dBFS, A.input:+4dBu)
+22dBu(D.ref : -18dBFS, A.input:+4dBu)
+24dBu(D.ref : -20dBFS, A.input:+4dBu)

D.Ref:Digital Ref. Level
A.input:Analog Output Ref. Level
UNBALANCED
RCA
Output impedance
100ohms
Nominal output level
-10dBV
Maximum output level
+6dBV
PHONES
6.3mm(1/4") stereo phone jack
Maximum output level
45mW + 45mW (THD+N 0.1% or less, 32ohms loaded)
Digital audio inputs
AES/EBU
XLR-3-31
Format
AES3-2003 / IEC60958-4 (AES/EBU)
Supported sampling frequency
Single:44.1 / 48kHz
Double:88.2 / 96kHz
Quad:176.4/192kHz
S/PDIF
RCA
Format
IEC60958-3(S/PDIF)
Supported sampling frequency
Single:44.1 / 48kHz
Double:88.2 / 96kHz
Quad:176.4/192kHz
Digital audio outputs
AES/EBU
XLR-3-32
Format
IEC60958-4 (AES2003、AES/EBU)
Supported sampling frequency
Single:44.1 / 48kHz
Double:88.2 / 96kHz
Quad:176.4/192kHz
S/PDIF
RCA
Format
IEC60958-3(S/PDIF)
Supported sampling frequency
Single:44.1 / 48kHz
Double:88.2 / 96kHz
Quad:176.4/192kHz
TIMECODE IN
BNC(SY-2)
Signal voltage amplitude
0.5-5Vp-p
Input impedance
10kohms
Format
SMPTE 12M-1999 compatible
TIMECODE OUT
BNC(SY-2)
Signal voltage amplitude
2Vp-p
Output impedance
600ohms
Format
SMPTE12M-1999 compatible
WORD/VIDEO IN
BNC
Input voltage
5V TTL (WORD IN)
1Vp-p (VIDEO IN)
Input impedance
75ohms
WOED/VIDEO THRU/OUT
BNC (WORD THRU/WORD OUT selectable)
Output voltage
5V,TTL(WORD OUT)
Output impedance
75 ohms or less
ETHERNET
RJ45
Supported standards
100BASE-TX,1000BASE-T
USB
USB Atype 4 pin
Fromat
USB2.0 HIGH SPEED (480Mbps)
KEYBOARD
Mini DIN (PS/2)
CONTROL I/O
REMOTE
RJ-45
PARALLEL
D-sub25pin
RS-422
D-sub 9-pin(SY-2)
RS-232C
D-sub9 pin
Power
AC100V-240V, 50/60Hz
Power consumption
22W
Dimensions
482.6(W) x 94(H) x 317.1(D)mm
Weight
4.9kg
Audio performance
Frequency response


Analog in to Analog out

20Hz-20kHz:+/-0.5dB (Fs:44.1/48kHz,JEITA)
20Hz-40kHz:+0.5dB/-2dB (Fs=88.2/96kHz,JEITA)
20Hz-80kHz:+0.5dB/-5dB (Fs=176.4/192kHz,JEITA)
Distortion


Analog in to Analog out

0.005% or less (JEITA)
S/N ratio


Analog in to Analog out

100dB or more (JEITA)
HS-2 Tested media List
Maker
Series
Model
Capacity
Result
SanDisk
SanDisk Extreme PRO® CompactFlash® Memory Card
(UDMA7)
SDCFXPS-064G-J92
64GB
OK
SDCFXPS-032G-J92
32GB
OK
SDCFXPS-016G-J92
16GB
OK
SanDisk Extreme® CompactFlash® Memory Card (UDMA7)
SDCFXS-064G-J61
64GB
OK
SDCFXS-032G-J61
32GB
OK
SDCFXS-016G-J61
16GB
OK
SanDisk Extreme® CompactFlash® Memory Card (UDMA)
SDCFXS-008G-J61
8GB
OK
SanDisk Ultra® CompactFlash® Memory Card
SDCFHS-016G-J35
16GB
OK
SDCFHS-008G-J35
8GB
OK
SDCFHS-004G-J35
4GB
OK
Lexar
Lexar® Platinum II 200x
CompactFlash® (CF) Card
LCF16GBBJP200
16GB
OK
LCF8GBBBJP200
8GB
OK
Maker
Series
Model
Capacity
Result
TASCAM
CF-HSR
CF-4HSR
4GB
OK
CF-1HSR
1GB
OK
SanDisk
SanDisk Extreme Pro®
CompactFlash® Card (UDMA7)
SDCFXP-032G-J92
32GB
OK
SDCFXP-016G-J92
16GB
OK
SanDisk Extreme Pro®
CompactFlash® Card (UDMA6)
SDCFXP-0128G-J91A
128GB
OK
SDCFXP-064G-J91
64GB
OK
SDCFXP-032G-J91
32GB
OK
SDCFXP-016G-J91
16GB
OK
SanDisk Extreme®
CompactFlash® Card
SDCFX-032G-J61
32GB
OK
SDCFX-016G-J61
16GB
OK
SDCFX-008G-J61
8GB
OK
SanDisk Ultra®
CompactFlash® Card
SDCFHG-016G-J95
16GB
OK
SDCFHG-008G-J95
8GB
OK
SDCFHG-004G-J95
4GB
OK
SDCFH-002G-J61A
2G
N/A
Lexar
Lexar® Professional 1000x
CompactFlash® (CF) Card (UDMA7)
LCF128CTBJP1000
128GB
OK
LCF64GCTBJP1000
64GB
OK
LCF32GCTBJP1000
32GB
OK
LCF16GCTBJP1000
16GB
OK
Lexar® Professional 800x
CompactFlash® (CF) Card (UDMA7)
LCF128CTBJP800
128GB
OK
LCF64GCTBJP800
64GB
OK
LCF32GCTBJP800
32GB
OK
LCF16GCTBJP800
16GB
OK
LCF8GBCTBJP800
8GB
OK
Lexar® Professional 600x
CompactFlash® (CF) Card
LCF32GCRBJP600
32GB
OK
LCF16GCRBJP600
16GB
OK
LCF8GBCRBJP600
8GB
OK
Lexar® Professional 400x
CompactFlash® (CF) Card (UDMA7)
LCF128CTBJP400
128GB
OK
LCF64GCTBJP400
64GB
OK
LCF32GCTBJP400
32GB
OK
LCF16GCTBJP400
16GB
OK
LCF8GBCTBJP400
8GB
OK
Lexar® Professional 400x
CompactFlash® (CF) Card
LCF32GCRBJP400
32GB
OK
LCF16GCRBJP400
16GB
OK
LCF8GBCRBJP400
8GB
OK
Lexar® Professional 300x
CompactFlash® (CF) Card
LCF32GCRBJP300
32GB
OK
LCF16GERBJP300
16GB
OK
LCF8GBERBJP300
8GB
OK
Lexar® Platinum II 200x
CompactFlash® (CF) Card
LCF16GBCJP200
16GB
OK
LCF8GBBCJP200
8GB
OK
LCF4GBBCJP200
4GB
OK
Lexar® Platinum II 80x
CompactFlash® (CF) Card
LCF16GBCJP080
16GB
OK
LCF8GBBCJP080
8GB
N/A
LCF4GBBCJP080
4GB
OK
Maker
Series
Model
Capacity
Result
SanDisk
SanDisk Extreme®
SDHC™ UHS-I Card (Class10)
SDSDXS-032G-J35
32GB
OK
SDSDXS-016G-J35
16GB
OK
SDSDXS-008G-J35
8GB
OK
Lexar
Lexar® Platinum II
SDHC™ UHS-I Card (Class10)
LSD8GBBBJP200C10
8GB
OK
Panasonic
SDHC Card
(Class6) R:20MB/s
RP-SDLC32GJK
32GB
OK
RP-SDLC16GJK
16GB
OK
RP-SDLC08GJK
8GB
OK
RP-SDLC04GJK
4GB
OK
Maker
Series
Model
Capacity
Result
SanDisk
SanDisk Extreme Pro®
SDHC™ UHS-I Card (Class10)
SDSDXPA-032G-J35
32G
OK
SDSDXPA-016G-J35
16G
OK
SanDisk Extreme Pro®
SDHC™ UHS-I Card
SDSDXP1-032G-J95
32G
OK
SDSDXP1-008G-J95
8G
OK
SanDisk Extreme®
SDHC™ UHS-I Card (Class10)
SDSDX-032G-J35
32G
OK
SDSDX-016G-J35
16G
OK
SanDisk Extreme®
SDHC™ UHS-I Card (Class10)
SDSDX-032G-J95
32G
OK
SDSDX-016G-J95
16G
OK
SDSDX-008G-J95
8G
OK
SDSDX-004G-J95
4G
OK
SanDisk Extreme®
SDHC™ Card (Class10)
SDSDX3-032G-J31A
32GB
OK
SDSDX3-016G-J31A
16GB
OK
SDSDX3-008G-J31A
8GB
OK
SDSDX3-004G-J31A
4GB
OK
SanDisk Extreme® HD Video
SDHC™ Card (CLASS6)
SDSDX3-016G-J21N
16GB
OK
SDSDX3-8192-J21N
8GB
OK
SDSDX3-4096-J21N
4GB
OK
SanDisk Ultra®
SDHC™ UHS-I Card (Class10)
SDSDU-032G-J35
32G
OK
SDSDU-016G-J35
16G
OK
SDSDU-008G-J35
8G
OK
SanDisk Ultra®
SDHC™ UHS-I Card (Class6)
SDSDH-004G-J35
4G
OK
SanDisk Ultra®
SD™/SDHC™ Card (CLASS4)
SDSDH-032G-J95
32GB
OK
SDSDH-008G-J95
8GB
OK
SDSDH-004G-J95
4GB
OK
SDSDH-016G-J95
16GB
OK
SDSDH-002G-J95
2GB
OK
SanDisk Standard
SD™/SDHC™ Card (CLASS4)
SDSDB-032G-J95A
32GB
OK
SDSDB-016G-J95A
16GB
OK
SDSDB-8192-J95A
8GB
OK
SDSDB-4096-J95A
4GB
OK
SDSDB-2048-J95B
2GB
OK
SanDisk Standard
SD™/SDHC™ Card (CLASS2)
SDSDB-016G-J95
16GB
OK
SDSDB-8192-J95
8GB
OK
SDSDB-4096-J95
4GB
OK
Lexar
Lexar® Professional 600x
SDHC™ UHS-I Card (Class10)
LSD32GCTBJP600
32GB
OK
LSD16GCTBJP600
16GB
OK
Lexar® Professional 400x
SDHC™ UHS-I Card (Class10)
LSD32GCTBJP400
32GB
OK
LSD16GCTBJP400
16GB
OK
LSD8GBCTBJP400
8GB
OK
Lexar® Professional 133x
SDHC™ Card (Class10)
LSD32GCRBJP133
32GB
OK
LSD16GCRBJP133
16GB
OK
Lexar® Professional 133x
SDHC™ Card (Class6)
LSD8GBDRBJP133
8GB
OK
LSD4GBDRBJP133
4GB
OK
Lexar® Platinum II 200x
SDHC™ UHS-I Card (Class10)
LSD32GBBJP200
32GB
OK
LSD16GBBJP200
16GB
OK
Lexar® Platinum II 100x
SDHC™ UHS-I Card (Class10)
LSD32GBCJP100C10
32GB
OK
LSD16GBCJP100C10
16GB
OK
Lexar® Platinum II 100x
SDHC™ UHS-I Card
LSD32GBCJP100
32GB
OK
LSD8GBBCJP100
8GB
OK
LSD4GBBCJP100
4GB
OK
Lexar® Platinum II 60x
SDHC™ UHS-I Card (Class6)
LSD32GBCJP060

32GB

OK
LSD16GBCJP060
16GB
OK
LSD8GBBCJP060
8GB
OK
LSD4GBBCJP060
4GB
OK
Lexar® Standard
SDHC™ Card(Class4)
LSD32GACJP
32GB
OK
LSD16GACJP
16GB
OK
Lexar® Super Value
SDHC™ Card(Class2)
LSD8GBASVDJP
8GB
OK
LSD4GBASVDJP
4GB
OK
Lexar® Secure Digital High Capacity
(SDHC™) Card (Class6)
LSD32GABJPCL6
32GB
OK
LSD16GABJPCL6
16GB
OK
LSD8GBABJPCL6
8GB
OK
Lexar® Secure Digital High Capacity
(SDHC™) Card (MULTI USE)
LSD8GBACJP
8GB
OK
LSD4GBACJP
4GB
OK
Lexar® Secure Digital (SD™)
Card (MULTI USE)
LSD2GBACJP
2GB
OK
Panasonic
Premium PRO SDHC™ UHS-I Card (Class10)
R:95MB/s W:80MB/s
RP-SDAB16GJK
16GB
OK
RP-SDAB08GJK
8GB
OK
SDHC™ (UHS-I / Class10)
R:95MB/s W:80MB/s
RP-SDA32GJ1K
32GB
OK
RP-SDA16GJ1K
16GB
OK
RP-SDA08GJ1K
8GB
OK
Premium SDHC™ UHS-I Card (Class10)
R:90MB/s W:45MB/s
RP-SDUB32GJK
32GB
OK
RP-SDUB16GJK
16GB
OK
RP-SDUB08GJK
8GB
OK
SDHC™ (UHS-I / Class10)
R:90MB/s W:25MB/s
RP-SDU32GJ1K
32GB
OK
RP-SDU16GJ1K
16GB
OK
RP-SDU08GJ1K
8GB
OK
SDHC™ Card
(Class10) R:20MB
RP-SDWA32GJK
32GB
OK
RP-SDWA16GJK
16GB
OK
RP-SDWA08GJK
8GB
OK
RP-SDWA04GJK
4GB
OK
SDHC™ (Class10)
RP-SDW32GJ1K
32GB
OK
RP-SDW16GJ1K
16GB
OK
RP-SDW08GJ1K
8GB
OK
RP-SDW04GJ1K
4GB
OK
SDHC™ Card
(Class4) R:20MB
RP-SDLB16GJK
16GB
OK
RP-SDLB08GJK
8GB
OK
RP-SDLB04GJK
4GB
OK
RP-SDL32GJ1K
32GB
OK
RP-SDL16GJ1K
16GB
OK
RP-SDL08GJ1K
8GB
OK
RP-SDL04GJ1K
4GB
OK
SD™ (Class4) 20MB/s
RP-SDL02GJ1K
2GB
OK
SD™ (Class4)
RP-SDP02GJ1K
2GB
OK
USB memory
*Data transfer only
Maker
Series
Model
Capacity
Result
ELECOM
MF-MSU3A
MF-MSU3A64GBK
64GB
OK
MF-MSU3A32GBK
32GB
OK
MF-MSU3A16GBK
16GB
OK
MF-MSU3A08GBK
8GB
OK
MF-MSU3A04GBK
4GB
OK
GREEN HOUSE
GH-UFD3-*D
GH-UFD3-64GD
64GB
OK
GH-UFD3-32GD
32GB
OK
GH-UFD3-16GD
16GB
OK
I-O DATA
U3-DBL
U3-DBL32G/K
32GB
OK
U3-DBL16G/K
16GB
OK
U3-DBL8G/K
8GB
OK
U2-ADP
U2-ADP32G/K
32GB
OK
U2-ADP16G/K
16GB
OK
U2-ADP8G/K
8GB
OK
SONY
USM-R
USM64GQX B
64GB
OK
USM32GQX B
32GB
OK
USM16GQX B
16GB
OK
USM8GQX B
4GB
OK
SANWA SUPPLY
UFD-SL*N
UFD-SL8GBKN
8GB
OK
UFD-SL4GBKN
4GB
OK
UFD-SL2GBKN
2GB
OK
UFD-SL1GBKN
1GB
OK
TOSHIBA
TransMemory-MX™
TNU-B064GK
64GB
OK
TNU-B032GK
32GB
OK
TNU-B016GK
16GB
OK
TNU-B008GK
4GB
OK