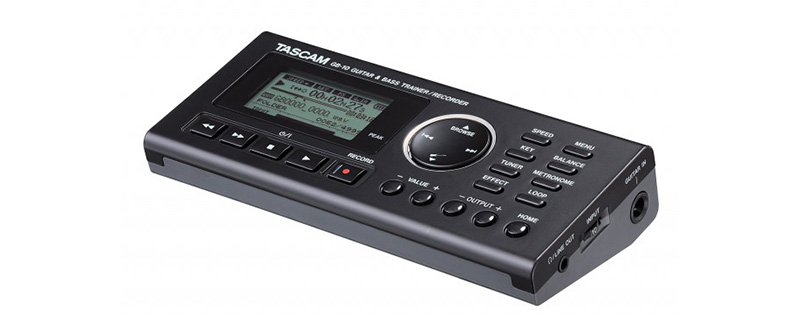 GB-10
GUITAR/BASS TRAINER/RECORDER/TUNER
The GB-10 is a guitar trainer-recorder developed by incorporating the accumulation of all TASCAM recorders and trainer technologies, combined with a focus on usability and the user interface.
It allows users to practice guitar and bass while monitoring them with headphones, as well as enjoying performing with a sound full of added presence via its built-in effector.
Equipped with a VSA function that allows the tempo change while maintaining the song's key
The users can copy the file of the song they wish to practice from their computer and play their instrument while playing the file. As a training function, the GB-10 comes complete with a Variable Speed Audition (VSA) function that allows users to change the playback speed freely without changing the key. Slowing the speed down by half (0.5x) will make it easier to play sequences by ear. Playing back the song faster than the normal speed (1.0x) can be used to assist practice for upbeat songs. In addition, the performance of any connected guitar or bass can be recorded. Being able to listen to your own performance over and over again and practicing repeatedly is the surest path to improving your technique.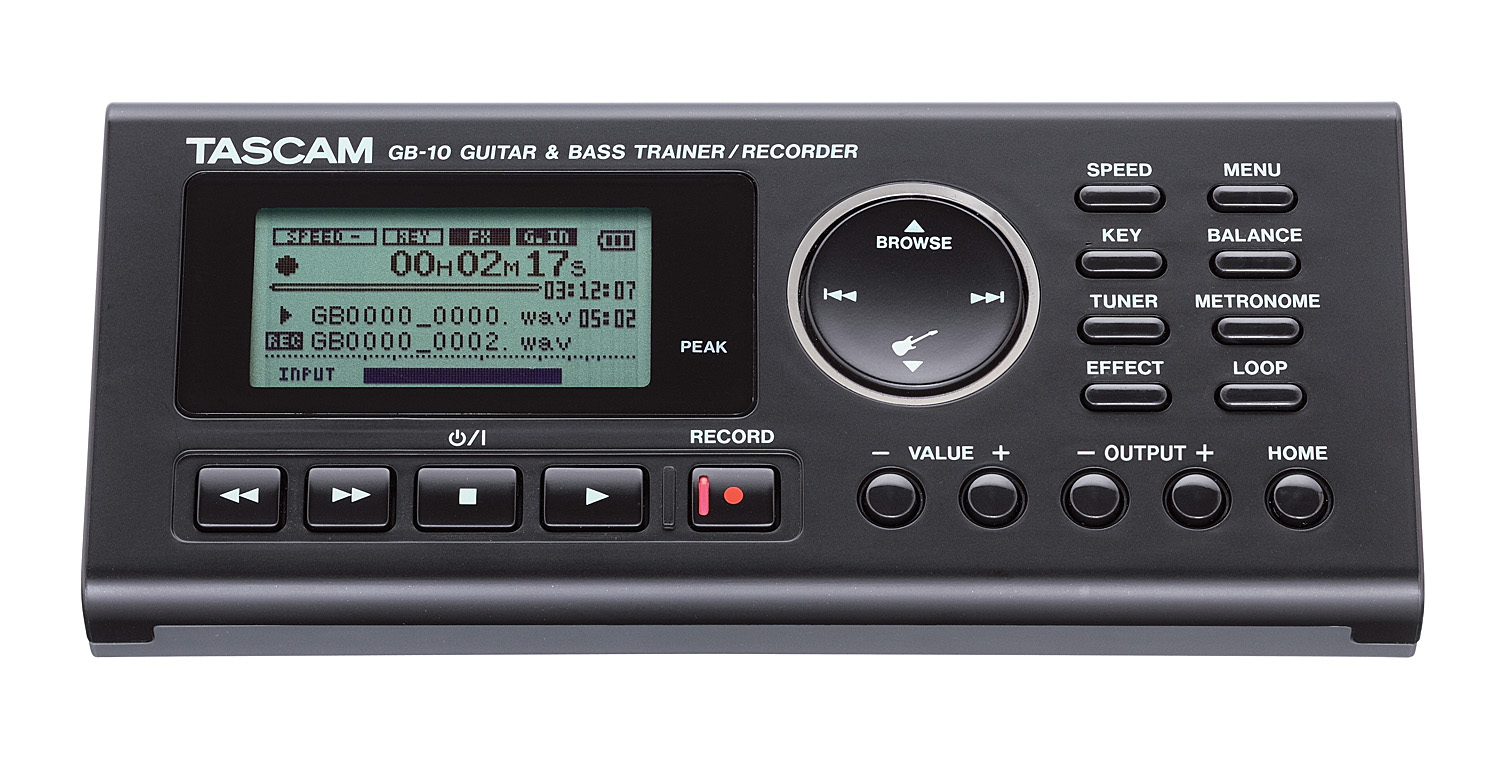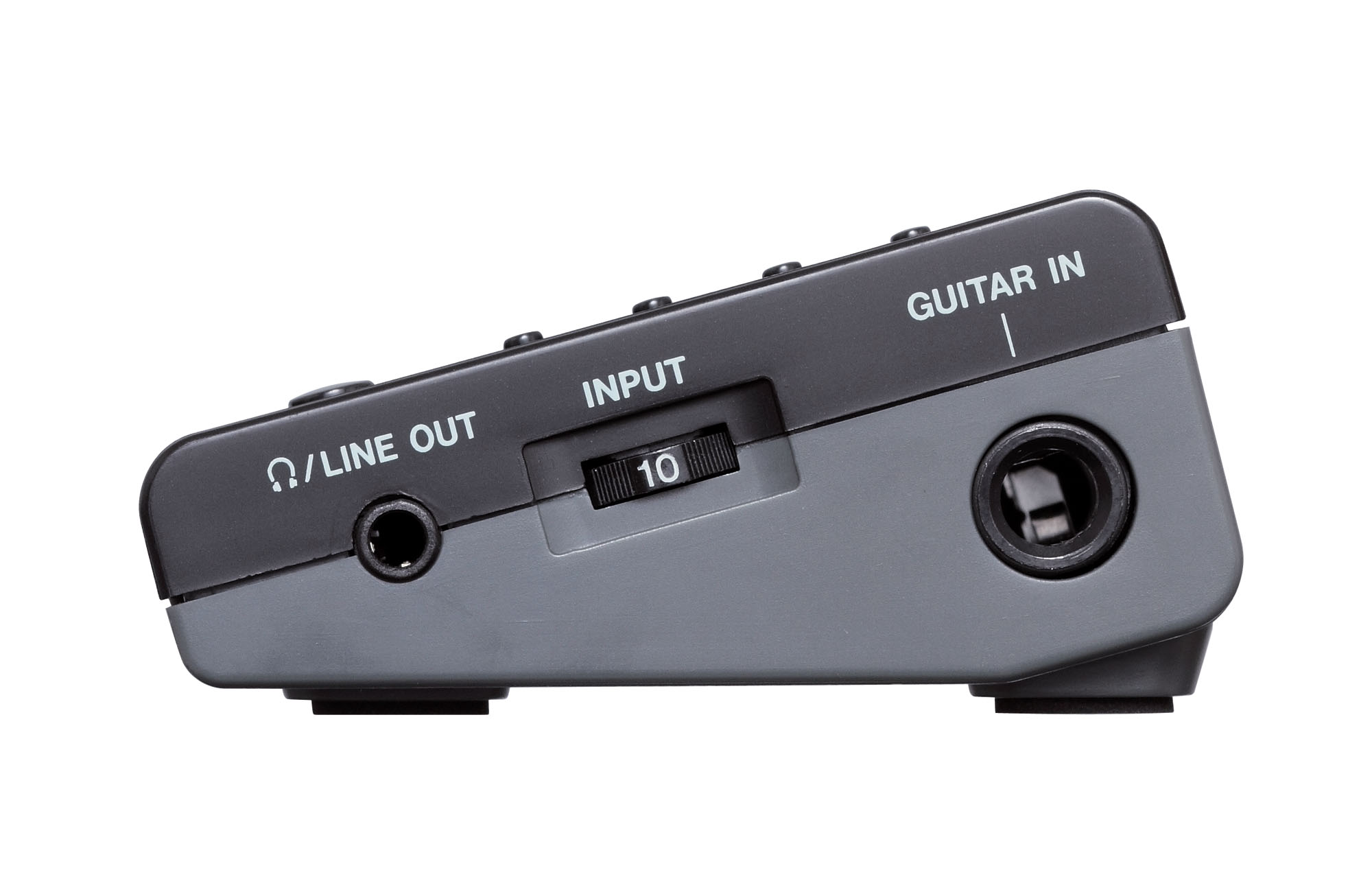 Using the optional footswitch allows for hands-free operation
The GB-10's overdubbing function records the performance by mixing it in with a file being played back. This allows users to record their guitar and bass performance together with their favorite tunes, and ideas that they thought of in the moment can easily be recorded and be turned into a demo production. Using the GB-10 in conjunction with the optional RC-3F footswitch allows hands-free control of recording, playback, flashback, and other functions; delivering further enhancing training and recording.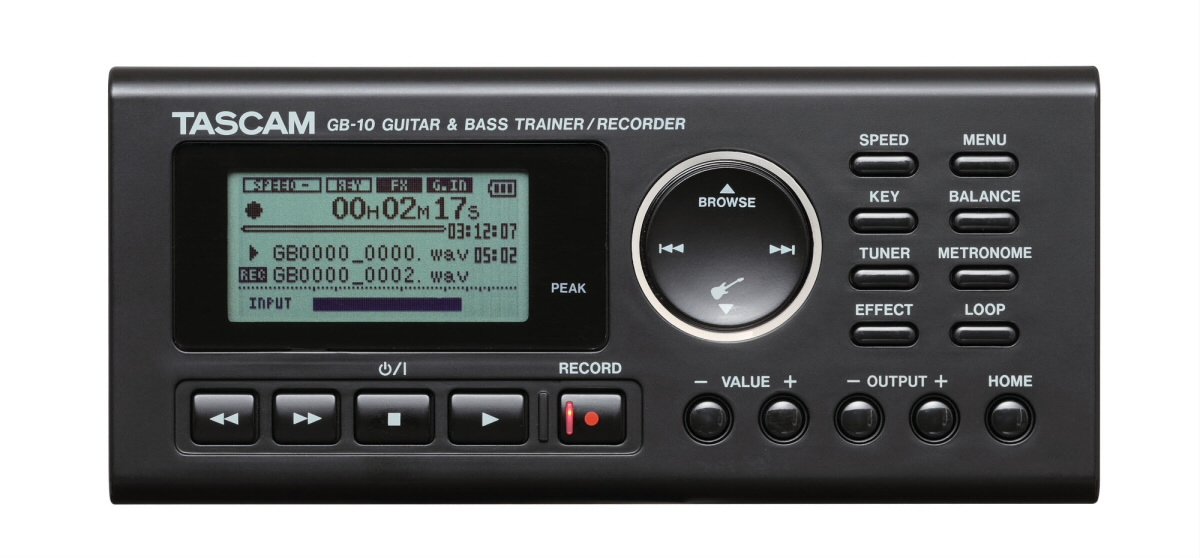 GB-10 review article published in GUITAR WORLD ( Pg.81 )
Learn More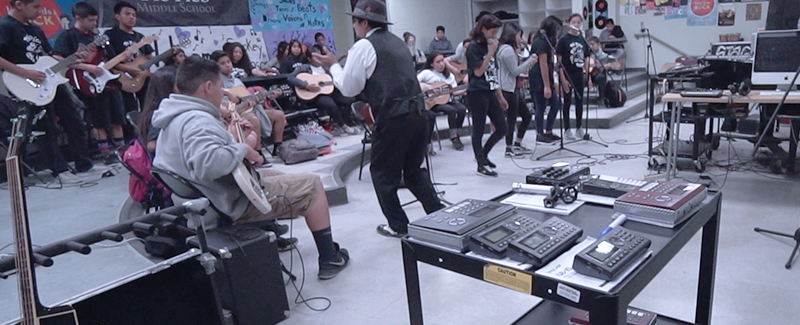 TASCAM Brings Modern Tools to Modern Band
Learn More
Spec description
Instrument trainer / recorder
1/4" guitar/bass input
Guitar/bass effects including amp modelling, delay, reverb, chorus and more
Records 44.1kHz/16-bit WAV files
Playback 16 or 24-bit WAV files or MP3 files
SD/SDHC card media slot with included 2GB card
Overdub recording allows sound-on-sound build up of an arrangement
Loop playback using dedicated buttons
Variable Speed Audition speeds up or slows down playback without changing the pitch
Chromatic Tuner and Metronome
USB 2.0 jack for high-speed music transfer
Dedicated keys and large LCD display for easy operation
Angled desktop design
Includes 2GB SD card, AA batteries, USB cable