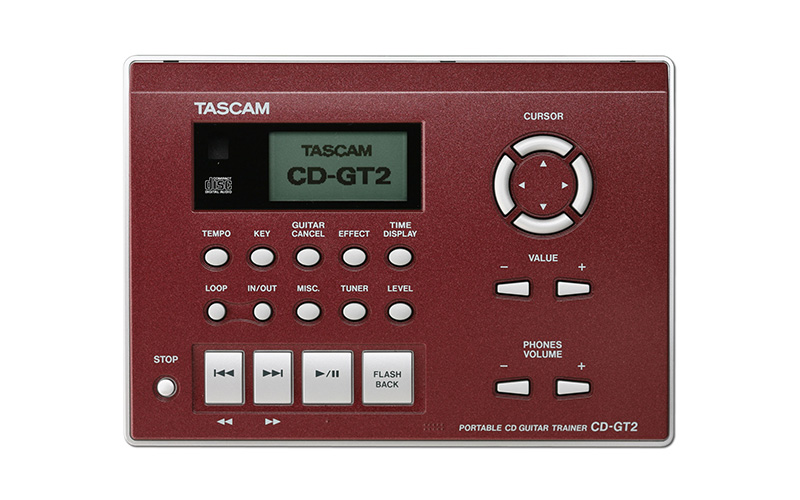 CD-GT2
Portable CD Guitar Trainer
The CD-GT2 is a CD guitar trainer equipped with a VSA (Variable Speed Audition) function that is capable of changing tempo without altering the pitch of the CD, a guitar cancel function, and other functions useful during guitar practice.
After examining the usability of the CD-GT1MK2, the main panel was upgraded significantly, with guitar trainer functions newly added.
The CD-GT2 will enable you to start a jam session alongside your favorite CD immediately.
This model has been discontinued in North, Central and South America.
Please check the availability with your local distributors in other areas.
Guitar tuner, metronome, and many other useful functions available
The CD-GT2 is equipped with guitar multi-effects and a guitar tuner, eliminating the need to connect the guitar with external effectors.
The VSA function can slowly playback a difficult sequence, giving you the chance to copy rapid sequences from your favorite guitarist.
Other useful functions for guitar practice includes the key control function, the guitar cancel function, metronome, and more.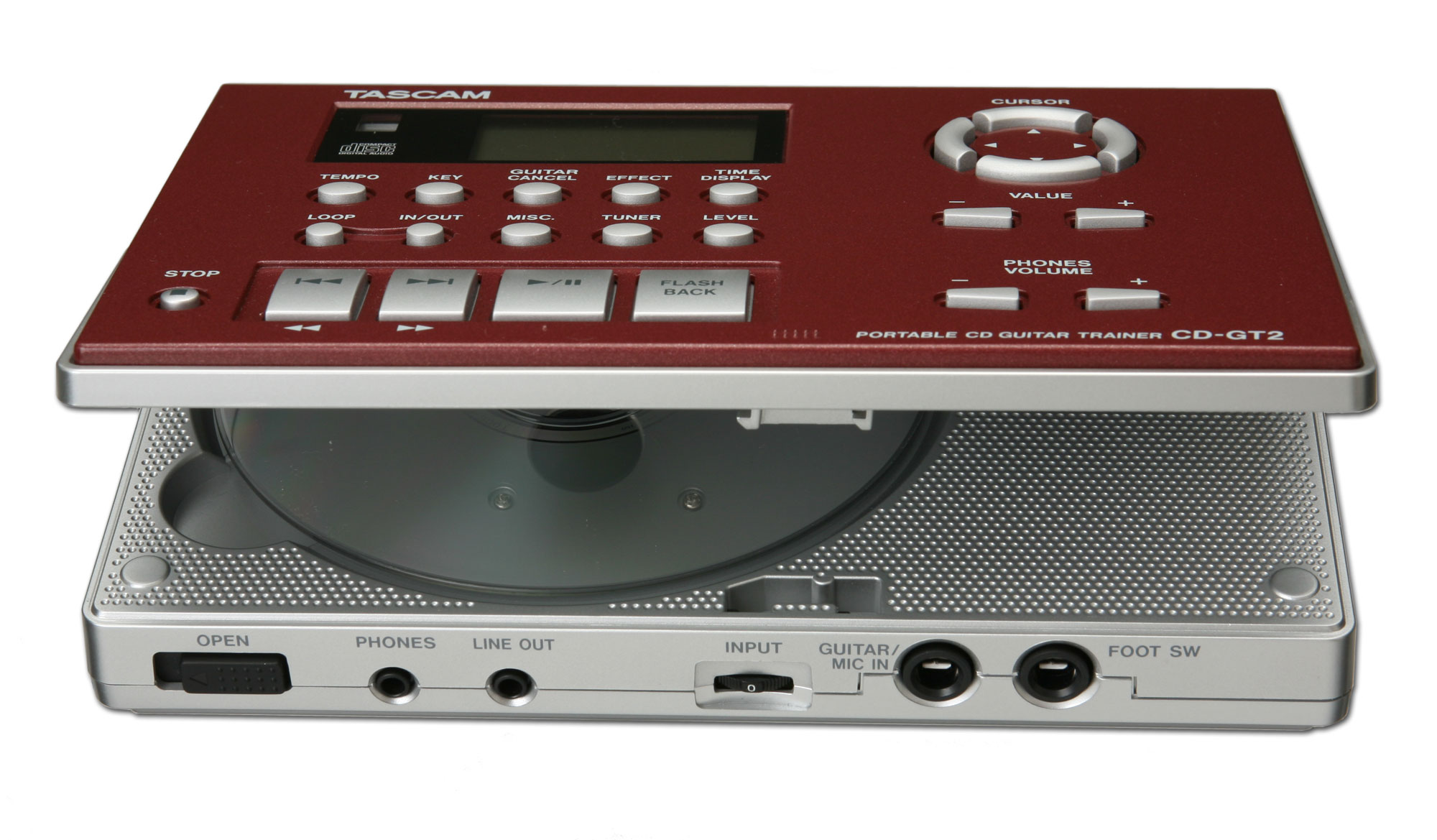 Spec description
Portable CD guitar trainer (More compact than previous CD-GT1MKII)
CD-DA/CD-R/CD-RW disc playback
10 second anti-shock memory
Comprehensive 128 x 64 dot matrix LCD display with graphical user interface
Album title/Track title indication by CD-Text
Elapsed Time/Remain Time display with bar meter
+16 to -50% pitch control in 1% steps
VSA (Variable Speed Audition, pitch control without affecting key)
Key control: +/-6 semi-tone, in semi-tone steps with +/-50 cents fine tune
Single play and continuous play
Single Loop, All Loop, and Seamless IN-OUT Loop
Flash Back function (Instant review up to 5 seconds prior playback)
Guitar Canceller with selectable canceling pan point and selectable frequency range
10 effect banks for user preset
Chromatic tuner with calibration (435 to 445Hz)
3 octaves tone oscillator
Metronome (BPM: 40 to 220, Beat: 2 to 6)
1/4" Guitar input
Guitar/Mic input volume
Guitar/Mic input level meter indicator on LCD display
CD level meter indicator
Foot switch connector
5 selectable functions by foot switch (Flash Back, Rewind, FF, Bank, Effect on/off)
1/8" stereo line output
1/8" stereo headphone output
Headphone volume
MONO monitor for CD (L+R, L, R)
Split monitor (Left ch: CD, Right ch: Input or vice versa)
Battery operation
Optional power supply PS-P520
Disc Type:
8cm and 12cm CD
Line Output Connector:
1/8" Stereo mini connector
Nominal Stereo Output Level:
-10dBV
Output Impedance:
600ohm (2V RMS)
Maximum Output Level (LINE OUT):
+6dBV
Headphone Output Connector:
1/8" Stereo mini connector
Maximum Output Level (PHONES):
15mW (at 32ohm loaded)
Guitar/Mic Input Connector:
1/4" Phone Connector
Nominal Input Level
Guitar Input:
-15dBV
Mic Input:
-40dBV
Maximum Input Level
Guitar Input:
+6dBV
Mic Input:
-19dBV
Frequency Response:
20 Hz to 20 kHz (-3/+1dB)
(A weight filter + 20KHz LPF)
Signal to Noise Ratio:
Better than 85 dB
Total Harmonic Distortion:
< 0.03% (200Hz HPF + 20KHzLPF)
Channel Separation:
Better than 80dB
(A weight filter + 20KHz LPF)
Power Requirements:
DC 5V (Optional AC adapter PS-P520)
AA batteries x 4
Power Consumption:
4W (with PS-P520)
Dimensions (W x H x D):
194 x 38.7 x 138(mm)
Weight (excluding batteries):
550g