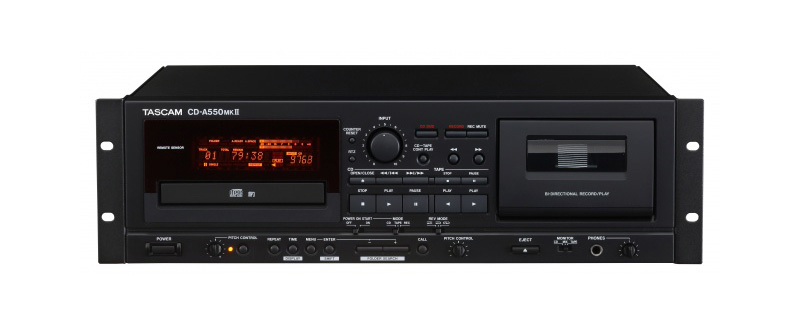 CD-A550MKII
Combination CD player and Cassette Recorder
The CD-A550MKII is a professional-combination CD player/cassette deck that succeeds the TASCAM CD-A550.
The CD player can playback CD audio as well as MP3 and WAV files.
In addition to various playback modes such as random and program playback, a pitch control function is available for both CD and cassettes.
This model has been discontinued in North, Central and South America.
Please check the availability with your local distributors in other areas.
It has been replaced with the CD-A580.
Equipped with common outputs that can output mixed CD and tape signals
The CD player and cassette units both can be operate as independent units but come equipped with common outputs that can output mixed CD and cassette signals.
Other functions include an auto cue (pauses after finding the sound rise within a track) and auto ready (pauses at the top of the next track after playing a track).
In addition to these useful functions support the preparation and running of various types of sound operation, the CD-A550MKII is also equipped with a power on play feature.

Spec description
RCA unbalanced inputs/outputs for Tape and CD
Common outputs which can be selected sources as Tape or Auto or Mix
RCA coaxial output for CD digital out
CD-Tape continuous play
CD to Tape dubbing include Edit dubbing
Power on play (CD and Tape), Power on record (Tape only)
Mono mix (CD and Tape)
3 U Rack mountable
CD-DA (support CD-R and CD-RW disc), MP3 and WAV file play
Various time display (CD-DA: Lap, Remain, Total remain MP3: Elapsed)
CD Text and ID3 tag
Auto Cue, Auto Ready, Cue Call and Incremental Play
Shock-proof memory
Pitch control for CD (±12.5%) and cassette (±10%)
Auto reverse cassette playback and recording
REC mute
Return to Zero
Tape type: normal, chrome and metal (play only)
55-key Wireless Remote control