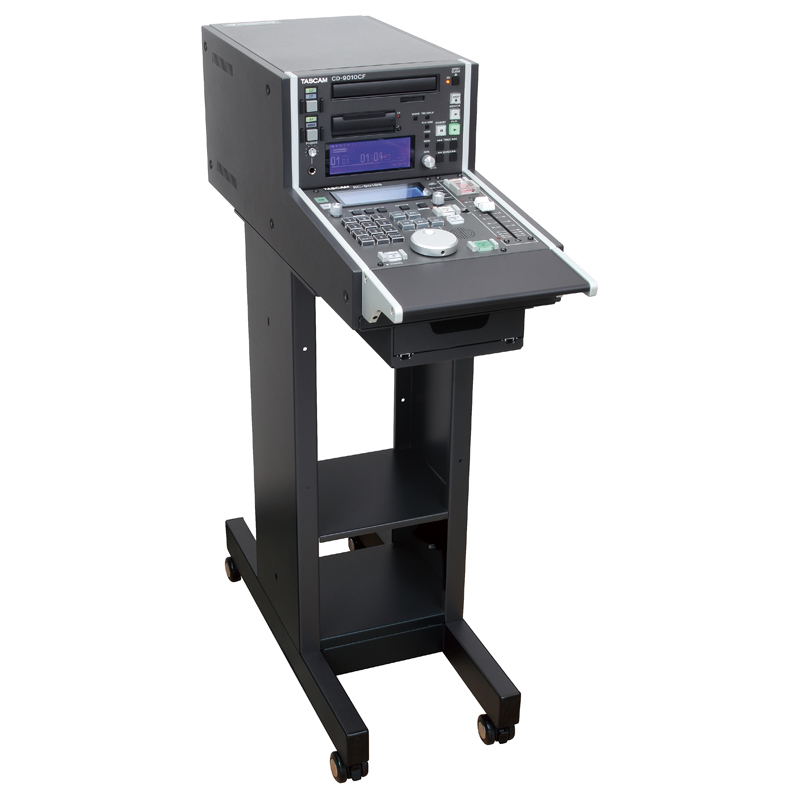 This model has been discontinued in North, Central and South America.
Please check the availability with your local distributors in other areas.

The CD-9010 System continues the TASCAM tradition of high-quality audio in a durable, efficient, and user-friendly package. It is the new standard of high-performance CD players for broadcast studios and commercial installations.

TASCAM's CD-9010 and CD-9010CF is the most well adapted Broadcast CD Player on the market. After rigorous tests and samples field-evaluated by broadcasters across the industry, TASCAM has fine-tuned every detail - from the placement of the keys, the feel of the dials and operational features of the machine.

The CD-9010(CF) utilizes the high-powered 5010B drive for high- performance, quality and sound. The functionality of the unit is unrivalled with its online capabilities, 9 points of cue memory per disc (up to 100 discs), word sync, auto cue etc. Functionality is only increased when used with the remote control unit RC-9010S.

A variety of control and interface ports are found on the rear panel; BNC AES-3id outputs (CD-9010CF), XLR AES/EBU outputs and coaxial S/PDIF (CD-9010), Mono outputs, Parallel D-sub 37P, RS-232C serial control and USB Keyboard (CD-9010CF)

TASCAM's 3U 1/2 rack CD-9010 and CD-9010CF fills the need for heavy-duty CD-players - and playback from Compact Flash - in the broadcast market.

Main Features (CD-9010CF/CD-9010)

Field-proven CD-5010B drive has been redesigned for increased durability
Electronics tailored for the highest quality audio
1 BNC word-clock input (44.1/48kHz)
Parallel control (D-sub 37-pin)
RS-232C serial control (D-sub 15-pin)
Digital output
Supports CD-DA/CD-R
ONLINE function
ONLINE/MONITOR selectable
Supports 44.1/48kHz,16/24bit
Sample Rate Converter plays 44.1kHz audio source at 48kHz when the incoming word clock sample rate is 48kHz
+/- 12.5% pitch control
Program play
Auto Cue, Auto Ready, Incremental Play
MIX INPUT for connection of a backup CD player
Mono output

Available Features on CD-9010CF

CF memory player function
USB-A connector for keyboard
Program play can select CD and CF
AES-3id output via BNC
CD ripping function

Available Features on RC-9010S

10-key for time search, index search, and cue memory
Built-in monitor speaker
100mm fader with 0dB lock for ONLINE function
High-durability keys withstand countless cycling
Suitable key layout for broadcasting/MA operation
CD-9010CF

CD/CF Player

CD-9010

CD Player

RC-9010S

Remote Controller

AK-S9010

Stand

AK-A9010

Armrest for the RC-9010S
・ CD-5010B Drive Mechanism

| | |
| --- | --- |
| | The CD-5010B tuned optical drive is broadcast-durable. Disc recognition and open/close movement is very fast, and has a manual eject lever in case of power failure. |

・ Durable, Illuminated Function Keys

| | |
| --- | --- |
| | The frequently used function keys on the RC-9010S feature materials that are able to withstand up to several million cycles. The transport keys are illuminated, and the operation keys are ideally placed based on the evaluation of operators in the broadcast industry. |

・ Durable Metal Knobs With Metal Shafts

DATA and LEVEL knobs on RC-9010S and DATA knob on the CD-9010CF / CD-9010 are made with metal shafts providing high-durability. The DATA knobs provide a clicking rotation for confident level settings and ease-of-mind operation.

・ Digitally Controlled Fader is Degradation-resistant

The RC-9010S remote controller uses a digitally controlled 100mm fader which offers degradation-resistance.

・ Independent PCB for Each Connector

| | |
| --- | --- |
| | The PCBs (printed-circuit boards) for each INPUT / OUTPUT connector are separated from each other. These independent PCBs provide resistance to twisting and pulling on the connectors. |

・ CANARE BNC Connectors

| | |
| --- | --- |
| | To ensure reliability and durability, we adopted wrench-proof BNC connectors made by CANARE for the CD-9010CF and CD-9010. |
| | |
| --- | --- |
| Unparalleled High-quality Sound | ▲Top |
・ Components Carefully Selected From Repetitive Listening Tests
| | |
| --- | --- |
| | Over many years of audio design experience, TASCAM has employed the technical know-how and expertise to develop professional audio equipment - but we spent additional time, resources, and had repeated listening tests to ensure high-quality audio when selecting components for the CD-9010 system. The listening tests were held in a studio at TASCAM corporation with broadcasters invited from the industry for direction. |

・ 2 Burr Brown PCM1796 D/A Converters

| | |
| --- | --- |
| | To ensure the highest quality audio for each LINE OUTPUT and MONITOR OUTPUT, we selected the PCM1796 D/A converters because of Burr Brown's highly-regarded reputation in the audio industry. |

・ 9 JRC NJM5532 Operational Amplifiers

| | |
| --- | --- |
| | For the CD-9010CF/CD-9010's operational amplifiers, we installed the JRC NJM5532 - also used for our popular Broadcast 4-track recorder, the HS-4000. |

・ 24-bit Internal Processing for 16-bit CD Digital Audio

With the combination of the RC-9010S and CD-9010CF/CD-9010, 24-bit high-resolution monitoring and signal-to-noise ration is maintained at lower-volume playback.

・ Bypass Capacitor Selected From Critical Listening Tests

| | |
| --- | --- |
| | Even the bypass capacitor, supplying power to the audio circuit, was carefully selected from many components after repeated comparative tests. |

・ Robust Power Supply Capacitor

| | |
| --- | --- |
| | The large-capacity condenser on the power supply unit enhances power-supply stability. It ensures compatibility between sound quality and high-efficiency performance -and space was not compromised. |

・ NEUTRIK Gold-plated Connectors

| | |
| --- | --- |
| | Considering long-term professional use, we use NEUTRIK XLR gold-plated rust-resistant connectors to maintain high-quality sound. |

・ Dedicated Connection Cable Provides Both High-quality Audio and Efficiency

| | |
| --- | --- |
| | The connection between the CD-9010CF/CD-9010 and RC-9010S needs only one dedicated cable to provide manageability and portability. The audio signal lines are carefully shielded to avoid interference from other command signal lines in the cable and prevent noise regeneration. |
| | |
| --- | --- |
| Manageability and Usability | ▲Top |
・ Aluminum Jog Dial Shape Designed Specifically for Ease of Use

| | |
| --- | --- |
| | The aluminum jog-dial of the RC-9010S has an ideal shape for operation. The shape was derived through trial and error with a variety of prototypes. In addition to the aluminum dial and metal shaft, we were creative with the edge, finger hole, and more. |

・ Proper Key Layout and Speaker Placement for Broadcasting and MA

| | |
| --- | --- |
| | The layout and design of the operation keys and speaker were carefully delineated after shared opinions from many operators in the market. For instance, the monitor speaker is placed as close to the operator as possible for convenient low-level monitoring. |

・ Smartly Placed Hardware

Keys that may cause fatal errors are protected by a guard to avoid incorrect operations or accidents. The power switch is located on the back of the unit to avoid inadvertant ON/OFF.

・ Large-sized LCD Provides Excellent Visibility in Various Environments

The brightness and contrast of the LCD with backlight can be adjusted for maximum visibility in various situations. The dot-matrix type LCD is able to display a wide-array of information.
CD-9010CF/CD-9010
CD-5010B drive with manual eject lever
Supports CD-DA/CD-R
CF memory player function (CD-9010CF)
3U half-rack size
44.1k/48k Hz, 16/24 bit resolution
Large dot-matrix LCD with backlight
Illuminated keys for transport
Online function
9 points cue memory per disc, up to 500 disc
Program play

In the case of CD-9010CF, it can program both CD and CF in one program play list

Auto Cue, Auto Ready and Incremental Play
+/- 12.5% pitch control
Word sync

Sample Rate Converter plays 44.1kHz audio source at 48kHz when the incoming word clock sample rate is 48kHz

BNC AES-3id outputs (CD-9010CF)
XLR AES/EBU outputs and coaxial S/PDIF (CD-9010)
Mono outputs
Mix stereo inputs for connection of a backup CD player
Parallel D-sub 37-pin
RS-232C serial control
USB keyboard (CD-9010CF)
RC-9010S
Key layout suitable for broadcast-use
Long-life and high-durability keys and fader
Half-rack size
Large dot-matrix LCD same as CD-9010CF/CD-9010
Illuminated keys for transport
High-performance 128 pulse optical JOG dial
10 keys for time search and index search and cue memory
Online function
100mm fader with 0dB lock function
Built-in monitor speaker
AK-S9010
Stand with casters
Secure structure
Fixation screw for integration of two AK-S9010
Drawer
Headphone hook
AK-A9010
Palmrest of RC-9010S for comfortable operation
All aluminum construction
Spec description
CD-9010CF
CD-9010
CD-6010
CD
Support disk
CD-DA,CD-ROM ISO9660 Level1/2/ROMEO/JOLIET
Playable format
Audio CD(CD-DA),WAV
Audio CD(CD-DA),WAV,MP3
CD-DA
Sampling frequency
44.1kHz
Bit rate
16bit
WAV
Sampling frequency
44.1/48kHz
32/44.1/48kHz
Bit rate
16/24bit
16bit
MP3
Sampling frequency
-
-
32/44.1/48kHz
Bit rate
-
-
64-320kbps,VBR
CF
File system
FAT32 (4GB - 32GB),
FAT16 (2GB or less)
-
-
File formats
BWF,WAV
-
-
Number of audio channels
2 channel
ANALOG OUTPUT
LINE OUTPUT
(unbalanced)
-
-
RCA
Output impedance
-
-
Less than 200 ohms
Nominal output level
-
-
-10dBV
Max output level
-
-
+6dBV
LINE OUTPUT
(balanced)
XLR-3-32(1:GND, 2:HOT, 3:COLD)
Output impedance
200 ohms
100 ohms
Nominal output level
+4dBu/-20dBu selectable
+4dBu
Max output level
+24dBu
+24dBu
Reference level
-9dBFs/-14dBFs/-16dBFs/-18dBFs/-20dBFs
-
MONITOR OUTPUT
(balanced)
XLR-3-32
(1:GND, 2:HOT, 3:COLD)
RCA
-
Output impedance
200 ohms
100 ohms
-
Nominal output level
+4dBu
-10dBv
-
Max output level
+24dBu
+6dBv
-
PHONES
6.3mm 1/4-inch stereo phone jack
Max output level
45mW + 45mW (1kHz, THD0.1%, 32 ohm loaded)
DIGITAL OUTPUT
AES-3id
BNC
-
-
Compatible signal format
AES3-2003/AES-3id-2001
-
-
COAXIAL
-
RCA
Compatible signal format
-
IEC60958-3(S/PDIF) / IEC60958-4(AES/EBU)
Switchable
XLR
-
XLR-3-32(1:GND,2:HOT,3:COLD)
Compatible signal format
-
IEC60958-3(S/PDIF) / IEC60958-4(AES/EBU)
Switchable
MIX INPUTS(balanced)
XLR-3-31(1:GND, 2:HOT,3:COLD)
-
Input impedance
10kohms
-
Nominal input level
+4dBu
-
Max input level
+24dBu
-
WORD SYNC
IN(balanced)
BNC
-
Input voltage
5V TTL
-
Input impedance
75ohms(ON/OFF selectable)
-
Synchronization accuracy
+/- 100ppm
-
THRU
BNC
-
KEYBOARD
USB
USB-A
-
Type
US/JAPANESE
-
CONTROL I/O
D-sub 15-pin (SERIAL),
D-sub 37-pin (PARALLEL)
2.5mm TRS jack (REMOTE)
D-sub 9-pin (SERIAL)
D-sub 25-pin (PARALLEL)
Power
100V-240V,50-60Hz
Power consumption
18W
12.5W
Size(W x H x D)mm
220 x 136.8 x 361.5
483 x 94 x 303
Weight
5.5kg
5.3kg
4.9kg
Audio performance
Frequency response
20Hz-20kHz,±0.5dB
S/N ratio
Greater than 100dB (20kHz LPF, A-weighted)
Greater than 95dB
THD
Less than 0.005% (+22dBu, 1kHz, 20kHz LPF)
Channel separation
Greater than 90dB (1kHz)
Greater than 95dB
RC-9010S
General
PHONES
6.3mm 1/4-inch stereo phone jack
Max output level
45mW + 45mW (1kHz, THD 0.1%, 32ohms loaded)
Speaker output
Monaural
Max output
1W
To player unit
D-sub 15-pin
Power
Supplied by main unit
Power consumption
3.6W
Size(W x H x D)mm
220 x 77.2 x 227.6
Weight
2.4kg
AK-S9010
General
Size(W x H x D)mm
257 x 855 x 589
Weight
16.8kg
AK-A9010
General
Size(W x H x D)mm
220 x 52 x 92
Weight
500g