CD-200BT
Professional CD Player with Bluetooth Receiver
Play CDs and Stream Audio from Bluetooth Devices with the AptX Codec
Playback media: CD, CD-ROM, CD-R, CD-RW (12cm / 8cm)
Bluetooth version: v3.0
Power consumption: 8W
Dimensions (W×H×D): 481 × 94.5 × 298 mm
Weight: 4.5 kg (9.92 lb)
See All
aptX®, AAC and SBC codecs are supported
High-quality CD drive designed for audio
Four playback modes (continuous, shuffle, program and single)
Repeat playback function (all or single)
Switch between display of track elapsed time, track and disc remaining time (audio CD)
+-14% pitch control function(audio CD/data CD)
RCA analog outputs and COAXIAL/OPTICAL digital outputs
Wireless remote controller with 10-key included
See All
CD-200BT × 1
Wireless remote control unit (RC-CD200BT) × 1
AA batteries for the remote control unit × 2
A rack-mounting screw kit × 1
A warranty card × 1
Owner's manual × 1
TASCAM ID registration guide × 1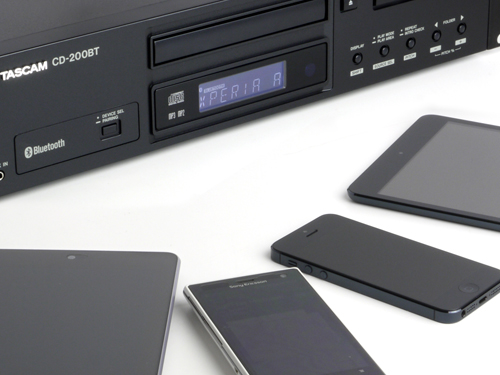 Stream Music Wirelessly from Bluetooth® Devices
With a front-panel-mounted antenna for maximum wireless reliability, the CD-200BT supports audio file playback from a variety of Bluetooth® compatible devices. And virtually any audio file type is supported — if your Bluetooth® device can play the file back by iTunes, Windows Media Player, or other player apps, it can be streamed wirelessly to the CD-200BT. With no additional wires needed to stream music from compatible audio sources, the CD-200BT allows for fast and easy audio playback.
Note: The transmitting device must support Bluetooth® transmission.
Register Bluetooth® Devices in Advance for Faster Source Switching and Operation
Bluetooth® audio playback requires pairing a transmitter to your receiver. Normally, only one Bluetooth® device and be paired at a time, but the CD-200BT's device selection function allows you to pair multiple transmitting devices. By pairing in advance, you can switch seamlessly between different Bluetooth® transmission devices for playback with minimal connectivity interruption (only one device can be used for playback at a time). You can check the connection status of your transmitting devices directly from the CD-200BT for faster troubleshooting and easier system management.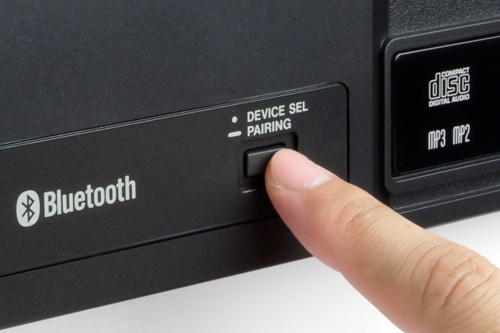 High Quality Wireless Audio Playback with aptX® Codec
The CD-200BT supports multiple Bluetooth® transmission codecs to ensure high-quality audio playback from any transmitting device. The CD-200BT supports the A2DP (Advanced Audio Distribution Profile) for high-quality music playback, and SBC (Sub Band Codec), a standard A2DP codec. In addition, it supports the aptX® codec, making high quality wireless audio playback possible. The aptX® codec also has an error recovery function, so your audio is much less likely to be interrupted compared to ordinary SBC transmission.
Additional Features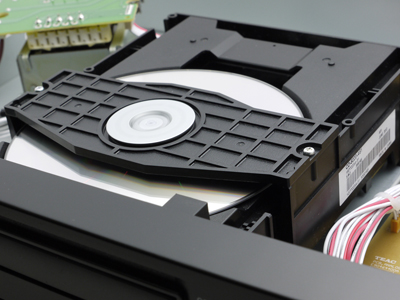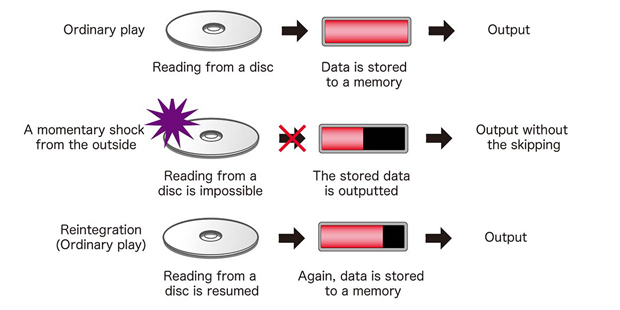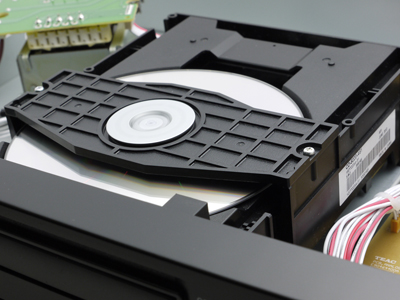 High-Quality CD Drive
All models in the CD-200 series have the same highly-regarded and reliable CD drive. We have achieved higher dependability, quality and reputation.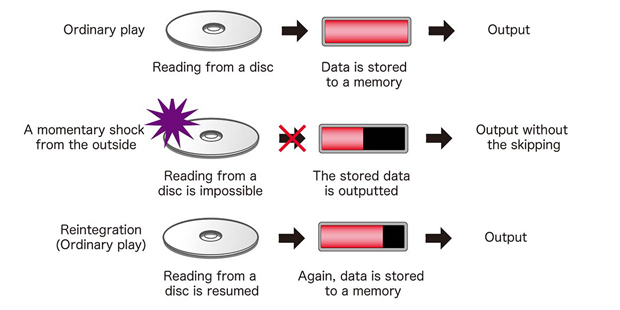 Comprehensive Audio Format Support, with 10-second Skip Prevention
The CD-200BT is perfect for any install application where audio format versatility is needed, with CD- drive support for CD-DA, WAV, MP3, and MP2 audio files (wireless Bluetooth® playback supports any file type your transmitting device can play). The 10-second shockproof memory prevents skipping caused by excessive bass, unexpected bumps and jolts, and other causes. Data stored in the CD-200BT's memory can be played back without skipping, helping you avoid distracting playback interruptions.
Features at a Glance
Up to eight Bluetooth® transmission devices can be paired at a time for quick and easy switching
The name of the transmission device currently being used for playback can be displayed
aptX®, AAC and SBC codecs are supported
SCMS-T is supported using Bluetooth® (A2DP), so audio with content protection can be received
Bluetooth® antenna in the front for stable Bluetooth® connections
High-quality CD drive designed for audio
10-second shockproof memory prevents skipping from vibrations and other causes
CD drive supports playback of CD-DA and WAV/MP3/MP2 files (data CD)
Supports CD text and ID3 tags, so text information, including artist, album and track names, can be shown
Four playback modes (continuous, shuffle, program and single)
Repeat playback function (all or single)
Folder repeat playback (data CD)
Switch between display of track elapsed time, track and disc remaining time (audio CD)
+-14% pitch control function (audio CD/data CD)
Intro Check function can be used to play the first 10 seconds of songs in order (audio CD/data CD)
RCA analog outputs and COAXIAL/OPTICAL digital outputs
Stereo mini-jack input on the front for portable audio devices
2U EIA rack-mount size
Wireless remote controller with 10-key included
Paring and device selection can be conducted with the included wireless remote control
Headphone output
Spec description
s
| | |
| --- | --- |
| Playback media | CD, CD-ROM, CD-R, CD-RW (12cm / 8cm) |
| Playback format | |
| CD-DA | Stereo, 44.1kHz, 16-bit |
| WAV | Stereo, 8k / 11.025k / 12k / 16k / 24k / 32k / 44.1k / 48k Hz, 8/16-bit |
| MP2 | Stereo, 32k / 44.1k / 48k Hz, 32k to 384k bps |
| MP3 | MPEG1 Audio Layer III, 32k / 44.1k / 48k Hz, 32k to 320k bps, VBR |
| Pitch control | ±14% |
| Analog audio input | |
| AUX | |
| Connector | 1/8" (3.5mm) Stereo mini jack × 1 |
| Input impedance | 22kΩ |
| Nominal input level | –20dBV |
| Maximum input level | –4dBV |
| Analog audio output | |
| UNBALANCED | |
| Connector | RCA Pin jack × 1 pair |
| Output impedance | 200Ω |
| Nominal output level | –10dBV (0.32Vms) |
| Maximum output level | +6dBV (2.0Vms) |
| Digital audio output | |
| COAXIAL | |
| Connector | RCA Pin jack × 1 |
| Output impedance | 75Ω |
| Format | IEC60958-3 (S/PDIF) |
| OPTICAL | |
| Connector | TOS (JEITA RC-5720C) × 1 |
| Format | IEC60958-3 (S/PDIF) |
| Headphone out | |
| Connector | 1/4" (6.3mm) Stereo phone jack × 1 |
| Maximum output level | 20mW + 20mW or more (THD+N 0.1% or less, into 32Ω loaded) |
| Power | AC120V, 60Hz |
| Power consumption | 8W |
| Dimensions (W×H×D) | 18.9" × 3.7" × 11.7" / 481 × 94.5 × 298 mm |
| Weight | 9.92 lbs. / 4.5 kg |
| Operating temperature | 41˚F to 95˚F / 5 ˚C to 35˚C |
| Inclination of installation | 5˚ or less |
| Backup Memory Items | Elapse time / Title display setting (CD), Playback mode (CD), Program (when loaded), Current folder (when CD loaded), Current source, Repeat playback function setting (ON/OFF), Pitch control (ON/OFF, CD) Pitch control value (CD) |
| Standard accessories | Wireless remote controller (RC-CD200iL), AA battery × 2, Rack mounting screw, Warranty card, Owner's manual |
Audio performance
| | |
| --- | --- |
| Frequency response | 20Hz to 20kHz, ±1dB (playback, JEITA) |
| Distortion | 0.01% or less (during playback, JEITA) |
| S/N ratio | 90dB or more (playback, JEITA) |
| Dynamic range | 90dB or more (playback, JEITA) |
| Channel separation | 90dB or more (playback, JEITA) |
CD-200 series Comparison Chart
Model
CD-200
CD-200SB
CD-200BT
CD-200iL
Source
CD
CD, SD, USB flash
(SD/SDHC)
CD, Bluetooth
(SBC, AAC, aptX)
CD, iPod dock
(Lightning/30-pin)
Supported Formats
CD-DA
Stereo, 44.1kHz/16-bit
WAV
8k / 11.025k / 12k / 16k / 22.05k / 24k / 32k / 44.1k / 48k Hz, 16/24-bit
MP3
32k / 44.1k / 48k Hz, 32k to 320k bps, VBR
MP2
–
32k / 44.1k / 48k Hz, 32k to 384k bps
AAC
–
Yes* (see below)
–
Analog audio input
–
1/8" (3.5mm) Stereo mini × 1
Analog audio output
Unbalanced
RCA × 1 pair
Balanced
–
XLR 3-32 × 1 pair
–
Digital audio output
Coaxial
RCA × 1
Optical
TOS × 1
Headphone out
1/4" (6.3mm) Stereo phone jack × 1
Pitch control
±12.5%
±14%
±14%
±14%
Dimensions (W×H×D)
18.9" × 3.7" × 11.7" / 481 × 94.5 × 298 mm
Rack mount size
2U
Weight
9.3 lbs. / 4.2 kg
10.4 lbs. / 4.7 kg
9.9 lbs. / 4.5 kg
11.5 lbs. / 5.2 kg
* 8k / 11.025k / 12k / 16k / 22.05k / 24k / 32k / 44.1k / 48k Hz, 8k to 320kbps