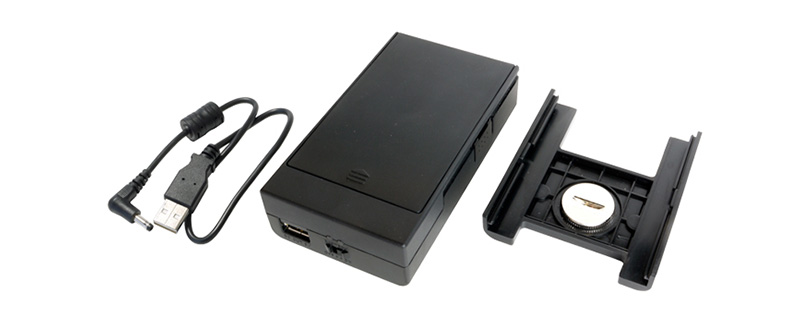 BP-6AA
4 AA BATTERY POWER SUPPLY FOR TASCAM PRODUCTS
Run your equipment for hours without power outlets, with this external battery pack for TASCAM handheld recorders, multi-track recorders, and handheld devices.
Battery type : AA alkaline batteries, or AA Ni-MH batteries
Output Conector : USB A-type 4 pin × 1
Output Power : DC 5V
Dimensions Main unit : 2.6" × 4.5" × 1.14" / 66 × 114 × 29 mm
Weight Main unit : 3.6 oz. / 102 g (excluding batteries)
See All
External battery pack that accommodates six AA batteries
ON / OFF switch
USB power supply via conventional USB port
USB to DC plug cable included
Compatible with conventional USB cable (included with recorder)
Battery pod slides out of tripod attachment
Mounts to the handheld equipment's tripod connector
See All
BP-6AA
Attachment for fitting DR-100/DR-40
Dedicated cable
Compatible Models
DP-004
DP-006
DP-008
DP-008EX
DR-05
DR-05X
DR-07
DR-07MKII
DR-07X
DR-1
DR-100
DR-100MKII
DR-100MKIII
DR-22WL
DR-2d
DR-40
DR-40X
DR-44WL
DR-60D
DR-60DMKII
DR-701D
DR-70D
DR-V1HD
GT-R1
MiNiSTUDIO CREATOR US-42
MiNiSTUDIO PERSONAL US-32
Portacapture X6
US-1x2
US-1x2HR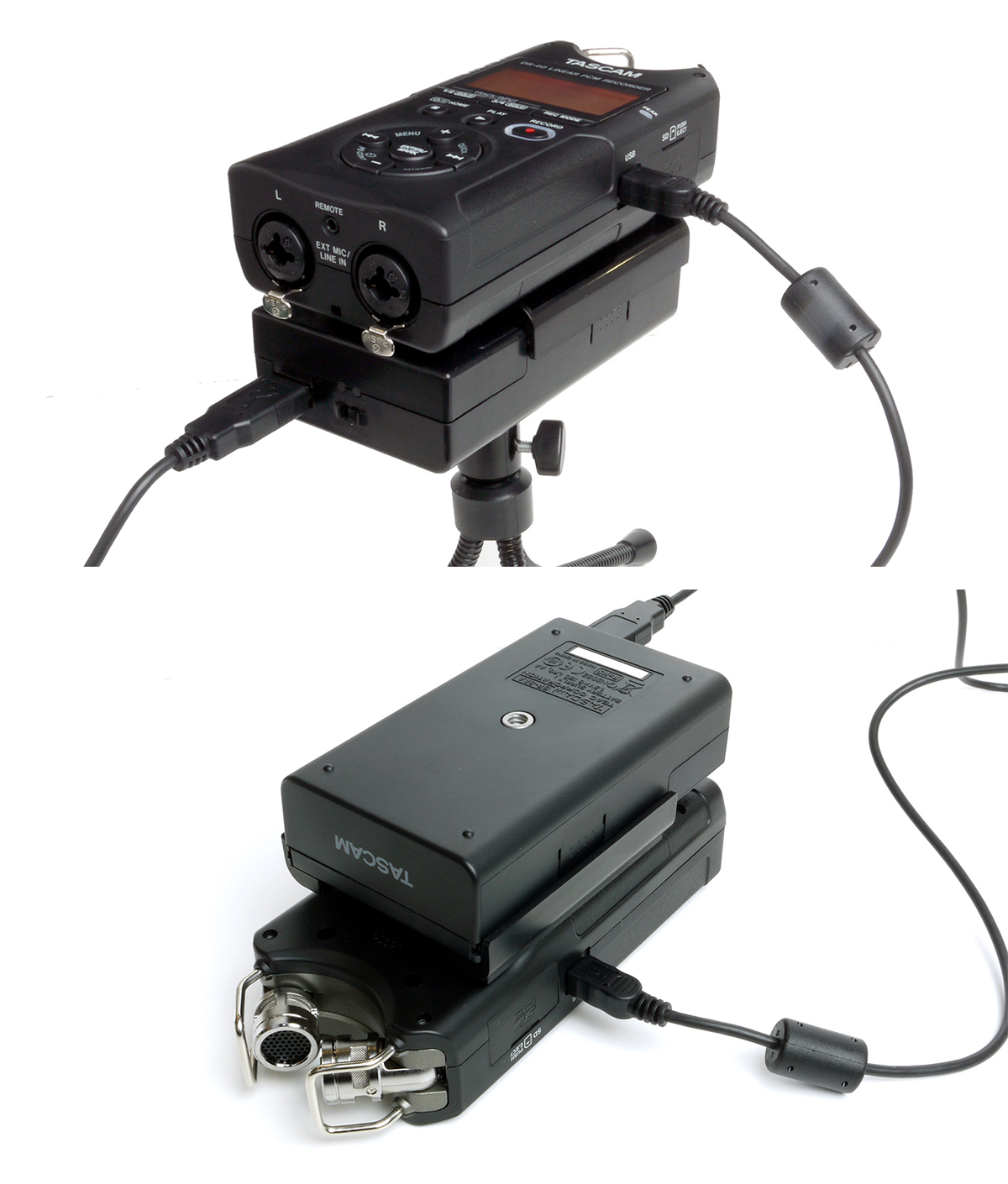 Examples showing the use
* Note: The BP-6AA cannot be attached to the DR-44WL, however it still supply power to the DR-44WL.
The BP-6AA is an external battery pack for TASCAM DR Series and Portacapture handheld recorders, DP Series Portastudio recorders, and other portable devices.
Accommodating six AA batteries (alkaline or nickel-hydrogen), the BP-6AA allows you to record for hours even when no power outlets are available. DC power is supplied with an included cable, or with a USB cable that comes with the connecting equipment. The BP-6AA can be securely attached to the recorder with the tripod attachment, while a screw hole on the battery pack allows the BP-6AA to mount between a tripod and your portable recorder.
External battery pack for DR Series, Portacapture Series, Portastudio Series, and other TASCAM portable recorders and devices Accommodates 6 x AA batteries (alkaline or nickel-hydrogen) USB power supply via conventional USB port USB to DC plug cable included.
Compatible with conventional USB cable (included with your portable recorder) Battery pod slides out of tripod attachment Mounts to the handheld equipment's tripod connector, with screw hole to attach to your camera
Features at a Glance
External battery pack that accommodates six AA batteries
ON / OFF switch
USB power supply via conventional USB port
USB to DC plug cable included
Compatible with conventional USB cable (included with recorder)
Battery pod slides out of tripod attachment
Mounts to the handheld equipment's tripod connector
Spec description
| | |
| --- | --- |
| Battery type | AA alkaline batteries, or AA Ni-MH batteries |
| Output | |
| Connector | USB A-type 4 pin × 1 |
| Power | DC 5V |
| Dimensions (W×H×D) | |
| Main unit | 2.6" × 4.5" × 1.14" / 66 × 114 × 29 mm |
| Attachement | 2.8" × 3.2" × 0.6" / 71 × 80.5 × 15.5 mm |
| Weight | |
| Main unit | 3.6 oz. / 102 g (excluding batteries) |
| Attachement | 1.3 oz. / 34 g (including washer and screw) |
| Operating temperature | 32ºF to 104ºF / 0ºC to 40ºC |
| Included items) | USB to DC plug cable, Tripod attachment |