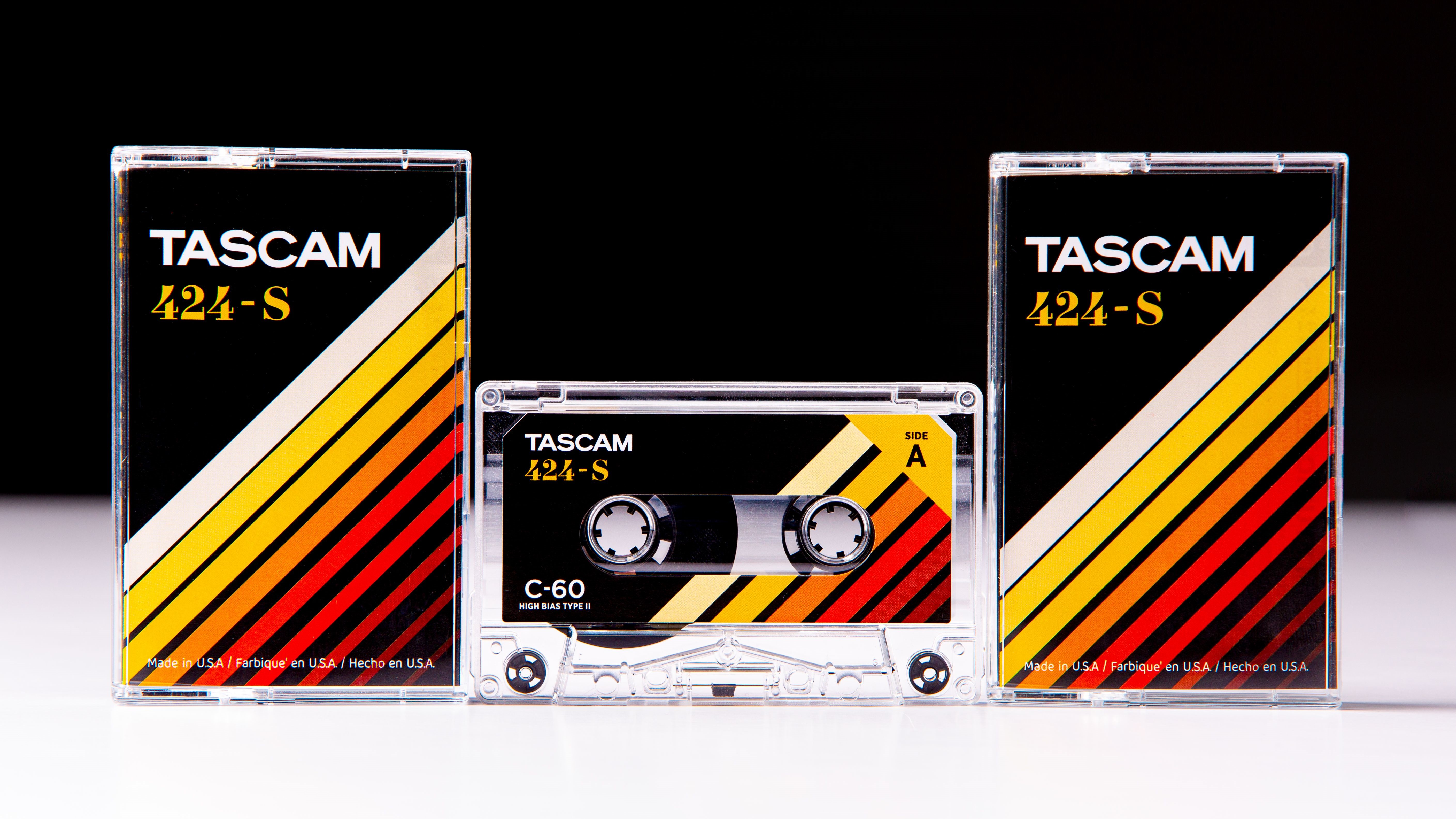 424-S Studio Cassette
HIGH BIAS TYPE II COBALT CASSETTE TAPE
This Product Available in the U.S. Only
Base Material : Polyester Tensilized
Standard Width : 3.81mm
Width Tolerance : +0/-0.05mm
Total Thickness : 16.3μm
Base Thickness : 12.2μm
Yield Strength : Kg/3.81mm >=0.70
Breaking Strength : Kg/3.81mm >=1.5
See All
TASCAM exclusive design and packaging with a nod to one of our most loved Portastudios
Highest-quality mastering cassette on the market
Coercivity 540 Oe
Retentivity 1700 Gauss
See All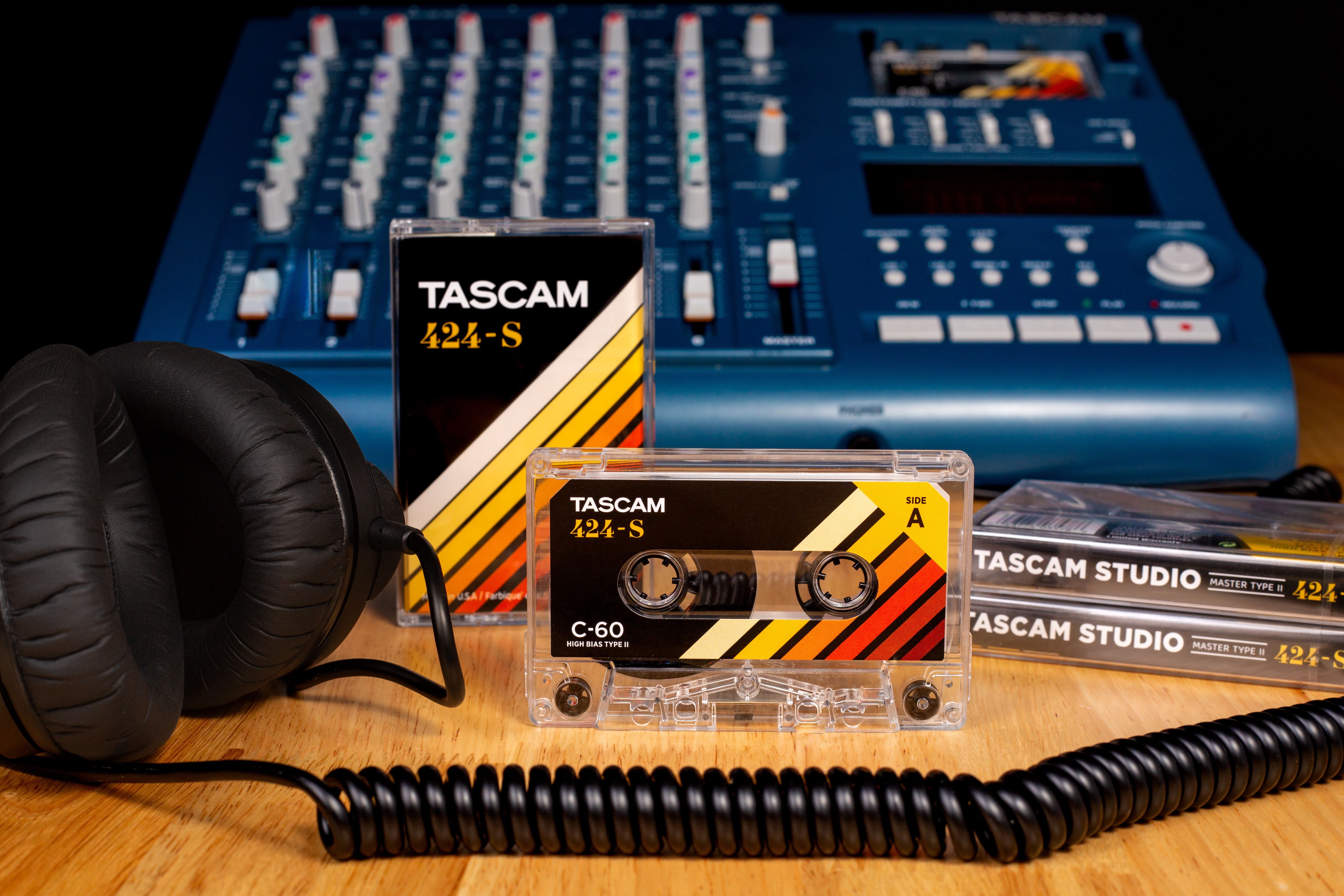 TASCAM 424-S Studio C-60 High Bias Type II Cobalt Cassette
The TASCAM 424-S Studio Cassette is a genuine high bias type II cobalt oxide cassette.
specifically engineered for outstanding output (4db louder than standard Type II cassettes), low distortion, and unmatched musical clarity when used with TASCAM Portastudio cassette recorders. Industry leading specs like high coercivity for superior storage capacity and almost double the retentivity of standard cassette tapes for enhanced imaging of your recordings ensure your recordings will be higher-fidelity and stronger than ever. The tape formulation was engineered and tested specifically in recalibrated and restored vintage TASCAM Portastudio workstations and stereo recording decks.
The 424-S Cassette has the same specifications of the Master 424 Studio Cassette, but without the gold collector reels.
The TASCAM Portastudio opened the door to home recording over 40 years ago and was THE sound for thousands of albums over the decades, from Bruce Springsteen's Nebraska to DeWolff's TASCAM Tapes. The TASCAM Portastudio's legions of fans and users range from Lady Gaga, Wu-Tang Clan and Beck to Bootsy Collins, Beastie Boys, and the Mars Volta. With vintage TASCAM Portastudios selling at a premium price on the used market, TASCAM is proud to provide the gold standard for the cassette medium.
Features at a Glance
TASCAM exclusive design and packaging with a nod to one of our most loved Portastudios
Highest-quality mastering cassette on the market
Coercivity 540 Oe
Retentivity 1700 Gauss
Spec description
Physical Properties
Base Material
Polyester Tensilized
Standard Width
3.81mm
Width Tolerance
+0/-0.05mm
Total Thickness
16.3μm
Base Thickness
12.2μm
Yield Strength
Kg/3.81mm >=0.70
Breaking Strength
Kg/3.81mm >=1.5
Magnetic Properties
Coercivity
540 Oe
Retentivity
1,700Gauss
Erasure Field
1,800 Oe
Squareness
0.72
Electromagnetic Properties
Recommended Sensitivity Reducation
for Test Bias@S8.0KHZ
2.5dB
Bias Ratio
0.0dB
Maximum Output Level for 3% THD
+2.6dB
Third Harmonic Distortion at Reference Level
2.0%
Maximum (Saturated) Output Level at 12.5 KHZ
-0.5dB
Relative Tape Sensitivity at 315 Hz
-1.0dB
Relative Tape Sensitivity at 3150 Hz
-1.1dB
Relative Tape Sensitivity at 10 Hz
-1.5dB
Relative Tape Sensitivity at 12.5 Hz
-1.0dB
Relative Tape Sensitivity at 15.5 Hz
-0.6dB
Reference Level to Bias Noise Ratio
-60.0dB
Reference Level
250nW/m
Recommended Bias
2.0dB*
*Specification is for +2 db over biasing at 6.3kHz.20db below reference level.
Record Equalization - For optimum performance, record equalization should be set after biasing , as the oxide in this tape responds somewhat differently due to its high performance characteristics.