The TASCAM DA-6400dp 64-channel digital multitrack recorder/player and CG-2000 clock generator were used as a backup recording system for popular anime song singer YURiKA's "Dead Heat - RED vs BLUE" solo live stream on October 9.
We reached out to Hiroaki Ohgushi of Brilliant Studio, who was in charge of the recording, and asked about his impressions of the system.
Q. Please tell us bout the recording system used.
Distribution mixer and recorder: Avid ProTools HDX, MADI I/O, HD I/O
MADI distribution device: RME MADIface USB
Sub recorder: TASCAM DA-6400dp
Clock generator: TASCAM CG-2000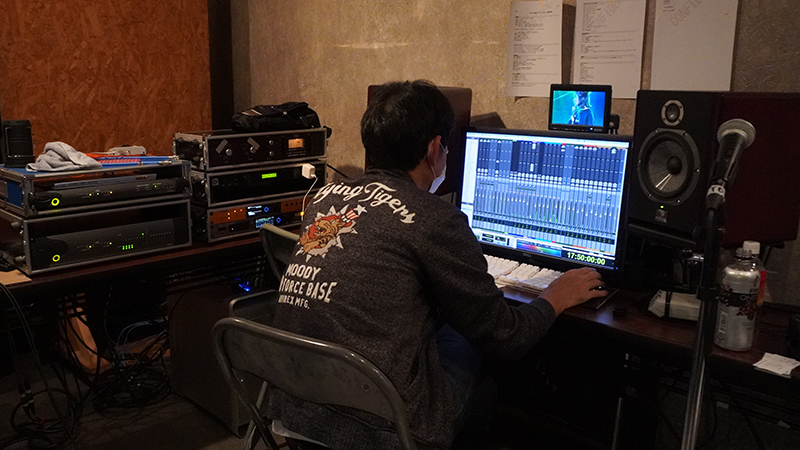 Q. What are your impressions of the DA-6400dp?
I used to rent out the TASCAM X-48 as a sub-recorder from a vendor before so this was my first time using the DA-6400dp. I felt that just with a little knowledge it was easy to operate without having to read the instruction manual. I was able to make a simple but stable recording without any trouble.
I liked that all information is shown on the front panel display, and settings can be quickly and easily recalled. And after recording, the SSD installed into the drive slot on the front panel can be removed and the recorded data can be copied directly to a PC, which is a very helpful feature inherited from the previous X-48.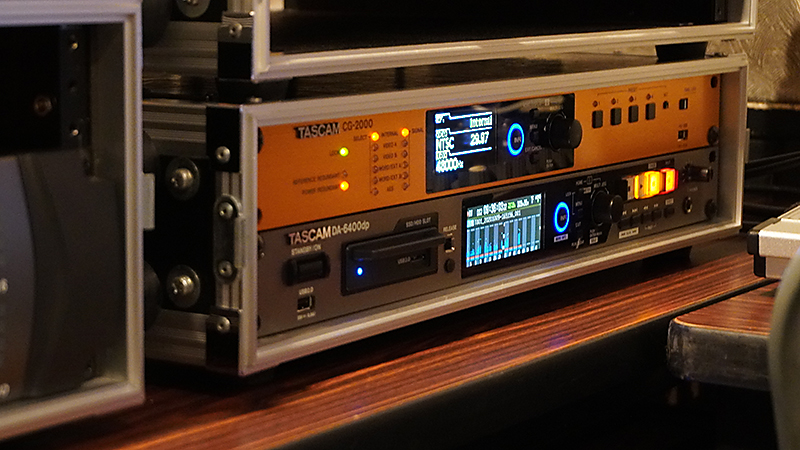 The DA-6400dp is also equipped with an AC power redundancy function (DA-6400dp only) as a reliable feature and is designed and built with consideration for power supply problems that may occur in the field. The DA-6400dp is a compact recorder that can record up to 64 channels simultaneously in a 1U unit, and I believe it will probably become a must-have item in the field of distribution recording, which is becoming increasingly popular in the future.
Q. What are your impressions of the CG-2000?
For this live stream/recording, I used a simple configuration with the CG-2000 as the clock master and had Avid ProTools HDX MADI I/O, HD I/O, and the DA-6400dp connected as slaves. For outdoor recordings, a stable clock and power supply are the most important things required from the clock master.
We were able to go to the recording site and have no issues because the CG-2000 is a reliable professional clock master with a several recovery functions. It includes a reference redundancy function and power redundancy function to avoid troubles, and a glitchless relock circuit that prevents noise and loss of sound in the event of a clock dropout or recovery.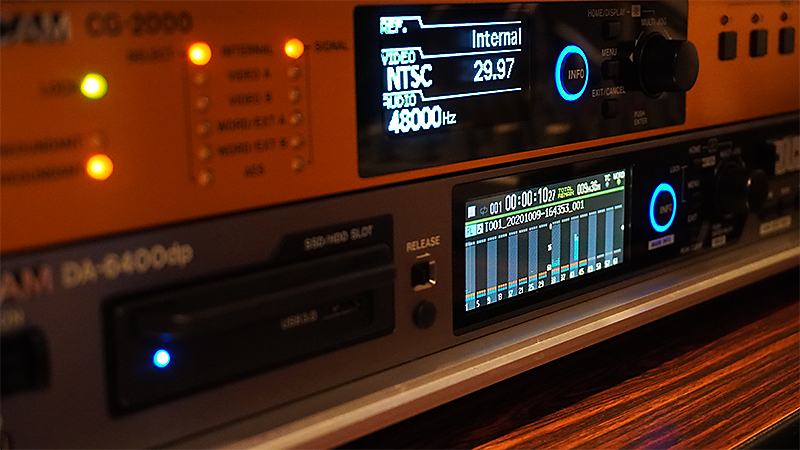 This CG-2000 has abundant inputs and outputs, including high-precision 10 MHz-compatible inputs, 12 word clock outputs, and various video clock inputs and outputs such as NTSC/PAL/HD Tri-level. Detailed settings are integrated into a single display for easy recall and configuration. These rich settings can be called up as four presets with the touch of a button, and the settings can be imported and exported via USB.
Although all we had this time was a simple setup, when building a complex system at a recording site involving video equipment or in post-production such as MA, I believe the abundant inputs/outputs, functions, and capabilities of this unit will demonstrate its true value.
Q. Do you have any requests for TASCAM in the future?
This may sound lavish, but if the DA-6400dp is powered up as an all-in-one digital mixer and recorder (a high-end version of the X-48) with a built-in virtual mixer and effects, external display, USB mouse and keyboard connection, physical controller support, etc. I am sure that the demand for this product will increase even more. I have high expectations for this.
Thank you very much.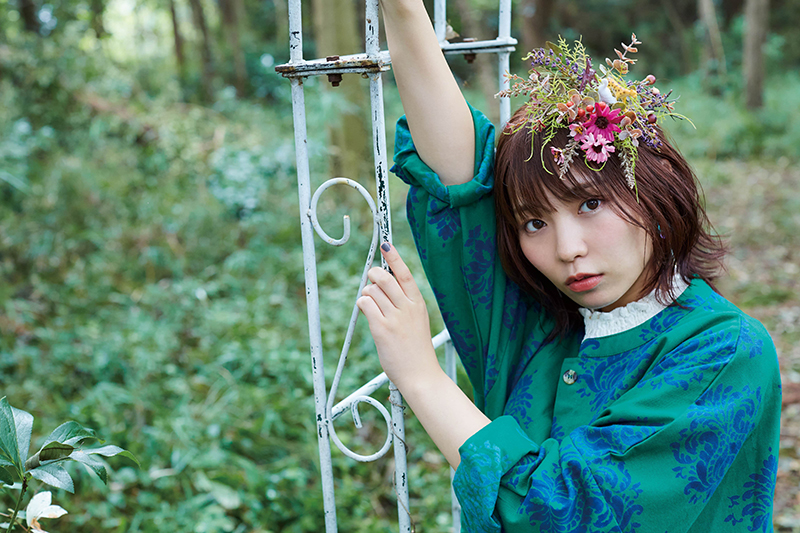 YURiKA
Born on October 29 in Hasuda City, Saitama Prefecture.
She began playing the piano at the age of 4 and grew up exposed to music from an early age.
In the sixth grade of elementary school, she was amazed by the meaningful lyrics in anime songs and decided to become an anime song singer. During junior high and high school, she honed her singing ability in the choir club, and in her senior year of high school, she made her first attempt at the "Animation Song Grand Prix" and competed in it for the first time. After that, she performed concerts in parallel with her studies, and in 2014, she appeared on Nippon Television's "King of Singing" and placed 6th nationwide, she won NHK's "1st Anison Nodo Jiman G", and NHK's "Nodo Jiman " held in Sakado, Saitama Prefecture in 2016.
In 2016, she passed the 1st TOHO animation RECORDS Next Generation Artist Audition and signed with TOHO Entertainments.
YURiKA sings "Shiny Ray", the opening theme for the animation "Little Witch Academia" which started airing in January 2017, and made her major debut with the same CD on February 22, 2017.
Official website: http://www.yu-ri-ka.com/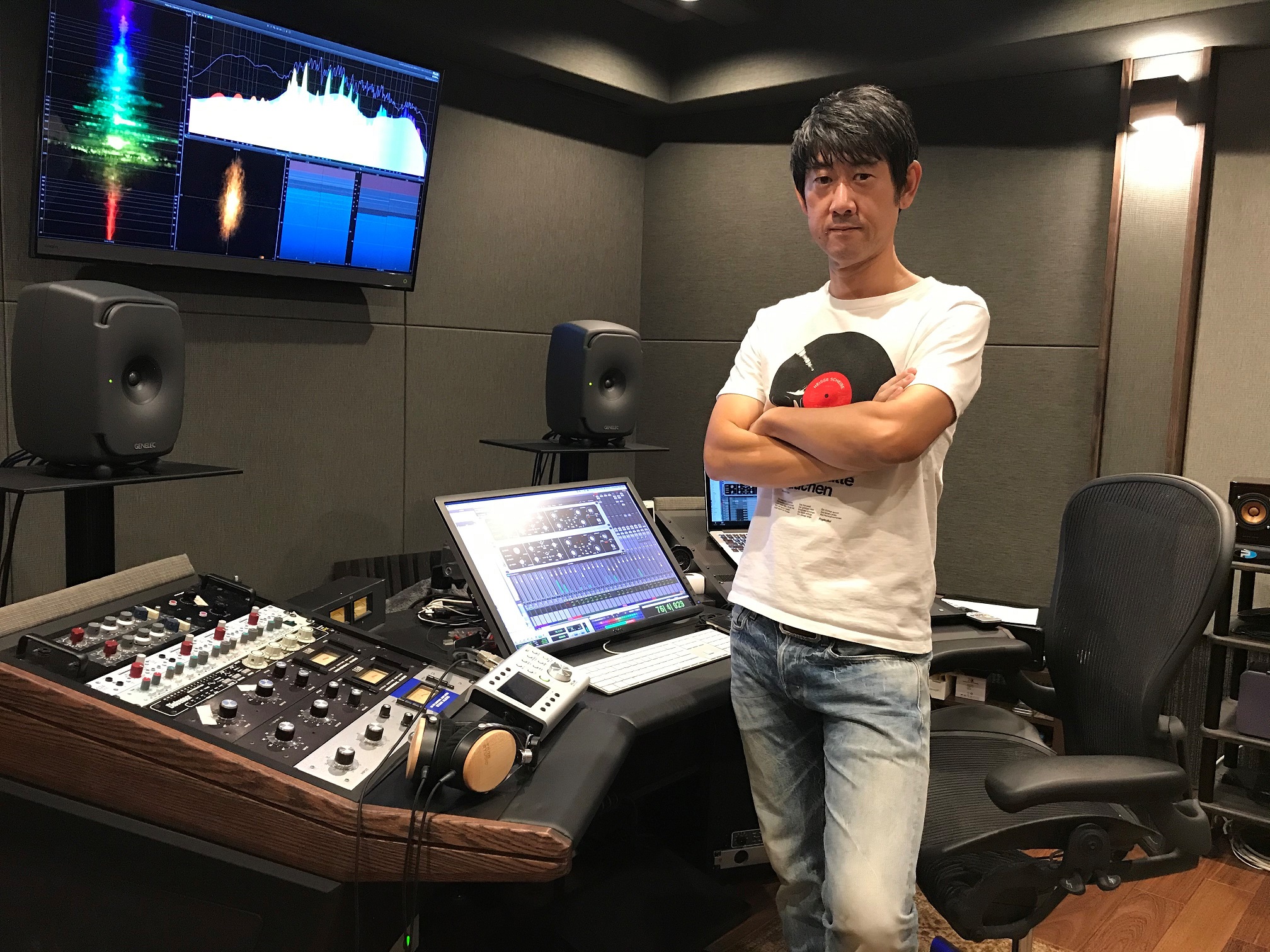 Brilliant Studio - Hiroaki Ohgushi
Born in 1978 in Nagasaki Prefecture.
Hiroaki started his career as an engineer at a studio in 2000 and became independent in 2008. After a freelance career of 7 years, he joined VERYGOO Ltd. in 2016.
In 2018, he restarted his freelance engineering career when establishing Brilliant Studio.
In January 2019, he established Brilliant Studio Inc. as an official company.
With his long career, Hiroaki is able to handle various genres and is especially good at glossy tastes that enhance the presence of songs.
Official website: https://www.brilliant-studio.net/