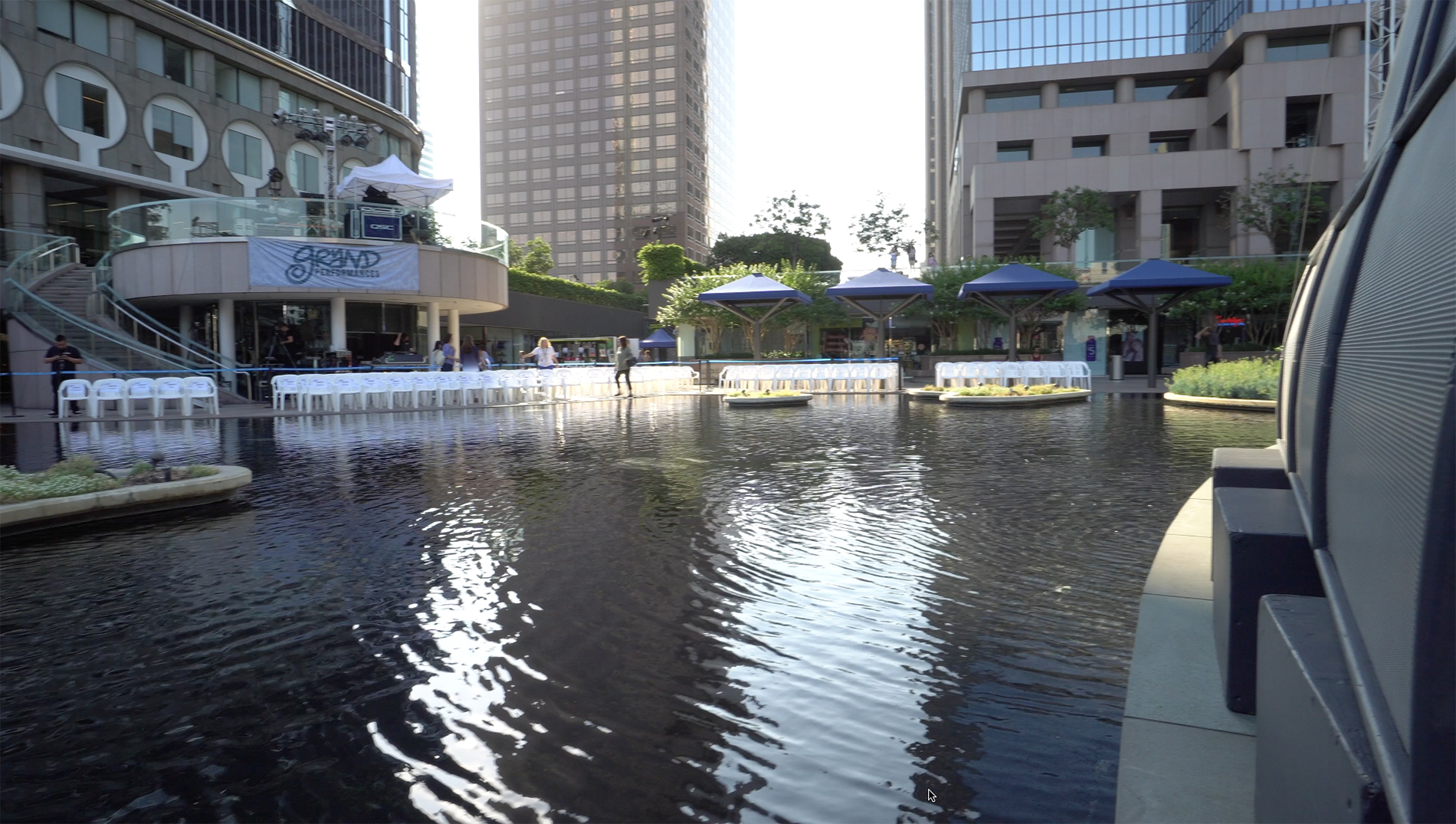 Los Angeles, CA-September 2018... The first, and according to Los Angeles Magazine, still the best free outdoor concert series in downtown L.A., Grand Performances has delivered high-quality music, dance, theater, and other performing arts for more than 30 years. Residents and visitors to the City of Angels bring their families to the gorgeous California Plaza on South Grand Avenue to enjoy the finest in global culture. Committed to community, diversity, and access to the performing arts-and to the artists who perform there-Grand Performances creates exciting, transformative experiences.
"One of the great things about Grand Performances is that we have a commitment to the artists, and a part of that commitment is archiving their performances here," asserts Grand Performances Technical Manager Gilberto Morales. "We multitrack record every show using the TASCAM DA-6400 64-channel digital recorder, and the artists get copies of the multitracks," adds front-of-house engineer Toby Tittle. "The DA-6400's SSD drive pulls right out of the front, so when artists request a copy, it's easy to pull that tray out and archive the recording to a computer. You can archive a show quickly with that." "With the DA-6400, I've been able to take the SSD drive into my shop, upload the data into our server, and send the drive back out for the next weekend," confirms Morales.
The sound system at Grand Performances relies on the Dante digital audio network protocol, and thanks to a Dante option card-other card options include MADI and AES-EBU-the organization's 1U rack-mount TASCAM DA-6400 sits conveniently on the network. "The DA-6400 has a primary and a secondary, which is great because it gives you peace of mind," offers Tittle. "The great thing about being able to use Dante in a DA-6400," explains Morales, "is that the guys are just able to hit the Record button and go back to mixing monitors, and they don't have to worry about a laptop overheating."
Indeed, heat is a significant consideration on a sunny Los Angeles summer day when temperatures can reach triple digits. "We have equipment out here that occasionally will go down, especially computers," Tittle admits. "But I've never seen the DA-6400 glitch."
Mixing at California Plaza is no easy task because of its many hard surfaces, asymmetry, and two-level seating. "This is one of the hardest venues in Los Angeles to mix," agrees Morales. "There are all kinds of weird reflections and things bouncing around. But it's one of the most beautiful places in town. Its also one of the most progressive community program theaters in the United States."
As front-of-house engineer in this challenging acoustic environment, Tittle has his hands full, so he especially appreciates the TASCAM DA-6400's reliability, hefty track count, and ease of use. "It's a powerful device," he asserts. "It has saved us a few times when we've done video recordings and streaming. It's nice to have 64 channels available right out of the box, and the DA-6400 has minimal setup: You just arm the tracks, name the file, and start writing to it."
With his dedication to presenting excellent performances and capturing them for posterity, Morales appreciates the TASCAM DA-6400's ability to integrate with the Dante network and deliver reliable, convenient, high-quality digital recording. "All of us at Grand Performances want to thank TASCAM for helping us preserve this great art," he proclaims.
For more information about Great Performances, visit www.grandperformances.org