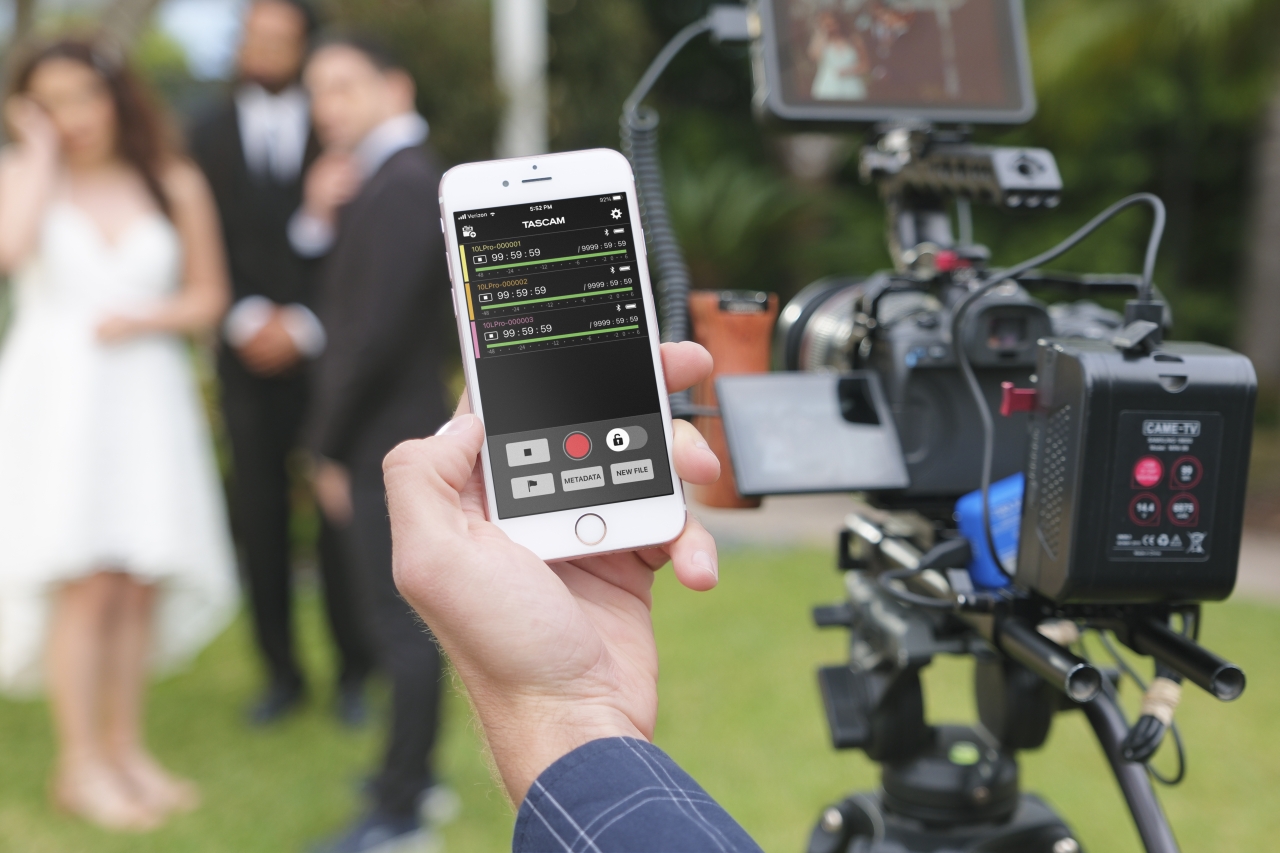 Wedding ceremonies and receptions can be great gigs for independent videographers, but they present a unique set of audio challenges too. You need to be able to capture personal audio from many different people, you never know when the next memorable moment is going to occur, and you don't have the option to do a second take if something wasn't recorded well. On top of all that, you have a camera or possibly a multi-camera setup to operate — you shouldn't be distracted by your audio recording system in the first place.
So how can you capture studio-quality audio from a variety of people in a busy setting like a wedding? You're in luck — the TASCAM DR-10L Pro personal recorder and lav mic combo was designed exactly for situations like this. Let's take a look at what makes the DR-10L Pro personal recorder a superior audio recording solution for wedding videographers.
So Much Simpler Than a Wireless Lav Mic System
When it comes to setting up for wedding videography, the DR-10L Pro personal recorder is super simple. These recorders are amazingly compact and lightweight, making them easy to hide from view on your subjects. The included TM-10L lavalier microphone picks up sound clearly even when it's hidden beneath a lapel or other clothing. And once your subject is equipped with their personal recorder, you can begin recording and walk away — simple as that.
Without personal recorders, the best way to capture personal audio from multiple subjects would be with a wireless lav mic system, which requires additional steps to pair transmitters and receivers as well as set up an external recorder to captures everything. And that's in addition to the reality of wireless traffic, which is often congested at large events like weddings, and conflicting devices can present big challenges for your wireless mic system. With the DR-10L Pro, audio is captured to high-capacity SD cards right on the device — no need to maintain wireless connectivity, and no need for an external recorder.
32-bit Float Means Worry-free Recording
You may have noticed that when we described setup with the DR-10L Pro, we didn't mention setting input levels. That's not a mistake. The DR-10L Pro supports 32-bit float recording, and that means you can capture outstanding audio — from whispers to screams — without worrying about clipping distortion from loud sounds, or indistinct audio from soft sources. During editing, you can raise or lower 32-bit float recordings as much as you need to, without any sonic compromise. If that sounds too good to be true, well, it feels like it too — and you'll love it.
32-bit float recording is one of the major reasons the DR-10L Pro is such a great audio hack for wedding videographers. The human voice is possibly the most dynamic sound source you'll ever record, and 32-bit recording ensures you'll be able to capture clear, distinct audio from your subjects no matter how wildly their volume varies. And especially at events like wedding receptions, people have a tendency of speaking louder after they've, uh, enjoyed some refreshments. With 32-bit float recording, you simply never need to worry about whether someone's distorting their audio recording, even with a burst of explosive laughter. And you'll need to sacrifice a moment of dialog due to poor audio levels — everything you record will be usable without sonic compromise.
Atomos Timecode Support for Easier Post Production
We've already covered why the DR-10L Pro can be a superior solution to a wireless lav mic system for capturing personal audio from multiple subjects — but what do you do about syncing all those recordings during post production? One of the things that separates the DR-10L Pro from the non-pro version (besides 32-bit recording) is support for wireless timecode sync with Atomos products like Ultrasync Blue along with a Ultrasync One which you're likely already using if you're operating a multi-camera setup.
All you need to sync all your DR-10L Pro recorders with Atomos products is TASCAM's AK-BT1 Bluetooth dongle (sold separately from the DR-10L Pro), one for each recorder. With your audio recordings synced to timecode, aligning them in post production is practically effortless.
DR-10L Pro = Simplicity and Security for Wedding Videographers
The reason the DR-10L Pro is a fantastic audio hack for wedding videographers is that it addresses pretty much all of the challenges you'll face at a large public ceremony or event. Its compact and stealthy design makes it easy to hide from view, without encumbering your talent. By recording audio direct to SD card media, you completely avoid any issues with wireless interference, and eliminate the need to pair wireless system components. 32-bit float recording means you don't need worry about setting audio levels, and you'll never have to scrap a recording due to poor audio levels. And with support for wireless timecode with Atomos products, syncing all of your recordings in post-production is simple. If you're a wedding videographer looking for a way to enhance your audio setup while simultaneously making your life easier, check out the TASCAM DR-10L Pro — you may never go back to your old wireless system!
Featured Products:
DR-10L Pro
https://tascam.com/us/product/dr-10l_pro/
AK-BT1
https://tascam.com/us/product/ak-bt1/
Related TASCAM Products w/32-bit float technology:
Portacapture X6
https://tascam.com/us/product/portacapture_x6/
Portacapture X8
https://tascam.com/us/product/portacapture_x8/