The TASCAM DA-6400 was introduced as a permanent multitrack recorder at Chicken George, a long-established live house in Kobe, and was used to record the Japanese jazz fusion band T-SQUARE's "YEAR-END SPECIAL 2015" concert held at the same venue in December 2015.
TASCAM interviewed Mr. Maseba, the representative of Chicken George Entertainment, and Mr. Masaki, the engineer, about this recording, how it was introduced, and its operation.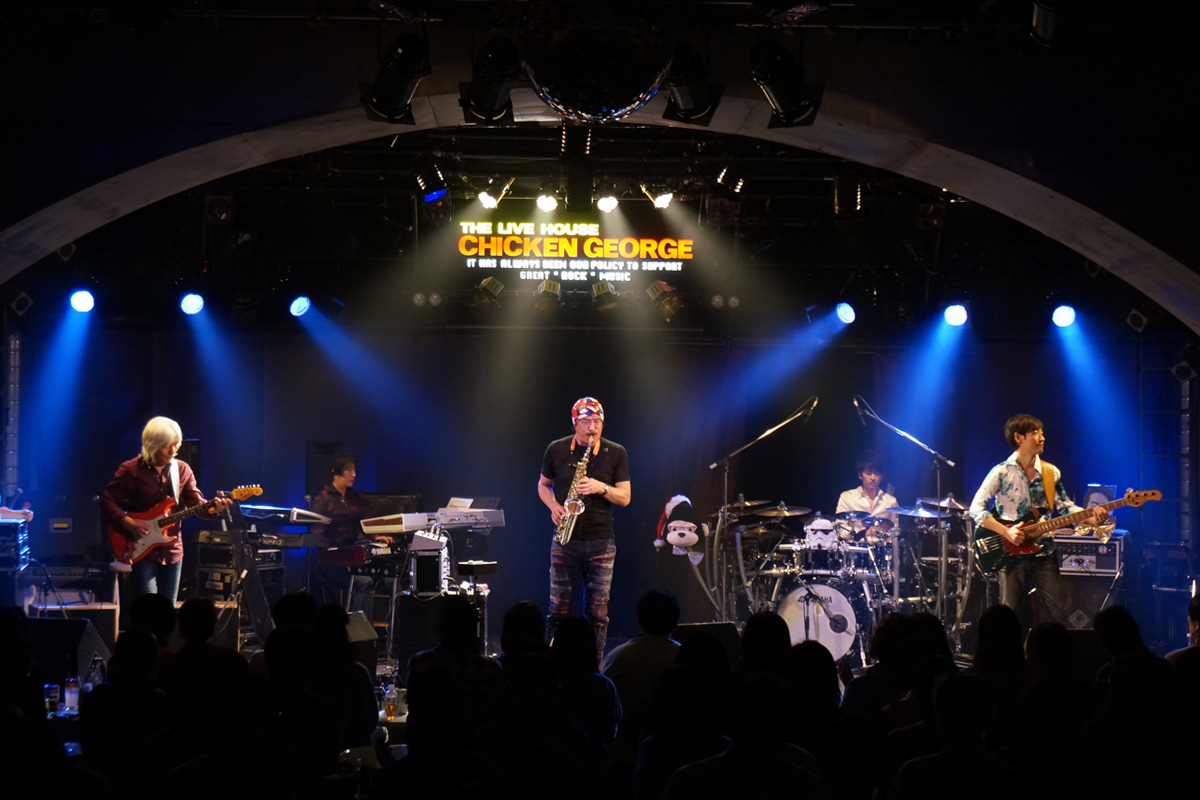 First of all, please tell us about the introduction of the DA-6400 to this venue.
Maseba: I have been discussing with Mr. Kojima, the representative of the Chicken George Live House, about setting up a permanent system for live recording, and at first we were thinking of using a DAW. However, a computer-based DAW requires a separate person to be present during the recording. This was a negative factor when operating a live music venue, and so I came across the DA-6400, which became a candidate because of its compact 1U size, ability to start recording at the touch of a button, and above all, its high reliability as a dedicated standalone unit. Computers are inevitably dependent on the operating system, and if something happens to the built-in hard disk, it's possible that it may not be able to record. A common system is to use the DAW on the computer as the main recorder and the multitrack recorder as a backup, but we decided to use the one that we felt was more reliable as the main recorder.
So, you installed the recorder because of its high reliability. Were there any other aspects of the recorder that were important to you?
Maseba: The ability to record in 24-bit was a major factor in our decision to install the DA-6400. I believe that live recordings must have a wide dynamic range, and without 24-bit recording, it's mostly impossible to get a "real" ambiance. I was looking for a dedicated 24-bit recorder, and that's when I came across the DA-6400. As a live music venue, there are recording requests from the artists, and I thought that 24-bit/96kHz multitrack recording would be highly versatile for later editing, etc. Since it's not easy to have artists bring in their systems, we thought it would be a good idea to set up a permanent installation.
What's your impression after using the DA-6400?
Maseba: The stability is very good and I have no problems with the sound quality whatsoever.
Masaki: The most important thing is that it is easy to use. All you have to do is press the record button before the performance starts and press the stop button when it's over. In our case, input from the analog console to the DA-6400 was via the DirectOut Technologies ANDIAMO 2 AD MADI converter, but even so, the system fits in only a 2U space, which is also a remarkable point.
Maseba: The space factor is important in a music venue, so much so that we wanted to use a laptop instead of a desktop DAW. Also, if I want to take the DAW out of the house and run it at another site, there is no problem at all with a 2U system.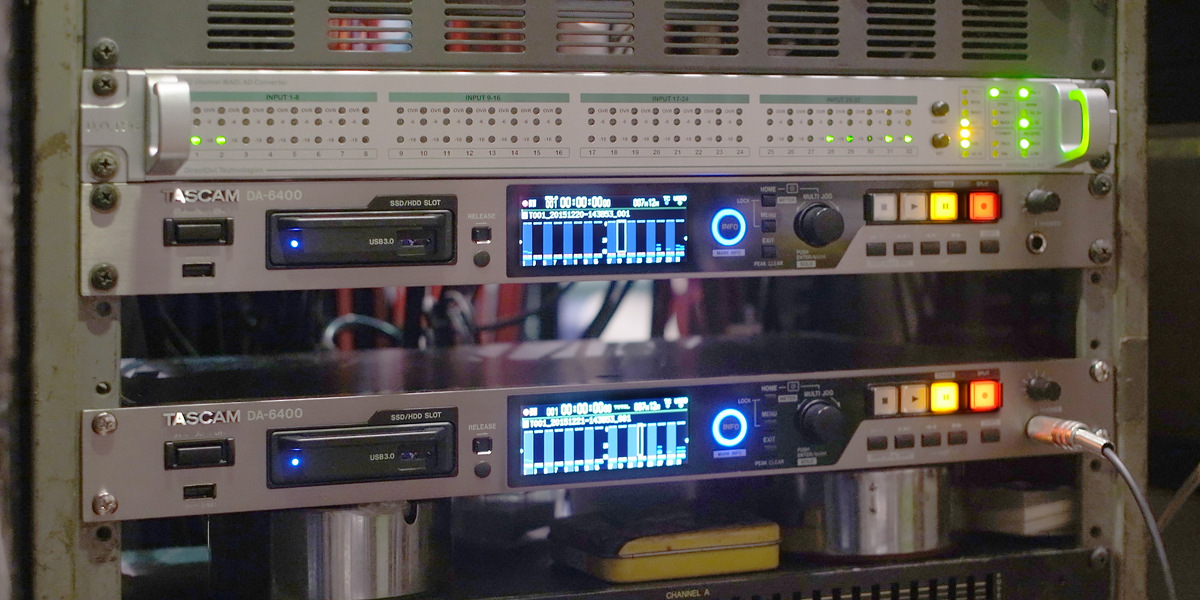 Please tell us about your usual workflow.
Maseba: We record the performance with the DA-6400 as the main recorder, and after the performance, we import the data to the DAW in the office to check it and do a rough mix. I like how easy it is to move the data around, as all I have to do is remove the SSD case from the DA-6400 and take it with me. 32 channels of data recorded at 24bit/96kHz can be copied by drag-and-drop once the SSD is connected to the computer, which is very easy.
Masaki: If we record two performances, even on the longer side the capacity is about 100GB, so we are currently able to get by with a single 240G SSD without any issues. For this T-SQUARE performance, I used another DA-6400 unit as a backup, but since it was sent from the main DA-6400's MADI thru output, the format and settings were the same for the backup.
Maseba: After operating the system, we feel that it is a very stress-free system. We also produce and distribute our sound sources, so we'd like to continue using this system for recording at this venue.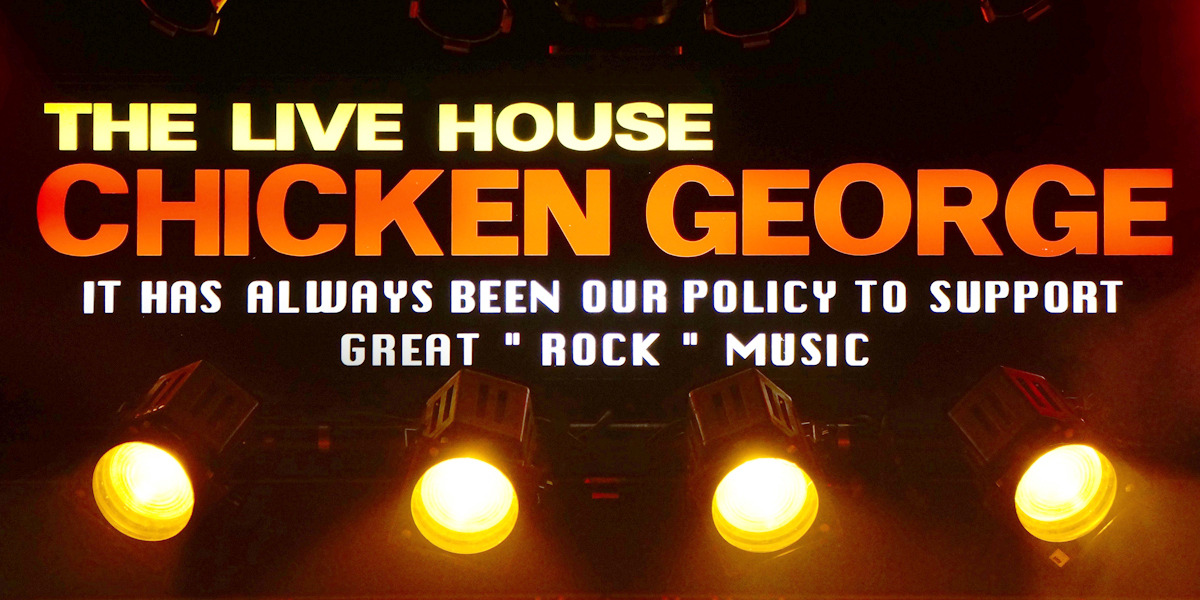 We hope you will continue to use our services. Thank you very much.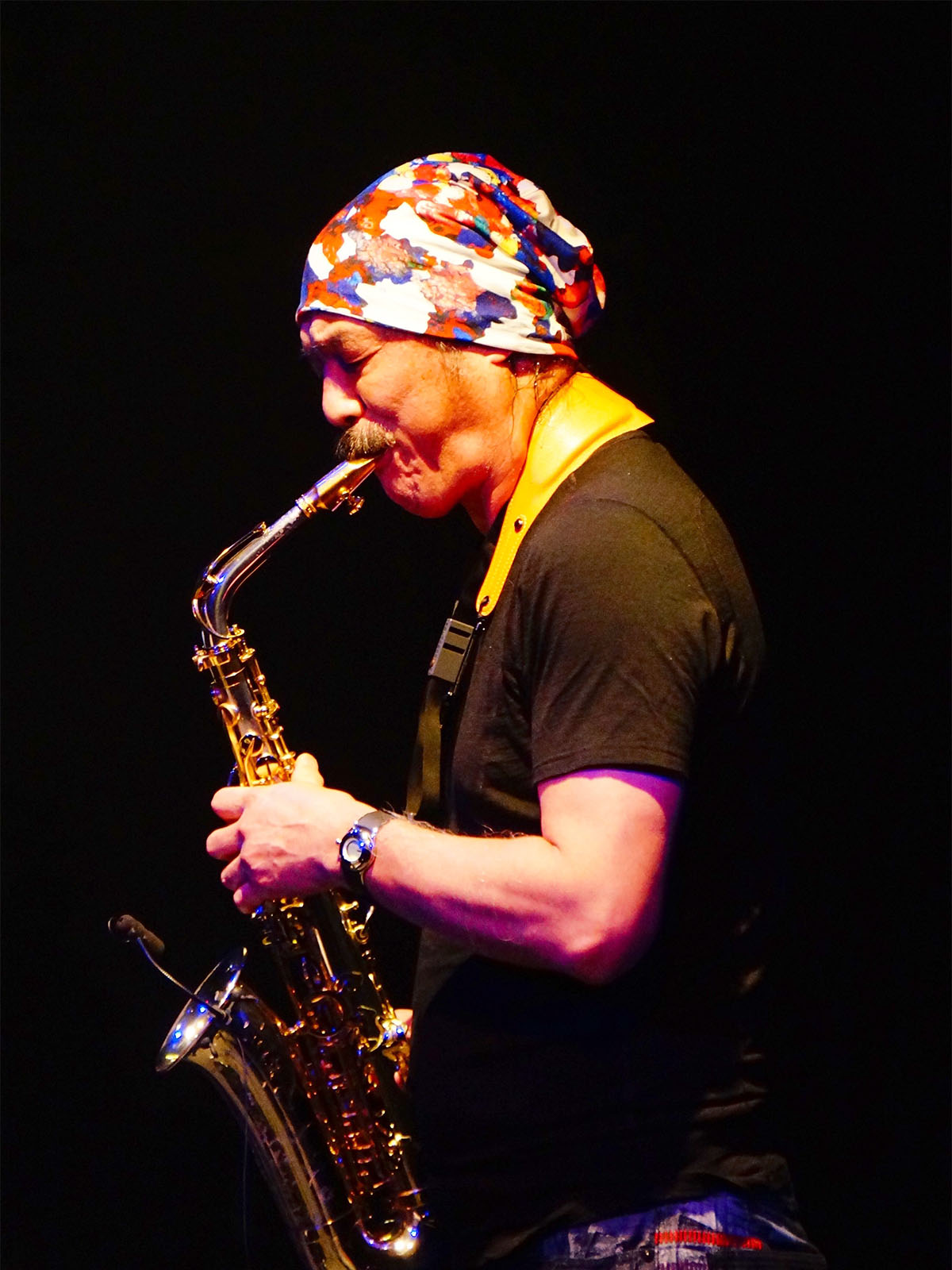 Interview with Takeshi Ito of T-SQUARE
We were able to interview T-SQUARE's Takeshi Ito at Chicken George and ask him about the high-resolution recording.
All the recordings were done in 24-bit/96kHz resolution. Could you tell us how you view this so-called "high-resolution" sound from the standpoint of an artist?
Ito: I think the 16-bit/44.1kHz standard up to now has been ludicrous. Nowadays, even studio recordings are 24-bit/96kHz, and I feel that we have finally reached a situation where we can have a sense of atmosphere or at least a certain level of musical and acoustic satisfaction. The term "high-resolution" has come to be used more frequently nowadays, but having worked with the best analog equipment of its time, I feel we've always had an instrument that would preserve the author's intentions and the performer's thoughts as a work of art. In the same way, when I think of high-resolution, it would be more correct to make this the standard without saying "high-resolution" in particular.
What do you think about recording live performances in high-resolution?
Ito: It's closely unbelievable we've reached an era in which we can record in high-resolution without any stress with the DA-6400, and I am grateful that these types of products are brought to the industry. DAWs are used as the standard in studios and even in live recording, but there is a difference between running DAW software on a computer while various other things can be done, and recording with specialized recording equipment. There's some sort of peace of mind in there. The recent evolution of digital equipment is wonderful and we, as musicians and artists, are finally in a situation where we can "talk" on our terms.
What exactly do you mean by "talk in terms"?
Ito: Audio and music, as well as listeners too, have developed and grown during the peak era of analog audio. On the other hand, this was not always the case with digital audio. There was a time when I felt that musicians and production staff were evolving, but the listeners were not on board. Digital technology has many advantages but MP3s for example, the advantages of digital technology have become so inflated in making things more convenient the energy put to make audio sound great has been shaved off resulting in a progressive deterioration of the essential "sound". But now that we have achieved the ability to reliably record in high-resolution, I feel that we've finally put "sound" on the top and now we can talk more about it.
In the old days of analog equipment, when you were recording, you had to have a funny story while you were putting the tape back together to make a new take, otherwise, the room would stay quiet. Engineers used to perform divine punch-in operations, but now I can easily record by myself while playing the saxophone and operating a DAW. Although the benefits of digital technology have certainly reduced stress in this respect, I somehow feel that the importance of a basic sound has been neglected.
I believe the right approach is to create a sense of excitement and interest in audio, regardless of whether it is digital or not. For example, when 4K content is released, everyone wants to see it as soon as possible, and this kind of excitement is being provided. I think it'll be so boring if we don't recover that excitement in music from this point on. Since high-resolution music is now widely available to the general public, it should be possible to deliver our music as it is, in a form that conveys our feelings, without being compressed, as if it were a matter of course. I want people to listen to it and think, "This feels good," or "It's totally different, this is what it's all about."
Any comments to the audience?
Ito: The sound changes depending on the environment in which you play. Even the same song has a different feeling in the studio and at Chicken George, and I think you'd be able to tell the difference with a high-resolution recording. It would be wonderful for those who weren't able to attend the event and those who did come, to listen to the tracks at home and feel as if they were at Chicken George. I hope you enjoy listening to it!
Profiles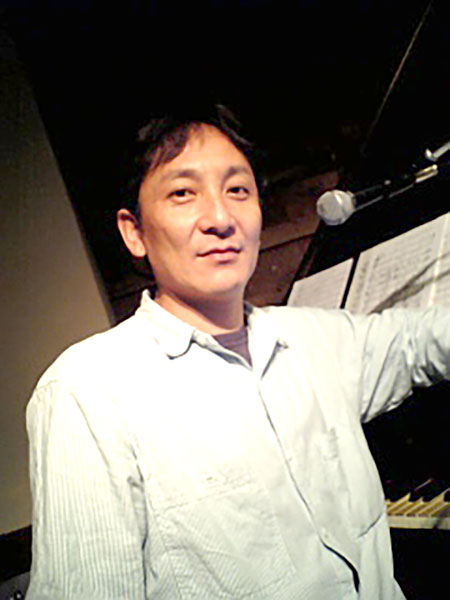 Kenji Maseba
Joined Akai Electric Co. in 1983
From 1986, he became in charge of marketing samplers, MPC series, EWI, etc. marketing, and artist relations under the Electronic Musical Instruments Division of the same company.
In 1999, Maseba became the General Manager of Marketing at AKAI professional M.I. Inc.
From 2004 until this day, Maseba stands as the main representative of CGE Corporation (Chicken George Entertainment). He also works as a recording director for major labels, radio DJ, and events host.
CGE Corporation: http://chicken-george.com/
Live House Chicken George: http://www.chicken-george.co.jp/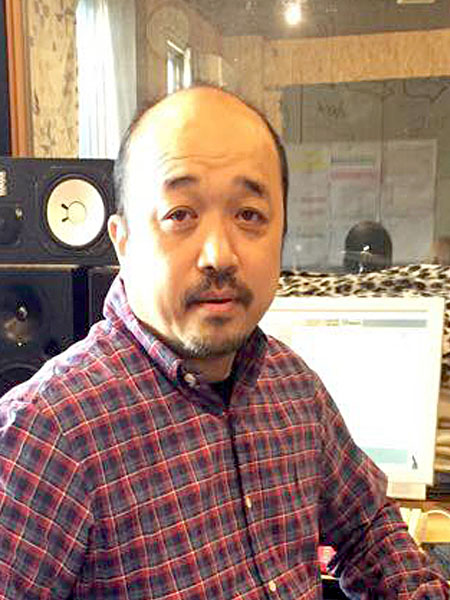 Takeshi Masaki
Joined Tsubota Electric Co. in 1982.
Masaki then joined Sound R Corporation, PA division, in 1985, and became the sound advisor for Kobe Chicken George, house engineer for Sparks Go Go, Kenji Omura, Shuichi Murakami, Ponta band, etc.
In 1998, he founded and became president of Fillies Ltd. and house tour engineer for Toshio Kadomatsu's music venue. Masaki also works as the recording engineer for all Gargoyle CDs since 1999, as recording engineer for Kobukuro's indie CDs, and house engineer for Gargoyle, T-SQUARE, and others.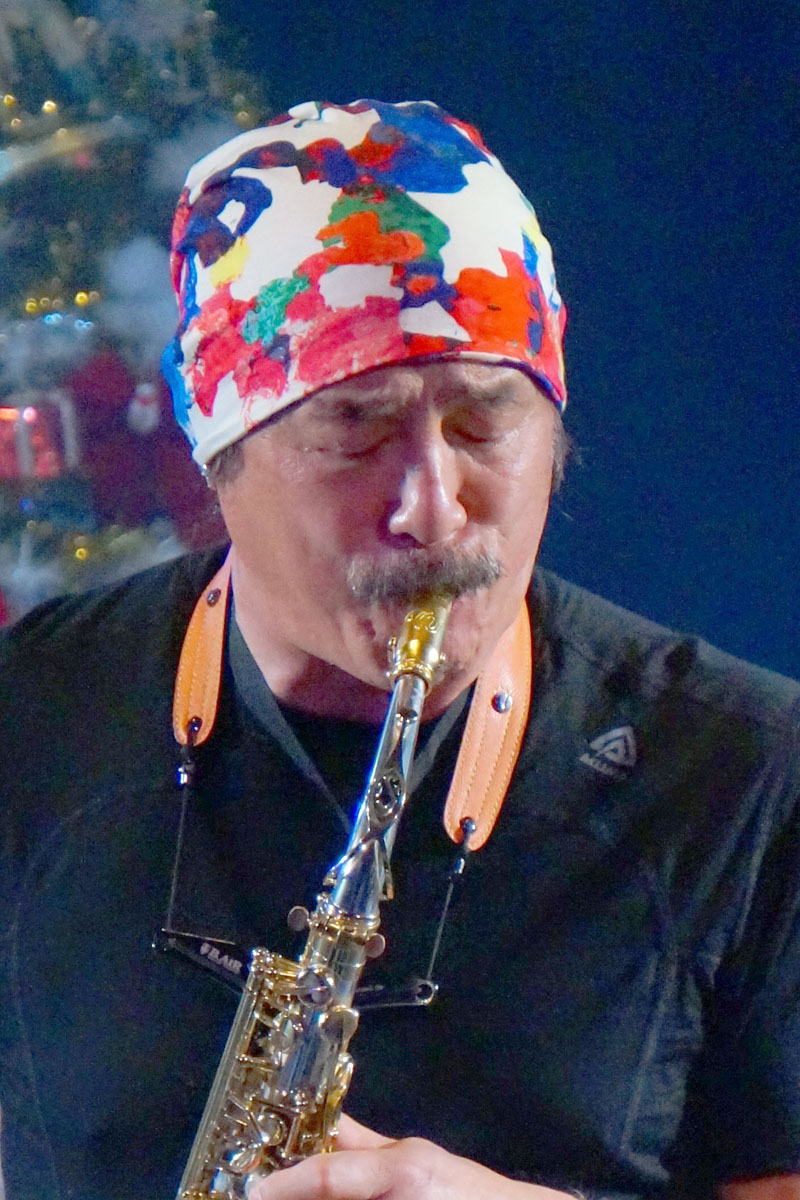 Takeshi Ito
Born on March 15, 1954, in Fukuoka Prefecture.
Ito played as a solo saxophone player while in college, joining then a student big band, where he served as concert master.
He joined THE SQUARE (now T-SQUARE) in 1977 and made his professional debut in 1978. In 1984, one of SQUARE's songs was used in a Suntory White commercial with Ito himself appearing on it, making it a turning point for the band's popularity to rise up.
His stylish side has been featured in numerous fashion magazines. He also enjoys sports in his private life, and is a pro-level tennis and skiing player. He is an "all-season outdoor musician".
As a solo player, Ito has been in close contact with artists in Japan and abroad, and his distinctive strong and clear saxophone tone is now recognized on an international level. "Mellow Madness" was released in December 2007, and is the culmination of his passion for soul music, a genre he considers to be his musical roots. The album is a Smooth Jazz album featuring songs by Stevie Wonder, Lionel Richie, the Stylistics, and other leading African-American music artists.
Since February 2008, Ito has also appeared in commercials for McDonald's Premium Roast Coffee, and will continue to appear in commercials for the Premium Roast Ice Coffee campaign starting in May, with the song "Islet Beauty" from T-SQUARE's new album "Wonderful Days" will also be featured.