TEAC CORPORATION joins Sennheiser's Technology Alliance Member and will release the new firmware V2.00 of DR-701 that supports Ambisonics recording from late December 21st 2017.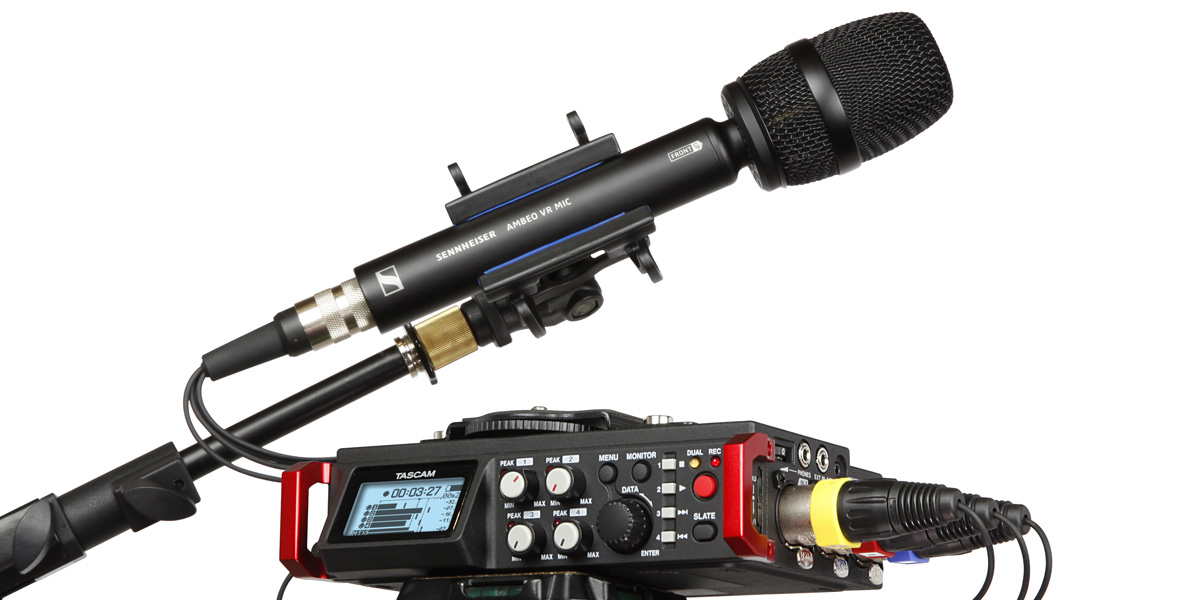 Viewd as the ultimate portable audio system for video production the TASCAM DR-701D now supports Virtual Reality(VR) content creaters with the Version 2.00 firmware update. This new update supports Ambisonics recording by enabling encoding both A and B formats and providing a real-time stereo monitor mix of B format content. Along with robust and combact body, DR-701D is the ideal recording solution for VR production.


"Sennheiser warmly welcomes the TEAC Corporation to the AMBEO for VR partnership program," said Véronique Larcher, AMBEO Immersive Audio Co-Director at Sennheiser. "We are proud to have their TASCAM DR-701D audio system on board, as it is a product held in high esteem by content creators across the globe. Thanks to the new firmware, the TASCAM recorder now fully supports the AMBEO VR Mic for recordings in A or B format Ambisonics."
"For years TASCAM has supported audio professionals in the areas of video production and broadcast, and we are proud to be partner with Sennheiser AMBEO to support the rapidly growing world of VR," said Yuji Hanabusa, President and CEO of TEAC CORPORATION. "The addition of Ambisonics support to our industry leading DR-701D will enable yet another dimension of creativity for DR-701D owners and will help to shape the future of digital entertainment, education and information sharing."
| | | | |
| --- | --- | --- | --- |
| Product name | Model | Price | Release date |
| PCM Recorder/Mixer for DSLR | DR-701D | Open price | Now on sale |
【Main feature of V2.00】
Support Ambisonics recording in A format/B format
Stereo mix of B format for input monitoring and playback through headphone out and line output
Support AmbiX and FuMa for B format recording
Support input monitoring and line output with stereo mix of B format source
Four XLR inputs with +48V phantom power
GANG function for precise control of 4 channels at once
Selectable mic positioning allows flexible setting of Ambisonic mic(Upright/Upside down/End Fire)
* When the ambisonics mode is selected, functions such as mixer, auto gain control, dual rec, plug-in power, delay settings and phase reversal will be disabled.
【Links】