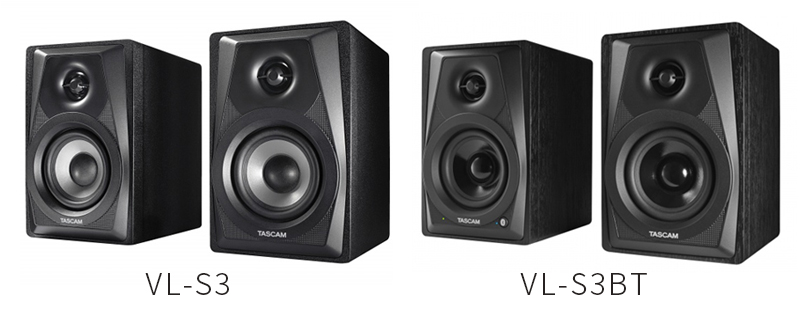 This model has been discontinued.
Creates high-quality music through the sound production that makes mutual use of headphones and speakers
Even in this day and age in which many excellent monitor headphones are being sold, there are many elements that cannot be checked by relying only on headphones during music production. However, it is not easy to replicate an environment where you can blast music like when using large-scale monitor speakers. Unlike in the past in which most of the production was done in a studio, it is becoming more and more important to create an excellent monitoring desktop environment at one's home in order to create high-quality pieces of music. The VL-S3 is a speaker that will be optimal for creating such desktop monitoring environments. It has a 2-way built-in (powered) amplifier monitor speaker pair with a compact size of 110mm x 170mm and a wide frequency response of 80Hz-22kHz.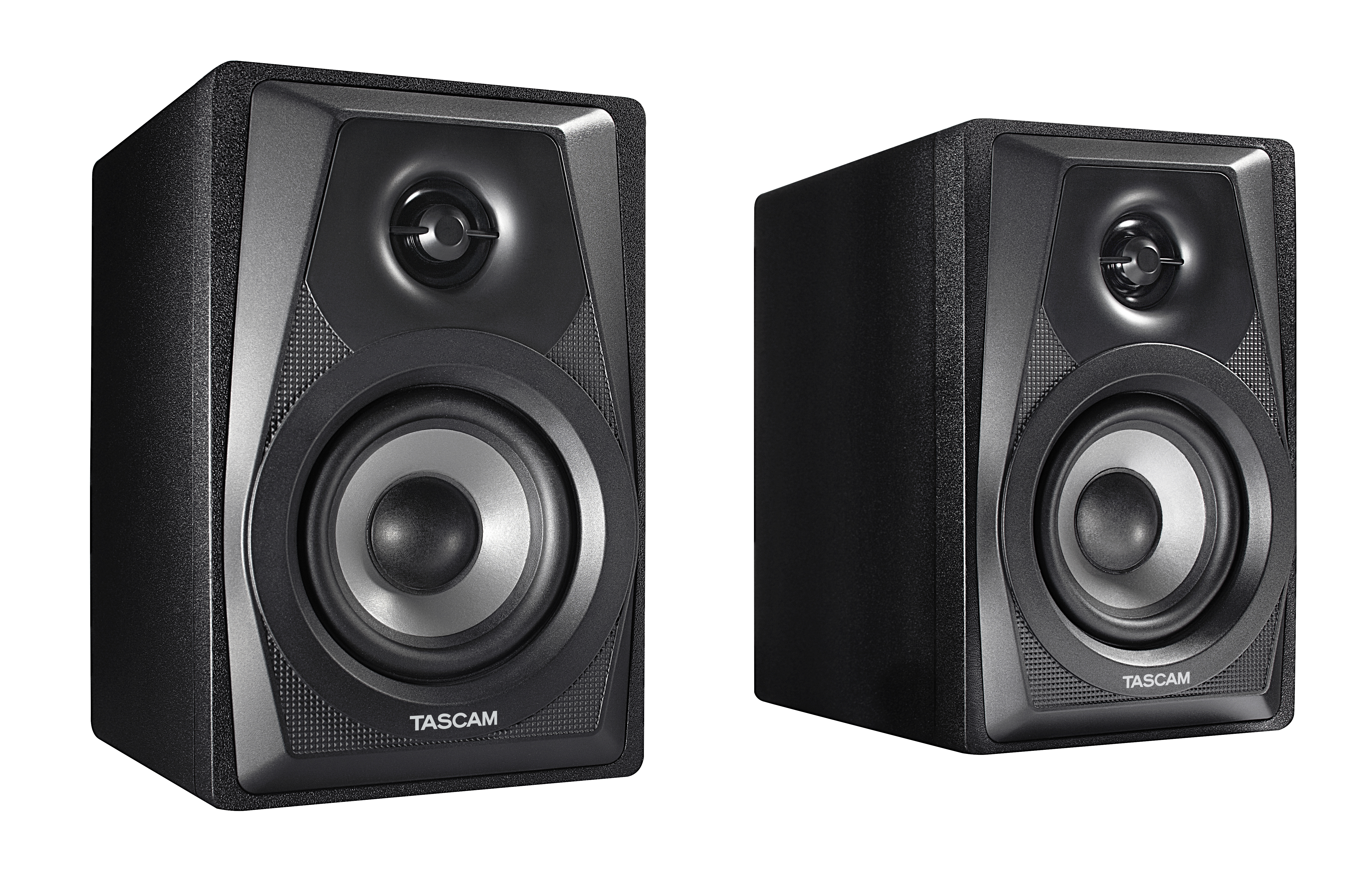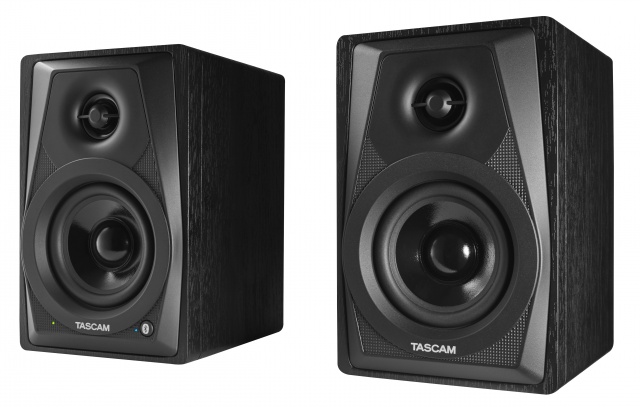 Delivers clear, rich monitor sounds even during low-volume playback
The size that does not force restrictions on installation location enables VL-S3 to be installed in production environments comprising of a laptop and compact audio interface without a hitch. Not only does this make it perfect for a PC and DAW environment, the VL-S3 also works great in a production environment that utilizes compact MTR, including the TASCAM DP-006. The power amplifier output of 14W+14W is enough for a home environment, and the VL-S3 reveals its true value at low volumes; well-balanced monitor sounds can be provided even at low volume. You can comfortably utilize these speakers even at night or other times when you can't easily play at full volume.
Equipped with RCA and stereo mini phone jack input
Equipped with a RCA and a stereo mini jack input, the VL-S3 can be connected to many acoustic devices, as well as mobile music players using the separately-sold conversion cable. In addition, an RCA to phono conversion cable is included for sources such as TASCAM audio interfaces and other devices that use a phono output jack.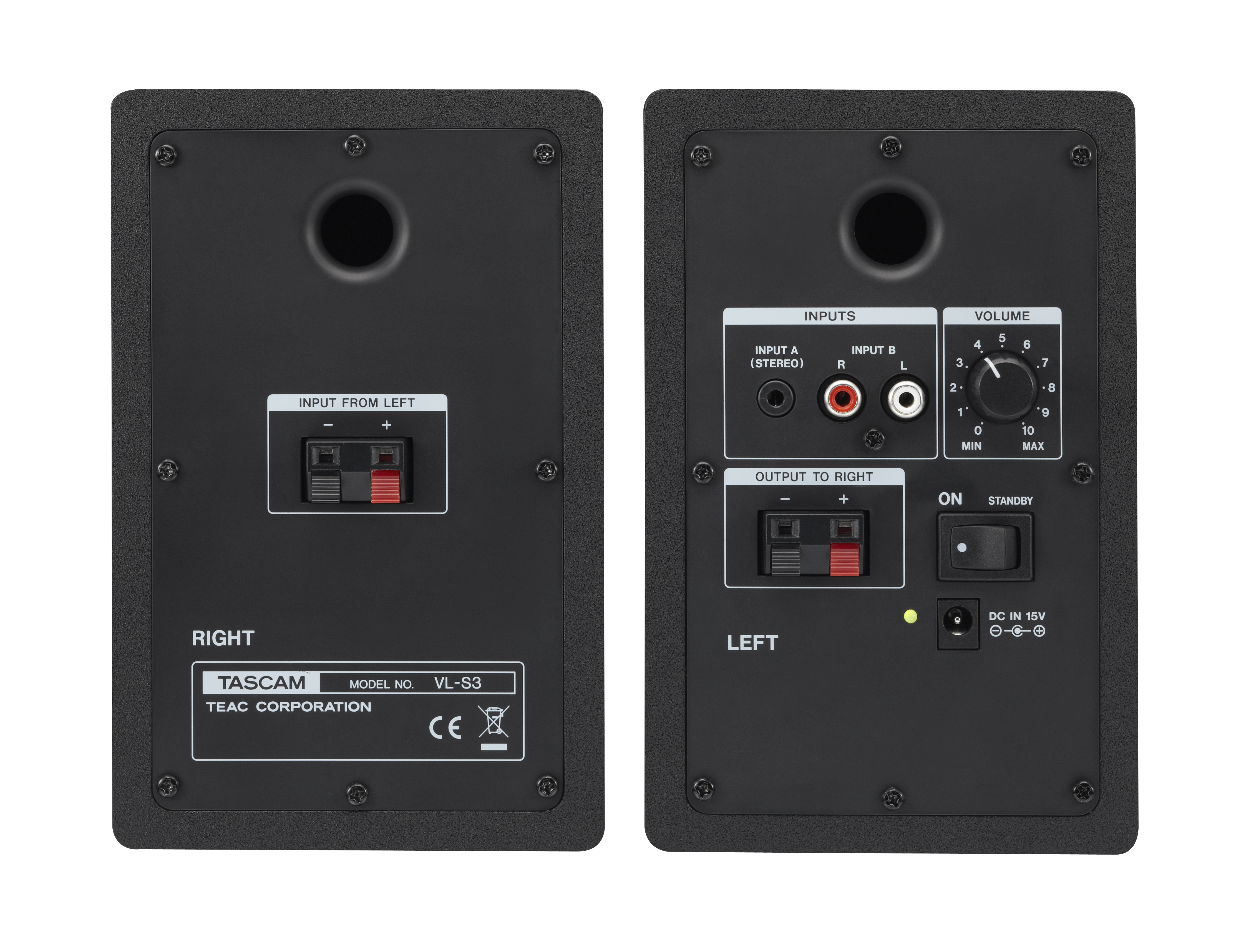 Recreates a studio-like monitor environment at one's desktop
The VL-S series has been newly added to the lineup of the already-successful VL-X series, VL-A series, and VL-M series.
The VL-S3 is a new addition to the TASCAM monitor speaker series that meets the needs of the production environment that is constantly changing rapidly. The VL-S3 recreates a monitor environment that matches that of a studio at your desktop, paving a way to a next-level music production.
Compact 4.5" x 6.7" Cabinets Fit Almost Anywhere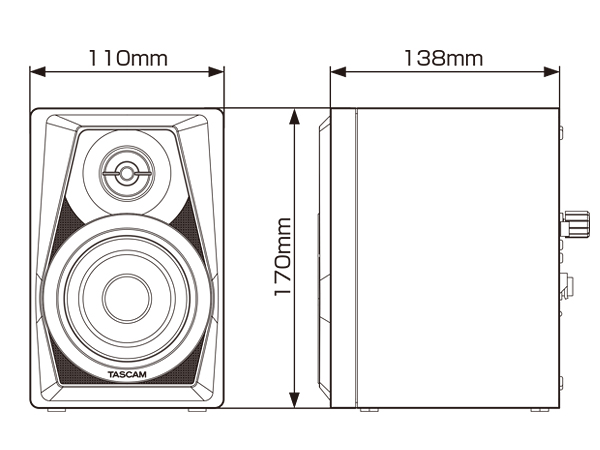 Even with professional 2-way drivers and rich power amplifier, the footprint is a compact 4.5" x 6.7" (110mm x 170mm) - perfect on a desktop or next to your laptop PC. There's no need to make space for speaker stands. The compact monitors can fit below many monitors or in crowded machine or server rooms.
2-way system and bass reflex port provides a wide frequency response of 80 Hz to 22 kHz.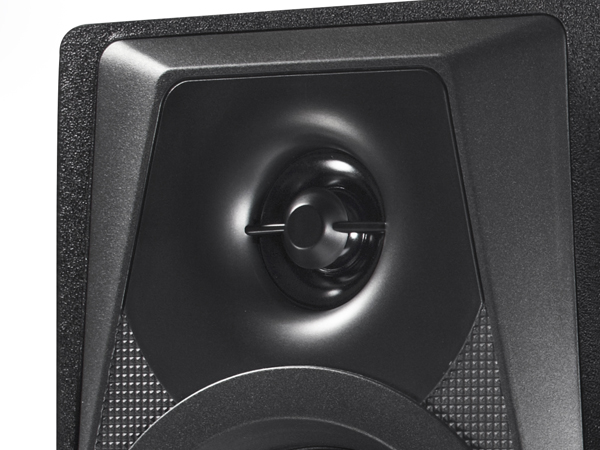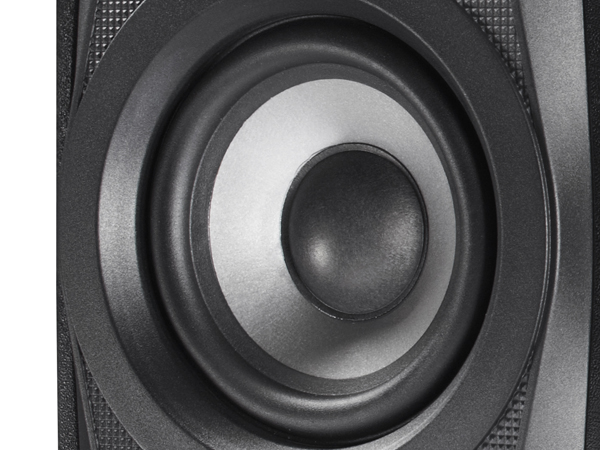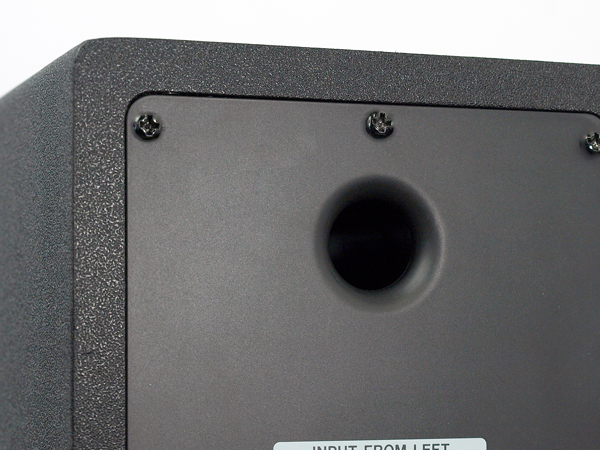 Even though they're priced like standard PC desktop speakers, the VL-S3 provide professional monitoring quality. With a frequency response of 80 HZ to 22 kHz, every sound is faithfully reproduced - from the body resonance of a bass drum to a tinkling wind chime. The wide response is reproduced by the 2-way system design - consisting of a woofer, tweeter, and the bass reflex port located on the rear of the cabinet.
Built-in Power Amplifier with 14 Watts Per Channel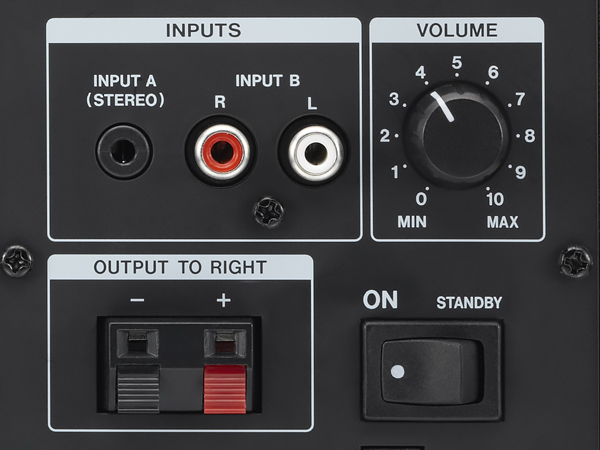 Designed specifically for desktop systems, the integrated 14 W + 14 W power amplifier provides you not only powerful, full volume monitoring, but also features well-balanced sound at low volume. The VL-S3 work great in areas where excessive volume might be a problem, such as bedrooms, dorm rooms, and apartment buildings.
RCA and Stereo Mini Jack Line Inputs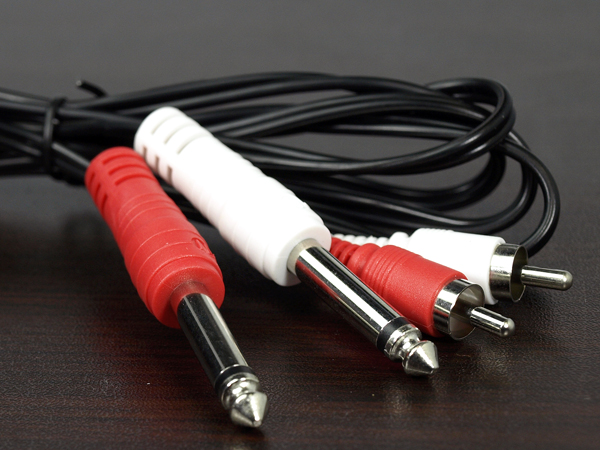 The dual RCA inputs provide a common, compact interface for connecting with unbalanced sources. A 1/4" stereo phone plug to RCA conversion cable is included for sources like an audio interface or Portastudio with a 1/4" phone output jack can be interfaced.
The VL-S3 also includes a 1/8" stereo mini input jack, which automatically shuts off the RCA inputs. Using a standard stereo mini cable, a portable MP3 player, iPad or smartphone can be connected.
---
Features at a Glance
Power amplifier output: 14W + 14W (Left speaker contains the power amplifier)
3-inch woofer/0.5-inch tweeter
Bass reflex port
Specially tuned 8kHz crossover circuit – well outside the vocal range
RCA terminals(stereo) and 3.5mm stereo mini unbalanced input(the stereo 1/8" mini jack is preferred)
Volume control
Power switch/Power LED
Dedicated AC adapter included (TASCAM PS-P1524E)
RoHS certified
Spec description
VL-S3
VL-S3BT
Maximum effective output (distortion:10%)
14W+14W
Speaker units
woofer
3"(76.2mm)
tweeter
0.5"(12.7mm)
Enclosure
Bass reflex type
Frequency response
80Hz - 22kHz
Crossover frequency
8kHz
Sensitivity
-4.8dBV(580mV) 14W+14W
External input jacks
RCA pin-jacks(stereo), 3.5mm(1/8") stereo mini jack
Input impedance
50k ohms
Bluetooth®
Bluetooth® version
-
4.0
Output class
-
Class 2
Supported profile
-
A2DP
A2DP codec
-
SBC, AAC, aptX®
A2DP contents management
-
SCMS-T
Power
Dedicated AC adapter(PS-P1524E)
Input voltage
AC100-240V, 50/60Hz
Output voltage
DC15V
Output current
2.4A
Power consumption
60W
Dimensions
110 (W) × 170 (H) × 138 (D) mm
4.3 (W) × 6.7 (H) × 5.4 (D) inches
(not including projections)
Weight
Active unit (left)
1.1kg / 2.4lb
Passive unit (right)
1.0kg / 2.2lb
Included Accessories
AC adapter (TASCAM PS-P1524E), Speaker cable, RCA-6.3mm(1/4") standard TS jack adapter cable, Owner's Manual (including warranty)