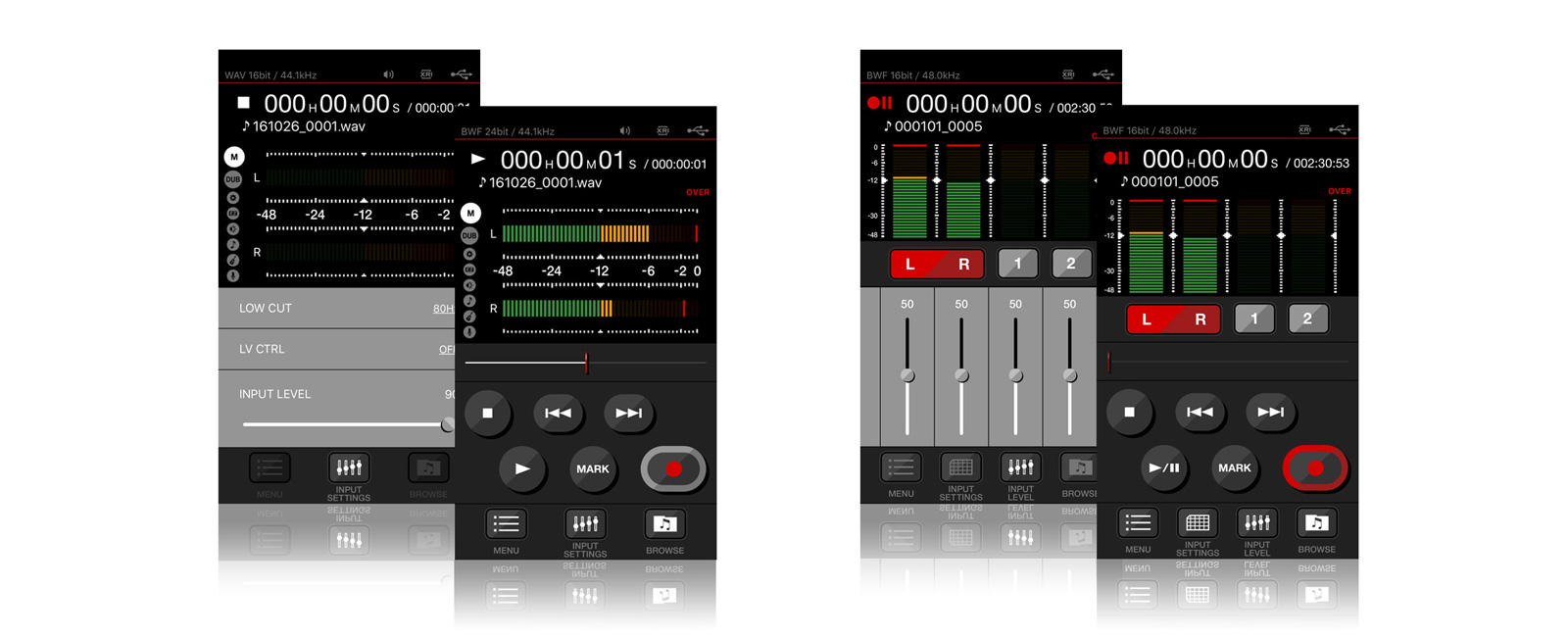 The TASCAM DR CONTROL is an iOS/Android application that controls the DR-22WL and DR-44WL TASCAM linear PCM recorders via Wi-Fi. By using a smartphone or tablet in combination with the DR-22WL/DR-44WL, you can enjoy a handy recording process free from worries about the installation location.
Sharing the Recorded Audio Files in other Apps and Cloud Services
The recorded audio files can be shared on email, memo, Dropbox, or other OS standard apps. This allows users to transfer the recorded audio files to other users, or upload them for data management.
Renaming or Deleting the Files
Files saved in the App or in the DR-22WL/DR-44WL can be renamed or deleted. Even if there are too many takes, file management is now made easier.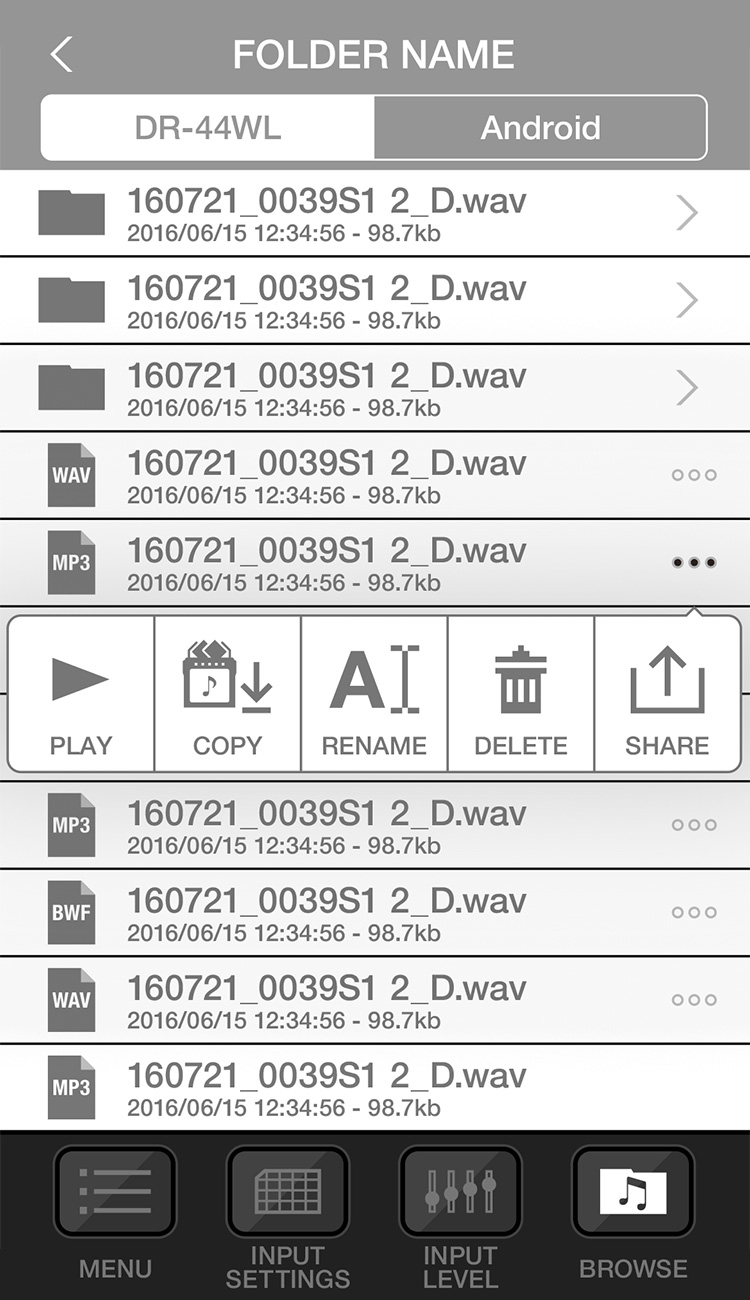 Renovated Graphic Design Allows Easy, Intuitive Operation
The recording level monitoring is always an important task during the recording; the latest update added colors to the level meters, improving the legibility. The windows for setting, input level adjustment, and browser have also been refreshed. It offers even easier-to-read design for more intuitive operation.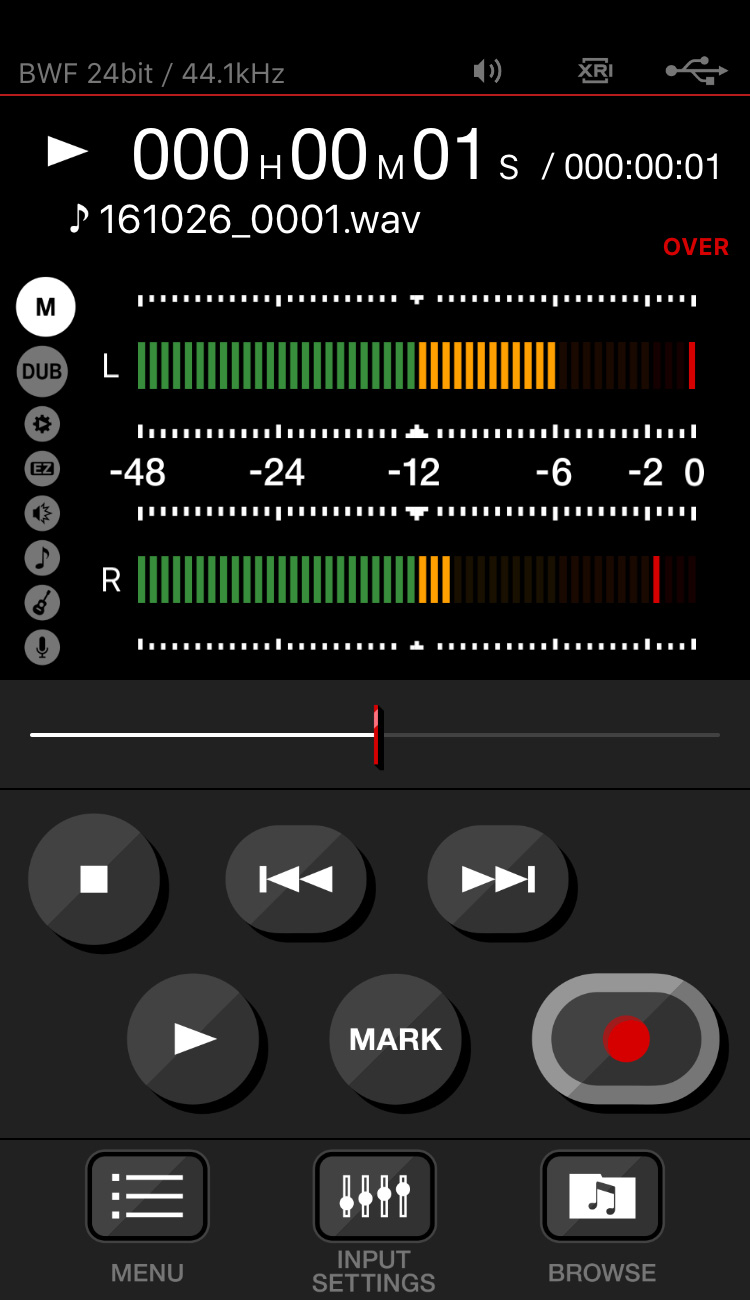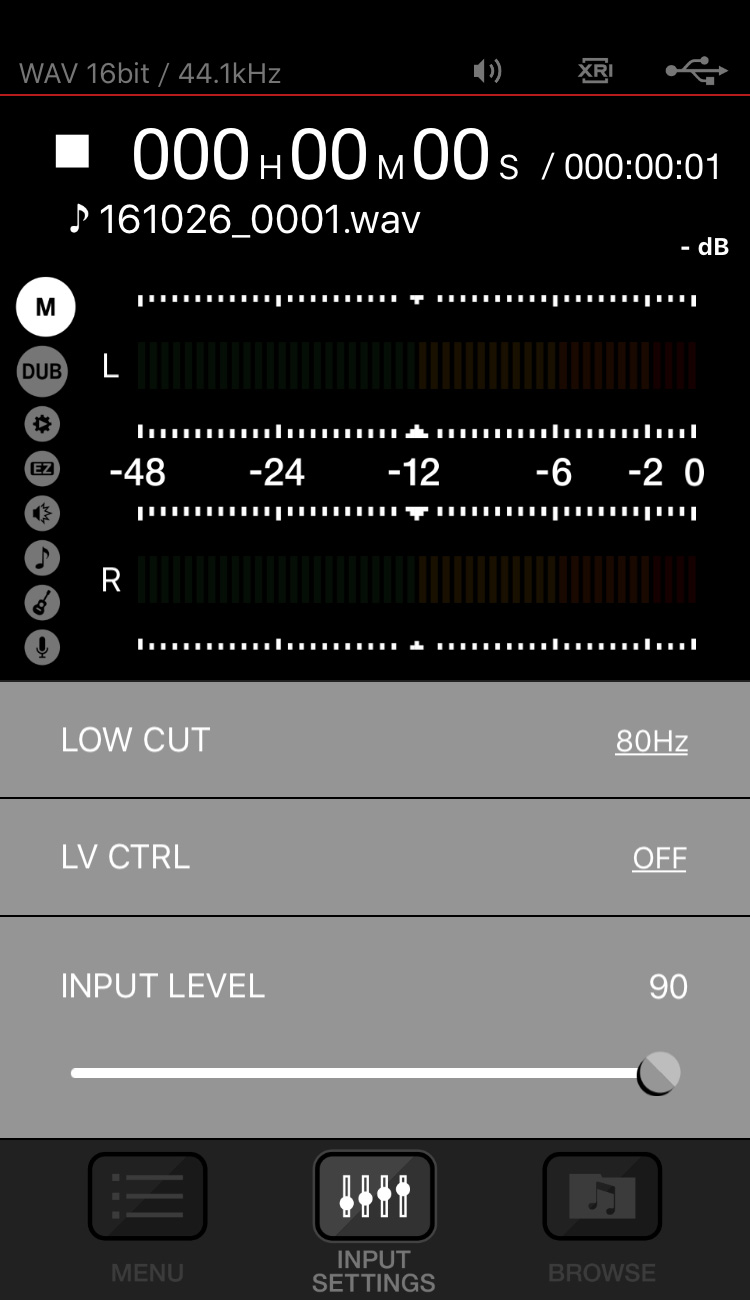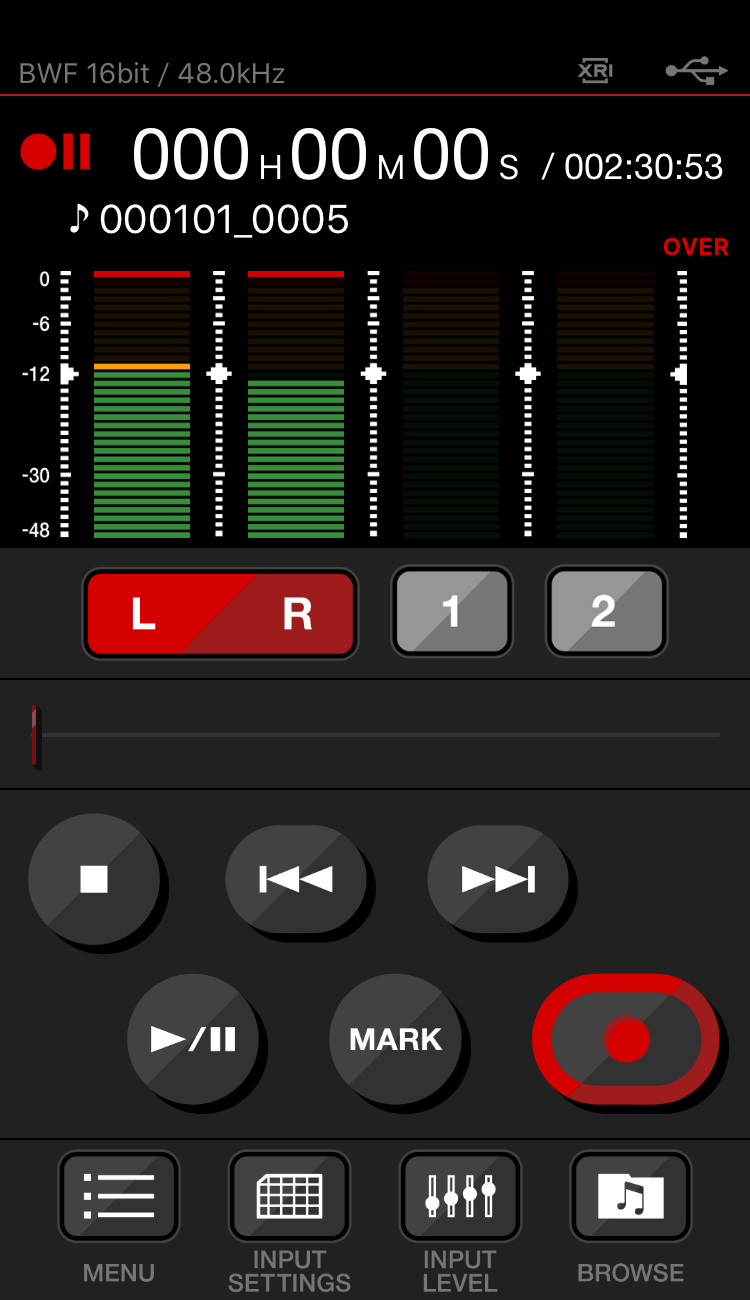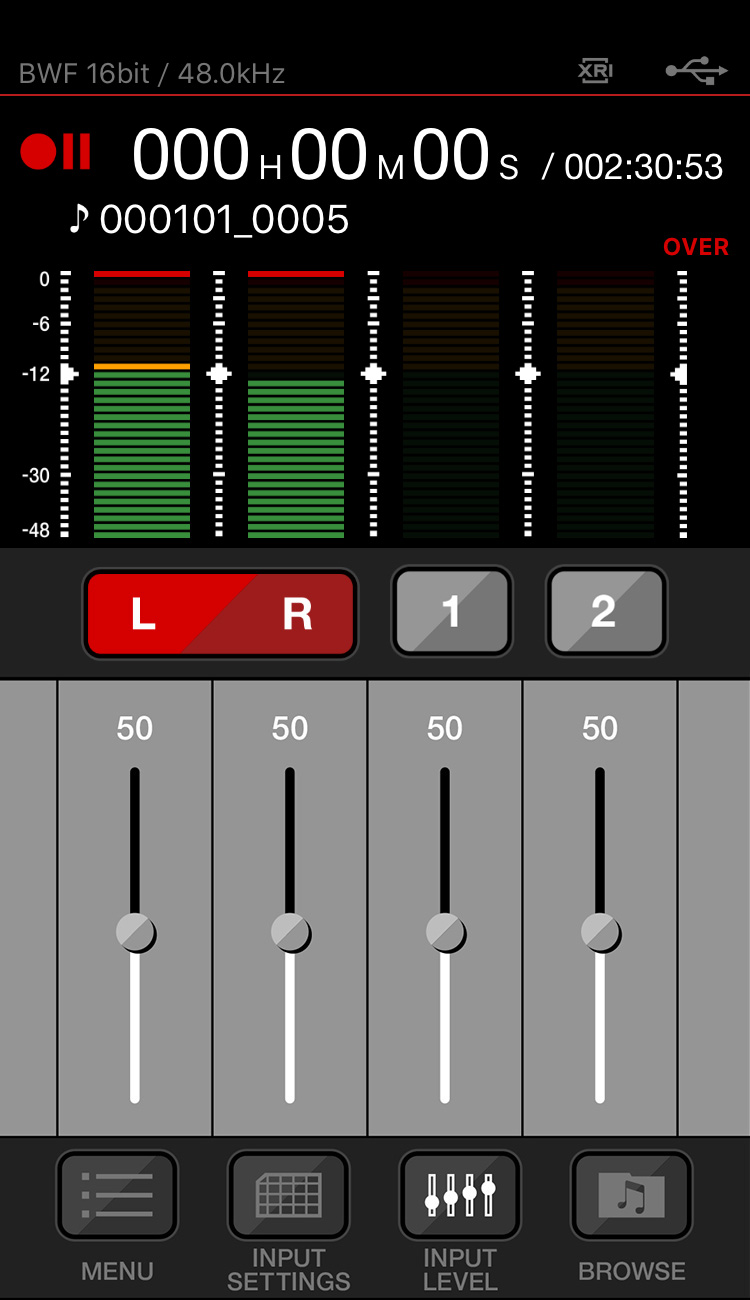 Equipped with XRI functionality that embeds GPS information and settings information in the recording file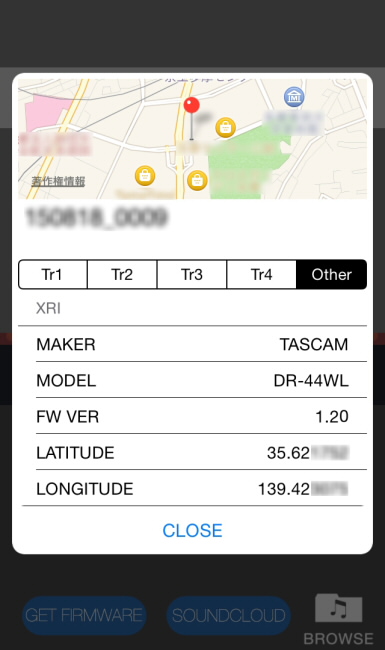 XRI is a function that stores the recording settings after each recording. This function allows the user to identify the recorder used, as well as the settings. XRI information can be displayed on XRI-compatible models and applications.
While using the DR CONTROL smartphone app, GPS information of the recording location can be embedded. This function is useful for outdoor sound-gathering recordings. XRI information is accessible on the main unit or from the DR CONTROL app.
XRI function supports BWF format recordings. Three modes of operation can be selected - OFF/ON/ON+GPS.
OFF:Extended recording information (XRI) is not recorded.
ON:Extended recording information (XRI) is recorded into the BWF file.
The following information is included…
MANUFACTURER (Manufacturer Name): Recorder's brand name
MODEL (Model Name): Recorder's model name
FW VER (Firmware Version): Recorder's Firmware version
SOURCE (Input Source): Sound input method (input terminal or microphone)
INPUT LV (Input Level Setting): Input level setting
LOW CUT (Low Cut Filter Setting): Low cut filter setting
LV CTRL (Level Control Setting): Recording level - automatic control function
EFFECT (Effect Setting): Effect ON/OFF
ON+GPS: In addition to the above information, GPS information of where the recording was initiated (LATITUDE/LONGITUDE) is recorded.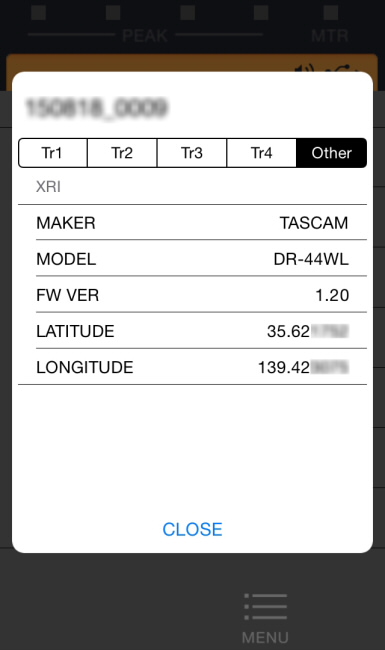 XRI compatible models
DR-22WL
DR-44WL
* All images are captured from DR-44WL. DR-22WL has same menu and settings.
* With DR-44WL, XRI function can be used only in 4CH mode.
* XRI function is effective only in BWF format.
* Default is "ON." To use GPS information, change setting to "ON+GPS."
* XRI function is planned to be incorporated in more TASCAM recorders and applications. The specifications are available to other manufacturers considering incorporating this function into their products.
Remote Wi-Fi operation eliminates handling noise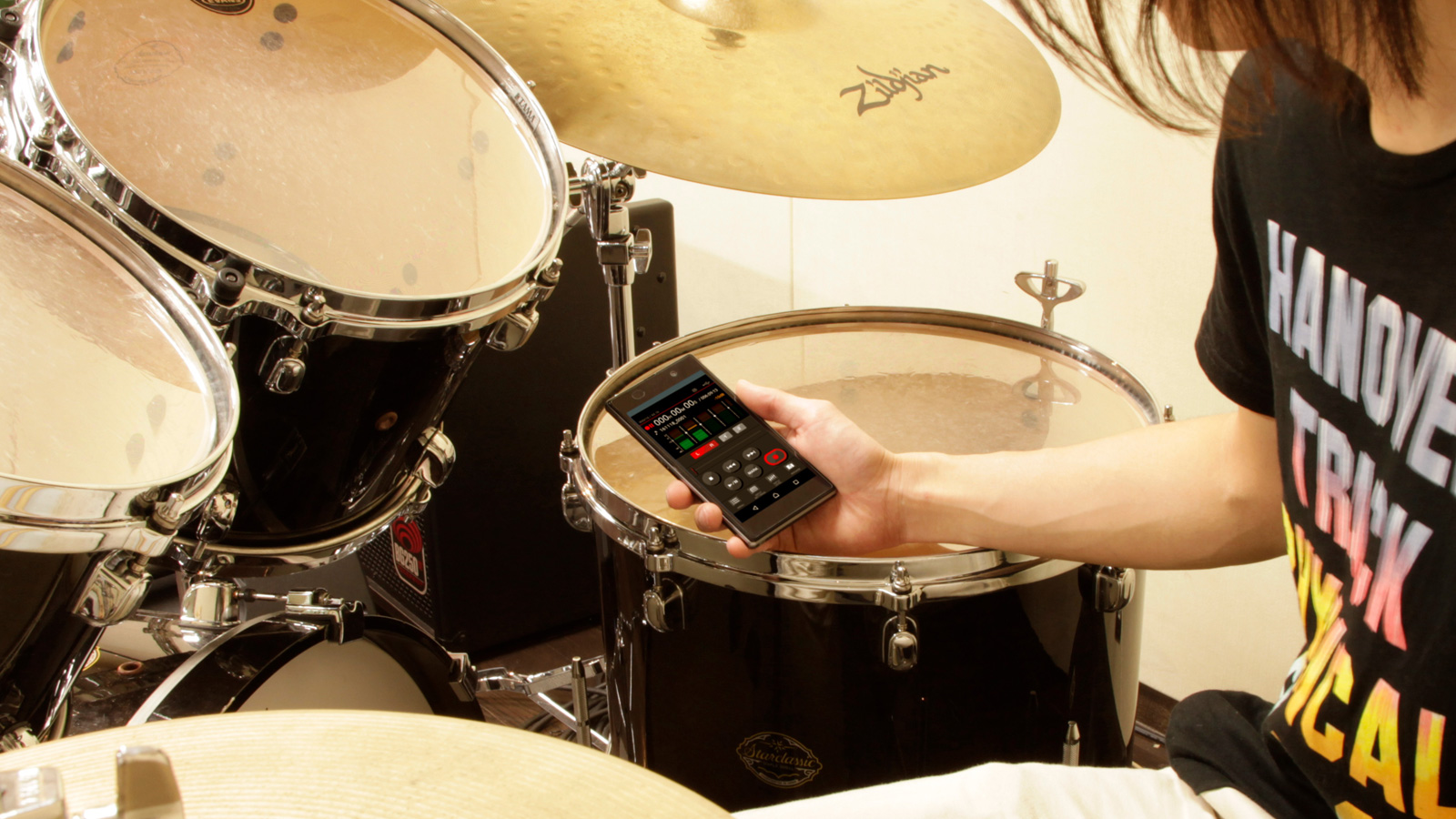 Since the Wi-Fi transmission range is about 20m/65 feet, this feature can be used with the recorder in places that are normally out of reach. In addition, audio can be checked by Wi-Fi after recording. The audio quality can be checked through headphones connected to a smartphone. With operation capabilities and flexibility that exceeds infrared remotes - and reliability that approaches that of wired remotes - these handheld recorders allow freedom of placement that far surpasses that of previous models.
Check recorded audio using wireless playback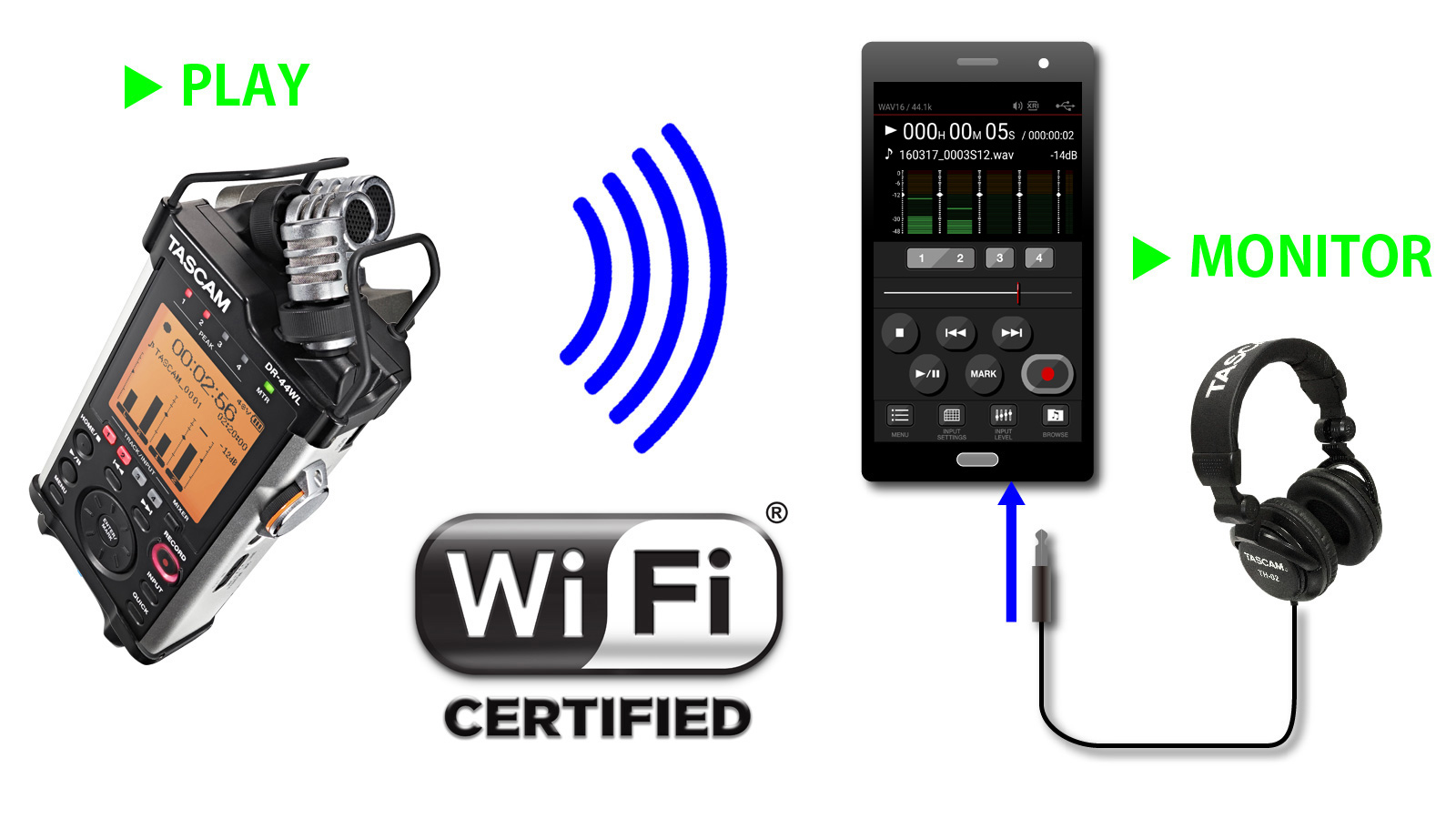 With conventional remote controls, operation was possible, but checking audio was not. With the DR-22WL, recorded audio can be transmitted via Wi-Fi to a smartphone for streaming playback. Even when the DR-22WL is in a place that is out of reach, this capability allows the user to check audio from the headphone jack of the smartphone.

Note: the string playback function is intended for checking audio that has already been recorded.
Remote control functions
TRANSPORT
REC
Rec Function
Rec Ready
Record
Rec Pause
Rec Stop
PLAY
Play
Pause
Track Skip
FF/REW
Direct Locate
Mrak Skip
SETTING
MODE SELECT
4CH mode / MTR mode
REC SETTING
Format
Sampling Rate
Pre Rec
Self-Timer
Dual Level Recording
Dual Format Recording
MS Decode
MS Decode Source
INPUT LEVEL
INT MIC 1 LEVEL
INT MIC 2 LEVEL
EXT IN 1 LEVEL
EXT IN 2 LEVEL
INPUT SETTING
Track/Input Assign
Stereo Link
Input Delay
Low Cut Filter
Level Control
FILE TRANSFER
BROWSE
FILE/FOLDER List
File Transfer
Upload to SoundCloud
MONITORING
Playback Monitor
DISPLAY
Time Counter
LED
Level Meter
OTHERS
DR Firmware Update
Time Adjust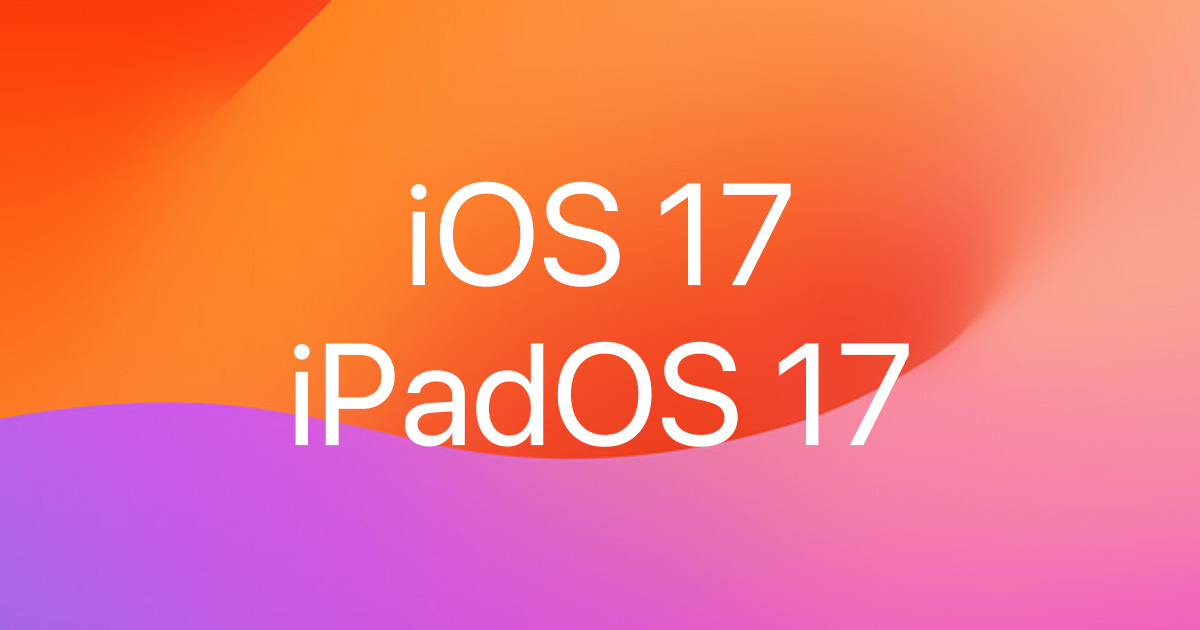 [Updated] Information about iOS 17, iPadOS 17 Update
Learn More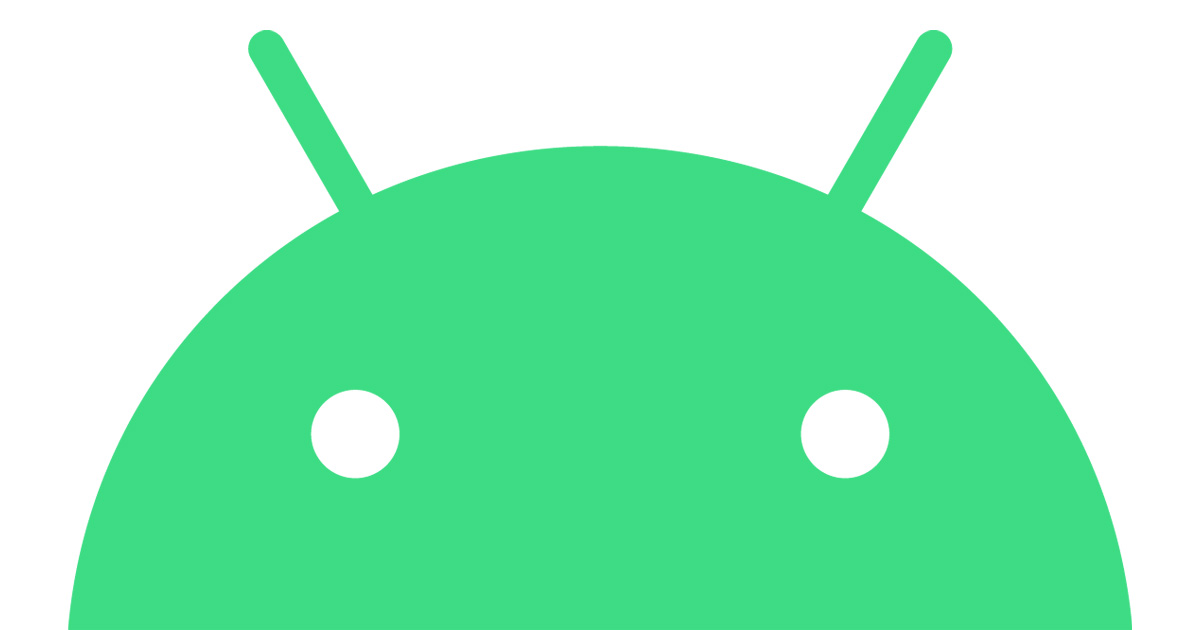 [Updated] Information about Android 13 Update
Learn More
Supported OS' (PC)
iOS
iOS 16 , iPadOS 16 , iOS 15 , iPadOS 15 , iPadOS 14 , iOS 14 , iPadOS 13 , iOS 13 , iOS 12 , iOS 11
Android
Android 13 , Android 12 , Android 11 , Android 10 , Android 9.0 Pie , Android 8.0 Oreo , Android 7.0 Nougat , Android 6.0 Marshmallow
Information
Latest version info
TASCAM DR CONTROL for Android (Android 10 - 13)
V2.2.1
TASCAM DR CONTROL for Android (Android 6 - 9)
V2.1.0
TASCAM DR CONTROL for iOS
V2.1.1
TASCAM DR CONTROL for Android V2.2.1
Android 13 is now supported.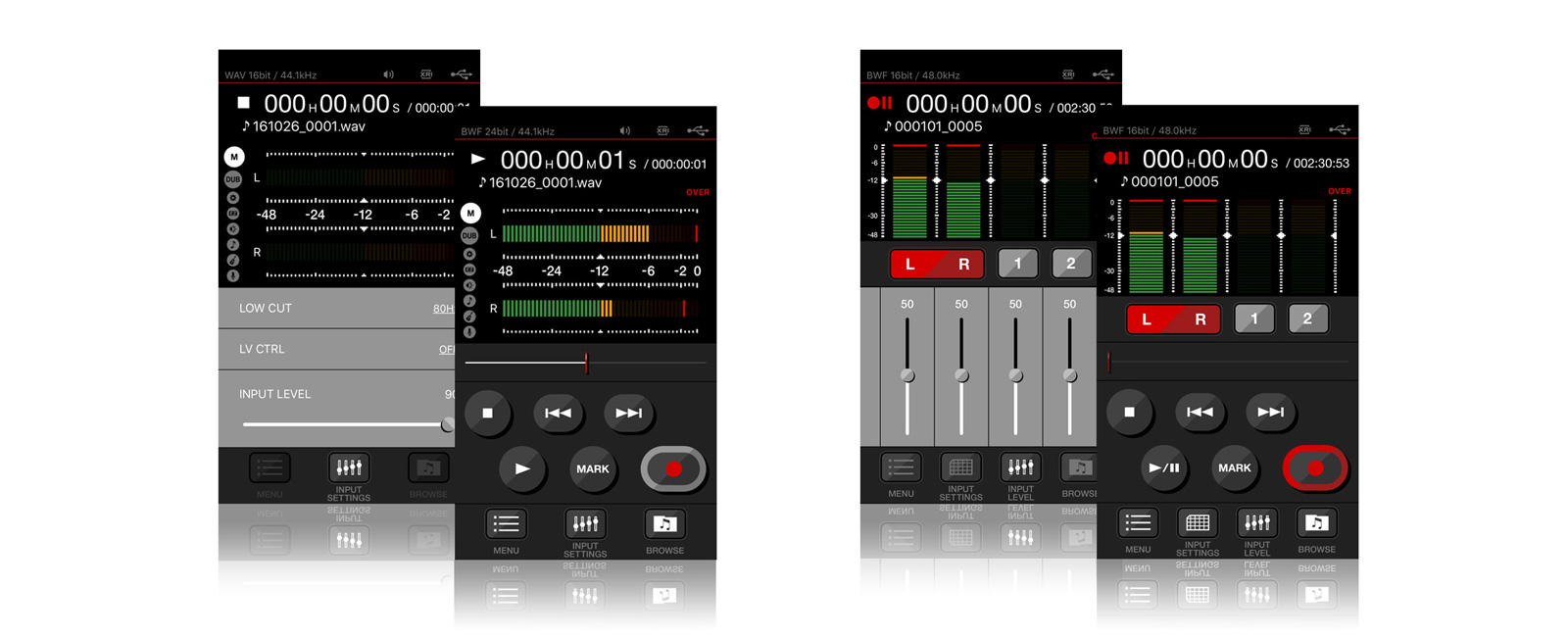 Notices About Products
FAQs
Some (not all) Android devices have a setting called "Avoid No Internet Connections." This is found in the Wi-Fi settings under Advanced. It tells the device not to "use a Wi-Fi network unless it has an Internet connection." Uncheck this box.