Learning how to record from scratch with the iXZ, from demos to final takes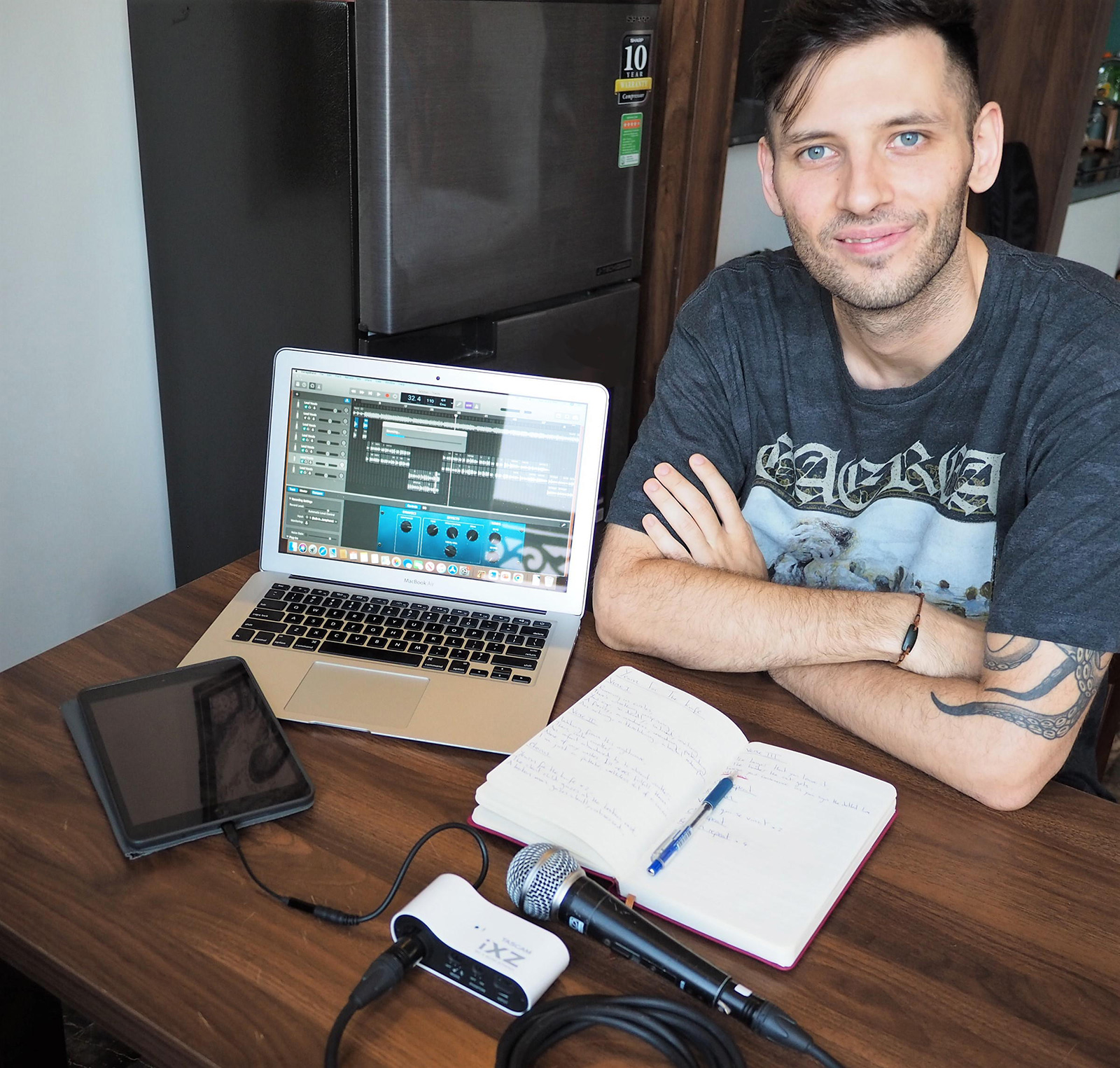 Hanoi, Vietnam – October 2022... Something that never ceases to amaze us is the human ability to turn something negative into something positive. In the most subtle and modern way, COVID had us coming up with all sorts of different ways to stay productive and cope with the boredom of being stuck at home due to lockdowns. Like many others, Liam Wright, vocalist/lyricist of Hanoi-based melodic death metal band Rêvasseur, learned from scratch to record his own vocals for the band's debut EP "In Doubtless Memory" with the help of the iXZ portable audio interface.
After many efforts to keep the virus at bay, a major lockdown was declared late in July of 2021 in Vietnam, with overwhelming numbers of new infection cases reaching over 18,000 people per day, and Hanoi city was no exception to this lockdown, "My guitarist gave me the iXZ to record my demos at home during the pandemic," explains Liam, "So that we didn't have to go to a recording studio or anything like that. Could just do it at home, or wherever we ended up being." What was first to be for recording demos, the iXZ actually became the mains that recorded the vocal tracks that made it to the EP. However, it wasn't always a smooth start for Liam, "To be honest, before the band and stuff, I had no idea about anything relating to recording. But through the band, the guys kind of educated me a little bit," Liam adds, "There were definitely moments of me struggling with the iXZ and screaming at the computer. But that's more to do with me being a bit of a techno foe, and there were many moments when I just forgot to turn the interface on. It was more like a trial and error, but it's super easy now."
Liam started to get a hold of recording songs from the comfort of his own place with some help from YouTube tutorials and google searches, "A friend of mine who's very into recording told me about GarageBand, which I use as a kit to just have fun, mess around," Liam mentions, "So I downloaded it and I started looking at YouTube, how to record using the iXZ. And a lot of the guys who were recording with TASCAM were recording with Garage Band too. So YouTube and Google educated me, basically. And then from that rest is history, started recording."
Liam explains he uses the iXZ with a standard dynamic microphone connected with an XLR cable, "I use the GarageBand app on my iPad. I normally get all the stems on there and then I AirDrop it to my laptop. You can do more as you can really refine the timing and things like that on the Mac version. And then I basically zoom in and adjust or mix anything as well. When I did the recording for the EP I didn't know how to edit tracks or add any sort of vocal effects, so I just sent the rawest of raw files converted to wav, with the demos that I'm making now, it's the opposite. Again, I'm still learning this stuff."
Given the compactness and portable features of the iXZ, Liam states, "I know on iPhone you can obviously just record a voice-over or something like that, but let's say you want to get rid of any background noise because pert sounds are too strong on the iPhone. But if you've got the iXZ, you can whip up a quick voice-over as well. I think the convenience of how small it is and just the fact that it plugs into your device are all definitely advantages."
Seeing growth among the young rock scene in Hanoi in recent days, there is no doubt Liam and his band are gathering attention not only musically, but also technically, speaking well of the iXZ sound quality, "We put up a lot of our music on to social media, and I also do cover songs, so some of the younger guys, they ask me "how are you recording this?" or "Where are you paying to get this done?" and I'm like "I'm not paying anywhere, just doing it at home man." ending the note with, "To my ear, it sounds all right. I use quite an inexpensive microphone, but that's the thing, that's why I'm impressed with TASCAM because for what it is, it sounds pretty good."
You can listen to Liam's roaring vocals with his band Rêvasseur over Bandcamp