Podcast setup and creation is effortless—enabling her to focus on the message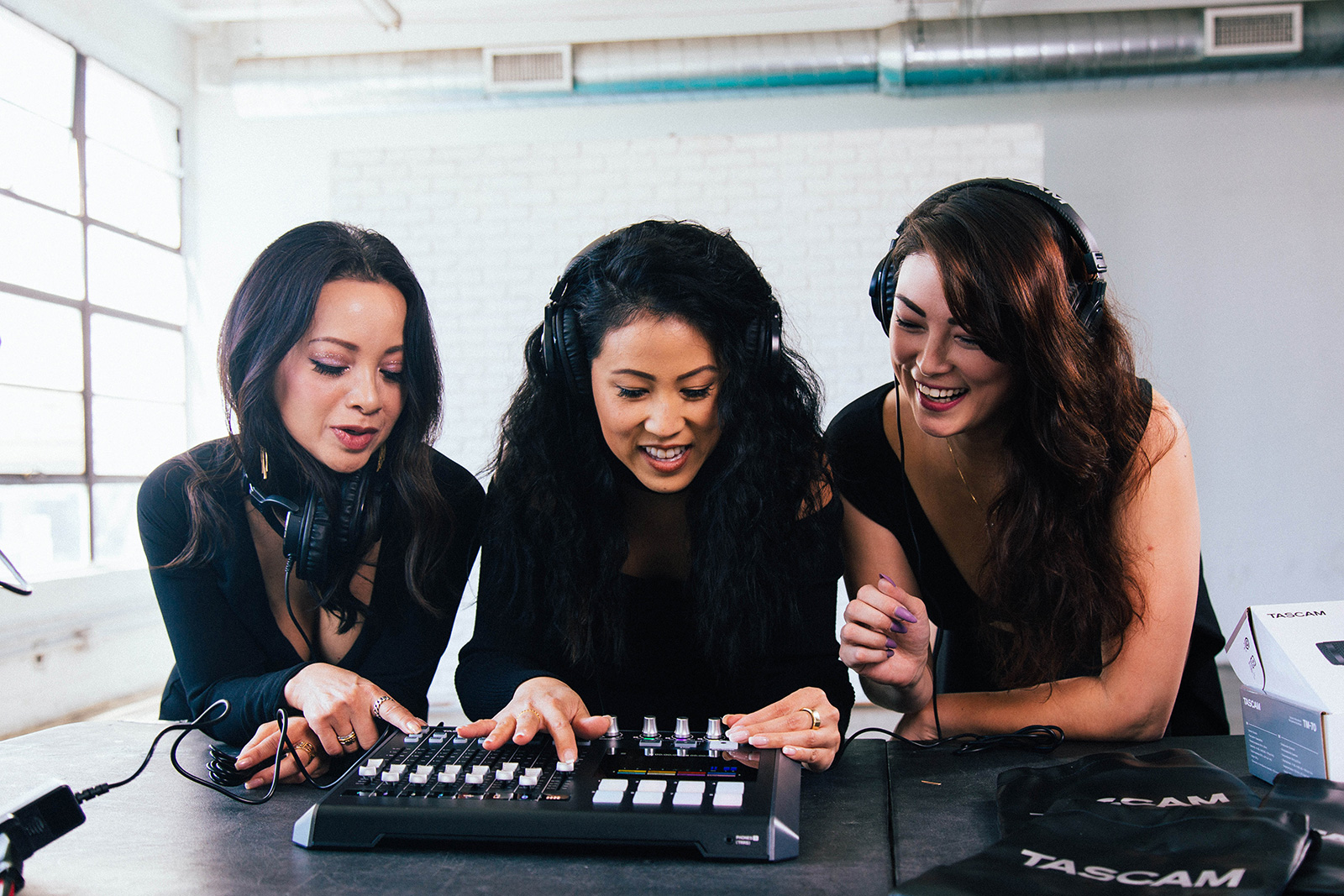 Sherman Oaks, CA, USA – October 2022... As an on-camera personality/influencer, producer, director, cinematographer, content strategist, and educator, Nicki Sun is passionate about amplifying marginalized voices in front of and behind the camera. She is the creator and host of Now You Know (https://technicki.info/nowyouknow) a talk show spotlighting key celebrities and leaders within the API community (Asian Pacific Islander), TechNicki Speaking (https://technickispeaking.com/), a tech channel dedicated to empowering content creators and spotlighting women and BIPOC (Black, Indigenous, and People Of Color) creators, and has recently entered the world of podcasting with much ease, thanks to TASCAM's Mixcast 4 podcast station and TM-70 microphones.
In addition to being the host and content creator for TechNicki Speaking, Sun also serves as the predetermined technical advisor and co-host (along with QuyenZi Pham and Jessie Stafford) of Messy Sexy Me (https://messysexyme.com/), a lifestyle and dating podcast full of messy, sexy adventures of women navigating hectic lives in Los Angeles. Sun has been working with her Mixcast 4 since May 2022 and finds there is much to like.
When queried about those Mixcast 4 traits that she finds most appealing for her creative workflow, Sun offered the following thoughts, "With the Mixcast 4, we've been able to setup and record our podcast in a flash! Being able to plug-and-play with up to four TASCAM TM-70 mics using the included XLR cables designed for this type of application has been a complete gamechanger. It's a total package. The microphones capture the source very accurately and the headphones deliver good, clear quality audio. This is a well-designed setup that enables us to focus on the content without being challenged by the technology. We enjoy using the built-in TASCAM sound effects throughout every episode and we're excited to bring on guests for the first time in Season 2 and evaluate the dial-in function."
With many of today's electronics, questions frequently arise. Hence, responsive, and capable support services can be crucial to keeping a project on schedule. When asked about her experience with TASCAM, Sun offered the following thoughts, "I've never needed to call TASCAM customer support because everything is user-friendly and really straight forward. I'd like to add, however, there are a ton of great YouTube tutorials from TASCAM users, and I appreciate being able to reach out directly to my TASCAM rep! TASCAM has one of the most active social media pages when it comes to being able to correspond with an actual human, and that's a big plus."
"As the 'techie' in our podcast group," she added, "one of my proudest moments was seeing my co-hosts setup the Mixcast 4 without me over the course of the last few episodes. I always want to empower those around me to understand how to use and setup the technology we rely on—and the TASCAM Mixcast 4 is very intuitive."
Before shifting her focus back to the business of creating content, Sun offered these parting comments, "My connection to TASCAM started over a Facebook tag in 2017 when I purchased a DR-10L to help my brother secretly record audio while proposing to his now wife. I'm grateful that the former Marketing Director at that time saw something in me and thus my journey using quality audio capture devices began! It's wonderful to think that I've been able to rely on a myriad of quality TASCAM products to further my career. My co-hosts and I are grateful to TASCAM for making Season 1 of our Messy Sexy Me podcast happen. Being able to use and test out gear that can potentially help other folks in our situation is truly a privilege. I'm happy that we were able to figure out how to use the Mixcast 4 so quickly and record the entirety of Season 1 (17 episodes) on it! That says it all."
To learn more about Nicki Sun, visit the following links: www.nickisun.com, www.technickispeaking.com.