The TASCAM DR-680MKII is a 6 channel mic/line input portable multitrack recorder with digital input that allows simultaneous recording of 8 tracks in 24 bit/96 kHz. It is needless to say that with its compact and robust body, this model is nowadays well-known and loved by field recording professionals and amateurs. At the Yokohama Red Brick Warehouse, while conducting the soundcheck for CURRY & MUSIC JAPAN 2019 festival, Hiroharu Kinoshita, bandmaster and bassist of sensational Japanese Pop/Rock duo PUFFY (also known as Puffy AmiYumi in the US), tells us his story on how he met the DR-680MKII and how he uses it not for its recording function, but as a click/backing track playback unit.
Interview by Kazuyuki Saito (TuneGate) in cooperation with Takahiro Kamo (Teac Corporation)
Photos by Kazuo Kogai
TuneGate: Did Teac ever thought of the DR-680MKII being used as a click/backing track player?
Teac: Not actually. We were reached by another musician a few years ago asking if it was possible to output the click tracks from an MTR unit. However, the current lineup of our MTRs doesn't have parallel output, so we thought it was a difficult matter until we knew about this kind of usage.
TuneGate: And that's the DR-680MKII?
Teac: Exactly. That moment I thought "backing tracks out of the DR-680MKII? Wait, it works!" Now I think about that, out of the other recorders currently in the market, ours is possibly the only one that supports multi-track output.
Kinoshita: And I've been looking for such equipment all the time!
Teac: I didn't even realize it could be used like that.
Kinoshita: Since the DR-680MKII selling point is literally, a field recorder, I only saw it as a very durable unit for various recording situations at first.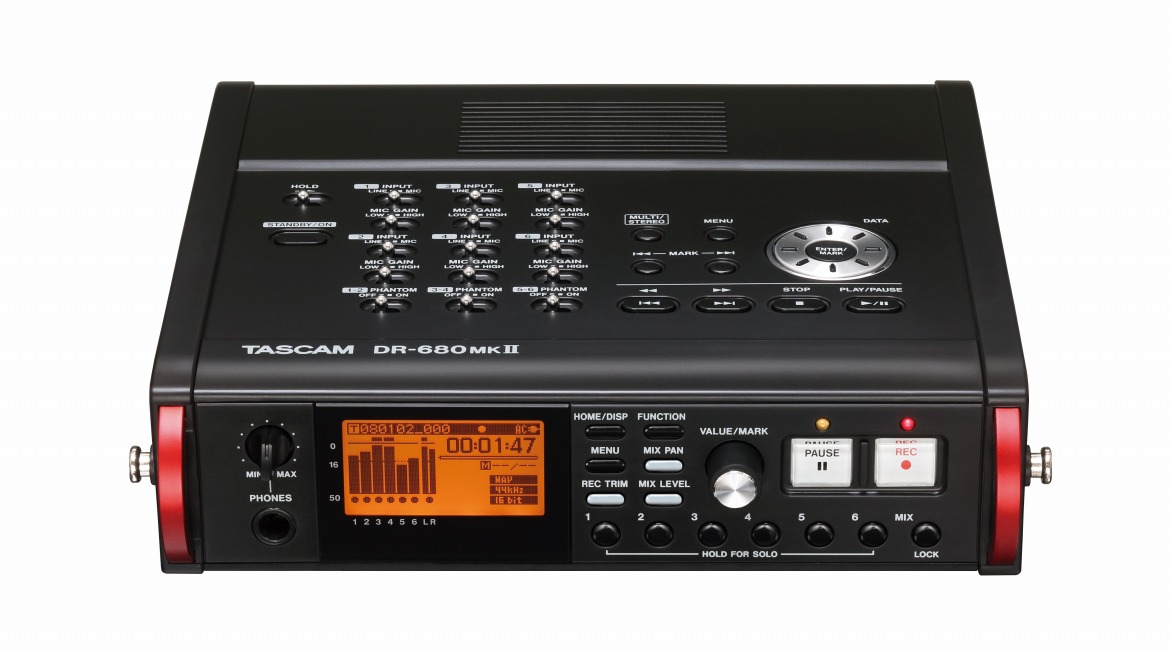 TuneGate: What kind of system environment did you have before to play click/backing tracks?
Kinoshita: I used a PC with ProTools and Logic, and an RME audio interface. Typically, I use 6 outputs on stage. I'm not sure if it's because the power supply here in Japan is more stable, but in festivals or outdoor events, or even with big exhibition halls, which are not really "specialized" to be used as concert venues, for most of the time I didn't face any kind of trouble. But since PUFFY also performs a lot overseas, there were times when this system would suddenly stop during a song.
TuneGate: Could that be a voltage issue?
Kinoshita: Maybe. There's a lot of balancing that has to be done with the lightning and stuff like that too, but there were also times when even my bass sounded with a lot of noise. And so I started to search for another option that could work better than my PC system.
TuneGate: Sounds like an MTR could do such things.
Kinoshita: I also thought about an MTR, but then I thought that it would be a bit too big to bring overseas. In the end, I found the DR-680MKII, realizing that it had 6 outputs.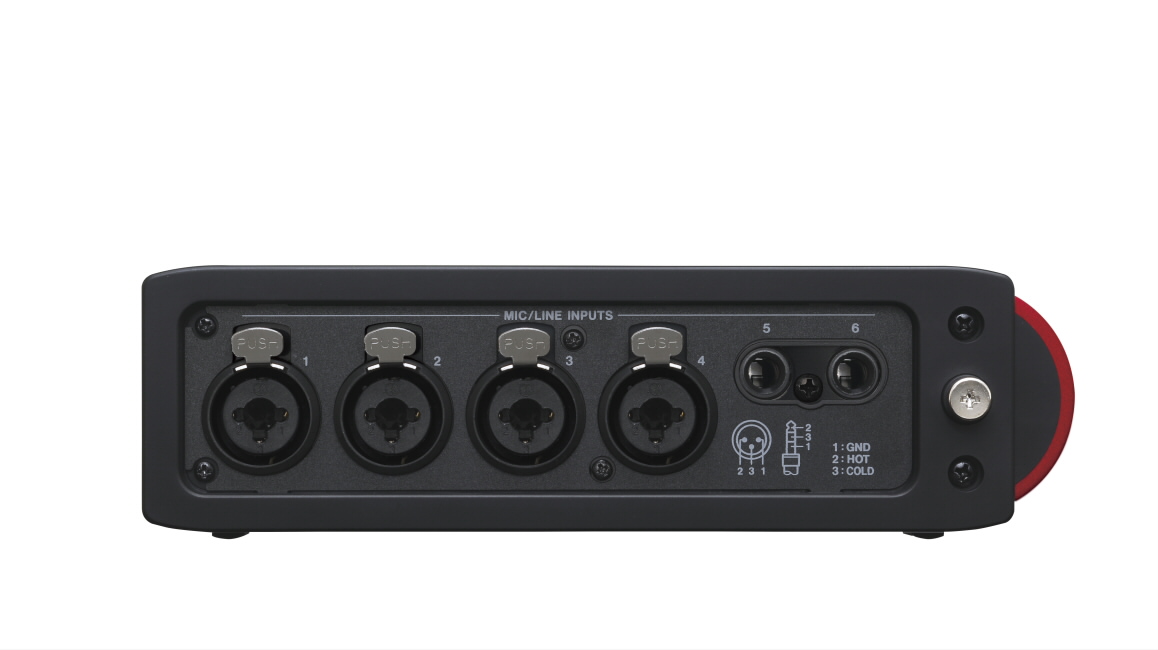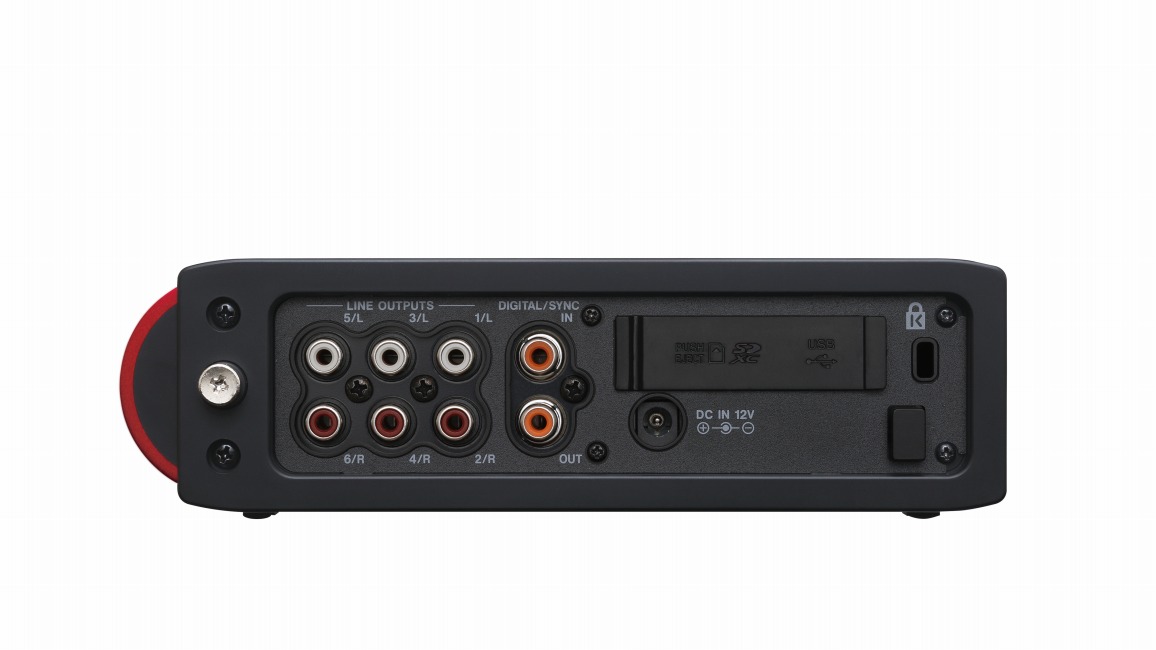 TASCAM DR-680MKII
TuneGate: Approximately when was that?
Kinoshita: I started using it probably like 3 years ago. The MKII version was already out when I got mine, which is a version older than the MKII.
Teac: Before, the DR-680 was only able to record one file per take. The dual recording function was added with a later update, but this enabled playback of multi-track sources made on a DAW. And so click and strings audio files tracks could be imported and assigned to desired outputs. When this model changed to the MKII, this function was added from the start.
TuneGate: So including the click track, do you usually create backing tracks with the intention to assign those to 6 outputs?
Kinoshita: Well yes, channels 1 and 2, 3 and 4 are stereo, 5 and 6 are each one monaural. The click track is in channel 6.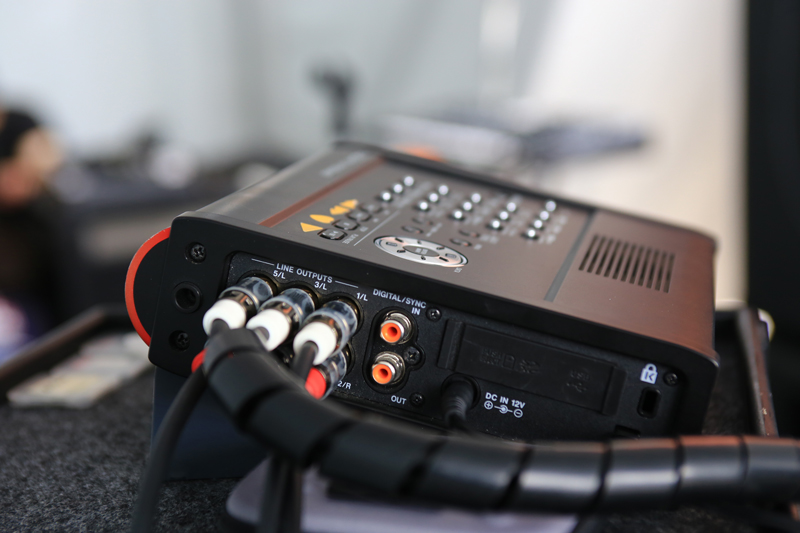 TuneGate: It seems you are using the DR-680MKII as a multitrack output machine, instead of as a field recorder.
Kinoshita: Yes, in that sense I kind of feel sorry for the manufacturer…
TuneGate: It is quite amazing that you thought of using the DR-680MKII this way. How come you noticed this?
Kinoshita: I was familiar with the TASCAM brand since I used to own a TASCAM 246 multitrack cassette recorder during my years as a student. Knowing that the brand was a pioneer in multitrack functions, I searched through their products looking for something that matched my needs.
TuneGate: What was the most important feature you were looking for?
Kinoshita: Something that could simply send 6 outputs and without trouble. The only operations I do on live performances with my computer is pressing start, stop, or cueing the next song. Indeed, you can do a lot of things when editing with a computer, but on stage, you don't need that many functions. At least in my case, I don't edit tracks on stage. That's why I wanted something simpler that could omit the functions I don't use and doesn't cause equipment troubles.
TuneGate: How's the durability of DR-680MKII after actually using it?
Kinoshita: It's been 3 years now since I started using it, but it has never failed me. Even if accidentally shaken or in the rain.
TuneGate: It worked fine in the rain too?
Kinoshita: Yes, that's one of the consequences when performing at outdoor events.
Teac: I have seen them use the DR-680MKII even during heavy storms.
Kinoshita: The staff would usually put a plastic sheet on the equipment during heavy rains, but rain still has its way to get inside. When I used my computer, I was always afraid that it would stop working during performances, so I wasn't able to concentrate on my playing. But now with the DR-680MKII, I can really put my trust in it, and so there's no need to worry about the system stopping. For me, that's a great thing!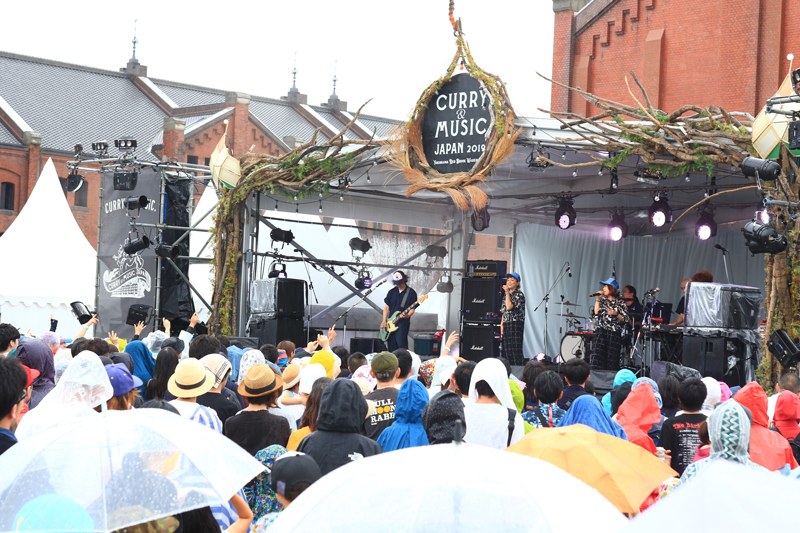 TuneGate: What about the battery conditions?
Kinoshita: I noticed that they work with AA batteries as well. What got me a little bit by surprise was the fact that if the AC adapter accidentally unplugs, the unit seamlessly switches to battery supply without stopping any operation.
TuneGate: Do you normally use batteries when performing outdoors?
Kinoshita: I usually have it plugged into a power supply, but in case there are electrical troubles, I tend to put batteries inside the unit.
TuneGate: How many hours do you have it running continuously?
Kinoshita: It's about 2 hours for the concert itself. But adding the rehearsals, it would be about 6 to 7 hours of continuous use.
TuneGate: I see. Do you also use the built-in speaker?
Kinoshita: This is a truthfully convenient feature. For easy checks, I don't have to use headphones because I can do it directly from the unit. Although it is monaural, it comes in handy when checking the song order and things like that.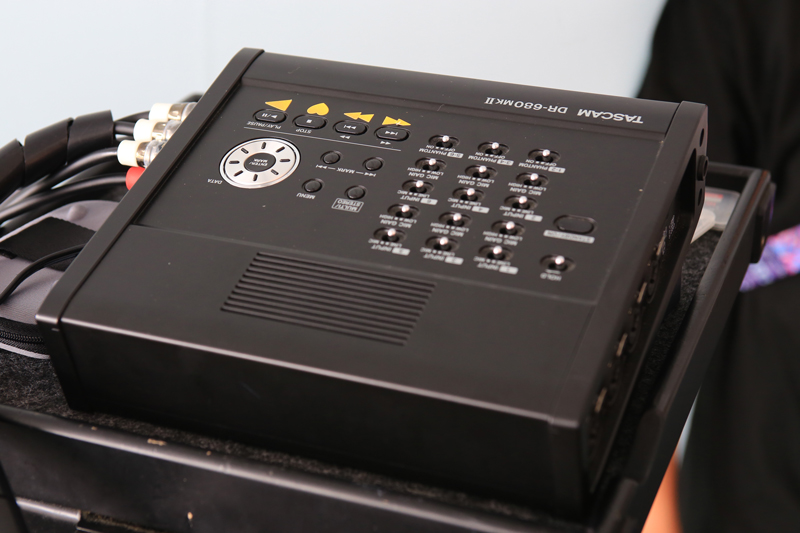 TuneGate: What kind of media format do you mainly use?
Kinoshita: I usually use SSD drives mainly, but when I use an external hard disc sometimes they go on sleep mode, and then it takes time to start them back again.
TuneGate: That would affect the start time of the backing tracks, right?
Kinoshita: Yes. In that term, I have no worries with the DR-680MKII since it uses SD cards.
TuneGate: I'd like to hear more about how you administrate your multi-data with SD cards.
Kinoshita: For each concert the song program is different so I rearrange the song order now and then. I often do this while being in my hotel room.
TuneGate: Do you bring several SD cards for each concert then?
Kinoshita: Basically, for one concert tour, I bring one master SD card and one back-up card only.
TuneGate: How is the construction of your backing tracks?
Kinoshita: The click track goes on channel 6. Channels 1 and 2 are mainly stereo, but when the keyboardist is absent, I just let all tracks on multi-playback. So the synthesizers are in stereo on channels 1 and 2, percussion in monaural is on channel 5, click track on 6. On channels 3 and 4, I have guitars or instruments other than synths and keyboards.
TuneGate: So you make the backing tracks on your computer, save them on the SD card, and then import them into the DR-680MKII?
Kinoshita: Yes, that's right. The making process has always been the same. I use Logic or Pro Tools with an RME interface, and then I input the song files to the DR-680MKII. The DR-680MKII turns all the song names into numbers, though. I can change that with the unit itself, but I take the songs back to the computer and rename them again because is faster this way.
TuneGate: How do you set the song order?
Kinoshita: At the start of each song file, I type the performing number according to our setlist, and then the unit will play the songs in numerical order.
TuneGate: How about the mix balance of each track?
Kinoshita: We only have rehearsals to adjust the mix balance. So since there's not much time to check all songs, I have a "sequence dummy track" that gets played first so that the engineers set the balance according to the sequence.
TuneGate: Do you use the DR-680MKII to set the mix balance too?
Kinoshita: Well, it is possible to adjust the mix level from the unit too. But generally, all of my tracks are set at the same level. Sometimes when the PA has technical issues, or when working with new engineers and it is hard for them to set a good balance, I set the balance myself using the unit. The fact that each track's level can be set differently helped me a lot once. Our drummer once brought his mixer when we were on tour overseas. He thought it was a universal power supply mixer, but in reality, it only supported 100V. And so the mixer started blowing smoke during the rehearsal. Of course, there was no way we could use it for the concert.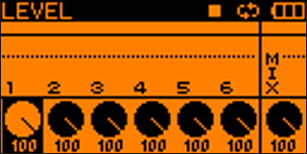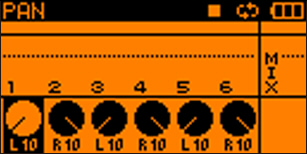 TuneGate: So he was left without a monitor system?
Kinoshita: We ended up lowering the backing tracks and raising the click track level inside the DR-680MKII so that the drummer could hear it easily through the headphones output on the unit. Then the PA engineers rearranged the mixing balance for the DR-680MKII, and that's how we made it through the concert.
Teac: The line balance feed to the PA console might have been changed then. So you configured the levels with the DR-680MKII internal mixer and used it for cueing?
Kinoshita: Yes, it was a tough last-minute decision. But thanks to the DR-680MKII internal mixer we had no accidents during the concert.
TuneGate: I believe you've been to several different venues, but you've never seen someone that uses a field recorder as a backing track player, right?
Kinoshita: Yes, and that's why everyone gets surprised at first and then starts saying compliments after watching it in action, especially people who travel overseas and have to bring their computers and interfaces. They tell me only bringing the DR-680MKII and some SD cards would make their tours less stressful. Although I understand this model was not developed intended to have "playback" as the main function.
Teac: We announced on our website that the MKII version can import multi-track sources compared to the previous model. But we were mostly promoting this from a field recorder point of view. Even so, we had a lot of requests to have separate outputs for the click track. Back in the day, there were many multitrack recorders from other brands that had this feature, but recent MTRs demand easy recording without having to use DAW software. That's why recent TASCAM MTRs don't include this function. Considering how many live concerts are performed while listening to and playing along backing tracks, I think MTRs should not only be able to record audio but also, they should be meeting the needs of this type of playback purpose.
TuneGate: I heard you can connect two DR-680MKII units too.
Teac: This is a simple function that allows connecting two units with a digital cable to have a master and a slave unit. So if you push the playback or the record button on the master, the slave unit will follow the operation as so.
TuneGate: So that means you can play 12 tracks right? Mr. Kinoshita, what do you think about this?
Kinoshita: 6 tracks is enough for me, but if I put in other words, I need all those 6 tracks. There aren't many devices that have 6 outputs. With small interfaces, they only have around 3 outputs, but 6, I think only the DR-680MKII has them.
Teac: I did a little research after finding this usage, and yes, there were no devices with 6 outputs.
TuneGate: What about the Marking function? How does it work?
Teac: The mark function allows going to the next playback-start position within a file. For example, you can use this by making a file for one stage, and add marks on the start position of each song. This way you can easily and quickly move to the next song while the MC is going on.
Kinoshita: I'm usually concerned whether the next song or the starting position of the song is correct, so when I use this one stage, I like that the LCD panel shows me the order of the song we are or we're about to play.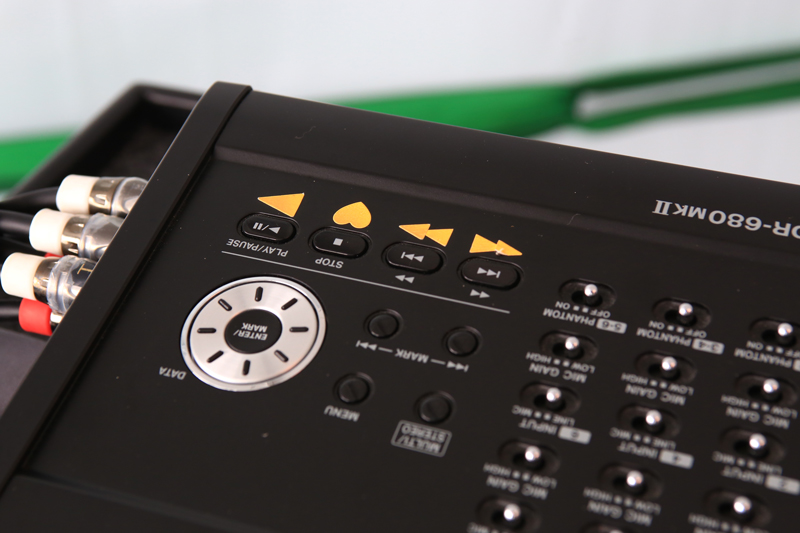 TuneGate: Where on the stage do you place the DR-680MKII? Do you operate it while playing the bass?
Kinoshita: I set it diagonally behind me so I can press the buttons immediately. But this hasn't changed at all from when I used my laptop. The display in the DR-680MKII is much smaller than a computer, but in the end, I just mainly check the name of the next song. I always get asked "what's this?" by the local engineers when we perform overseas, and they always surprised when I explain I have the sequenced backing multi-tracks playing from the unit.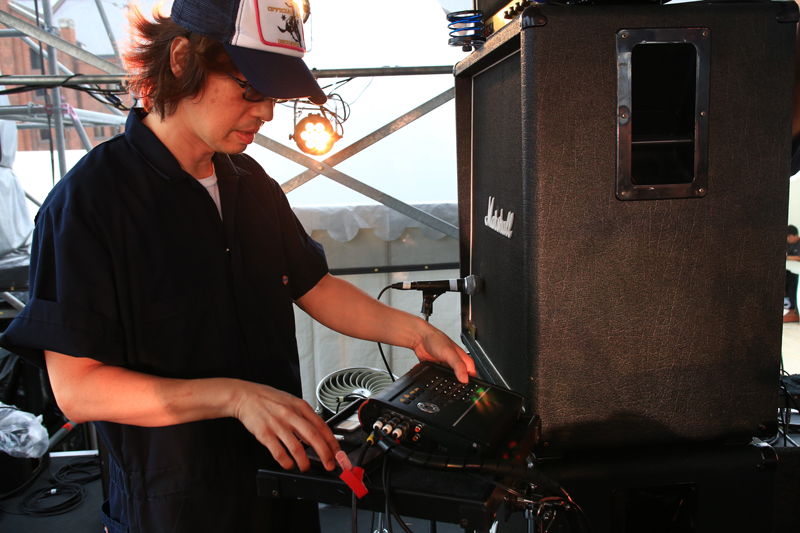 TuneGate: Hearing this makes me think that you won't be needing tablets or smartphones to play tracks via Bluetooth.
Kinoshita: Indeed, maybe. I see a lot of musicians with music sheets on tablets, but those can get tricky when you want to turn the page while playing live. Although I'd say that wired remote control seems like a good idea to me.
TuneGate: That being said, it seems the current setup size and specs are the most suitable at the moment.
Kinoshita: Yes, I think so. Everybody else is like "how amazing, Japanese are so cool!" when I bring this setup overseas, and it makes me feel proud of my country too!
Hiroharu Kinoshita Profile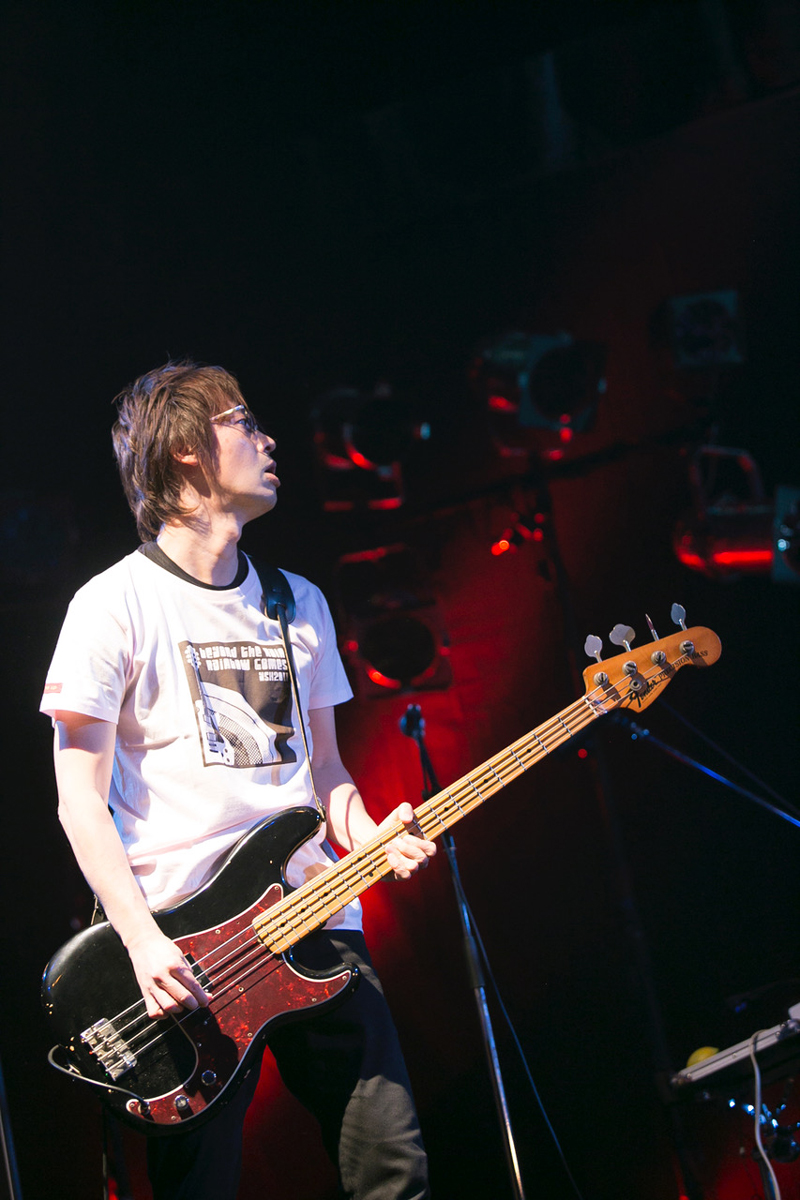 Debuted in 1991 as the bassist of the band L⇔R. Kinoshita has been on performing on several supporting acts after the band went on hiatus. His relation with PUFFY is now over 20 years. In recent years, he has been making use of his own experience on stage, focusing on training young musicians.
Links
TuneGate Official Website (Japanese)
TuneGate: TASCAM DR-680MKII field recorder used for click/backing track playback (Interview in Japanese)